Disneyland Pumpkin Beignets you can recreate at home!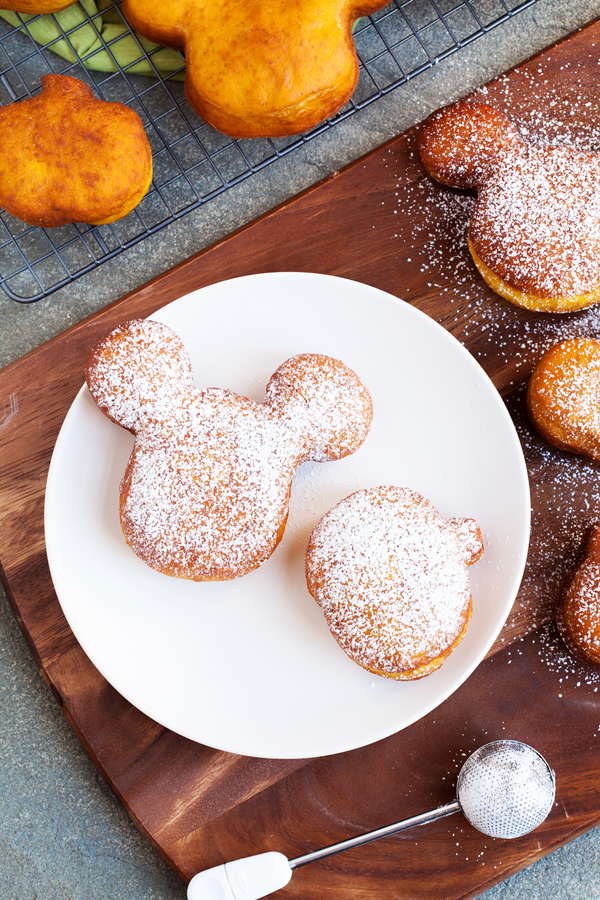 My friend Meredith came down from Northern California last week for a work conference. Luckily, she had a few days free before the conference, so we planned one of our traditional Disneyland trips! We are both Disney geeks so it's always a joy to get together for a trip to Disneyland!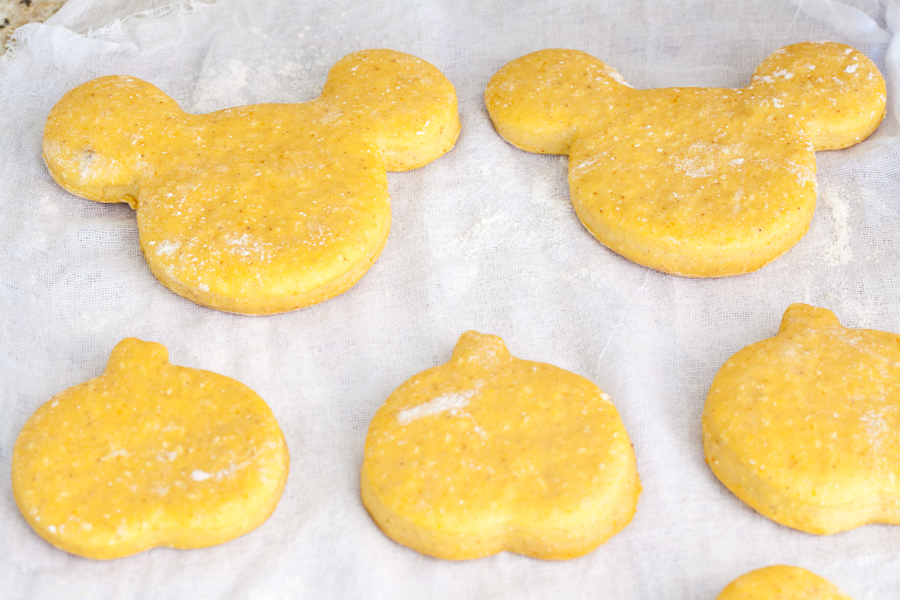 While at Disneyland, we walked passed the Mint Julep Bar in New Orleans Square. To our surprise they were not serving Pumpkin Beignets like they have in past years. Instead, this year they have Butterscotch Beignets. That is, they're plain beignets, sprinkled with butterscotch sugar. It wasn't enough to sell us, so we passed. However, the seed was planted and I needed to recreate the Disneyland Pumpkin Beignets at home.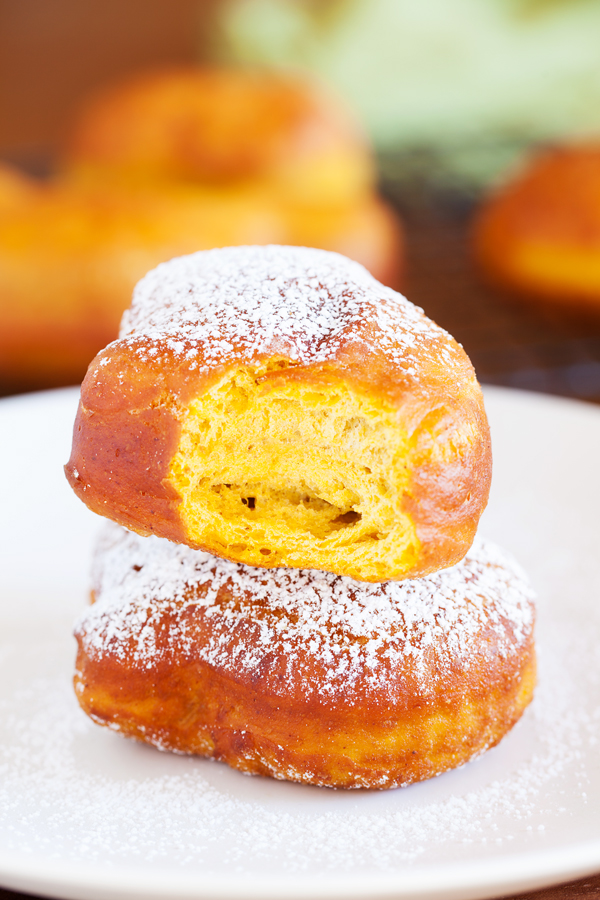 Today I'm happy to bring you Disneyland Pumpkin Beignets so that you can enjoy them even though Disneyland isn't serving them this year!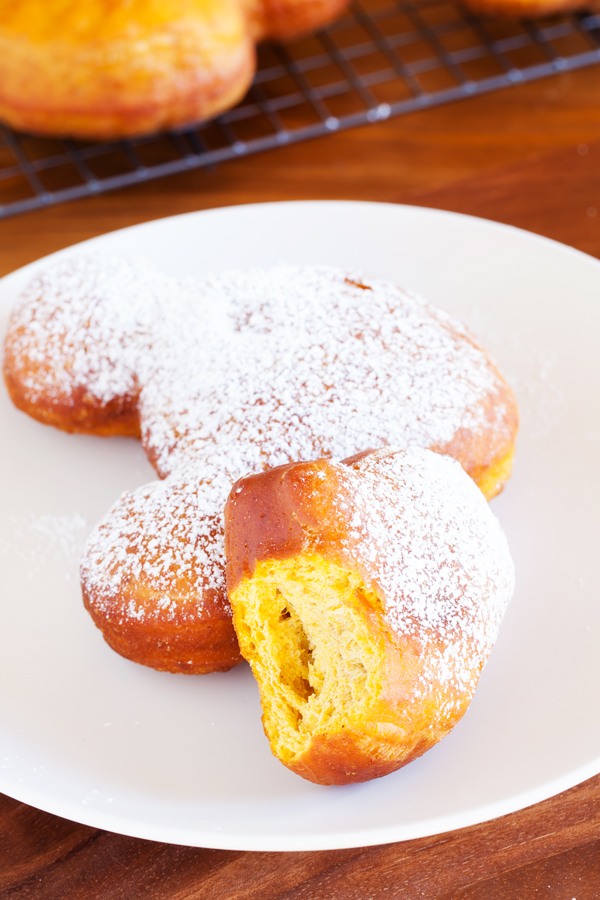 I promise they're just as easy as to make as the traditional ones and if you follow my tips below (taken from Disneyland Mickey Mouse Beignets), you will be sure to find success!
Tips for Successful Disneyland Mickey Mouse Beignets
The first step is to combine all the ingredients together to form a smooth dough. Let the dough rest for 30 minutes.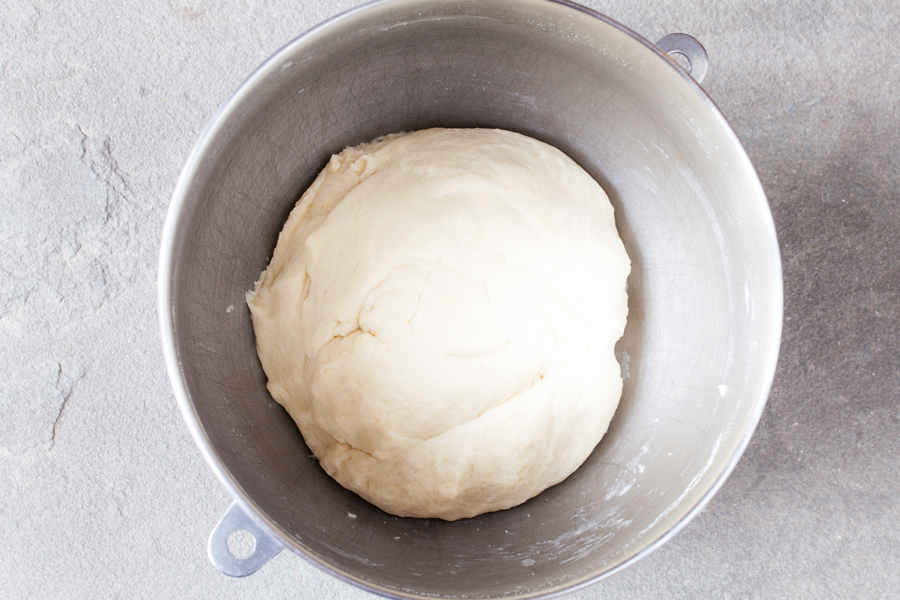 Next, place a double layer of cheesecloth on your counter top and dust it generously with flour. Roll the dough out directly onto the cheesecloth and cut out shapes using a Mickey Mouse cookie cutter. Let the dough rest for 1 ½ hours. The flour-dusted cheesecloth will prevent the dough from sticking to your counter top so that it can be easily lifted up, while maintaining the integrity of the shape when it comes time to fry.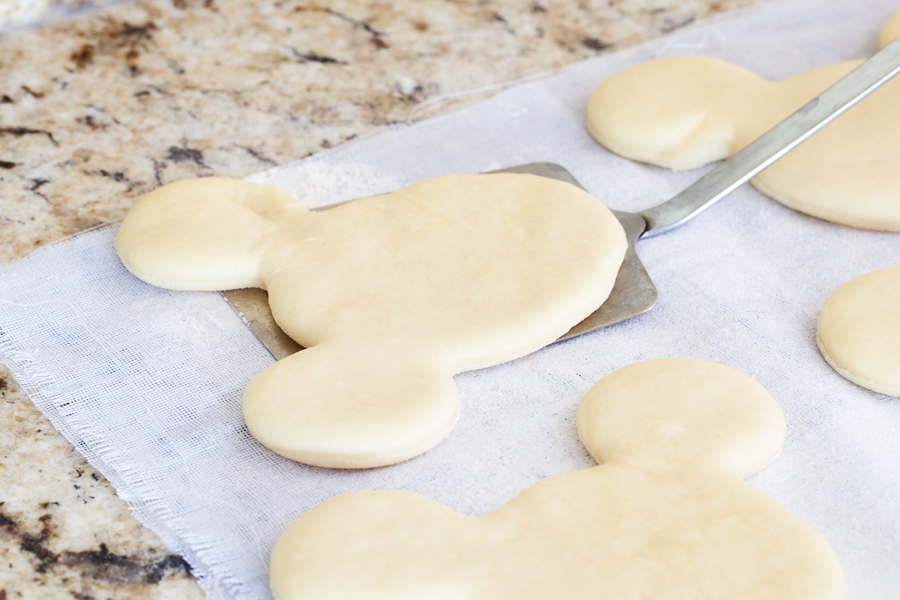 The last step is to fry the dough. The optimal frying temperature is 350°F, but I'd suggest begin frying once the oil reaches 300°F because the oil only continues to heat up and quickly at that. I found that if I began frying once the oil reached 350°F, the dough would end up frying in oil that's much hotter than 350°F, resulting in a really dark exterior. So, begin frying at 300°F and lower the heat as necessary as you go along (I used the rate of dough darkening as a gauge. If the dough got dark in a matter of seconds, I knew the oil was too hot).
Once the dough has been carefully placed in the oil, watch it closely. As soon as it begins to puff up, let it rise for a few seconds and then flip! Don't worry if the first side isn't golden brown yet. At this point you're just controlling how much steam is building up inside the beignet and in turn, how inflated the dough becomes. If you allow the dough to continue puffing up until it stops on it's own, you will end up with overly inflated, hollow beignets.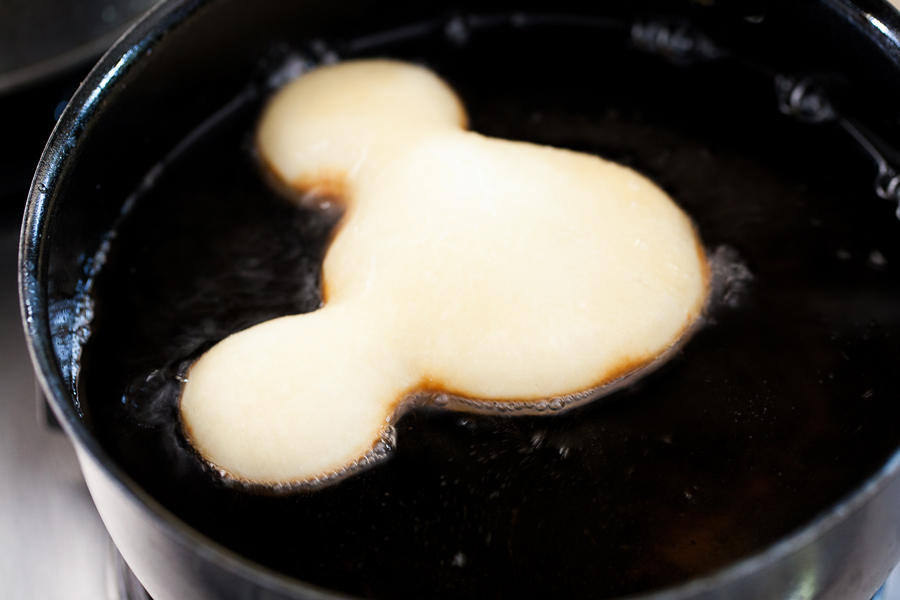 After flipping, allow the second side to cook until golden brown and then flip the beignet back to the first side to finish cooking.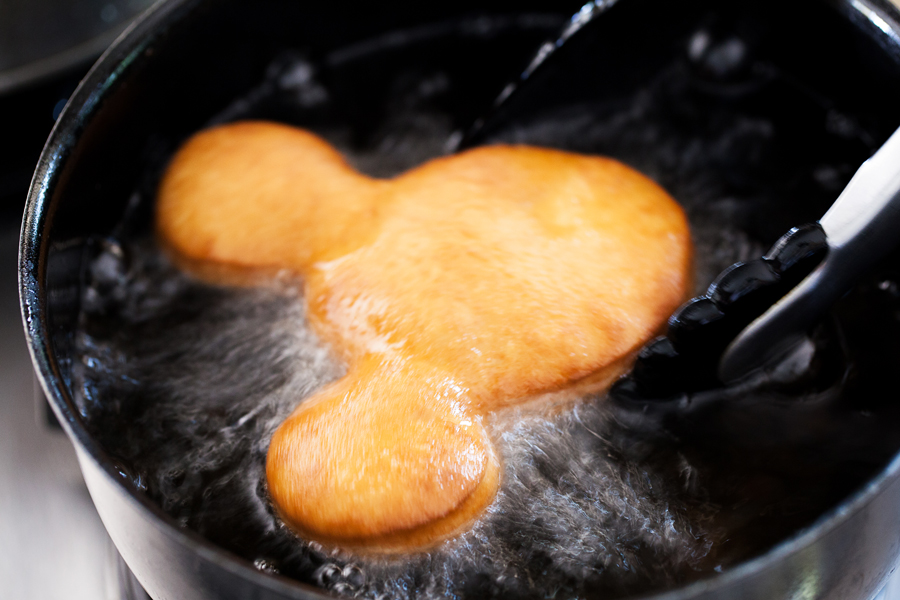 Allow to drain on a paper towel and give it a heavy dusting of powdered sugar while warm. Enjoy immediately!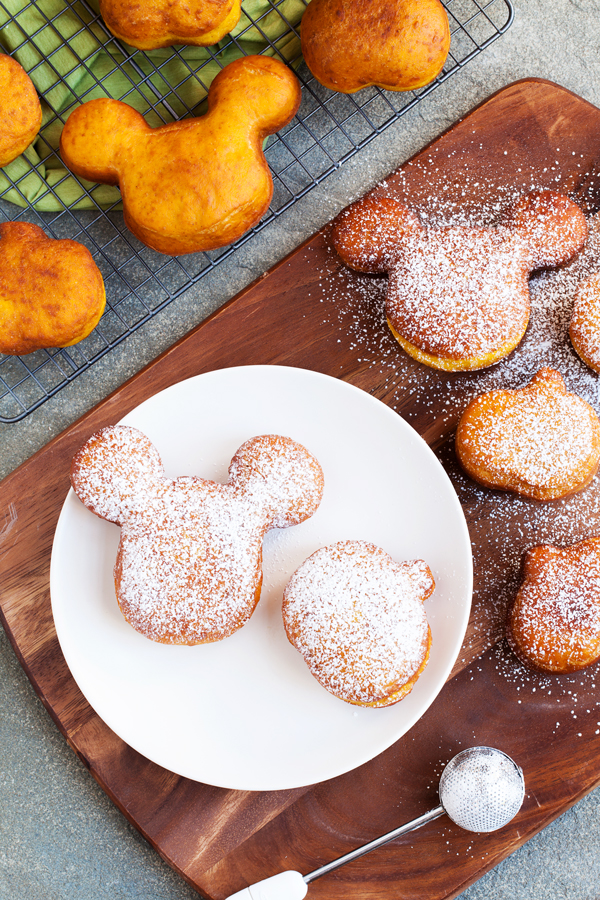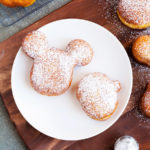 Disneyland Pumpkin Beignets
Yields 15 - 20 beignets
Calories per Serving
:
353
kcal
Ingredients
¼

cup

warm water

½

cup

plus 2 tablespoons pumpkin purée

¼

cup

sugar

¼

cup

plus 1 tablespoon heavy cream

3

large eggs

2

tablespoons

vegetable shortening

2

teaspoons

vanilla extract

¾

teaspoon

ground cinnamon

½

teaspoon

ground ginger

¼

teaspoon

ground cloves

Pinch of salt

5

cups

all-purpose flour

½

tablespoon

dry instant yeast

Vegetable oil, for frying

Powdered sugar, for coating
Instructions
Heat water to 105°F* and pour into a large bowl. Add the pumpkin, sugar, cream, eggs, shortening, vanilla, cinnamon, ginger, cloves and salt. Mix with a whisk.

Transfer mixture to the bowl of a stand mixer fitted with the dough hook attachment and add the flour and yeast. Knead the dough on medium low speed until combined and a smooth and soft dough forms. The dough should not be sticky.

Transfer dough to a clean bowl and cover tightly with plastic wrap. Let rest in the refrigerator overnight.

Place two layers of cheesecloth on a flat surface and dust generously with flour. Set aside.

Turn the risen dough onto a clean flat surface and roll out to ¼-inch thick. Cut out shapes using a Mickey Mouse or pumpkin cookie cutter**. Unused scraps can be combined and re-rolled for additional cuts. Transfer the shapes onto the cheesecloth. Cover loosely with a dish towel and let rest for 1 hour.

During the last 10 minutes, heat 3-inches of oil over medium heat to 300°F***, as measured by an instant-read thermometer. Once the temperature has reached 300°F, use a metal spatula to gently lift the beignets and transfer into the oil. Let the beignets float to the surface and watch carefully as they begin to inflate. After a few seconds of inflating, flip the beignet over and fry until golden brown. Flip the beignet again if more time is needed to achieve a golden brown exterior on the first side.

Transfer the beignet to a paper towel-lined cooling rack. Let cool for 5 minutes, just until warm. Toss in a bowl of powdered sugar and serve immediately.
Recipe Notes
*I heated the water in a microwave-safe bowl for 20 seconds and checked the temperature with an instant-read thermometer. It's important to not exceed 105°F so that the yeast cells do not get destroyed.
**Alternatively, a sharp knife can be used to cut out squares or a biscuit cutter can be used to cut out rounds.
***The temperature will continue to rise. The optimal frying temperature is 350°F. If the beignets brown too quickly, check the temperature and adjust accordingly to lower the heat
Storage
Store fried, undusted beignets at room temperature for up to 7 days. Rewarm beignets in the microwave for 30 seconds and toss with powdered sugar just before serving.
Modified from Disney Parks Blog and The PKP Way