Not just any ol' chicken recipe, this Three Herb Chicken with Mushroom Gravy features juicy chicken thighs cooked to perfection with fresh herbs and smothered in a thick and gravy-like white wine mushroom sauce.
There's nothing like a warm chicken dinner after a long day of busting your tail, don't you think? Especially when it's smothered in a thick, gravy-like mushroom sauce. Which is why I was so excited at how delicious this Three Herb Chicken with Mushroom Gravy turned out.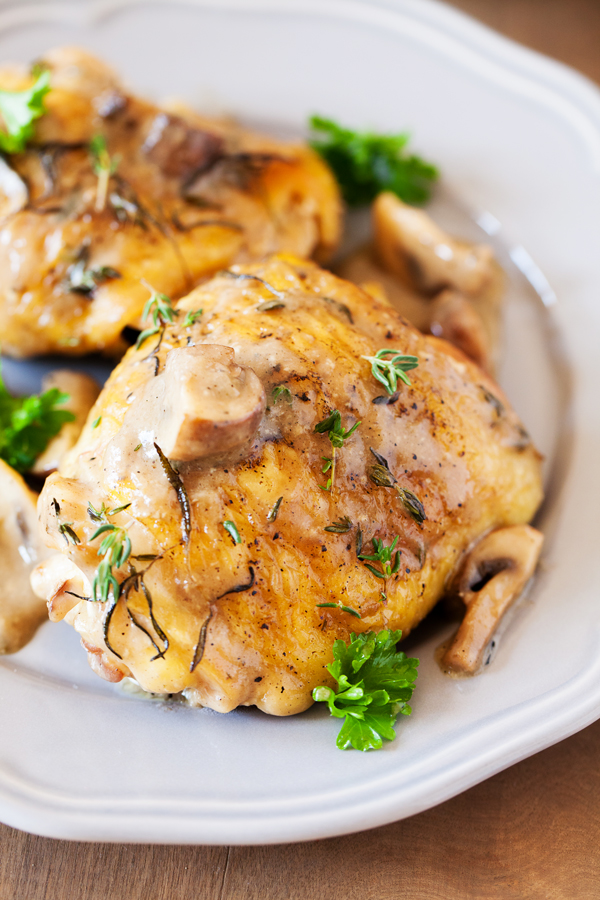 I'll be honest, I was a little skeptical before making this dish because it reminded me of chicken Marsala, a dish I'm not a huge fan of. I'm not a red wine kinda gal, aside from the occasional sip at a tasting ;) However, this Three Herb Chicken with Mushroom Gravy is made from white wine, which solves that problem. The white wine adds a lovely tang to the mushroom sauce, unlike any other wine-based sauce I've ever tasted.
Add to the sauce juicy chicken thighs cooked to perfection with fresh herbs and you have a restaurant-quality meal without the lines and the hefty bill at the end.
Begin by browning the chicken thighs on both sides. Then, add a sprinkle of fresh herbs before popping it in the oven to cook thoroughly.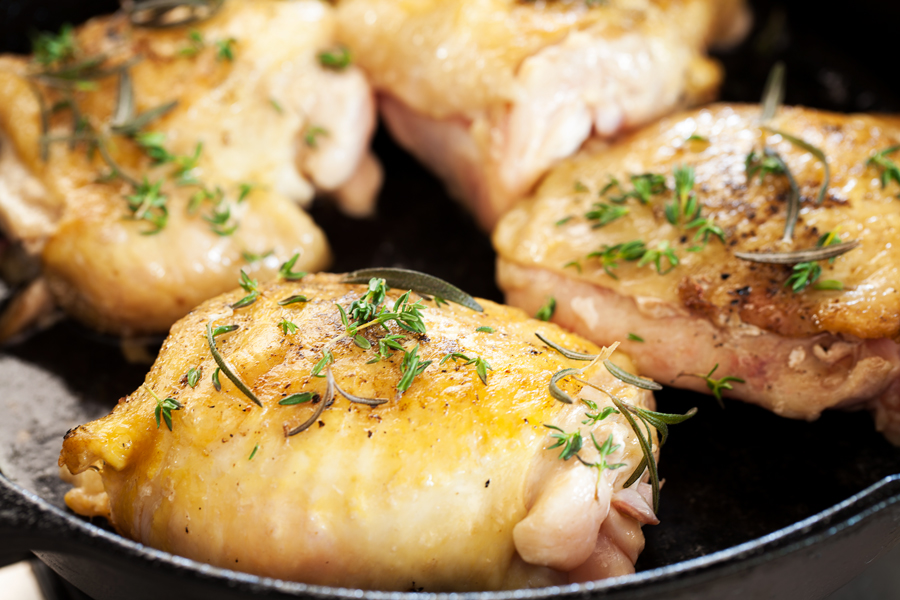 Once cooked, transfer the chicken to a clean plate and use the same skillet to make the mushroom gravy.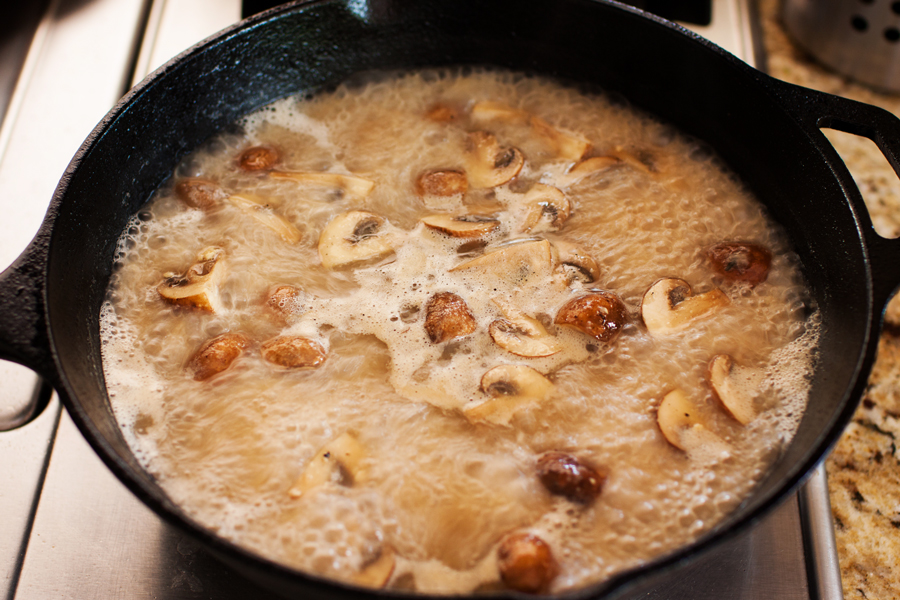 Let it get nice and thick.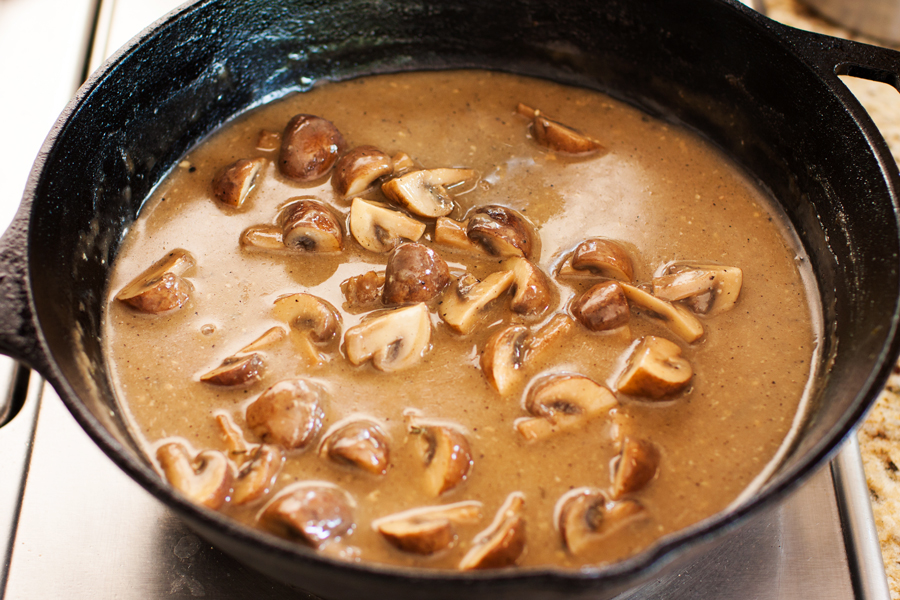 Finally, spoon that lovely sauce over the cooked chicken thighs and enjoy!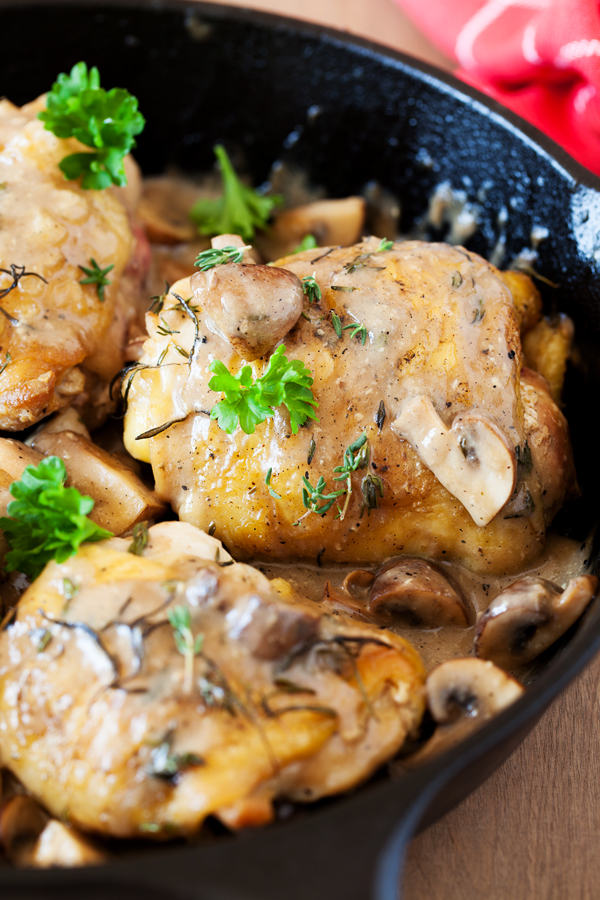 Keep this Three Herb Chicken with Mushroom Gravy in your arsenal of chicken recipes and pair it with any one of my salads for a complete meal.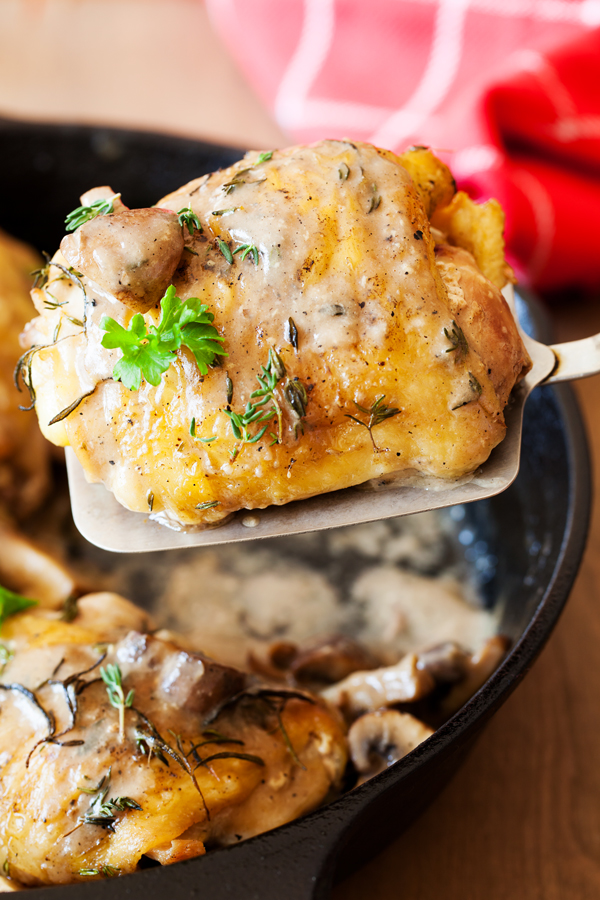 Three Herb Chicken with Mushroom Gravy
Yields 4 servings
Printer friendly version
Ingredients
4 chicken thighs, skin on, bone-in
¼ teaspoon salt
¼ teaspoon black pepper
1 tablespoon olive oil
1 tablespoon fresh rosemary leaves
1 tablespoon fresh thyme leaves
6 ounces cremini mushrooms, quartered
1 ½ teaspoons all-purpose flour
½ cup chicken broth
¼ cup dry white wine*
1 tablespoon Dijon mustard
1 ½ teaspoons fresh Italian parsley
Directions
Preheat the oven to 400°F. Season each thigh with the salt and pepper on both sides.
Heat the oil over medium heat in a cast-iron skillet until shimmering. Add each thigh, skin side down and brown for 5 to 7 minutes. Turn the chicken over and off the heat. Sprinkle on the rosemary and thyme. Place the skillet in the oven and bake for 18 to 20 minutes, until the thickest part of the thigh registers 165°F with an instant-read thermometer.
Transfer thighs to a clean plate and cover loosely cover with aluminum foil to keep warm. Retain the drippings in the skillet. Add the mushrooms to the skillet and brown over medium heat, stirring occasionally. Sprinkle in the flour and stir to coat. Add the broth, wine, and mustard and stir to combine. Bring to a boil and lower the heat to simmer, stirring constantly. Continue stirring until thickened.
Spoon the sauce over each thigh, sprinkle on the parsley, and serve immediately with a side salad.
Notes
*I used Fume Blanc.
Adapted and modified from Better Homes and Gardens