These spicy chicken tostadas are so easy and can be thrown together in minutes for a no-planning-involved Cinco de Mayo celebration or a twist on taco nights.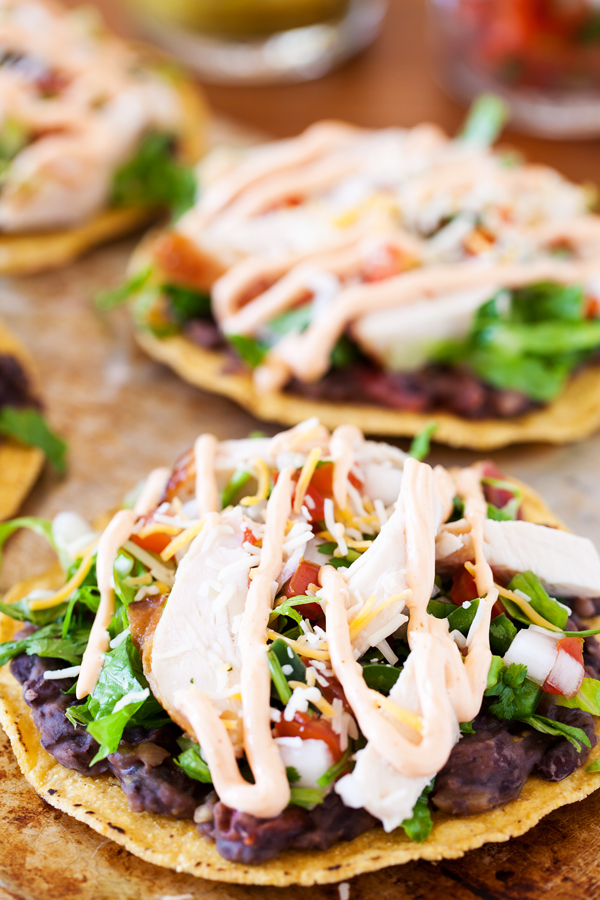 Happy Cinco de Mayo! What plans do you have for Cinco de Mayo tonight? I posted a round-up of 5 recipes last weekend to help you prepare for your meal planning today, but I decided to add just another one in case nothing on that list suited your fancy.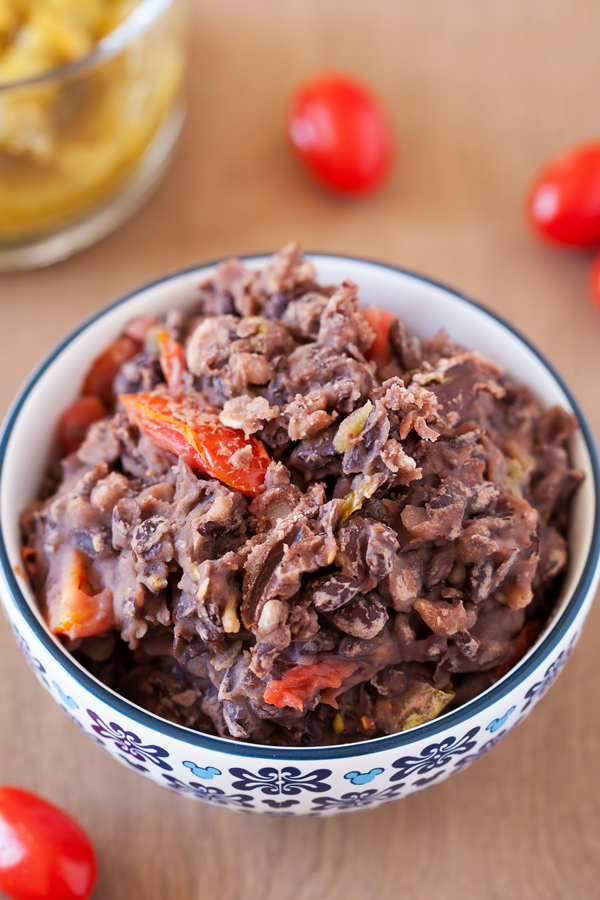 These spicy chicken tostadas are so easy and barely involve any prep work. You can grab the ingredients on your way home from work (if you don't have them already) and have a delicious Cinco de Mayo meal tonight! It's not too late.
All the delicious tostada toppings sit on a comfy bed of black beans refried with green chiles and tomatoes for some kick and tang.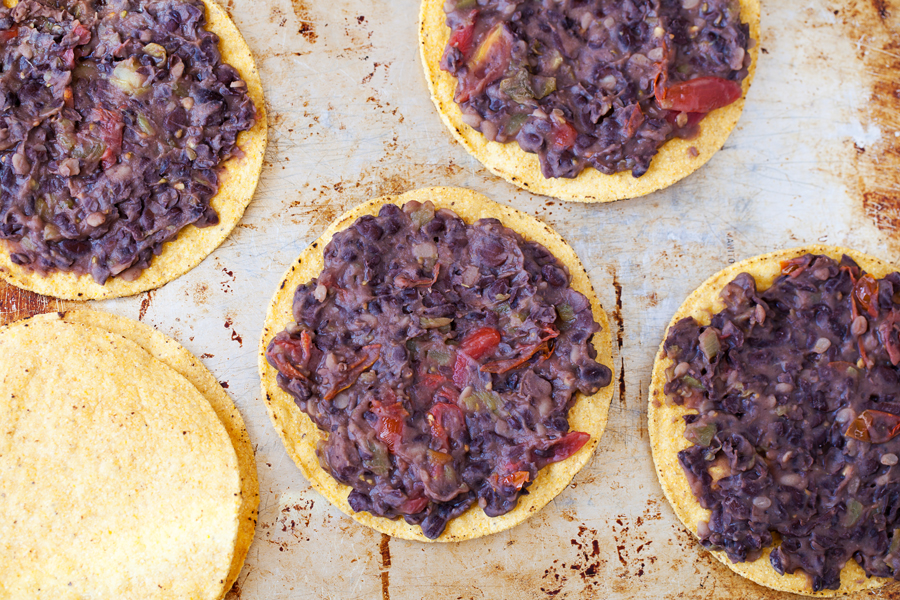 The beans get smeared onto a crisp tostada and topped with fresh shredded romaine lettuce, my pico de gallo, and strips of store-bought rotisserie chicken. Finally, a sprinkling of cheese and a drizzle of spicy sour cream is added. It doesn't get any easier!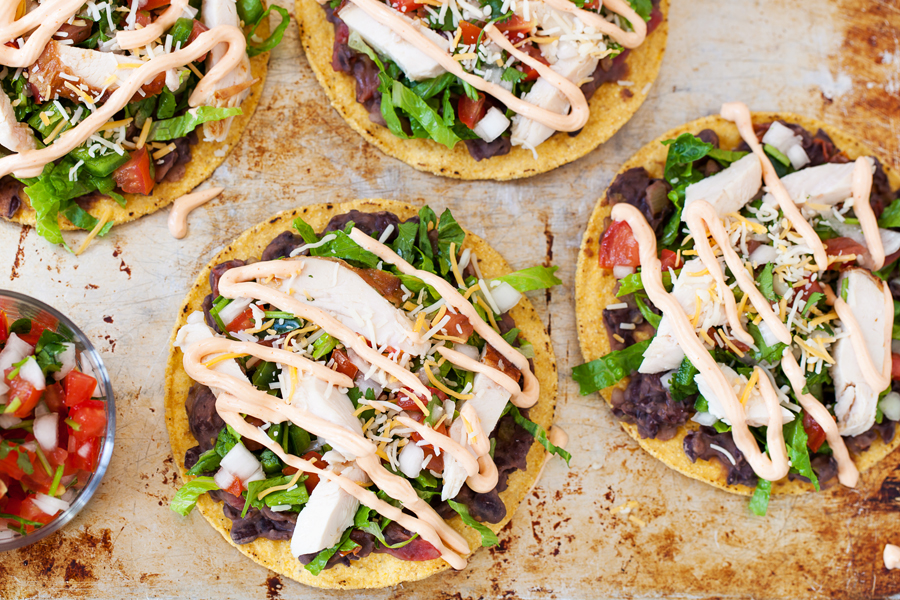 The BEST part are the leftovers. All the toppings soften the tostadas so that they're malleable and can be folded into a taco. You'll be the envy of all your workmates! Be prepared to fight them off :D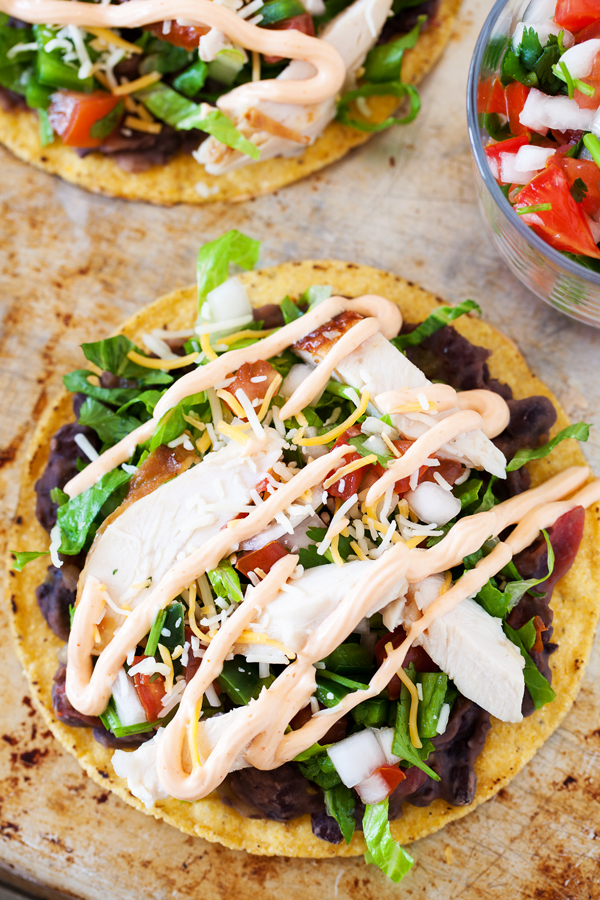 Spicy Chicken Tostadas
Yields 4 servings
Printer friendly version
Ingredients
1 can (15.25 ounce) black beans
2 tablespoons fire-roasted green chiles
⅛ cup grape tomatoes, quartered
4 corn tostadas
Store-bought rotisserie chicken breast, cut into strips
1 romaine lettuce heart, cut into strips
¼ cup cheese
Pico de gallo
2 tablespoons sour cream
9 dashes of Mexican hot sauce*
Directions
With a slotted spoon, transfer the beans to a small sauce pan (reserve the starchy liquid). Heat over medium-low heat, stirring frequently until the beans begin to break down. Once broken down, add the green chiles and tomatoes. Stir until combined. If the beans get too dry, stir in the reserved starchy liquid 1 tablespoon at a time until a spreadable consistency is reached.
Divide the beans evenly among the tostadas and spread, leaving about ½ inch rim.
Top with ¼ portion each of the lettuce, chicken, and cheese. Sprinkle with pico de gallo to taste.
In a small bowl, stir together the sour cream and hot sauce. Drizzle over each tostada.
Serve immediately. Any leftovers can be folded into soft tacos.
Notes
*I used Cholula.
This page contains affiliate links that help make The PKP Way possible.