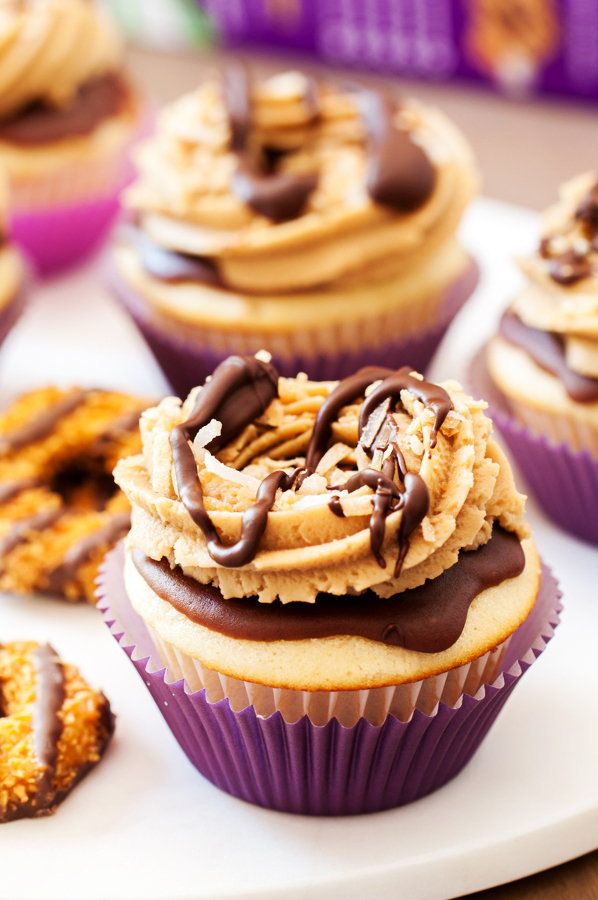 I am so excited to share that I will be attending CAKE in Orange County next month and I cannot wait! CAKE is an expo for everyone who loves baking, cake decorating, and all things cakes, pastry, and other baked goodies! There will be book signings, celebrity demos, and workshops to learn new skills and pick-up baking tips from industry experts. You will even be able to shop for the latest baking supplies. I am chomping at the bit for it to be October already. Visit CAKE to learn more about the expo. Will any of you be attending? I'd love to see you there!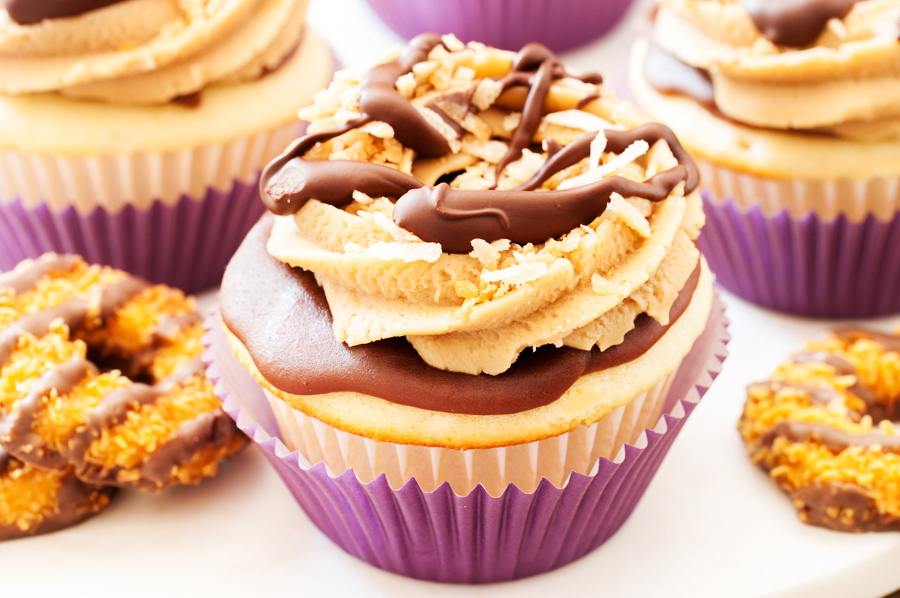 To show how truly excited I am about the expo, I am sharing a super indulgent treat – Samoa/Caramel deLites cupcakes! Do you love Girl Scout cookies as much as I do? From what I can tell, Samoa/Caramel deLites are one of the most popular Girl Scout cookie. When I was a kid in Girl Scouts, my favorites were Thin Mints. My palate evolved as I grew older and now Samoas (what I knew them as growing up) are my favorite! I LOVE the buttery shortbread and chewy caramel coconut combination. Every season I stock up on many boxes and store them in the freezer so I can enjoy them all year long. This year, it looks like I didn't stock up enough. While we all wait in angst for Girl Scout cookies season to begin, these babies get the job done to hold you over.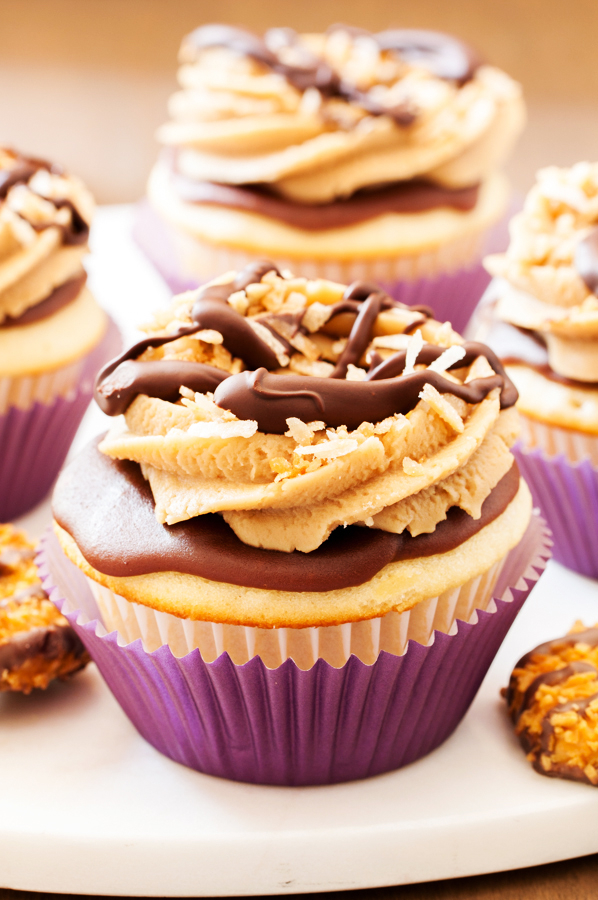 These Samoa/Caramel deLites cupcakes begin with a fluffy and soft coconut cupcake base. They're then topped with a smooth fondant-like chocolate ganache, frosted with a swirl of caramel buttercream, sprinkled with toasted coconut, and finally, drizzled with chocolate. Are you drooling yet? Make and share them and you'll have friends for life!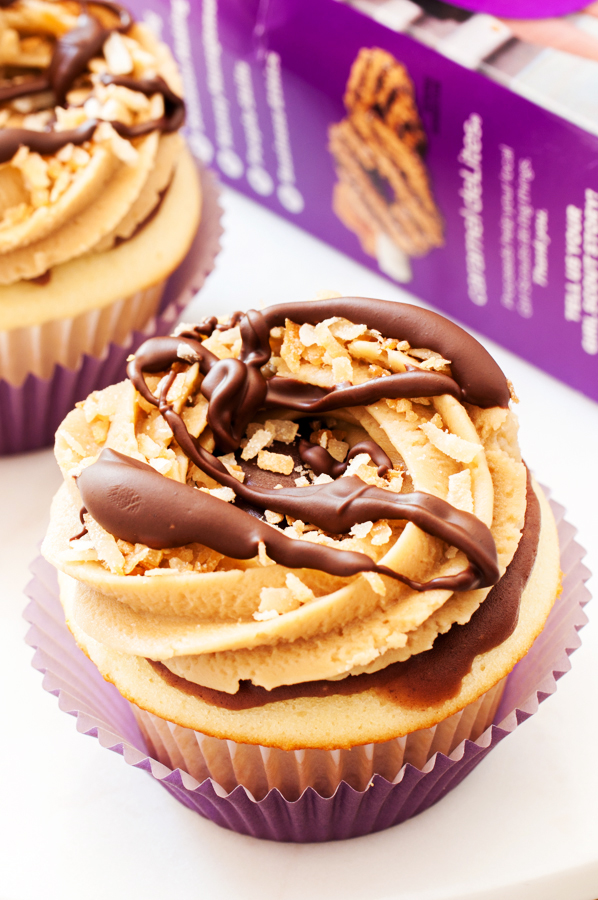 I am trying something new and not including step-by-step photos. How do you like it? Do you prefer step-by-step photos or would you rather see the finished product? Let me know!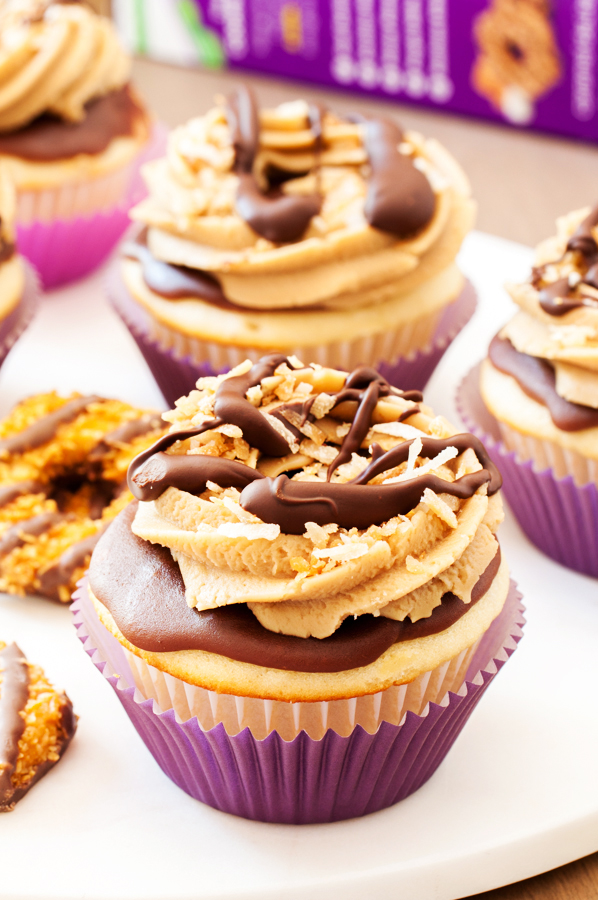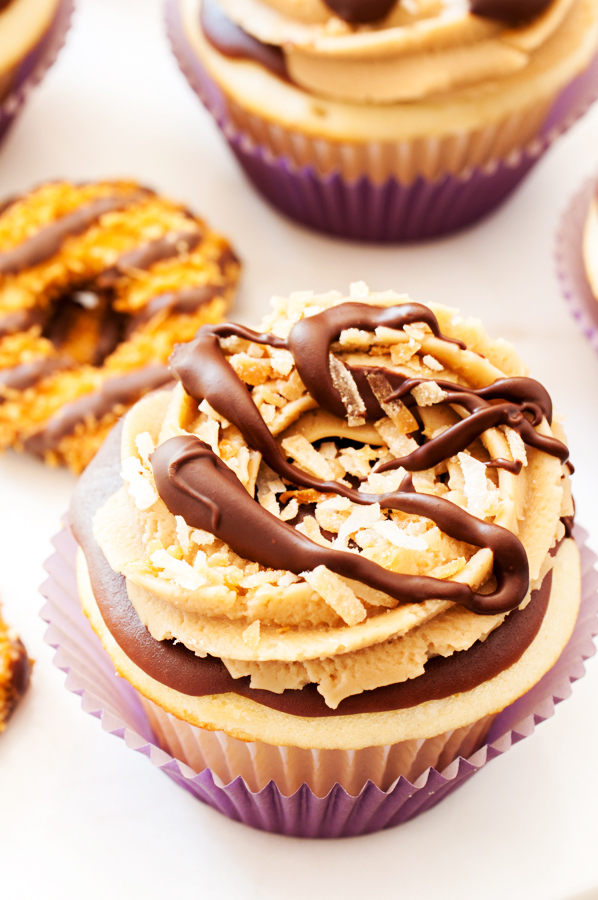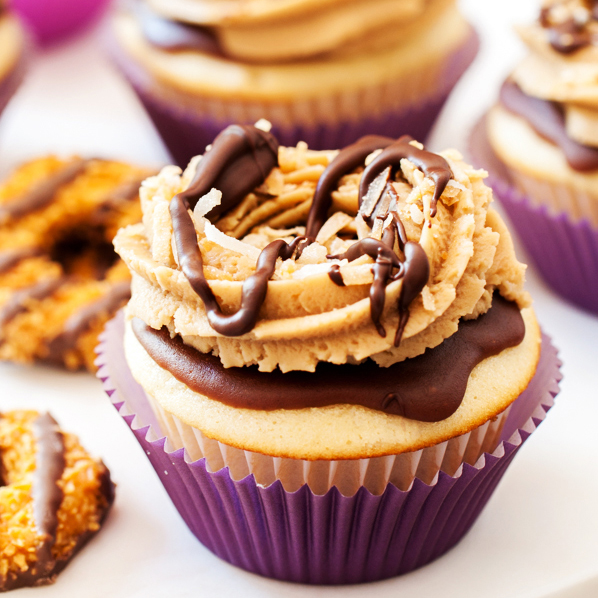 Coconut Cupcake
2015-09-21 13:32:15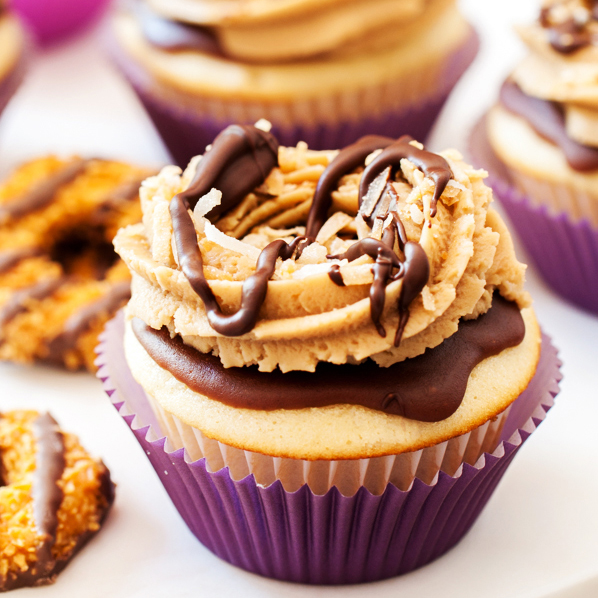 Yields 24 standard sized cupcakes
Ingredients
1 cup milk*, room temperature
4 large egg whites, room temperature
1 egg, room temperature
2 teaspoons coconut extract
1/2 teaspoon vanilla extract
3 cups (350 grams) cake flour, sifted
1 1/2 cups (300 grams) granulated sugar
1 tablespoon + 1 teaspoon baking powder
6 tablespoons salted butter, softened and cubed
6 tablespoons vegetable shortening
1/2 cup shredded sweetened coconut
Instructions
Preheat oven to 350°F and line 2 standard muffin pans with liners.
In a medium bowl, whisk together 1/4 cup milk, egg whites, egg, and extracts.
In the bowl of an electric mixer, add the flour, sugar, and baking powder. Fit the mixer with the paddle attachment and combine on low-medium speed**.
Add the butter and shortening, about 4-6 cubes at a time, scraping down the sides of the bowl as necessary. Mix until the fats are well combined with the flour.
Add the remaining milk and continue mixing to combine, scraping down the sides of the bowl as necessary.
On low***, add the milk/egg mixture in 3 batches, scraping down the sides of the bowl between each addition.
Remove the bowl from the mixer and give the batter a big stir with a rubber spatula, reaching down to the bottom of the bowl to ensure all flour and fats have been incorporated.
Gently stir in the coconut.
Fill the muffin pans 3/4 full and bake for 16-18 minutes, until a toothpick inserted comes out clean.
Remove the pans from the oven and immediately and carefully place the cupcakes onto a wire rack to cool completely.
Notes
*The recipe called for whole milk, but I used 1% milk and it was just as delicious.
**I set my Kitchen Aid mixer to 2
***I set my Kitchen Aid mixer to stir
Adapted from and modified from Sweetapolita
The PKP Way http://www.thepkpway.com/
Fondant Ganache
2015-09-21 13:47:05
Ingredients
1/4 cup water
1/8 cup light corn syrup
1/4 teaspoon vanilla extract
2 1/2 cups (10 ounces) confectioners' sugar, sifted
1/3 cup semi-sweet chocolate, chopped
Pince of salt
Instructions
Bring the water and corn syrup to a boil in a small saucepan over medium heat.
Remove from heat and whisk in extract. Whisk in the sugar in 1/2 cup increments until smooth.
Add the chocolate and gently stir until evenly combined.
Add the salt and stir to incorporate.
Notes
The ganache hardens quickly as it cools. To maintain a smooth and pourable/dippable consistency, keep the ganache over low heat. If the surface of the ganache hardens, give it a stir to re-melt before using.
Store in an airtight container in the refrigerator. To bring it back to proper consistency, microwave in 20 second increments until desired consistency is achieved.
To achieve a thinner consistency, add water 1 tablespoon at a time.
Adapted from from Sift
The PKP Way http://www.thepkpway.com/
Caramel frosting
2015-09-21 13:55:02
Ingredients
1/2 cup salted butter
1 cup (200 grams) packed light brown sugar
1/3 cup heavy cream
2-3 cups powdered sugar, sifted
Salt, optional
Instructions
In a medium saucepan over medium heat, melt the butter.
Stir in the brown sugar and cream until dissolved and bring the mixture to a boil. Allow the mixture to bubble and thicken for no more than 3 minutes.
Remove from heat and allow to cool for about 15 minutes.
With a hand mixer, mix in the powdered sugar 1 cup at a time until the desired consistency is achieved*. To thin out the frosting, add heavy cream 1 tablespoon at a time.
If the frosting is too sweet, add the salt, a pinch at a time.
Notes
*I only needed 1 cup
Adapted from and modified from Sally's Baking Addiction
The PKP Way http://www.thepkpway.com/
Toasted Coconut
2015-09-21 14:00:14
Ingredients
1 cup sweetened shredded coconut
Instructions
Preheat the oven to 350°F.
Spread the coconut in a thin layer on a cookie sheet lined with parchment paper or silpat.
Toast in the oven for 5-7 minutes, watching closely until lightly golden brown. Toss and stir the coconut and return to the oven for 2-3 more minutes to lightly brown the second side.
The PKP Way http://www.thepkpway.com/
Chocolate Drizzle
2015-09-21 14:02:00
Ingredients
1 cup semi-sweet chocolate, chopped
Instructions
Add the chocolate to a small microwave-safe bowl and microwave in 10 second increments, stirring in between each increment until melted and smooth.
The PKP Way http://www.thepkpway.com/
Assemble by gently dipping the tops of the cupcakes in the fondant ganache and allow any excess to drip off before standing right side up. Pipe a ring around the cupcake's edge with the caramel frosting using an open star tip. Sprinkle on the toasted coconut and using a small spoon, drizzle ribbons of the chocolate drizzle over the cupcakes.