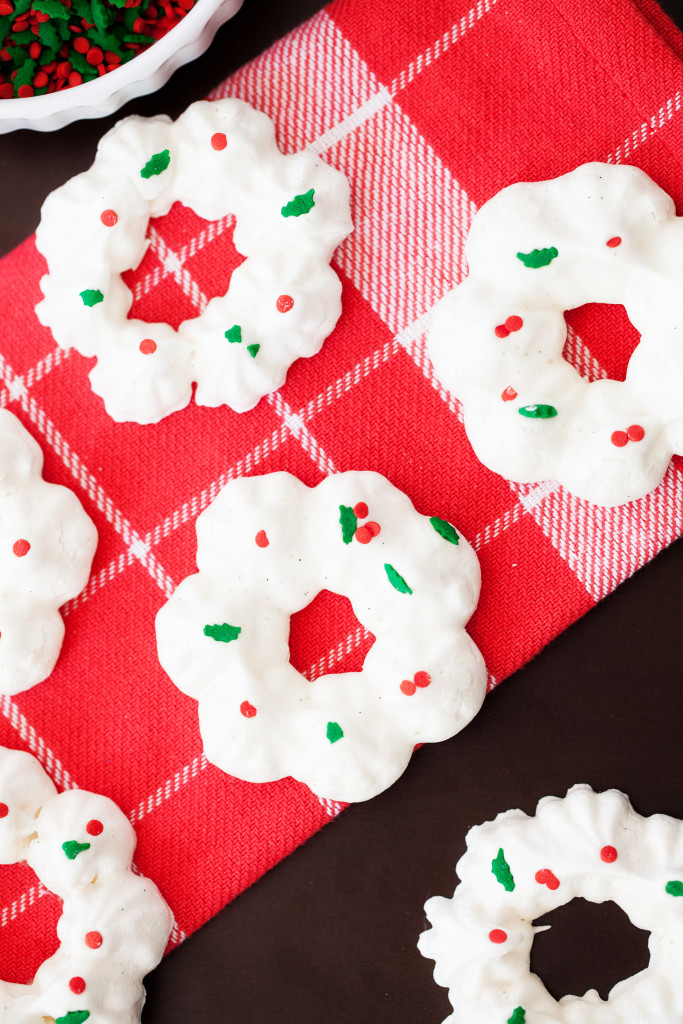 Happy first week of December! Bring on the cookie exchanges, gift exchanges, and family traditions :)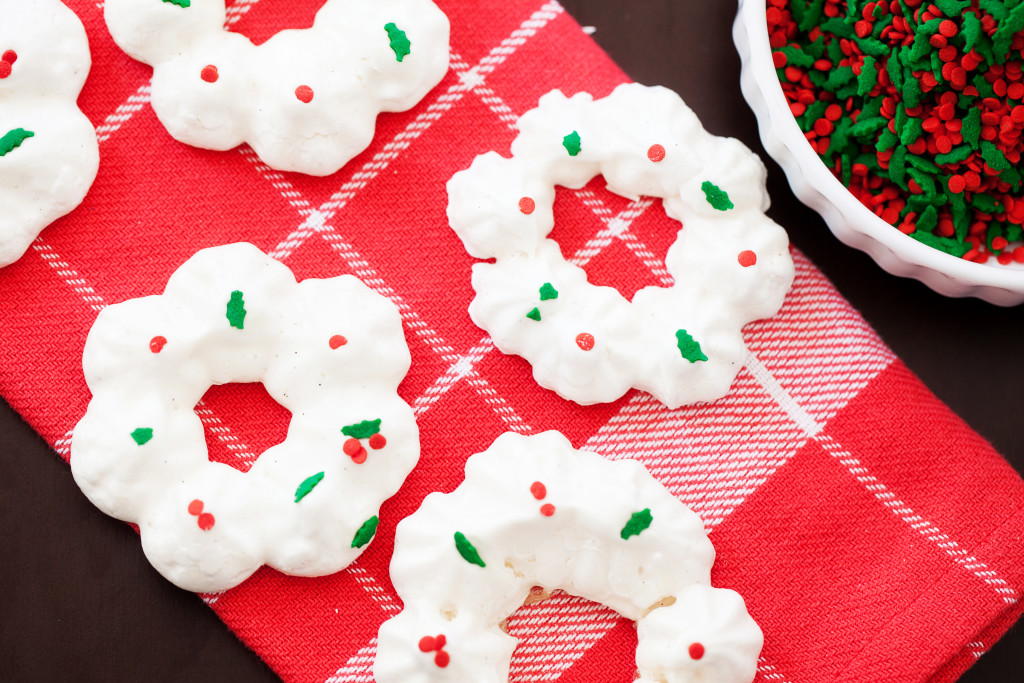 I love this time of year because it seems everyone puts just a little more thought and effort into their desserts. Like these meringue wreaths, for example. How cute and festive are they? They are nearly weightless and melt in your mouth, almost as fast as cotton candy. I've been a fan of meringues since I was a kid and years ago, when I learned how easy they were to make, I make them every year.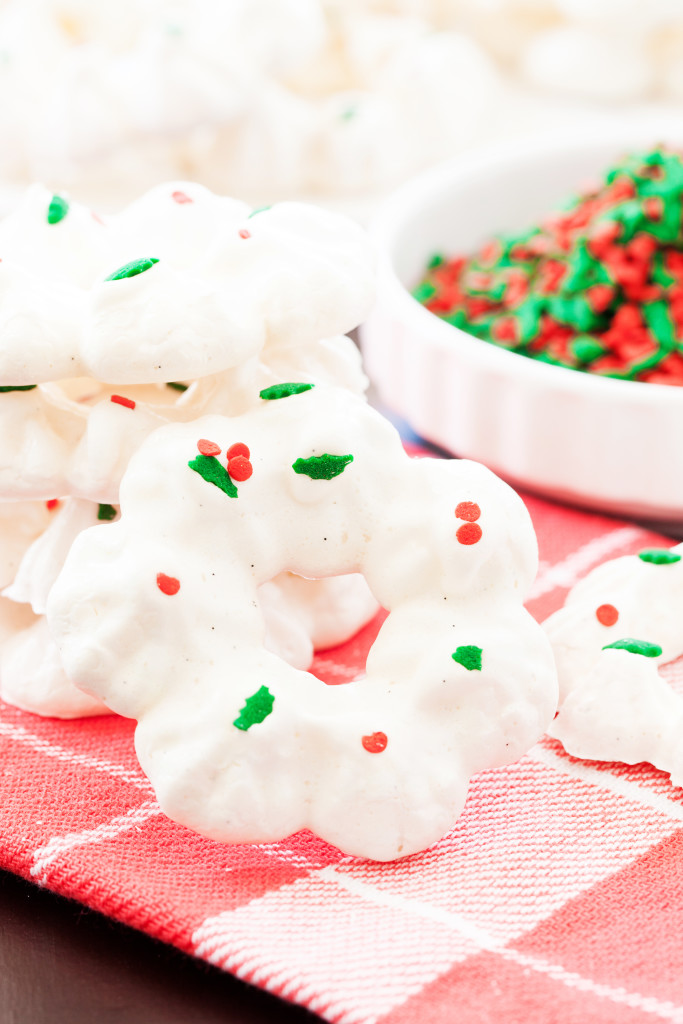 Throughout the years, I've tinkered with many recipes but found that they don't withstand any moisture in the air very well. After sitting on the counter for a couple of hours, they would attract the moisture from the air, which resulted in a sticky and chewy meringue. Not ideal at all!
The solution to this problem is to let them cool slowly and completely dry in the oven over night. Yes, this requires some patience, but you will be left with a perfectly crispy, melt-in-your-mouth meringue.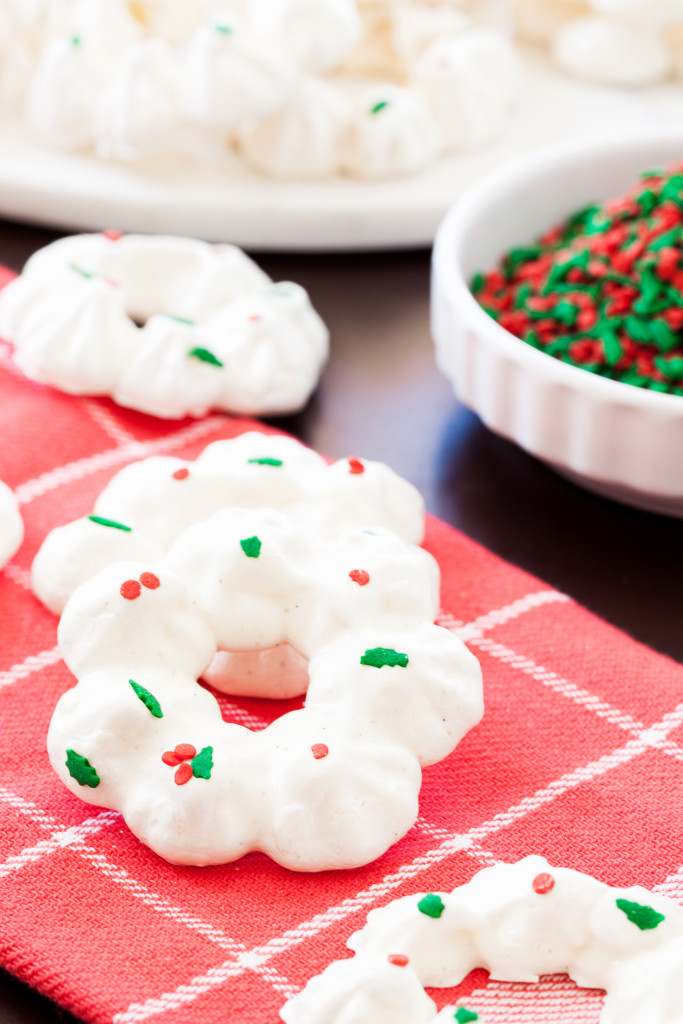 These meringues have REAL vanilla beans in them that sends them over the top!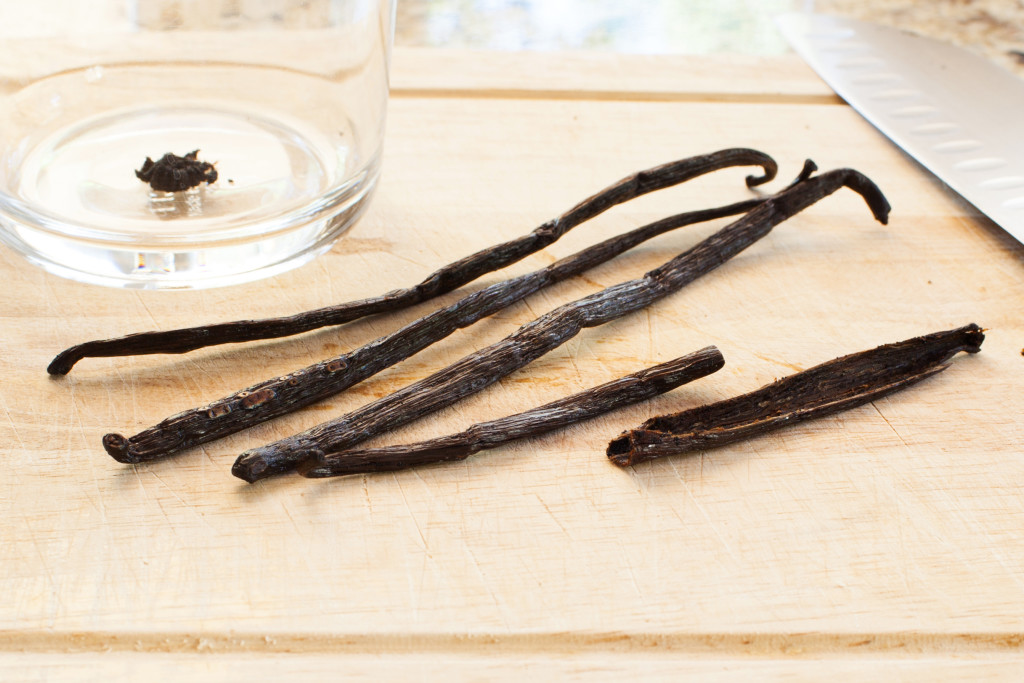 Just look at those specks!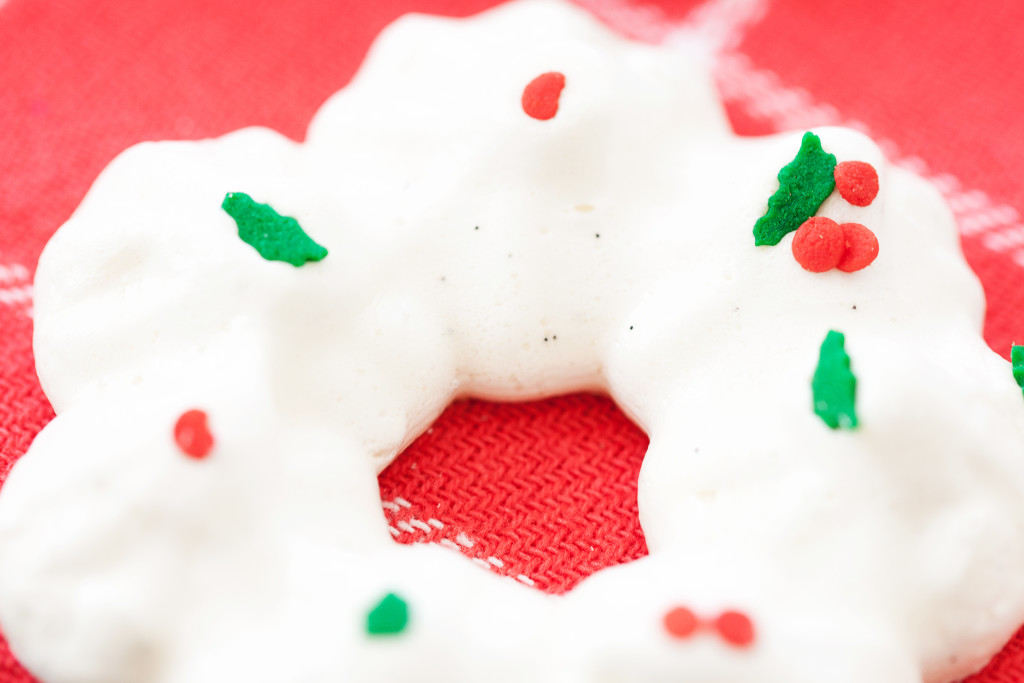 Simply whip up egg whites and vanilla bean until foamy.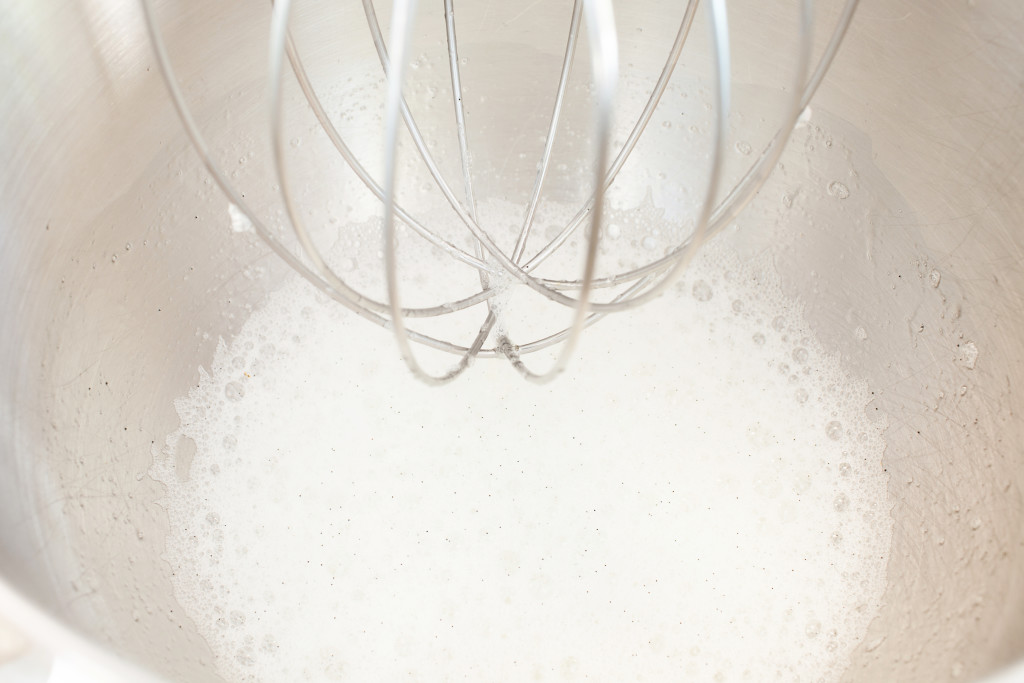 Then, add a stream of sugar and continue whipping until soft peaks form.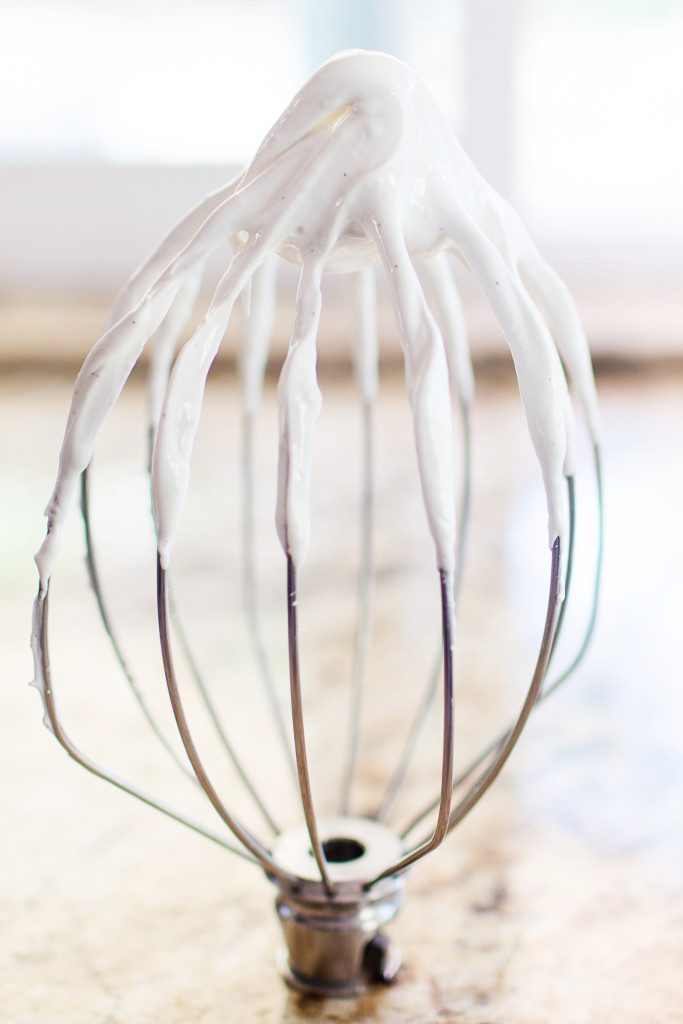 Finally, decoratively dollop/pipe them onto a parchment/silpat-lined baking sheet, add sprinkles (if that's where your heart is), and bake! Easy peasy :)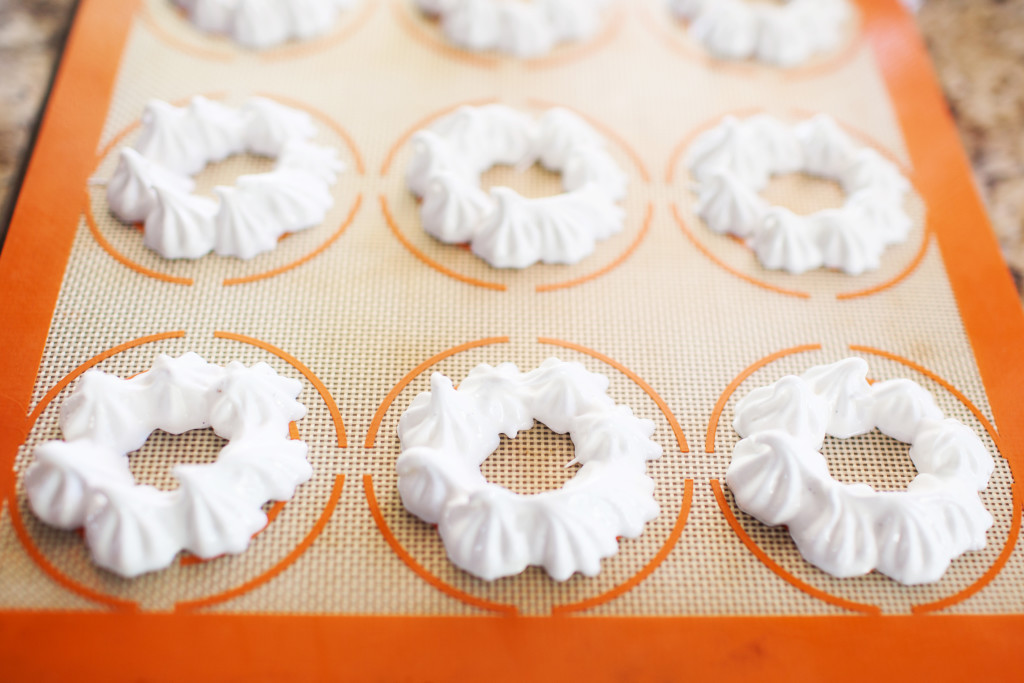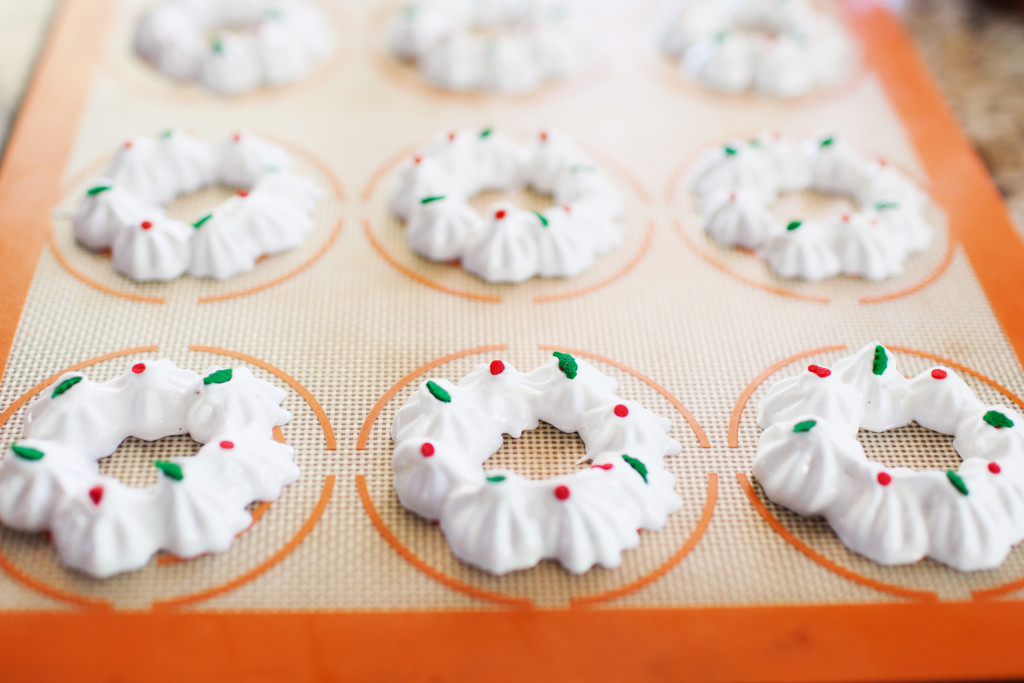 Bring these to your next holiday party and liven up the dessert table. They are completely addicting and the guests won't be able to stop at just one, so keep some for yourself at home ;)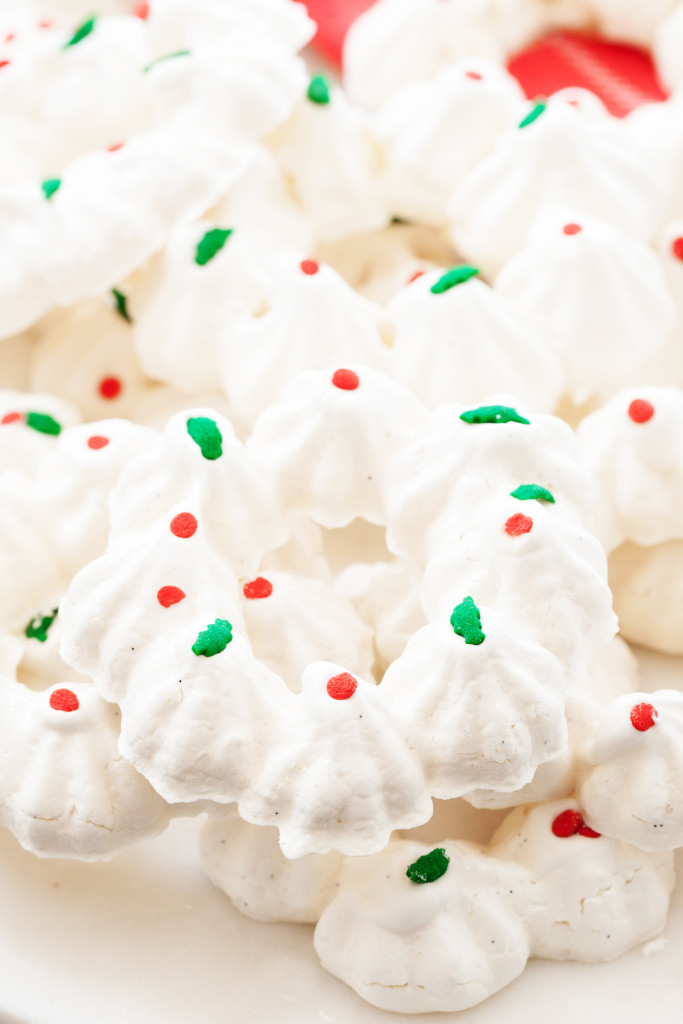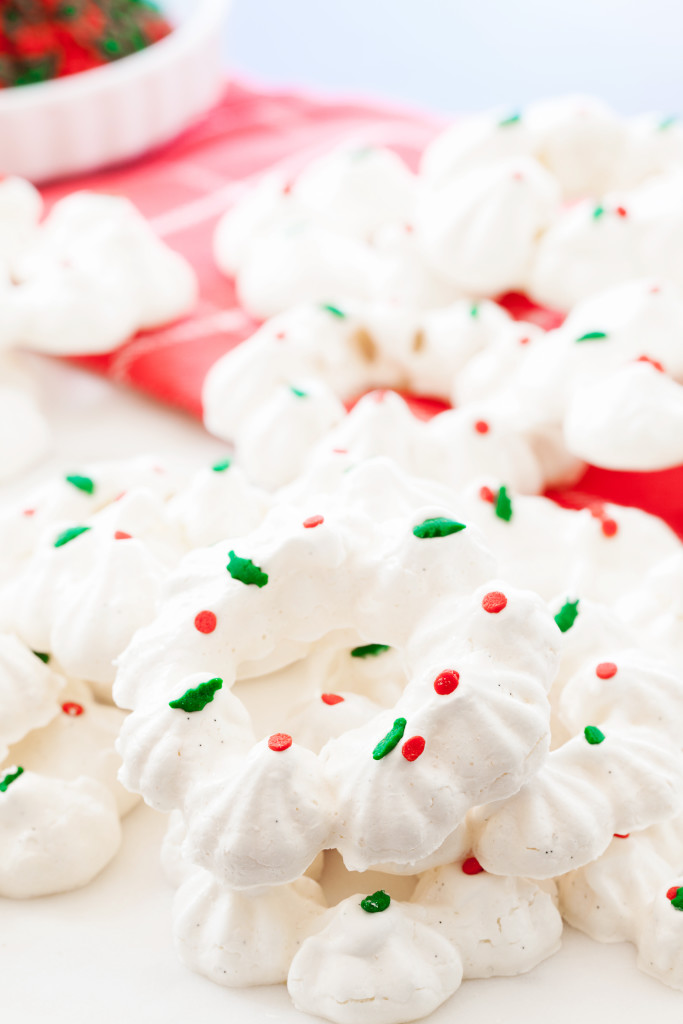 Meringue Wreaths
Yields about 30 wreaths
Printer friendly version
Ingredients
4 large egg whites, room temperature
Pulp from ½ vanilla bean
1 cup granulated sugar
Sprinkles for decorating (optional)
Directions
Preheat the oven to 200°F. Line a baking sheet with parchment paper or silpat.
In the bowl of an electric stand mixer, fitted with the whisk attachment, whip the egg whites and vanilla bean pulp on medium speed* until foamy.
Without turning off the mixer, slowly pour in the sugar, aiming directly for the eggs, between the whisk and the bowl**.
Increase the mixer to high speed*** and whip until soft peaks form.
To make the wreaths, pipe individual stars into a ring shape onto the prepared baking sheet using an open star tip. Alternatively, the soft meringues can be decoratively spooned onto the baking sheets to make meringue dollops. Using a wet fingertip, gently flatten any thin points on the top of the wreaths/dollops. Decorate with sprinkles, if using.
Bake for 2 hours. Without opening the oven door, turn off the oven and allow the meringues to dry in the cooling oven for at least 2 hours, preferably overnight.
Notes
*6 on my Kitchen Aid
**I used a funnel to help guide the sugar.
***I switched it to 8 on my Kitchen Aid for about 20 seconds, then increased it to 10.
Meringues adapted from Sift