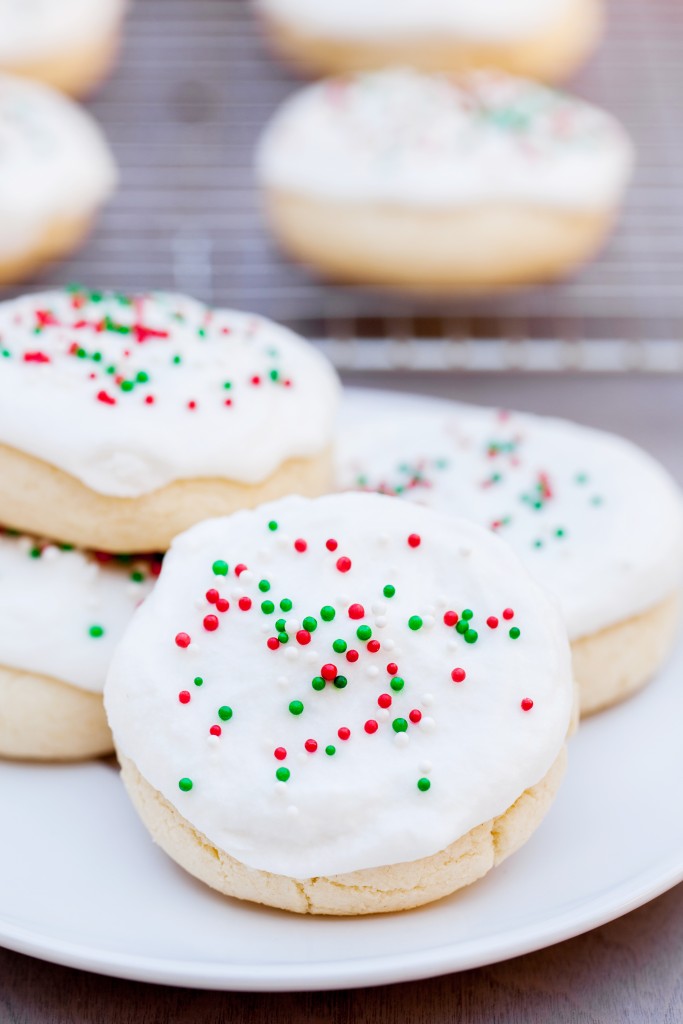 Years ago my kid sister introduced me to Lofthouse sugar cookies. By introduced, I mean she saw the colorfully frosted and sprinkled thick sugar cookies in their crystal clear containers sitting on the table in the bakery section of our local supermarket and couldn't resist adding them to our shopping cart. Once we got home, she tried one and has been hooked ever since! My enthusiasm for them has always been less than hers, but I do admit, every time I pass by them in the market, I consider purchasing a box. Simply because they're so pretty to look at and conjure up some nostalgic feelings from our childhood.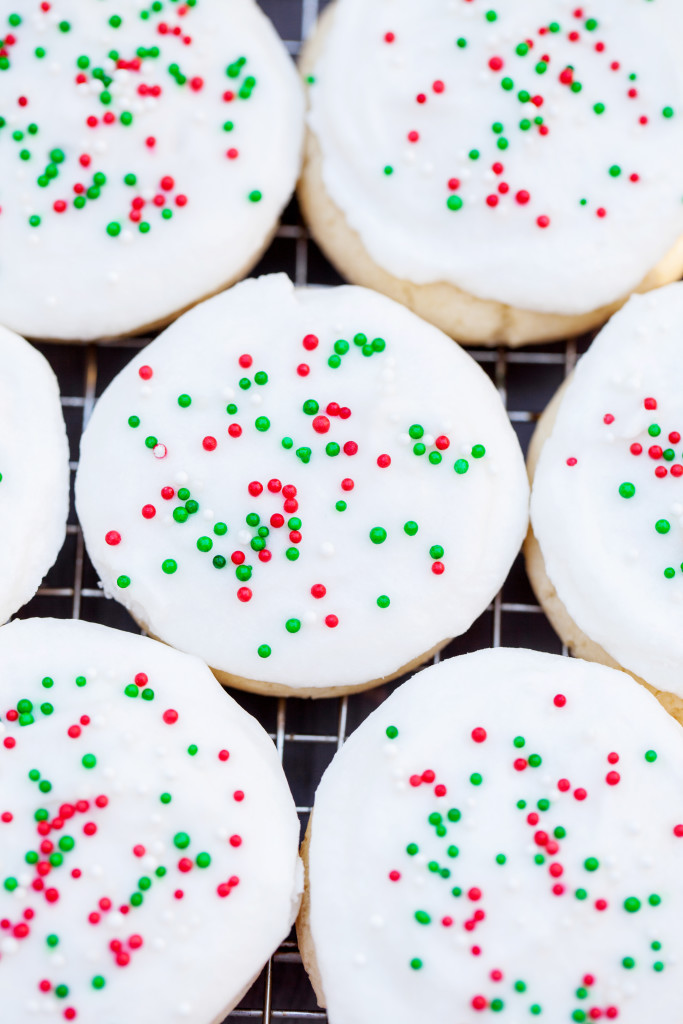 My sister is now home for the holidays and as luck would have it, a few weeks before her arrival, I stumbled upon recipes for Lofthouse cookies. I remembered how much she loves them and thought they would be nice to whip up for her homecoming. So to work I went on perfecting the ingredient combination and technique to achieve those cookies we all have such a hard time resisting at the store.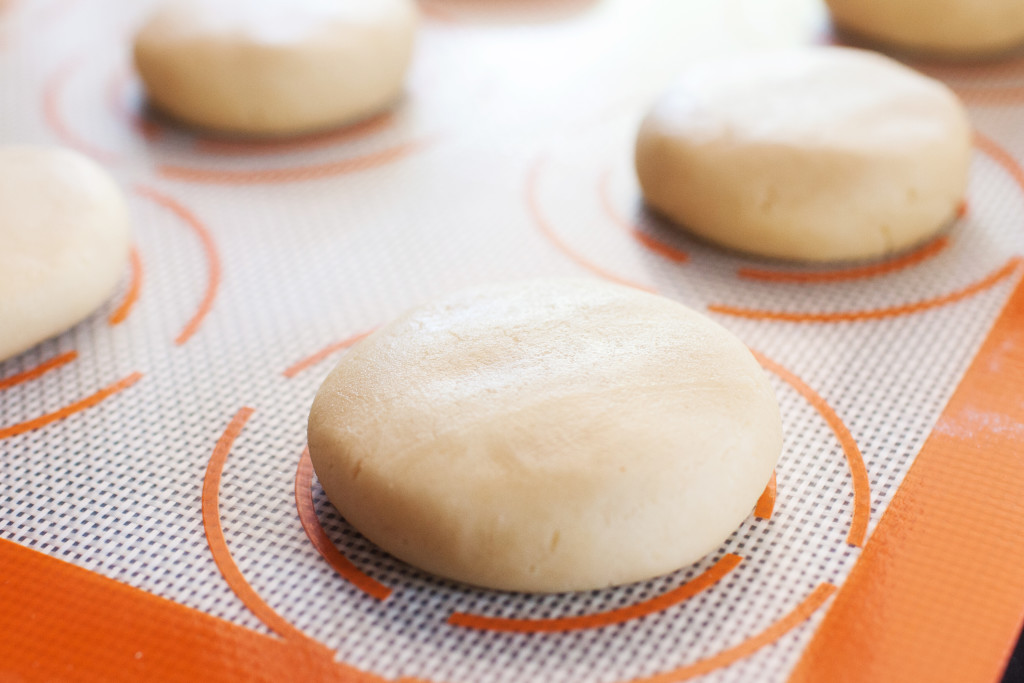 After several batches, I am happy to report that I succeeded and then some. Dare I say I like these better than the store bought ones? Well, I do!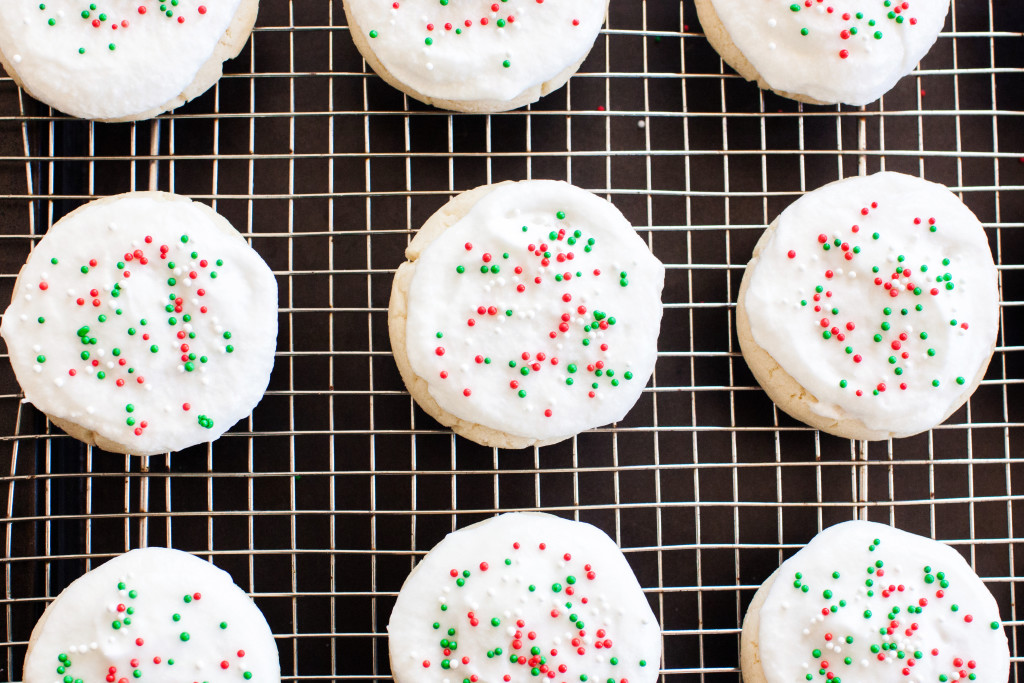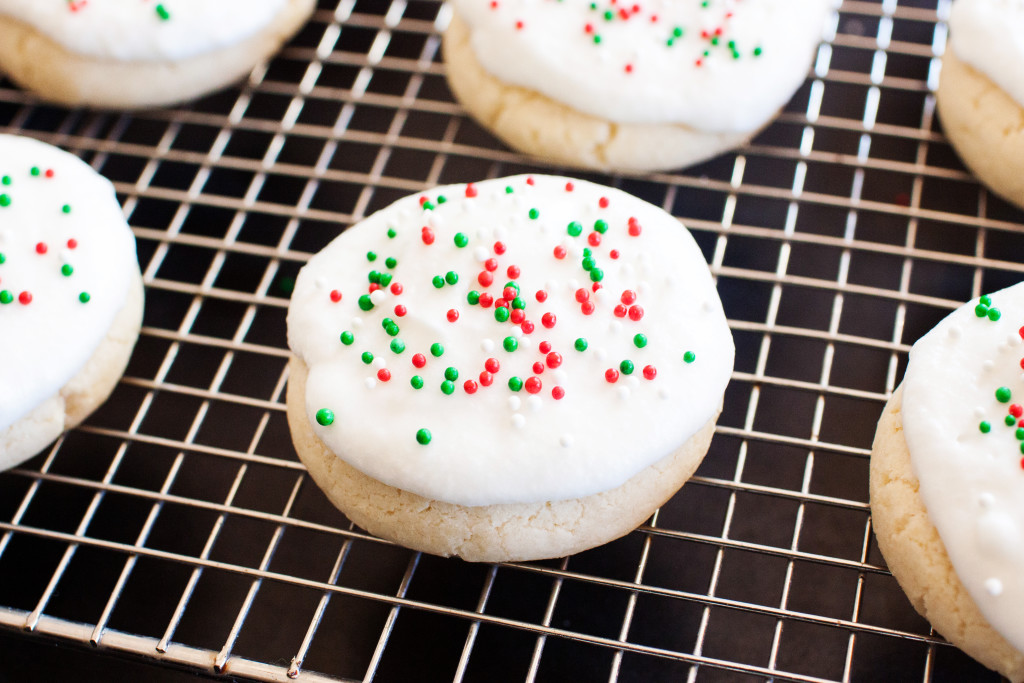 The dough comes together in no time and there's no chilling required! This means you can make the dough, stage them on the baking sheet, and 11 minutes later you will have yourself freshly baked, soft and thick sugar cookies. If you're extra patient and want a true to style Lofthouse cookie, top them with some frosting and sprinkle it out to your heart's content.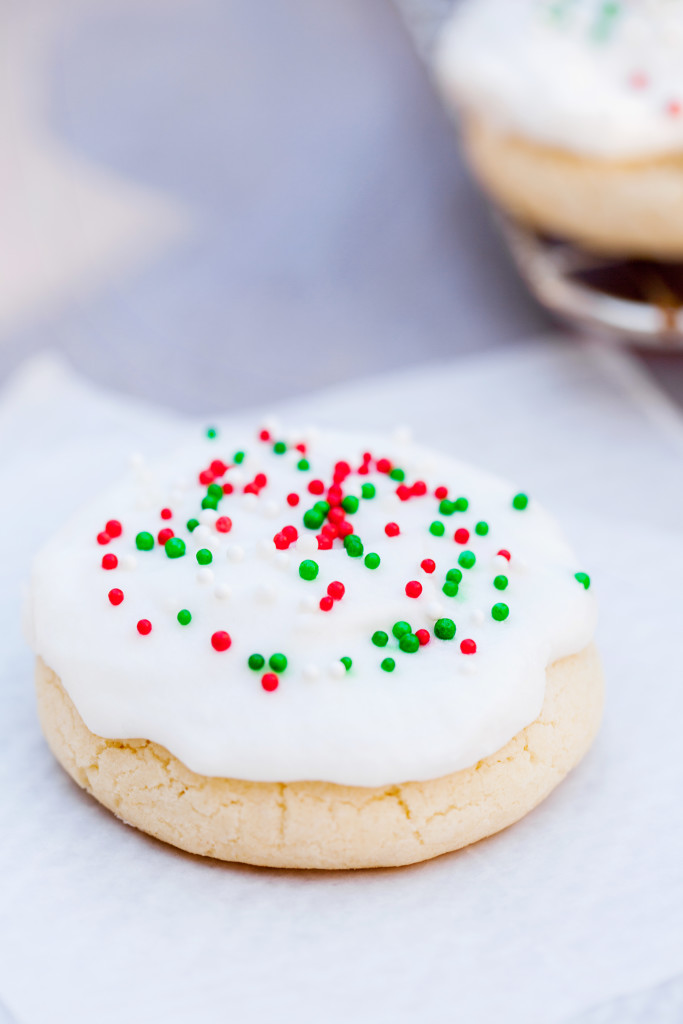 The frosting hardens over time, making these cookies perfect for cookie swaps and and transporting to holiday parties. How about a cookie decorating party? With no fancy piping required, the perfectly decorated cookie can be achieved with a batch of frosting and an assortment of colorful sprinkles laid out on the decorating table.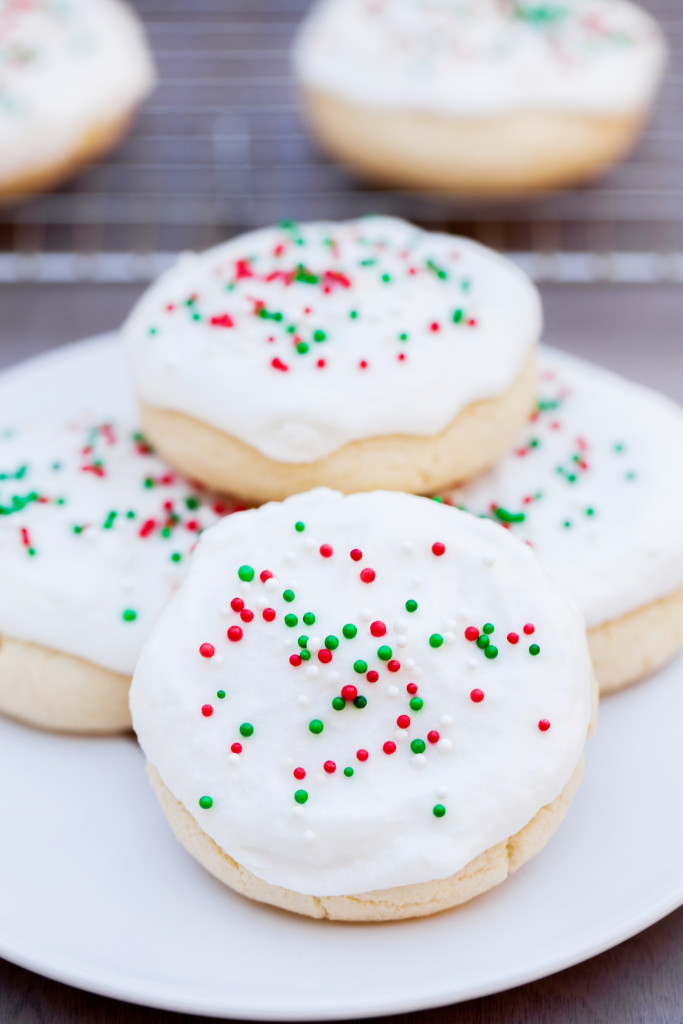 Simple and nostalgic, I believe these sugar cookies will be enjoyed by you and your loved ones.
Lofthouse Style Sugar Cookies
Yields about 20 cookies
Printer friendly version
Cookie
Ingredients
¾ cup salted butter, softened
¾ cup granulated sugar
1 large egg, room temperature
1 large egg yolk, room temperature
1 teaspoon vanilla extract
2 cups all-purpose flour
2 ¼ teaspoons baking powder
Directions
Preheat oven to 350°F. Line a baking sheet with silpat or parchment paper.
In the bowl of a stand mixer, fitted with the paddle attachment, cream together the butter and sugar on low-medium speed until pale, creamy, and smooth.
In a small bowl, combine the egg, yolk, and vanilla. Set aside. In a large bowl, thoroughly whisk together the flour and baking powder. Set aside.
Add the egg mixture to the creamed butter and continue mixing on low-medium speed until it no longer appears curdled, scraping down the sides as necessary.
Switch the mixer to low/stir speed and add the flour mixture. Mix until flour clumps or streaks no longer appear and a soft dough forms, scraping down the sides as necessary.
Roll about 2 tablespoons of dough into a ball and place onto the prepared baking sheet. With the palm of your hand, gently flatten the dough to produce a disk about ½-inch thick. Repeat with the remaining dough, spacing the disks about 1 ½ -inches apart.
Bake for 11-13 minutes until the edges are just beginning to turn golden brown. Cool on the baking sheet for 5 minutes before transferring to a cooling rack to cool completely.
Frosting
Ingredients
3 tablespoons salted butter, softened
½ teaspoon vanilla extract
2 ½ cups powdered sugar, sifted
3-5 tablespoons water
Sprinkles for decorating (optional)
Directions
In the bowl of a stand mixer, fitted with the paddle attachment, cream the butter on low-medium speeduntil pale and smooth. Add the vanilla and continue mixing until combined.
Switch the mixer to low/stir speed and add the powdered sugar in ½ cup increments. Scrape down thesides as necessary and continue stirring until the powdered sugar has been fully incorporated.
Add the water 1 tablespoon at a time until a spreadable consistency is formed.
Assembly
Frost the completely cooled cookies and decorate with sprinkles, if desired. Allow the frosting to set before serving.
Storage
Store in an air tight container at room temperature for up to 2 days.
Adapted and modified from Rachel Cooks