Two layers of soft white cake, lemon curd filling, and cream cheese frosting make this Lemon Snack Cake the perfect "light" and bright dessert.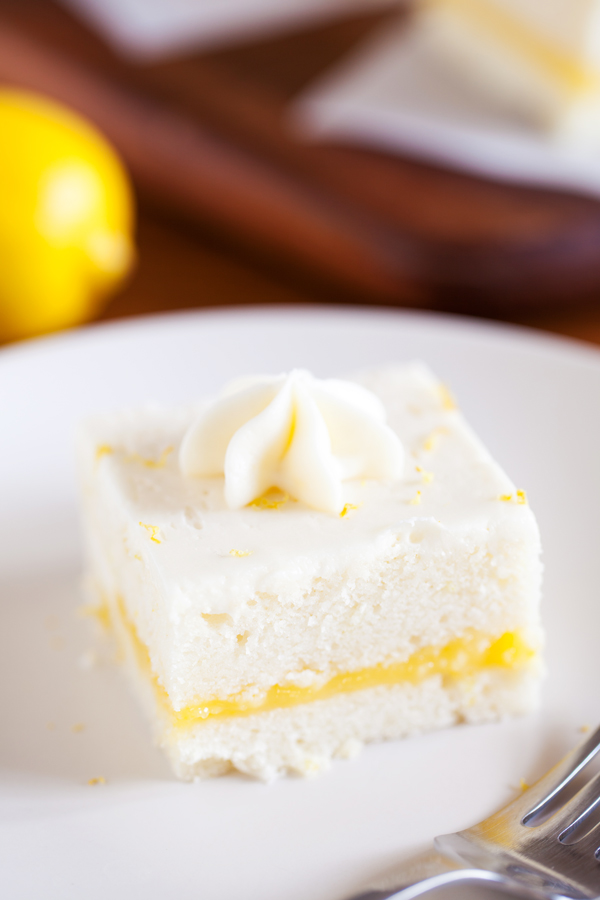 Do you guys ever just get a hankering for some cake? Sometimes I'm just in the mood for soft layers of cake with a tangy lemon curd filling and a nice layer of cream cheese frosting. We've all been there, right? I know I'm not alone in this.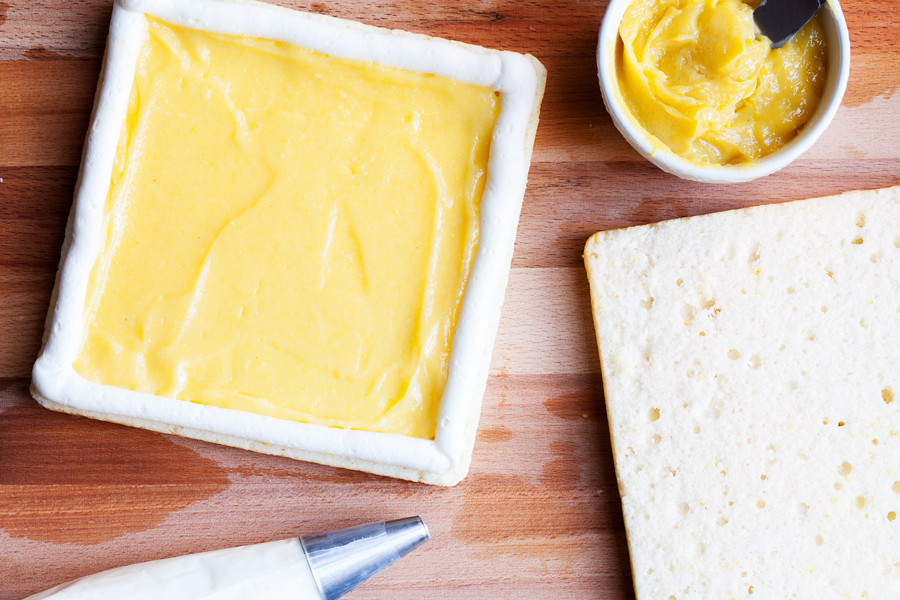 During my latest craving attack, I got to work right away to create the best Lemon Snack Cake I could. You can use your favorite white or yellow cake recipe, but for me, this one's it! It has simple and pure flavors, is soft, moist, and the crumb is just right! Yep, this is my go-to white cake for now and forever :)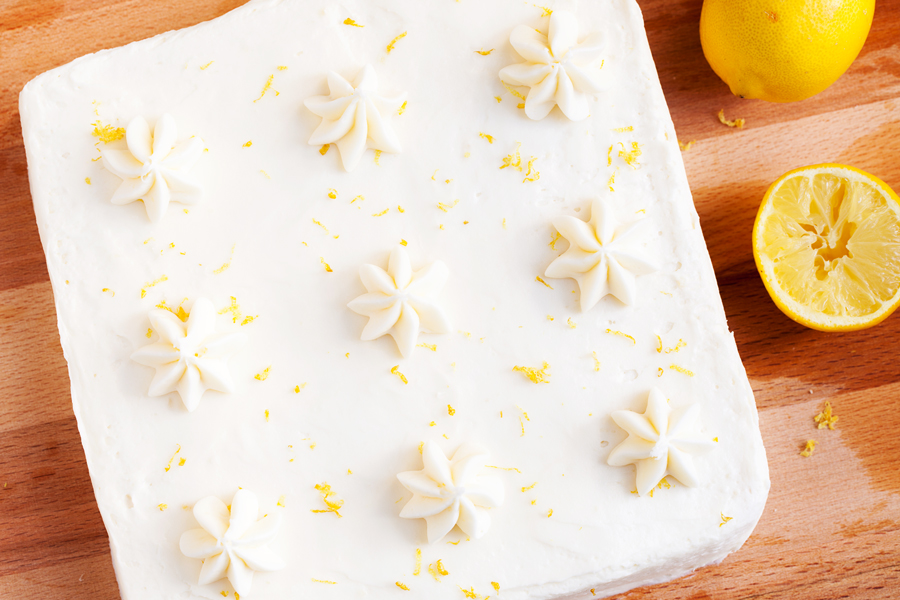 To enhance the white cake for this Lemon Snack Cake, I infused the sugar with some freshly grated lemon zest. I LOVE the difference it makes.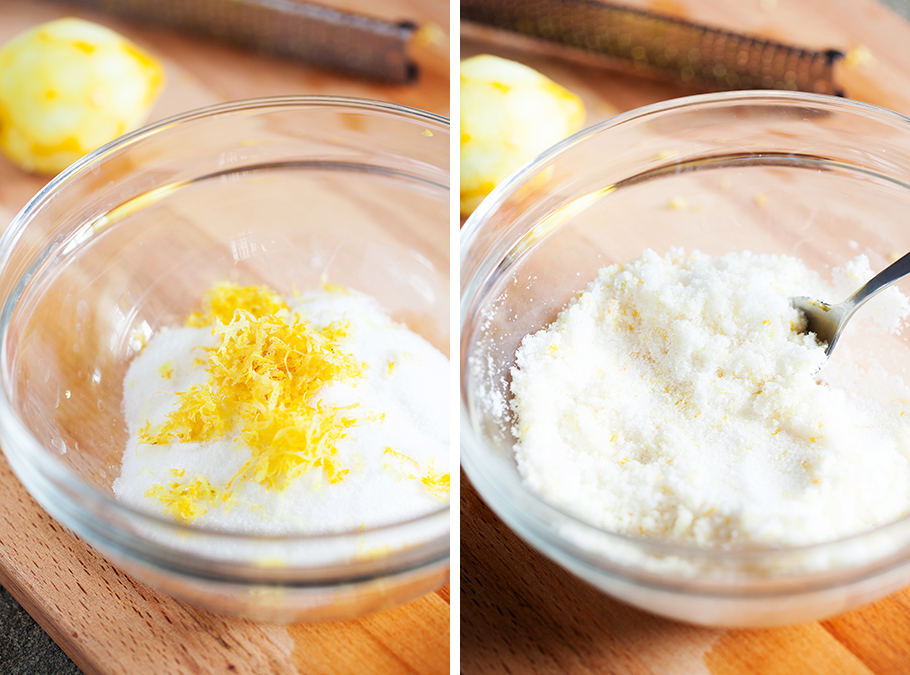 Then, I sliced the cake into two layers and filled the middle with a fresh batch of Homemade Lemon Curd. Looking so YUM already!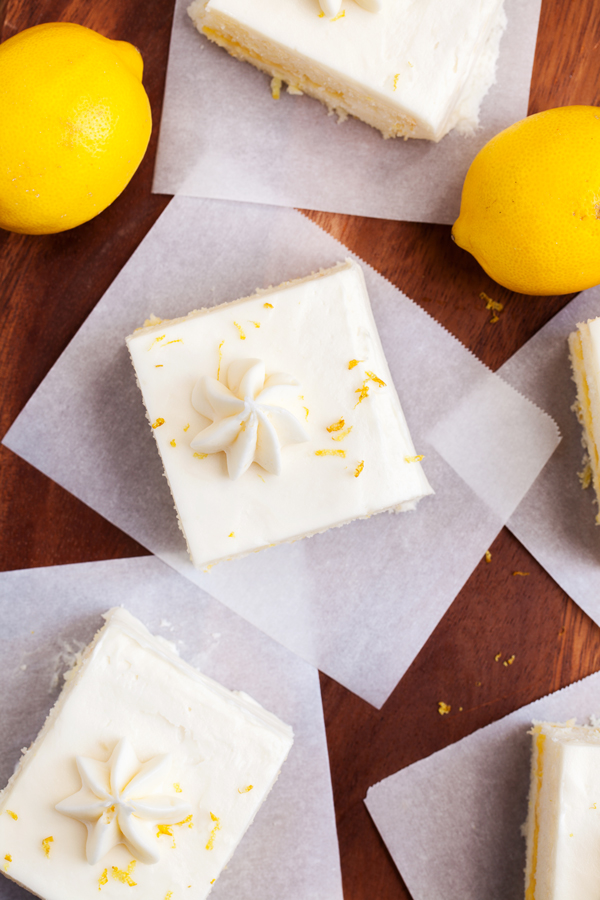 If cake and lemon curd aren't enough, I went ahead and topped it all off with globs of thick cream cheese frosting from my Red Velvet Cupcakes for Two. Just heavenly!
Just a fair warning. Slices of this Lemon Snack Cake is very addicting. I sliced the entire cake in individual portions (mistake #1) and left them on the counter. It's very hard to walk by the counter without grabbing a slice every…single…time. So, I've been snacking on this Lemon Snack Cake for days! Hey, I never said I had will power :D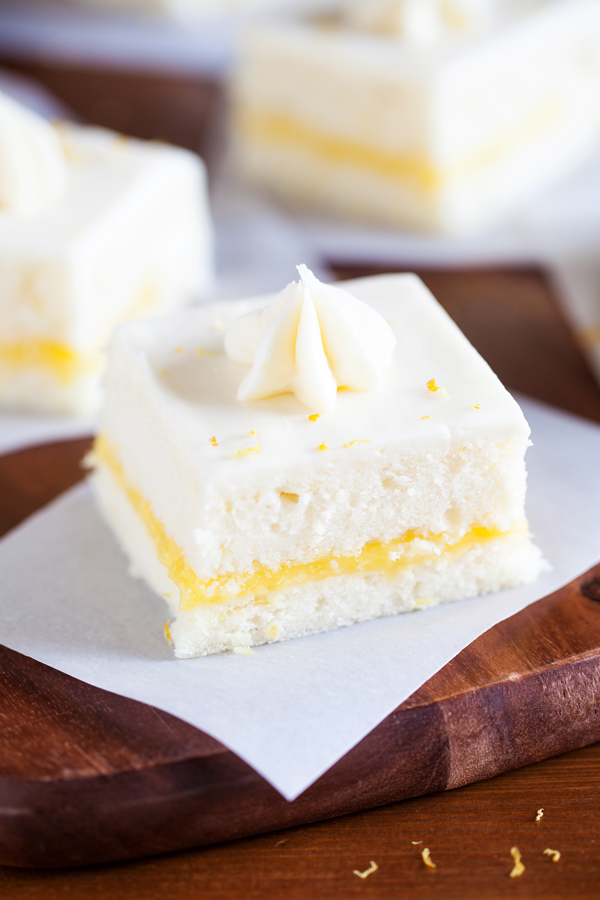 I know lemons are available year round, but something about this cake just reminds me of summer. Although the Lemon Snack Cake would be delicious in the summer, I highly recommend you follow in my footsteps and make it now and just dream about summer coming early (because we've all shivered enough!).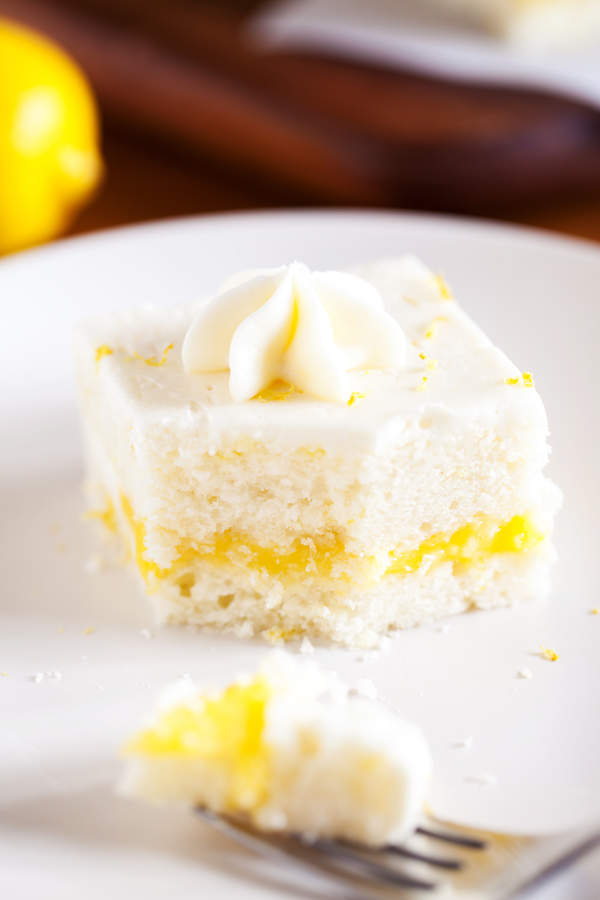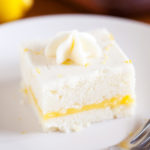 Lemon Snack Cake
Yields 1 - 8x8, 2-layer cake, about 9 slices
Calories per Serving
:
214
kcal
Ingredients
Zest from 1 lemon

½

cup

granulated sugar

½

cup

buttermilk, room temperature

2

large egg whites, room temperature

1 ¼

teaspoons

pure vanilla extract

1 ½

cups

cake flour, sifted

2

teaspoons

baking powder

3

tablespoons

unsalted butter, room temperature, cubed

3

tablespoons

canola oil
Instructions
Pre-heat oven to 350°F. Grease an 8x8-inch cake pan.

In a small bowl, add the zest to the sugar and use the back of a small spoon to press the zest into the sugar. Continue until sugar is slightly damp and pale yellow.

In a medium bowl or measuring cup, whisk together the milk, egg whites and vanilla.

In the bowl of a

stand mixer

fitted with the paddle attachment, combine the

flour

, lemon sugar, and baking powder. On the lowest speed, stir until combined, about 30 seconds.

Add the butter and increase speed to medium-low. Stir for 1 minute. Pour in the oil and continue stirring for 1 minute, until a smooth batter forms. Off the mixer and scrape down the sides.

Change the speed to medium and slowly pour in the milk mixture, in three additions, stirring for 20 seconds after each addition. Scrape down the sides after each addition as necessary.

Pour batter into the prepared cake pan. Bake for 20 – 22 minutes until a toothpick inserted comes out clean.

Let cake cool completely in the pan. Run the edge of a thin knife or an

offset spatula

along each side. Invert the cake onto a cooling rack, remove the pan, and let the inverted cake "dry" completely, about 1 hour.
Lemon Curd
Yields 1 1/4 cup
Serving Size: 1/4 cup
Calories per Serving
:
257
kcal
Ingredients
¾

cup

granulated sugar

1 ½

tablespoons

cornstarch

½

cup

freshly squeezed lemon juice

6

egg yolks

3

tablespoons

unsalted butter, room temperature

Zest from 1 lemon
Instructions
In a medium, nonreactive saucepan, whisk together the sugar and cornstarch. Stir in the lemon juice and yolks and heat over medium-low heat. Bring to a boil and allow to boil for 1 minute, stirring continuously, until thickened.

Off the heat and strain through a fine mesh sieve into a glass cup or bowl. To the strained curd, stir in the butter until completely melted. Add the zest and stir to combine.

Gently press plastic wrap directly on top of the curd's surface and refrigerate for at least 1 hour before using.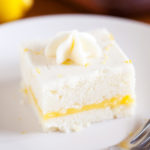 Cream Cheese Frosting
Yields 2 cups
Serving Size: 1/2 cup
Calories per Serving
:
775
kcal
Ingredients
8

ounces

(1 brick) cream cheese, room temperature

½

cup

(1 stick) unsalted butter, room temperature

1

teaspoon

vanilla extract

3

cups

confectioners 'sugar, sifted

2

tablespoons

cream or milk
Instructions
Using a stand mixer or a hand mixer, beat together the cream cheese and butter until smooth.

Add the vanilla and beat until combined. Slowly add the sugar and beat until smooth. Add the cream or milk a little at a time until desired consistency.
Recipe Notes
Assembly
Divide the cake into two even layers using a serrated knife or cake leveler (like this).
Wrap each layer with plastic wrap and freeze for at least 4 hours (overnight preferred).
Place one layer on a serving platter or cake stand. Pipe a ½-inch border of cream cheese frosting along the edge of the cake. Using a small offset spatula, spread about ½ cup of lemon curd within the boundaries of the cream cheese border.
Cover with the second frozen layer, top-side down.
Using an offset spatula, cover the entire cake evenly with the remaining cream cheese frosting.
Decorate with zest if desired.
Cut into 9 even squares.
Storage
Store at room temperature for up to 4 days.
Note: This page contains affiliate links that help make The PKP Way possible. Should you choose to purchase anything via those links, I will receive a small commission paid by Amazon, not you.