Fresh, homemade chicken stock that will make you rethink picking up that carton the next time you're at the store.
Follow along with the video!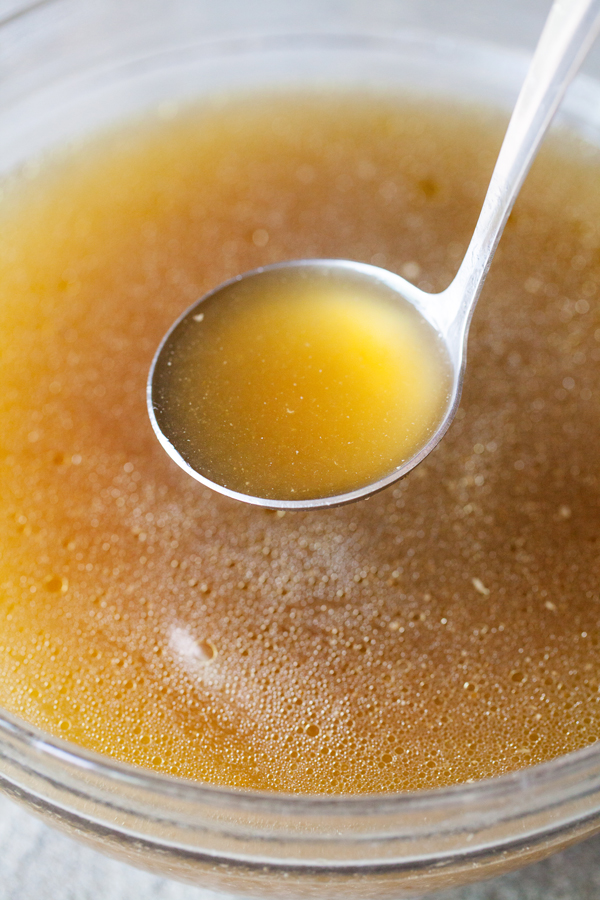 During my last semester of college, I took a catering class at a local community college. On the first day, the instructor told the class a little bit about his history and how he came to be a chef.
One of the anecdotes that resonated with me was that he immigrated to the U.S. from Italy, around middle school age, and that until he moved here, he had no idea you could buy chicken stock, or any stock for that matter, in a carton or can. Making chicken stock at home was a weekly ritual in his family and the norm in his neighborhood, like mowing the lawn.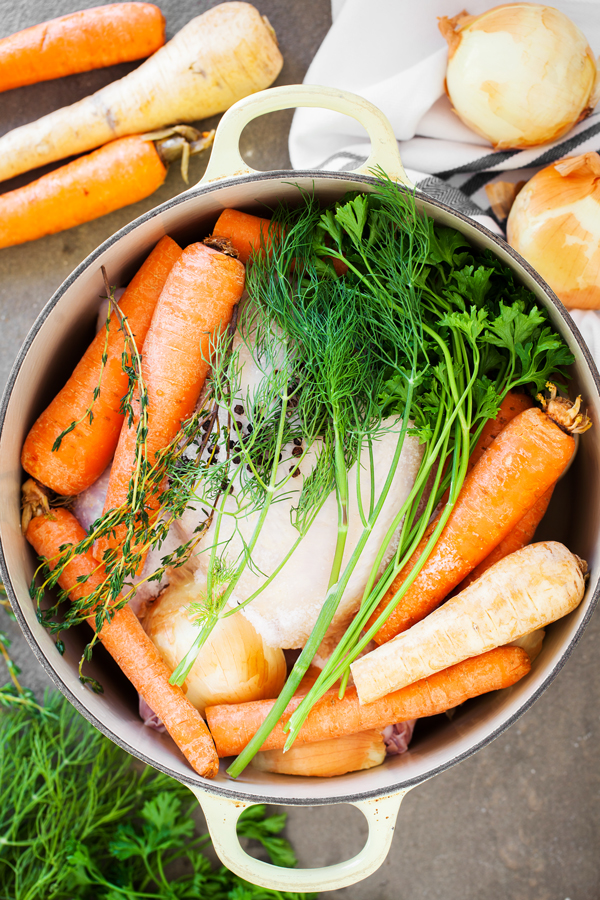 I love that story. It's so simple, but has so much heart! Because this site has evolved into one for people who love to cook from-scratch and those who enjoy spending time in the kitchen, I felt it was my duty to post a basic chicken stock recipe. I'm not saying that you should make broth brewing a weekly ritual (although it might become one!), but it's here if you need it.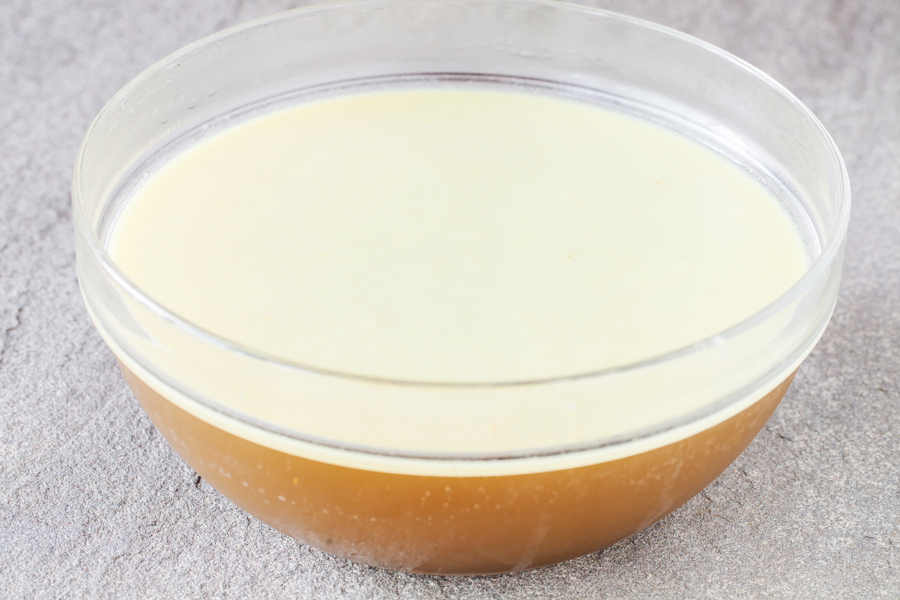 In searching for a recipe, I knew exactly who to turn to – the queen of chicken herself, Ina Garten. With her winning lemon chicken recipe (the most popular recipe on The PKP Way!), I completely trusted her for the best from-scratch chicken stock recipe.
Once again, she delivered. The recipe couldn't be simpler. Simply simmer together a whole fresh chicken with some root vegetables and staple herbs and spices for a few hours.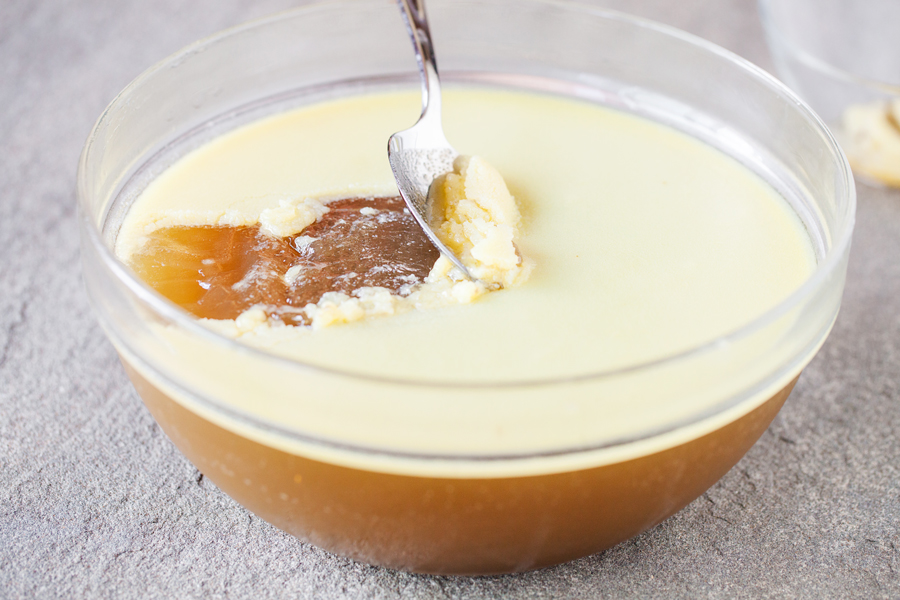 Then, strain and refrigerate. The next day, the broth will have separated and the fat will have solidified at the top for you to remove (if you wish). That's it! Fresh, homemade, chicken stock to use however you choose.
I store my batch in the refrigerator because I go through chicken broth quickly (within days), but you can freeze it if you won't be using it for a while.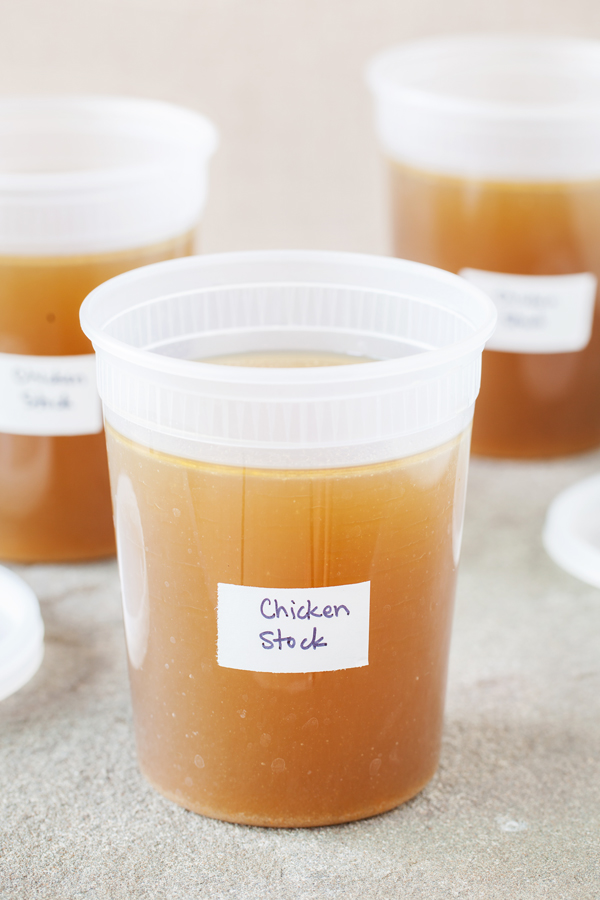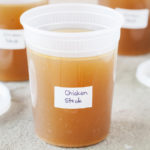 Homemade Chicken Stock
Course:
broth, Soup, staples
Serving Size
:
3
quarts (12 cups)
Calories per Serving
:
1037
kcal
Ingredients
1

5 to 6 pounds whole, fresh chicken, rinsed and patted dry

1

large yellow onion, left unpeeled, quartered

2

carrots, left unpeeled, halved

3

stalks celery, leaves left on, cut into thirds

3

parsnips, left unpeeled, halved

6

sprigs fresh parsley

5

sprigs fresh thyme

6

sprigs fresh dill

1

head garlic, unpeeled, halved crosswise

2

teaspoons

salt plus more to season

1

teaspoon

black peppercorn
Instructions
In a large stock pot, add the chicken, onion, carrots, celery, parsnips, parsley, thyme, dill, garlic, 2 teaspoons of salt, and peppercorn.

Add 3 quarts (12 cups) of water and bring to a boil over medium-high heat. Reduce the heat to low and allow to simmer uncovered for 2 hours.

Carefully remove the chicken and large vegetable pieces. Strain broth into a large bowl, through a sieve, to remove any remaining small pieces of herbs and vegetables.

Cover the bowl with plastic wrap and refrigerate for at least 6 hours. The fat will separate and rise to the top. Use a spoon to scrape off the fat (optional).

Store broth in airtight containers in the refrigerator (up to 5 days) or freezer (up to 3 months).
Recipe Notes
If storing in the refrigerator, the broth may solidify. Microwave until liquid (30 to 60 seconds) before using.
If storing in the freezer, thaw before using.
Adapted from Ina Garten.
Note: This page contains affiliate links that help make The PKP Way possible. Should you choose to purchase anything via those links, I will receive a small commission paid by Amazon, not you.