This green machine smoothie combines veggies and fruits to give you that kick of nutrients to help get your day started.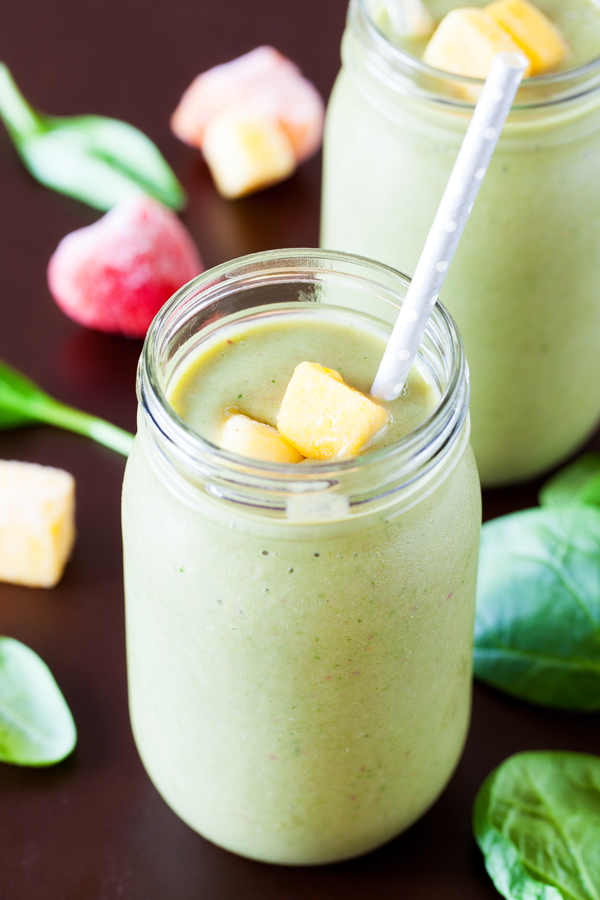 Today I'm sharing a smoothie that Warren and I drink practically every morning. It combines the best of both worlds – veggies and fruits! I'm waking up earlier these days to workout (4:30 – 5:00 AM), so I like to prepare the smoothies the night before so they're at the ready in the morning. If you have more time than I do in the mornings, they can be made the morning of too :)
There's fresh spinach, bananas, strawberries, pineapple, papaya, and mango. YUM! The strawberries, pineapple, papaya, and mango that I used were frozen because a smoothie needs some sort of icy element to thicken it up. Alternatively, you can use fresh versions and previously frozen sliced bananas. Whatever you have on hand, you can make it work!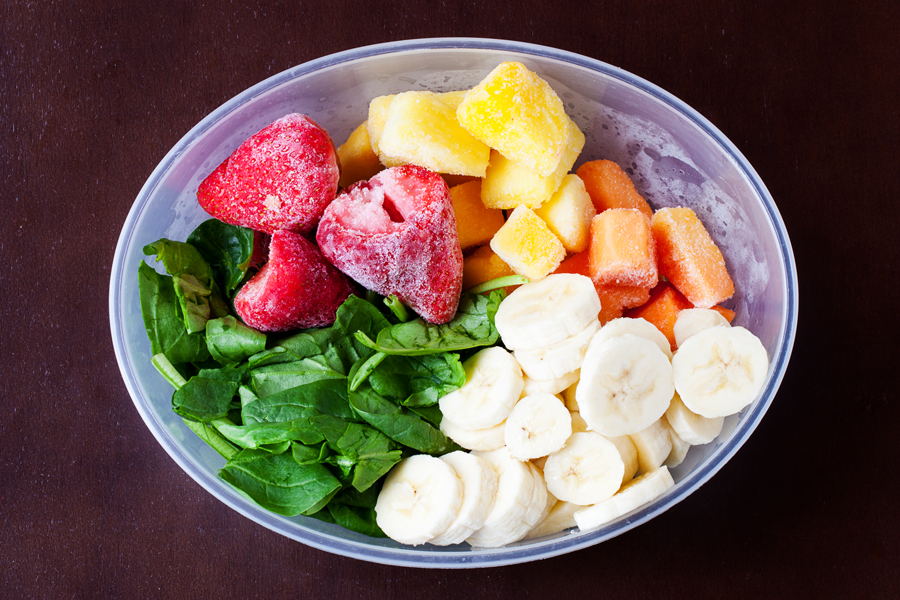 The vitamin-rich concoction is blended together with coconut milk. I've also used milk in the past when I've run out of coconut milk. Like I said, you can make it work :D
This smoothie is perfect following your morning workouts or for breakfast in general. And, it's so easy to throw together, especially if you use my mason jar smoothie hack.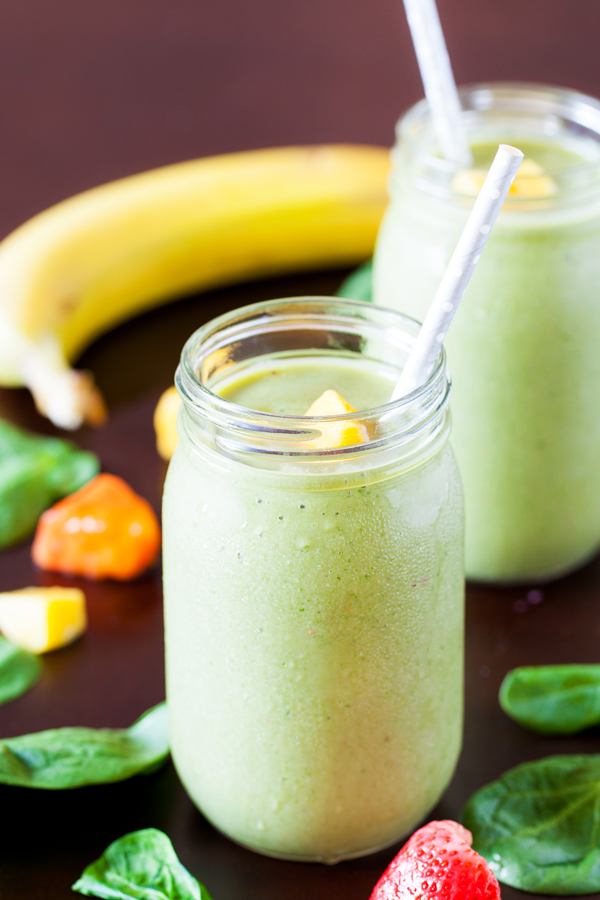 Of course, you can make it the conventional way with a blender too. Whatever floats your boat! I included instructions for both methods below.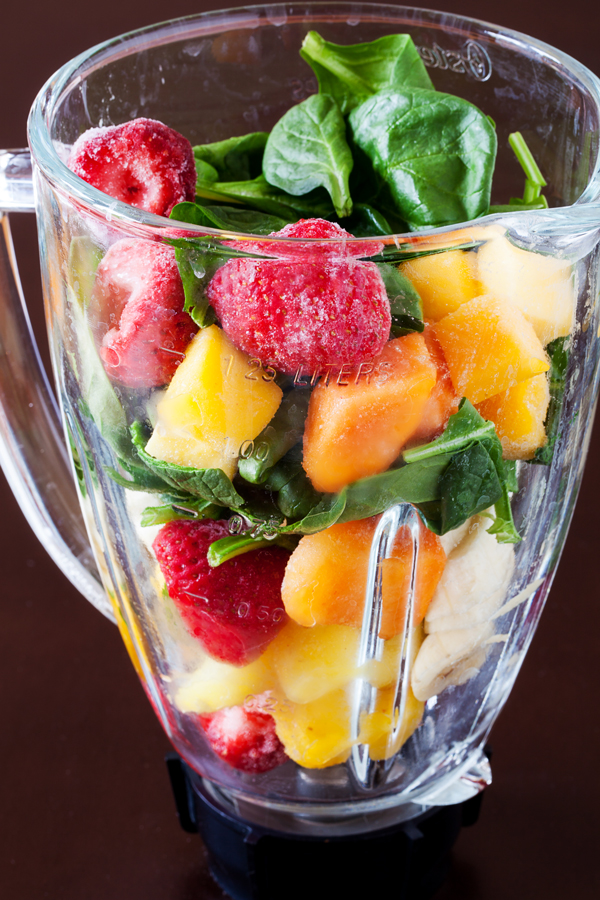 The smoothie is refreshing for these warmer mornings and will give you that kick of nutrients to help get your day started. Not to mention, fulfilling a part of your fruits and veggies quota for the day. All in one drink!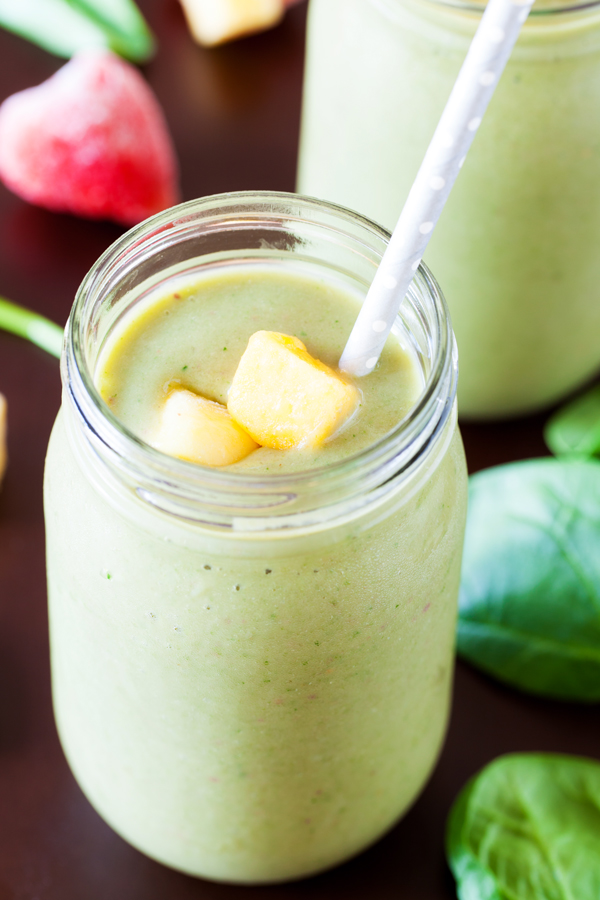 Green Machine Smoothie
Yields 2 servings (about 4 ½ cups)
Printer friendly version
Ingredients
1 ripe banana, sliced
1 cup frozen strawberries
¼ cup frozen pineapple
½ cup frozen papaya
½ cup frozen mango
1 cup fresh spinach leaves
2 cups coconut milk
Directions
Mason Jar Method
Divide the ingredients evenly between two mason jars.
Attach the blades and pulse for a few seconds, just until it's well-blended. If needed, shake the jar a little bit and continue pulsing until completely blended.
Blender Method
Add all the ingredients to the blender's pitcher and cover.