Cloud-like, melt in your mouth Chocolate Hazelnut Mousse – The perfect ending to any meal.
Chocolate Mousse is one of those "under the radar" desserts. It's not talked about too much and it's probably not the first thing that pops into your head when you think dessert. BUT to me, it's the perfect ending to a meal. Mousses are light and fluffy so you don't ever have to save room for it. Kind of like an after dinner mint, except chocolate!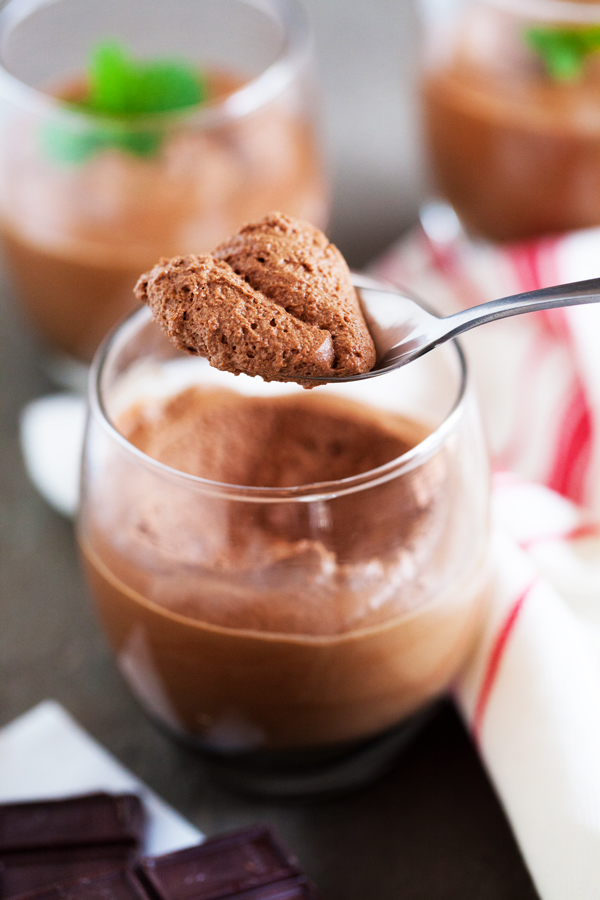 With the additional hazelnut flavor, my Chocolate Hazelnut Mousse takes the traditional chocolate mousse to the next level. Chocolate and hazelnut are a match made in heaven and in mousse form, they're a couple that will live happily ever after :D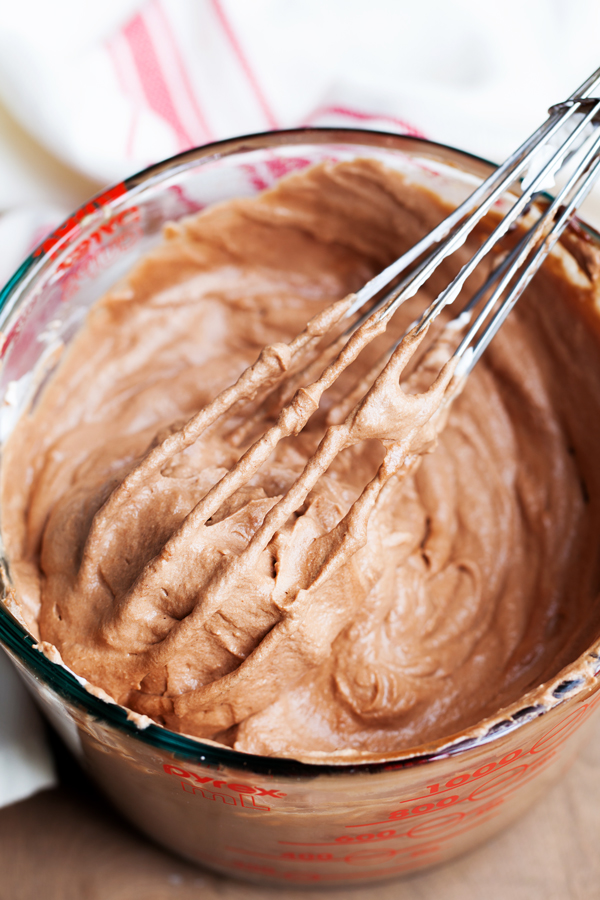 Fair warning before you attempt this recipe. There are several steps to take before arriving at the perfect, cloud-like, melt in your mouth Chocolate Hazelnut Mousse, but I assure you that the end result will make each and every step worth it. One of the first steps is steeping the milk with ground hazelnuts. No hazelnut extract is used in this recipe, the hazelnut flavor is purely extracted from fresh hazelnuts. Delish! See what I mean? It's those extra little steps that help make mousse so special.

Serve this Chocolate Hazelnut Mousse after my Baked Lemon and Herb Salmon and Lemon Israeli Couscous with Dates and Walnuts. Or, since Valentine's Day is coming up, it would make a wonderful light dessert after a gourmet dinner. Or, if you want to channel our house, just make it over the weekend and keep it on hand to have mousse any time you feel like it.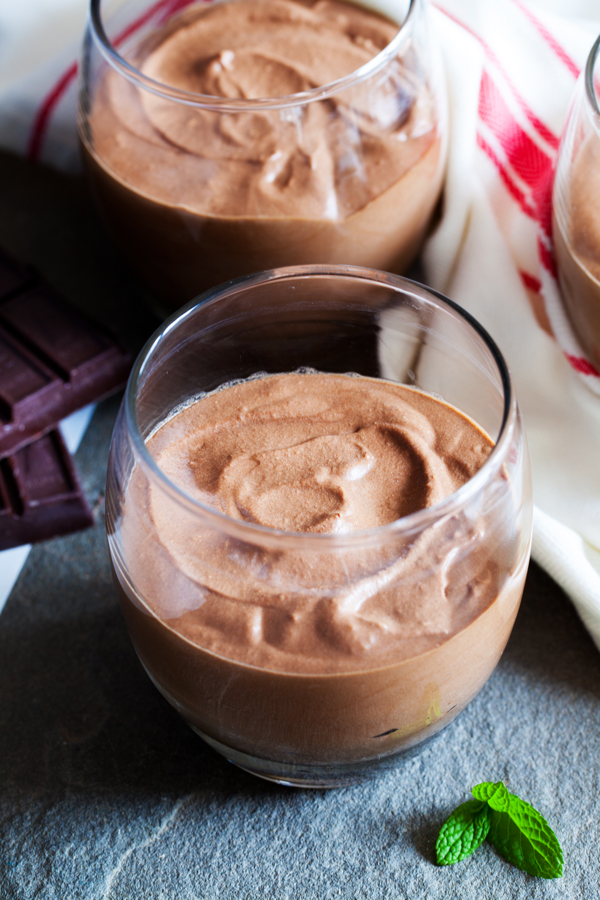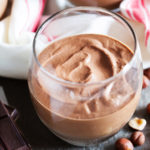 Chocolate Hazelnut Mousse
Yields 4 servings*
Calories per Serving
:
530
kcal
Ingredients
½

cup

milk

¼

cup

hazelnuts, roughly chopped

1

cup

heavy cream

4

ounces

bittersweet** chocolate, finely chopped

¼

teaspoon

instant coffee granules

½

teaspoon

vanilla extract

2

large eggs, separated

⅜

cup

plus 1 ½ teaspoons granulated sugar

¼ + ⅛

Fresh mint, optional, chopped hazelnuts or fresh raspberries for serving
Instructions
In a small saucepan, heat milk and hazelnuts over low heat. Bring to a low simmer and let simmer for 5 minutes. Cover with lid and set aside to cool.

With a hand mixer, whip ½ cup of cream until stiff peaks form. Cover with plastic wrap and keep chilled in the refrigerator.

Place the chocolate and coffee in a large glass measuring cup with a spout***. Heat the remaining ½ cup of cream in a small saucepan over medium-low heat until steamy, but not boiling. Pour the cream over the chocolate and let stand for 2 minutes. Stir until completely melted and smooth. Set aside to cool.

Bring 1 ½ inches of water to a boil in a medium pot. Lower the heat and maintain a gentle simmer. Place over the pot a metal bowl that can sit atop without touching the water. Strain the cooled milk through a sieve into a glass measuring cup or small bowl. Stir in the vanilla. Measure ¼ cup of the milk into the metal bowl. Whisk in the egg yolks, and 1 ½ teaspoons of sugar. Whisk constantly until thickened. Set aside to cool.

In another bowl that can sit atop the pot without touching the water, add the egg whites and remaining ⅜ cup sugar. Using a hand mixer, whip until fluffy and shiny. Remove the bowl from the pot and continue beating until stiff peaks form.

Using a whisk, fold the yolk mixture into the chocolate mixture until combined. Fold the egg white mixture into the chocolate mixture until only a few streaks remain. Fold in the chilled whipped cream until just combined. Pour and divide the mousse among 4 serving dishes. Cover and refrigerate for at least 6 hours. Serve with fresh mint, chopped hazelnuts, or raspberries.
Recipe Notes
*When I originally developed the recipe, it made double the batch you see here. I decided to modify the recipe as a small batch version in order to accommodate small households. HOWEVER, I highly recommend doubling the recipe because they won't last long! And, considering the number of steps, you might as well make a big batch!
**Semi-sweet chocolate can be used too. It will just be slightly sweeter.
***I used a 4-cup glass measuring cup.