This shop has been compensated by Collective Bias, Inc. and its advertiser. All opinions are mine alone. #IDSimplyPure #CollectiveBias
These gluten-free, mighty, and delicious apple breakfast cupcakes with caramel "frosting" will start your day on the right foot.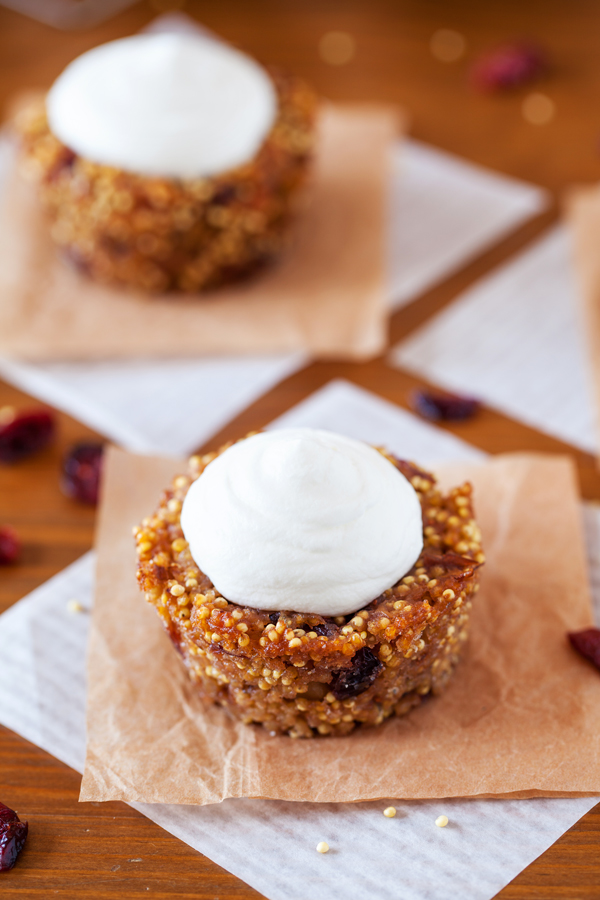 Oh boy! Am I excited to be sharing this recipe with you today! These Caramel Apple, Millet, and Walnut Breakfast Cupcakes can be added to your list of make-ahead-grab-and-go breakfast treats. You know, the ones where you prepare over the weekend so that you can have tasty morning treats all week long! I've been snacking on my batch all week, not only for breakfast, but as an afternoon pick-me-up too!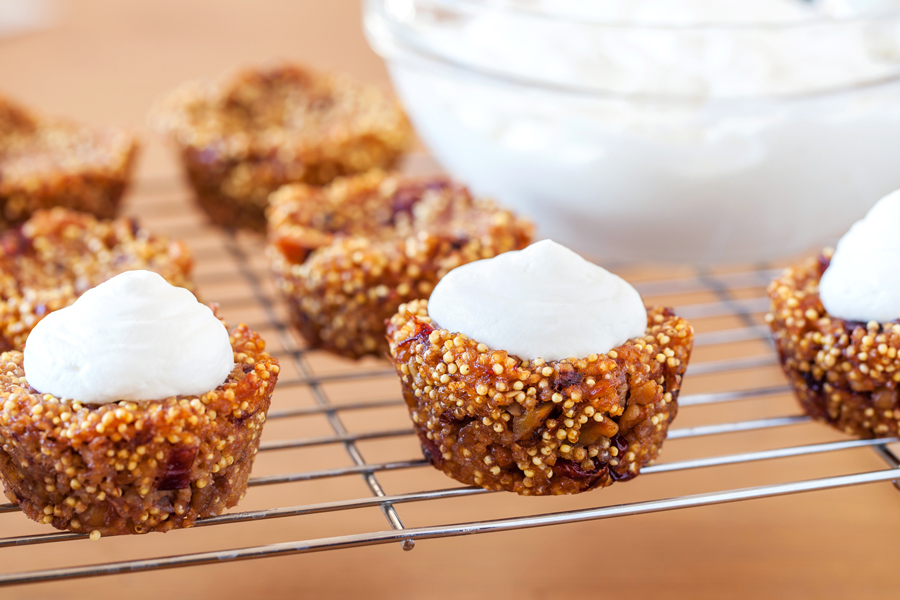 Did I mention they don't contain any wheat, rye, or barley? They're made from apples and millet so they're safe for my gluten-free peeps out there!

I also didn't add any sugar to the cupcakes so that the sweetness from each individual ingredient can really shine through. The base is tart and resembles a concentrated apple sauce. The millet adds a wonderful crunch and other additions like dried cranberries and toasted walnuts bulk it up a little more, resulting in a fabulous chew. What a way to wake up in the morning!
These cupcakes begin on the stove and are finished in the oven. Begin by cooking down apple juice, shredded apples, millet, dried cranberries, coconut oil and walnuts. Allowing it to simmer and reduce concentrates the flavors, so you don't want to rush this step. Plus, it will make your kitchen smell incredible.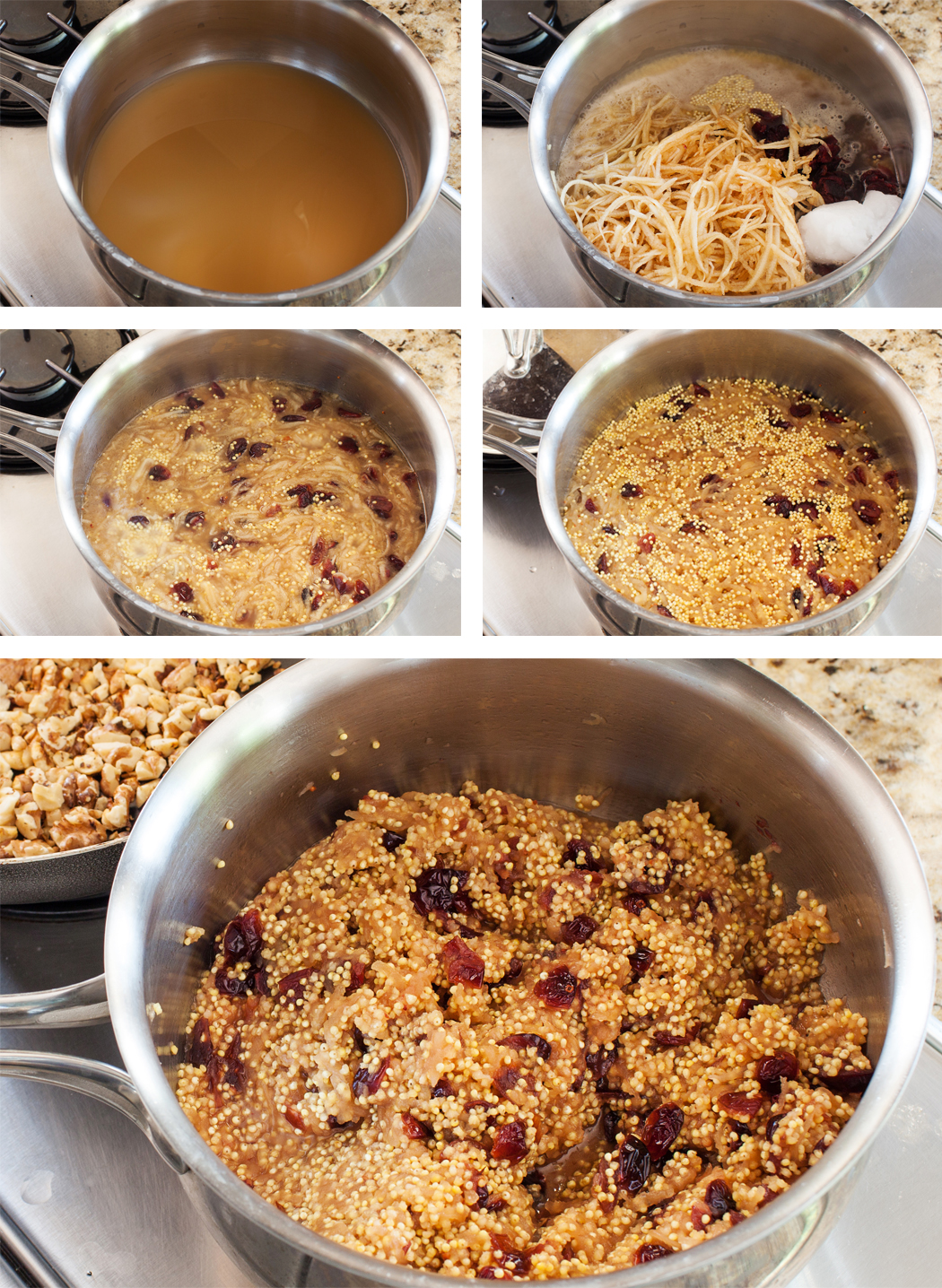 Then, you add in some toasted walnuts. Make sure to take a few seconds to toast them! It really makes a difference.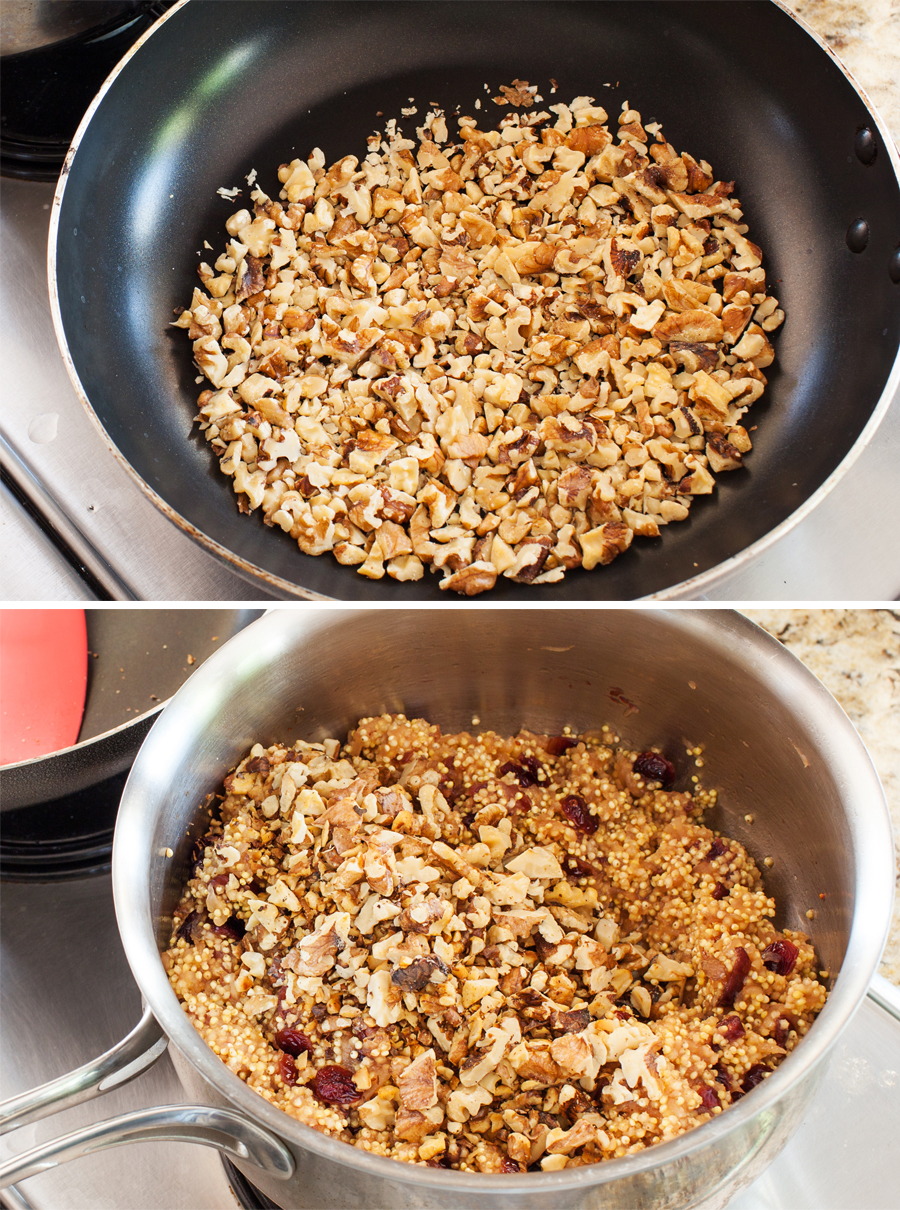 Finally, bake them to finish cooking the millet and allow all the ingredients to meld together.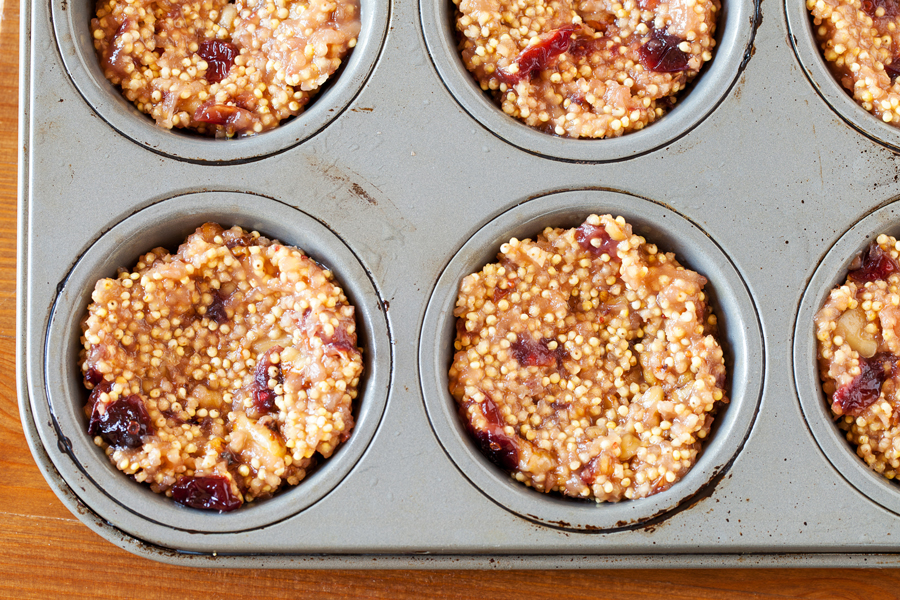 To make this truly a cupcake and not a muffin, I added a dollop of "frosting". I made it caramel-flavored to pair with the apple cupcakes. The result? That wonderful caramel apple flavor we all know and love. You only need two ingredients to make this heaven in a bowl – whipping cream and caramel-flavored International Delight Simply Pure Coffee Creamer. Seriously, I couldn't stop licking the whisk and spatula ;)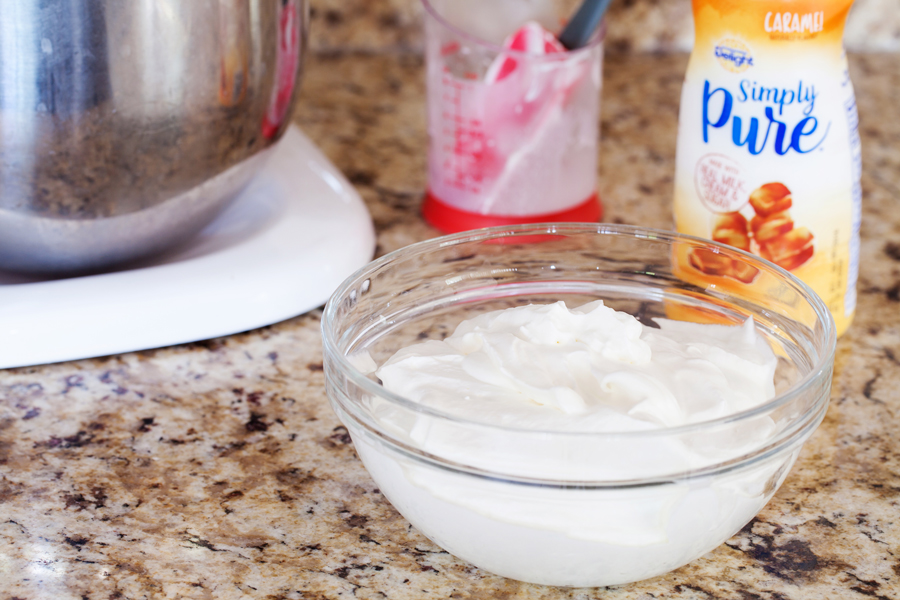 I recently learned about this new International Delight line and was so excited to try it! It was fantastic as a creamer in my coffee, but it's potential should not be limited to coffee creamer. It can add an extra boost of flavor to so many other things, like whipped cream for example! Simply Pure only contains 5 ingredients – skim milk, cane sugar, cream, flavor, and guar gum (a plant carbohydrate used as a thickening agent) – and comes in three flavors – caramel, vanilla, and hazelnut. I loved that the short ingredient list was in line with the simplicity of the cupcakes. No empowerment of any one ingredient here! Only pure tasting flavors that work cohesively to make one mighty delicious breakfast cupcake.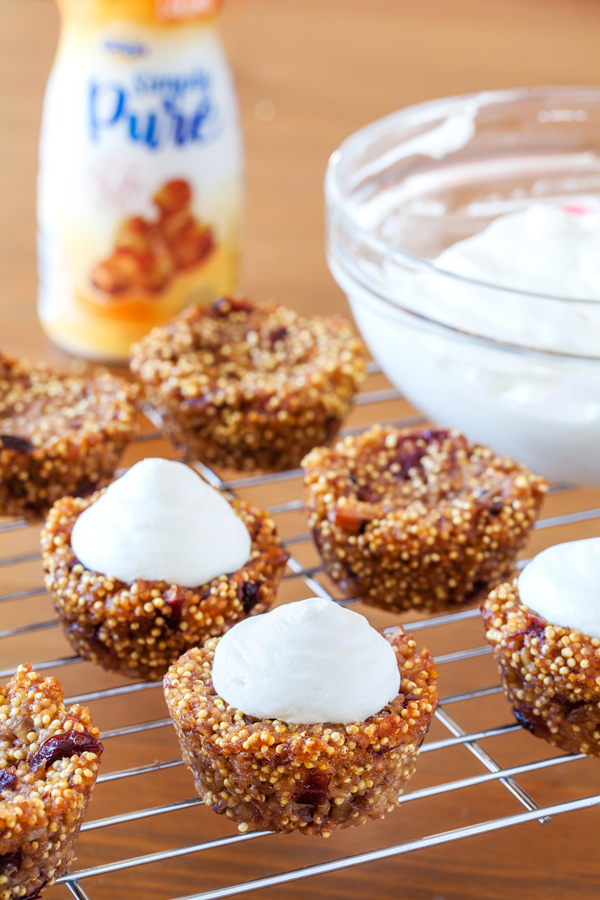 I picked my bottle up at Walmart and cannot wait to try the other two flavors.
These are truly a delight for any palate – gluten-free or gluten-eating folks.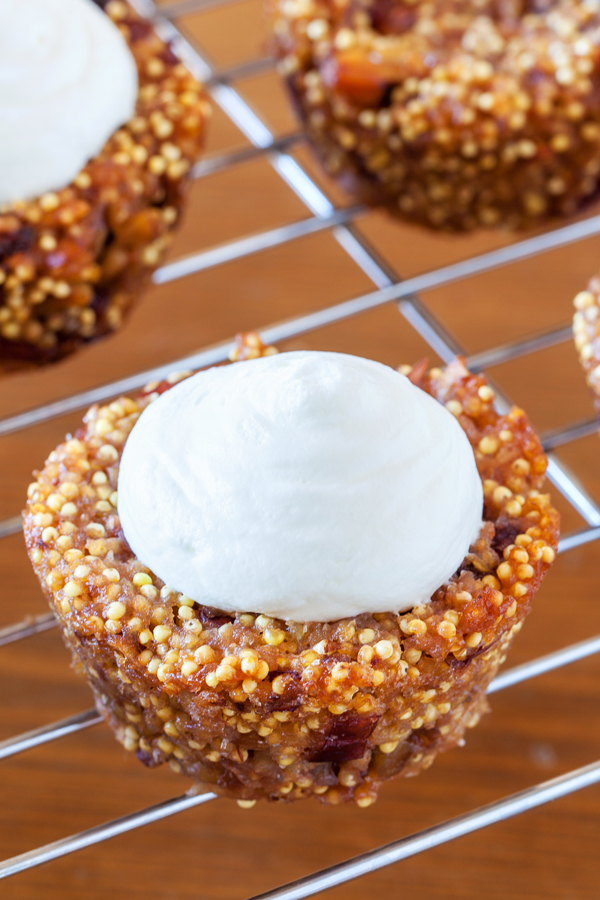 Caramel Apple, Millet and Walnut Breakfast Cupcakes
Yields 12 cupcakes
Printer friendly version
Cupcakes
Ingredients
1 ½ cups unsweetened apple juice*
2 large tart-sweet apples, peeled and shredded**
1 cup millet, uncooked
¾ cup dried cranberries or other dried fruit
2 tablespoons coconut oil
¾ cup chopped walnuts, toasted***
Directions
Preheat oven to 350°F and grease a standard muffin tin.****
In a medium saucepan over medium-high heat, bring the apple juice to a boil. Reduce the heat to medium-low heat and add the apples, millet, cranberries, and oil. Stir and bring to a boil, then reduce to low heat. Cover and simmer for 15 minutes, until the liquid has been absorbed. Off the heat and let stand for 15 minutes. Stir in the walnuts.
Divide the millet mixture among the prepared muffin wells, about 2 ½ tablespoons each. With the back of a spoon, lightly press down into the mixture to create a shallow well.
Bake for 30 minutes until the tops are lightly golden. Allow to cool in the pan on a cooling rack for 15 minutes. Loosen the cupcakes by gently running an off-set spatula alongside the cupcakes. ***** Then, transfer to a cooling rack to cool completely.
Caramel Frosting
Ingredients
1 cup heavy whipping cream
4 tablespoons caramel-flavored International Delight Simply Pure Coffee Creamer
Directions
Combine all the ingredients in the bowl of an electric mixer fitted with the whisk attachment. Turn the mixer to the lowest speed and gradually increase speed until the highest speed is reached. Whisk until stiff peaks form. Do not over whip.
Spoon or pipe a dollop of the whipped frosting onto the cooled cupcakes.
Notes
*I used unfiltered honey crisp apple juice.
**I used Gala apples. You can use Braeburn or Golden Delicious apples as well.
***Toast walnuts in a large skillet in a single layer over low heat. Swirl the walnuts around until walnuts are lightly darkened and fragrant.
****I used melted coconut oil.
*****If the cupcakes do not remove easily, place in the freezer for about 15 minutes to help them firm up and then remove.
Storage
Store in an airtight container in the refrigerator for up to 5 days.