For our second wedding anniversary, we went to Scottsdale, Arizona and stayed at the amazing JW Marriott Camelback Inn Resort & Spa. Join me as I give a tour of the property, share our experiences with the resort, help you decide where to eat, and tell you all about how we got around!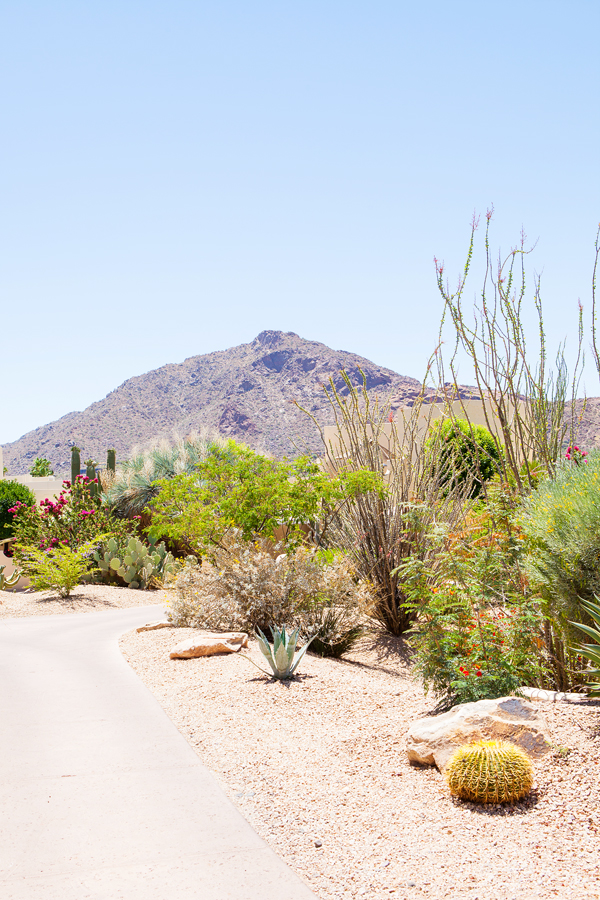 If you follow me on Instagram, you may have noticed that Warren and I celebrated our 2nd wedding anniversary in Arizona. This entire week I will be posting about our trip – where we stayed, what we ate, what we did at our resort and the hiking trails we went on, similar to what I did with our 1st anniversary. Make sure to check back often so you don't miss any of the tips and recommendations I share.
Today, I'll take you on a tour of JW Marriott Camelback Inn Resort & Spa, where we stayed for 3 days and 2 nights. I'll also share where we ate, our flight itinerary, and rental car experience.
Where we Stayed
JW Marriott Camelback Inn Resort & Spa
We had an amazing experience at the resort. Their customer service is top notch to say the least! Let me tell you about it. Enjoy the views around the property as you read along :)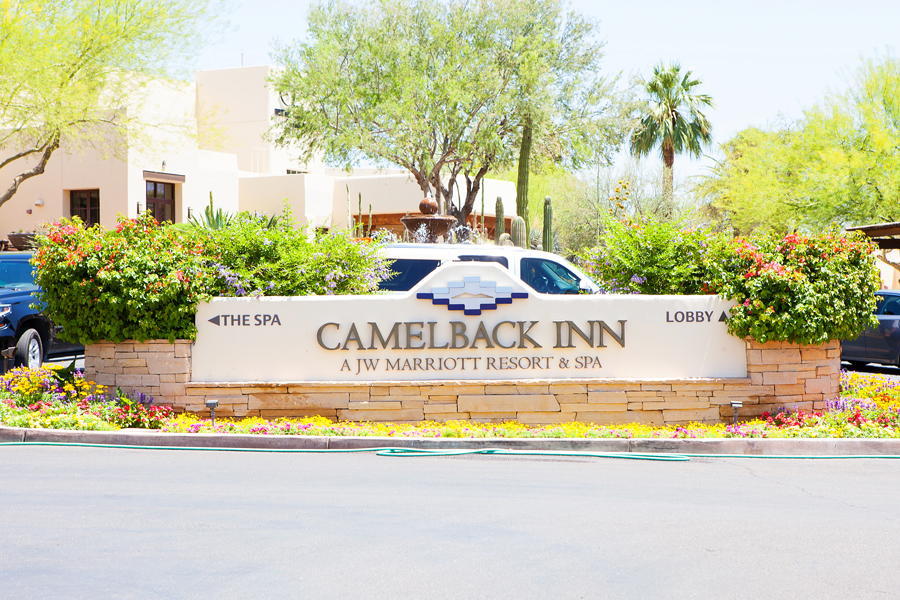 We booked the Oversized Deluxe Casita, Guest room, which is a whopping 550 square feet!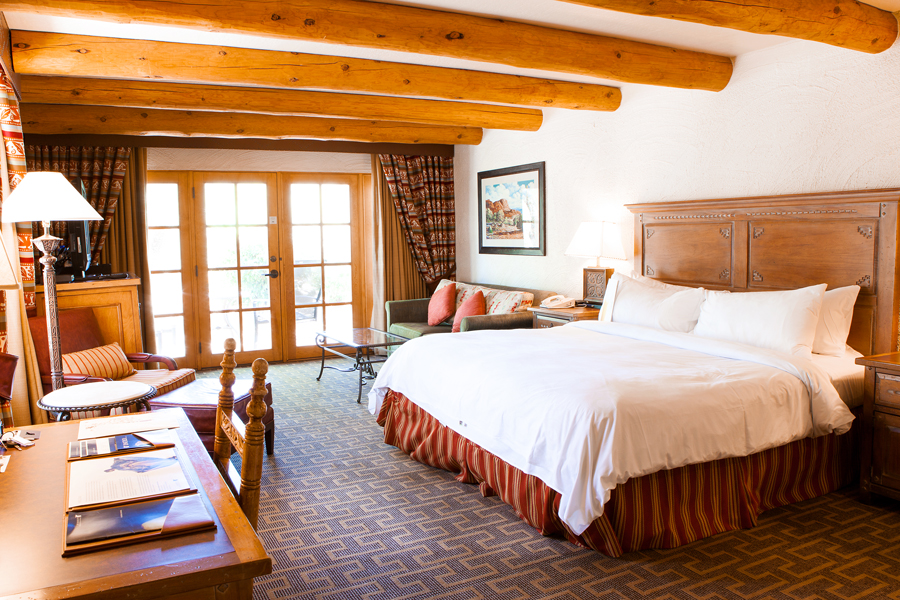 There was a separate TV/lounge area where you could relax before going to bed.
And additional seating for your morning paper :)
I especially loved the kitchenette/wet bar area which had a Keurig coffee machine, microwave, refrigerator and plenty of cabinet space. We had a fresh cup of coffee every morning, were able to keep chilled bottles of water, and were able to store dinner leftovers in the fridge and re-heat it the next day.
The TV/lounge area has French doors that opens up to a semi-private patio.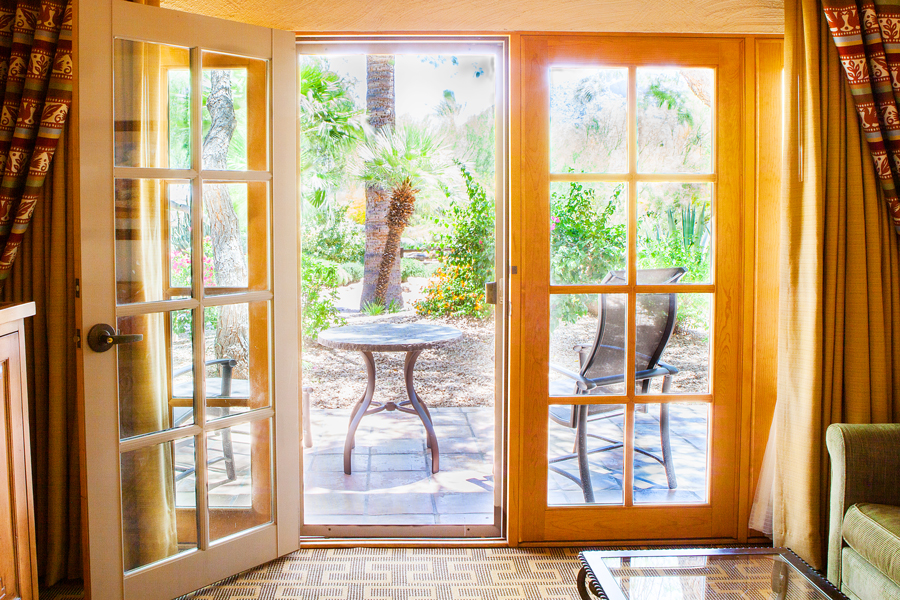 We ordered take-out from an Italian restaurant one evening and enjoyed the meal on the patio with a glass of wine. Heaven!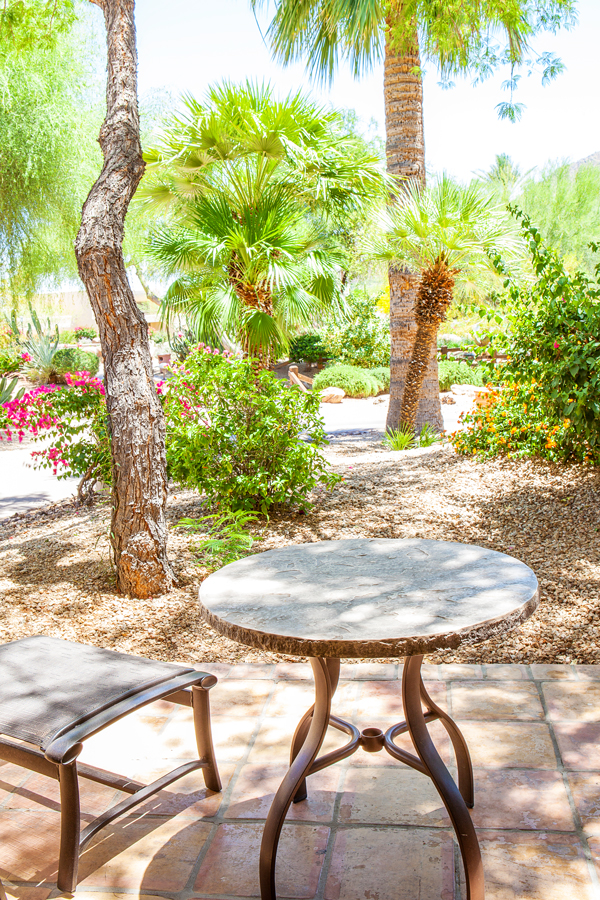 I loved how the bathroom was segregated such that one person could be in the shower while the other could be brushing his/her teeth.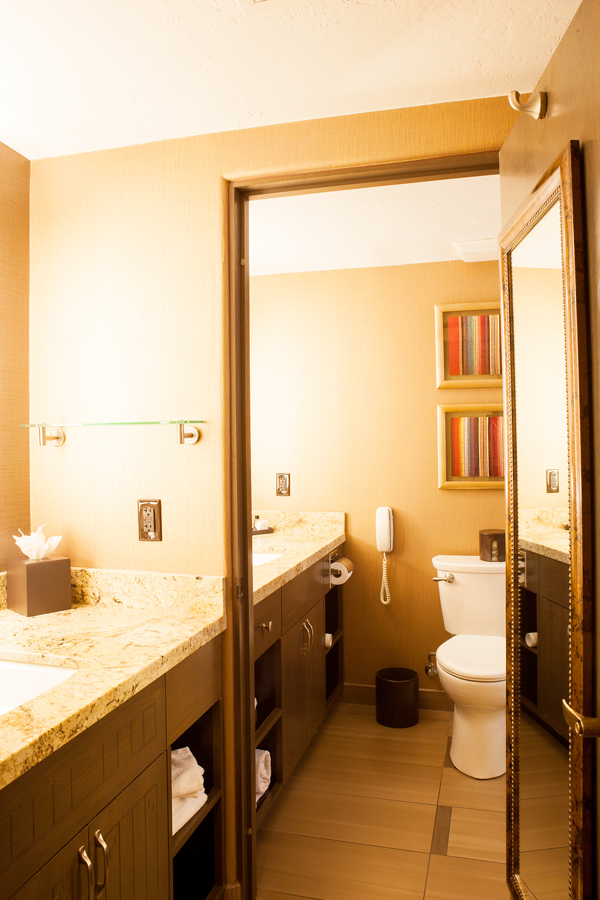 The shower was enormous and definitely roomy enough for two ;)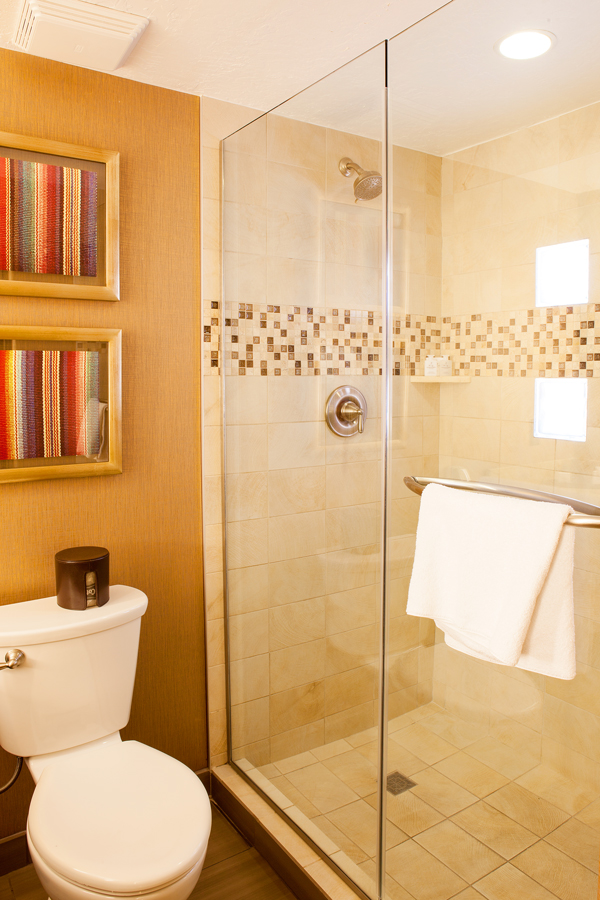 There was plenty of room in the closet for the both of us and they even provided 2 plush robes and a pair of slippers.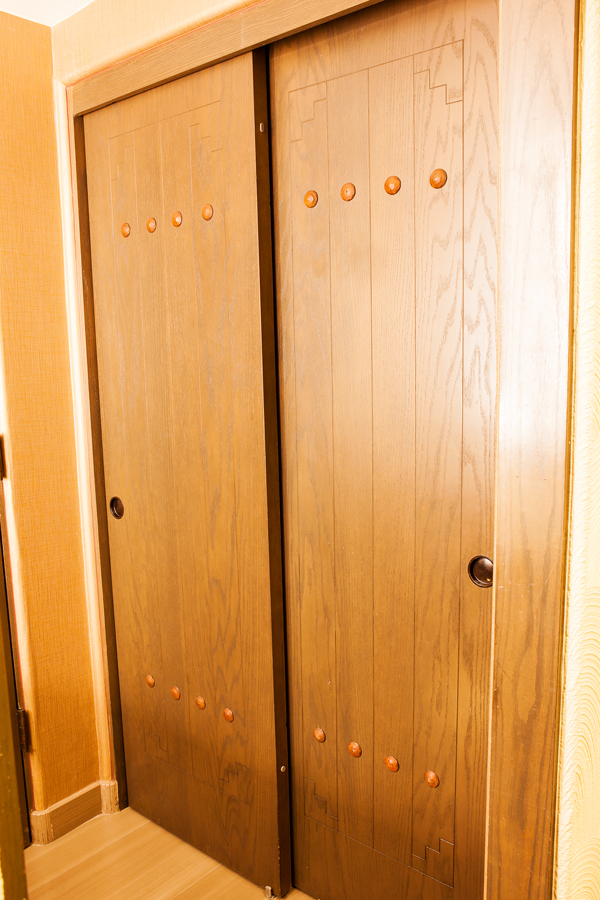 Let me tell you about one of the resort's neatest features – The Marriott Mobile App. It's their way of being "At your service, anytime!" With the app you can chat with a Marriott host before, during, or after your stay, AND you can request anything you need, from extra towels, bath amenities, and even luggage assistance!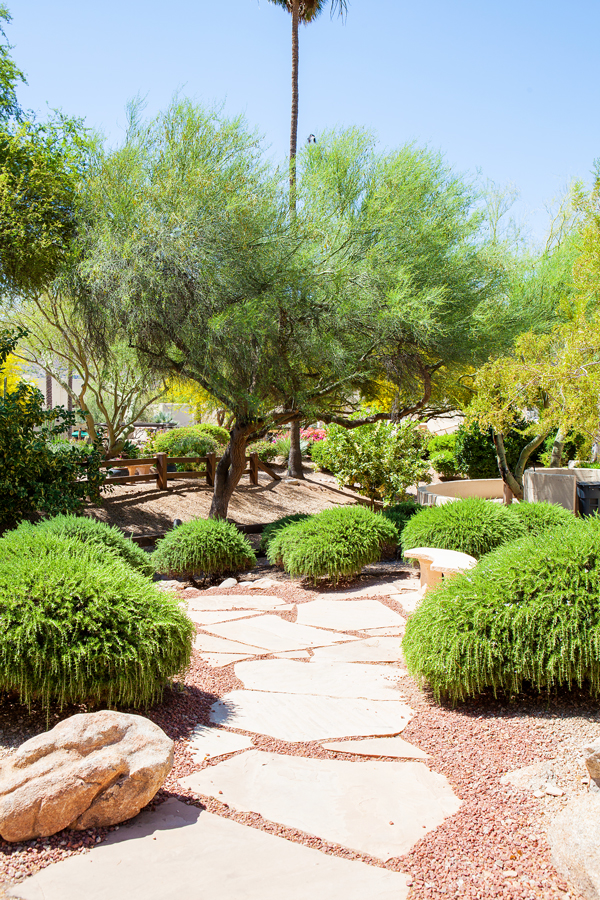 We used it on two occasions while we were away from our room. The first time was while we were sitting pool side at the spa (more on that later this week). Warren noticed that the room only provided one pair of slippers, so he used the app to request another pair. He also requested a shaving kit, which included a razor, and shaving cream. When we returned to our room after the spa, everything requested was waiting for us in the room. There was even a voicemail waiting on the room's phone letting us know that they fulfilled our wishes.
The second time we used the app was on our way back from picking up the Italian take-out that I mentioned earlier. Because we knew we wanted to open a bottle of wine, we requested two wine glasses and a bottle opener. Once again, by the time we returned to our room (about 10 minutes), everything was there waiting for us. At your service, indeed!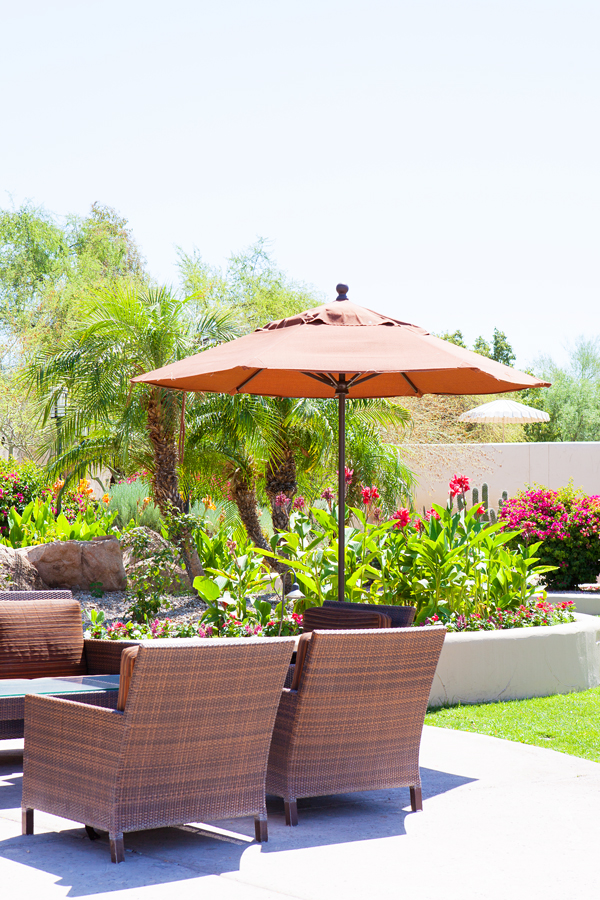 There's even an "At Your Service" button on the room's phone. With the push of a button, you are automatically transferred to a host who will help you with anything you need. The patio light was out when we were setting-up for dinner, so I called and within minutes, they had someone come out to replace the bulb. Unbelievable!
The staff found out we were celebrating our anniversary and surprised us with a box of chocolate covered caramels and a sweet card from the concierge staff. So sweet!
A little bit more about the service. It was very warm during our trip, about 90°F everyday. The resort was concerned about our hydration and dermatological health. Upon check-in they gave us two tubes of sunscreen and there were scattered staff members on golf carts handing out bottles of water. Outstanding, don't you think?
Where we Ate
We visited the Scottsdale location for dinner on our first night in Scottsdale. We made reservations a few hours before so when we arrived, they had a table all ready for us!
As with most restaurants, you're served a complimentary bread basket that comes with white bread knots and jalapeno cornbread. The cornbread was meh, but the bread knots were amazing!!! They had a crisp exterior, an extremely soft interior and a light sweetness to them. When I asked for the basket to be refilled I requested to only include the knots. SO GOOD!
As an appetizer, we ordered the Lamb Chop Fondue. It was fantastic! I never knew the two paired well together, but now that I think about it, lamb and cheese? Duh! It came with three lamb chops, cubes of chili pecan bread and roasted squash, and a small kettle of white wine fondue for dipping. I highly recommend this dish.
For the entrée, I ordered the Blackened Redfish. It was served on a bed of quinoa pilaf, smoked tomatoes, and chipotle tabasco lemon butter. That butter! I definitely recommend this dish too.
Warren had the Bacon-Wrapped Pork Tenderloin which was amazing! It was served with cheesy grits and Mexican street corn. I'm used to the LA Mexican street corn, the one still on the cob. For this dish, the kernels were removed from the cob and though there was a mild tang to it, it was not reminiscent of the Mexican street corn you find in LA. Nonetheless, order this dish for the tenderloin!
To share, we ordered the Green Chili Mac & Cheese. We both were not very impressed. It wasn't cheesy enough and the green chili flavor wasn't pronounced enough. We ended up bringing it back to our room and then back home to LA (we don't like to waste food if we can help it), and to my surprise, it did taste better a couple of days later. Feel free to pass on this one.
The sweltering heat in Scottsdale puts you in the mood for ice cream all day long so after dinner at The Roaring Fork, we grabbed some ice cream for dessert. The store was located in a large plaza and it was the only packed venue at around 10 at night. We had a scoop of the Madagascar Vanilla and one of the Almond Butter Crunch. Perfect way to end the day!
On our way back to the resort from a long day of hiking on the second day, we decided to order Italian take-out to enjoy back at the room on the patio. I ordered the Melenzana alla Parmigiana (eggplant parmigiana) and Warren had the Pollo Caprese. They came with side salads and bread. The eggplant parmigiana was cooked to perfection, not soggy or rubbery. Warren's meal was tasty too. We weren't disappointed.
Transportation
Flights
We flew in to Phoenix Sky Harbor International Airport (PHX) on Saturday morning at 6 AM. Whenever possible, we try to take the red-eye, or the first flight in the morning. From our experiences, the flight prices tend to be more affordable and we still have most of the day remaining when we land. Not to mention, you save on a night of lodging. Departing from California, the flight only took about one and a half hours and we landed at around 7:30 AM (practically the entire day left!).
Rental Car
We rented a car (Nissan Versa) from Budget and spent about $70 on the rental for the entire trip! Total gas was about $18 (we only had to fill up once, right before returning). The airport conveniently provides a shuttle to the rental car center. However, the rental car center at PHX is notorious for being either understaffed or slow. According to reviews on Yelp, people have experienced one staff member manning multiple stations at the same time, one staff member per company station, or not having any staff members around at all and having to wait for one to arrive. Yikes!
We got so lucky. When we arrived at Budget, there was one staff member on board who was already helping a customer. When we got in line, we were third. After a few minutes, another staff member arrived and began helping the next guest. The second staff member was able to help move the line along and ended up helping us. The first staff member was still helping the original guest! We were the last ones to be helped before both staff members left! They both said they'd be right back and then left, leaving a line of about 7 guests waiting. Yikes again!
Now about that Nissan Versa. It's great for two people and has great mileage (we averaged about 35mpg). However, I do have two bones to pick: There was no center compartment in the front of the car and the visor was too short to actually block any of that Arizona sun! Other than those two things, we were happy with the price of the rental and the GREAT mileage!
Give yourselves a pat on the back if you made it through this! I don't blame you if you needed to take a break or two. I'm not done yet. Click on any of the pictures below to see the rest of our trip to Arizona!
Go back in time to take a look at where we spent our 1st anniversary. Click on any of the pictures below to be taken to the post.