Thank you Bob's Red Mill for sponsoring this post. Create a care package for a loved one today and don't forget to include some baked goods made with Bob's Red Mill products!
Moist, easy, and delicious Zucchini Bread suitable for both gluten-tolerant and gluten-free diets.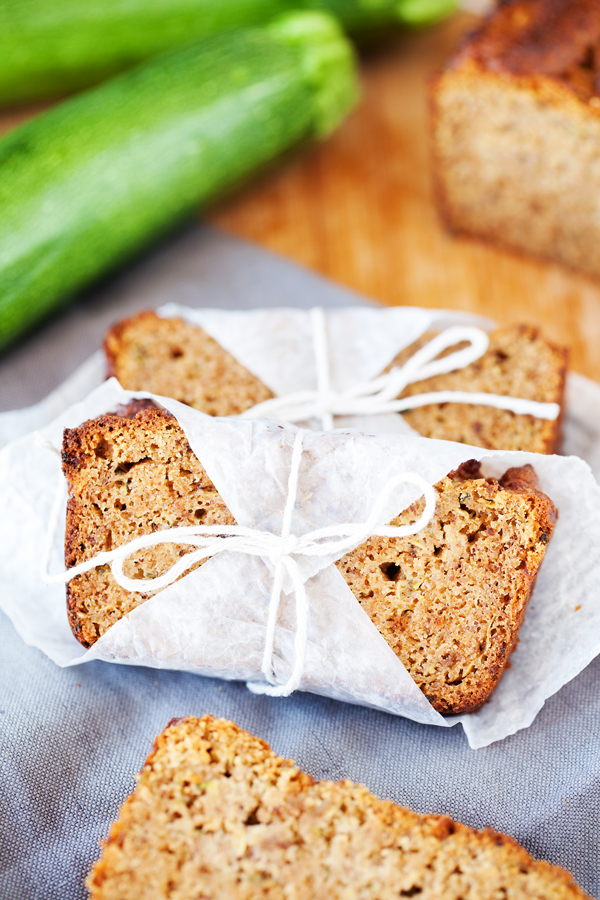 Earlier this year, Warren and I moved into our new home. We purchased it at the end of 2016, but it took us a few months before we actually moved in :)
The house is in a rural part of Southern California and is close enough to LA for convenience, but far enough away from the congestion to feel like the countryside. We LOVE it!
One of the most striking things about this new neighborhood is how kind and welcoming our neighbors are! Up until we actually moved in, every time we stopped by to visit the home, any neighbors driving by would stop to introduce themselves, welcome us to the area, and tell us fun anecdotes.
When we finally moved-in, it was right before the 4th of July. Every year, one of the neighbors hosts a neighborhood 4th of July BBQ, to which everyone in the area is invited. We were touched when two different neighbors extended the invitation to us!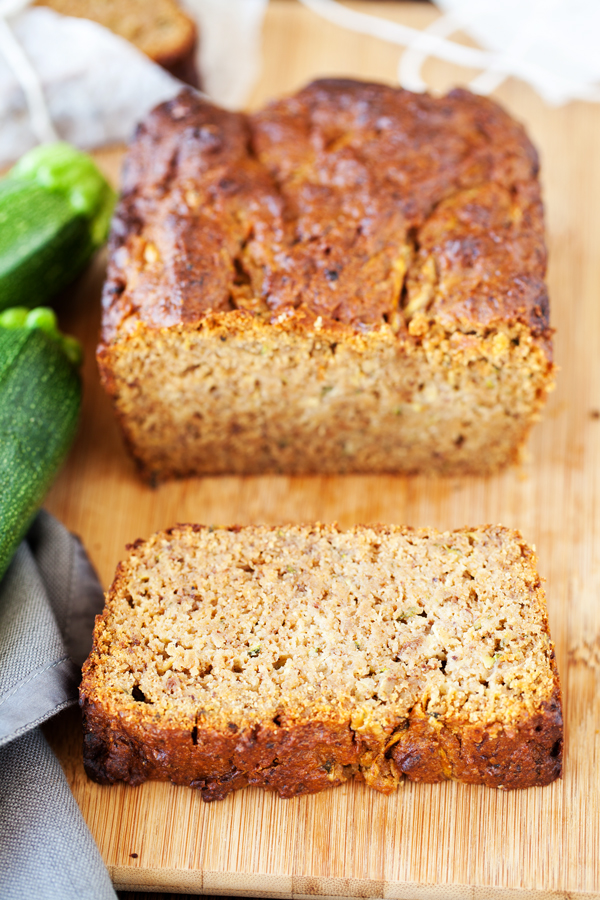 We jumped at the opportunity to meet everyone. I brought my macaroni and cheese and we had a wonderful afternoon visiting with our neighbors and listening to their experiences living in the area.
The days after the BBQ, our hearts were still full by everyone's hospitality and we searched for a way to show our appreciation. As luck would have it, I happened upon this article explaining the benefits of baking for others and decided right then and there to bake something. After some thought, I decided to bake zucchini bread, a bread that's loved by everyone.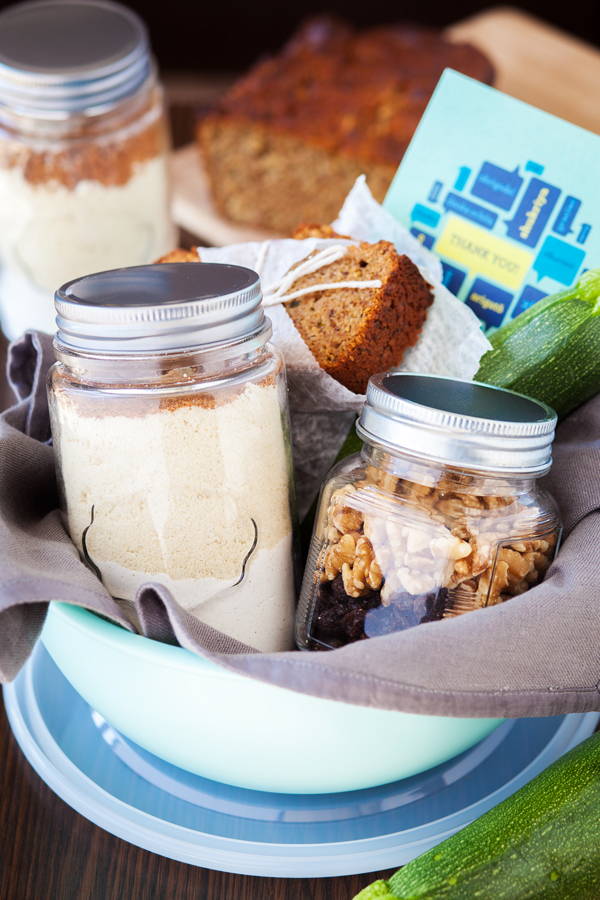 But rather than just bake a loaf, I also turned it into a care package or rather, a zucchini bread baking kit, so that my neighbors could bake for others or replicate the recipe for themselves.
For the packaging, I used a large mixing bowl and lined it with a kitchen towel. I wanted to equip the gift with everything I possibly could to make the reproduction process as convenient as possible.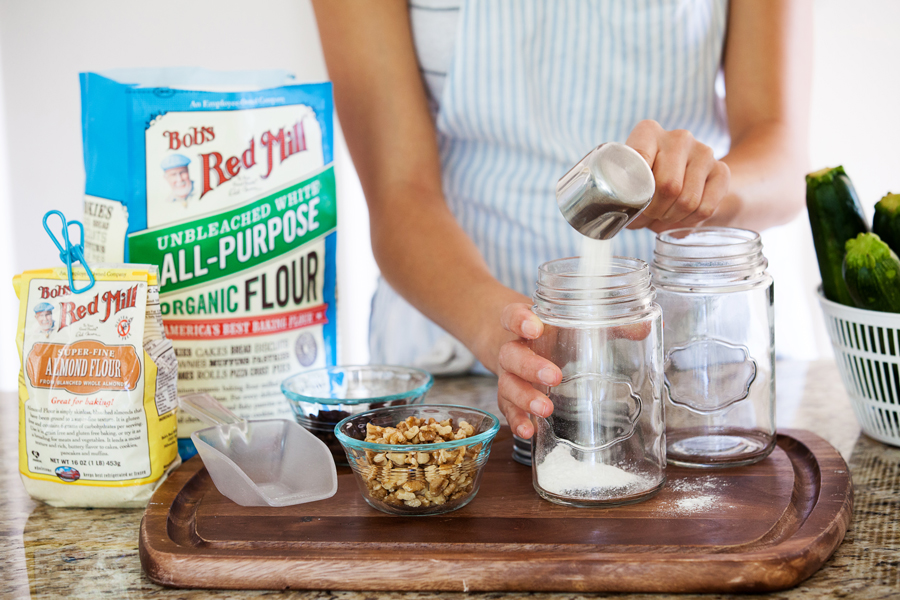 The zucchini bread recipe has two parts – the dry/flour mix and the wet/sweetening mix. To separate these two components, I filled a large mason jar with the pre-measured dry ingredients, using Bob's Red Mill flour and almond meal and a smaller jar with the ingredients that sweetened the bread (raisins and walnuts).

I had the pleasure of meeting Bob (I'm compelled to call him Mr. Bob) at a conference a few years ago, when I learned all about how Bob's Red Mill flours are milled from premium quality ingredients. So when it came time to bake for my special neighbors, Bob's Red Mill Flour was the only one I wanted to use for that extra touch of something special.
To finish assembling, I added the jars to the bowl, threw in some fresh zucchinis, some slices of already made zucchini bread (so they know what they're in for!), and a thank you note (complete with instructions).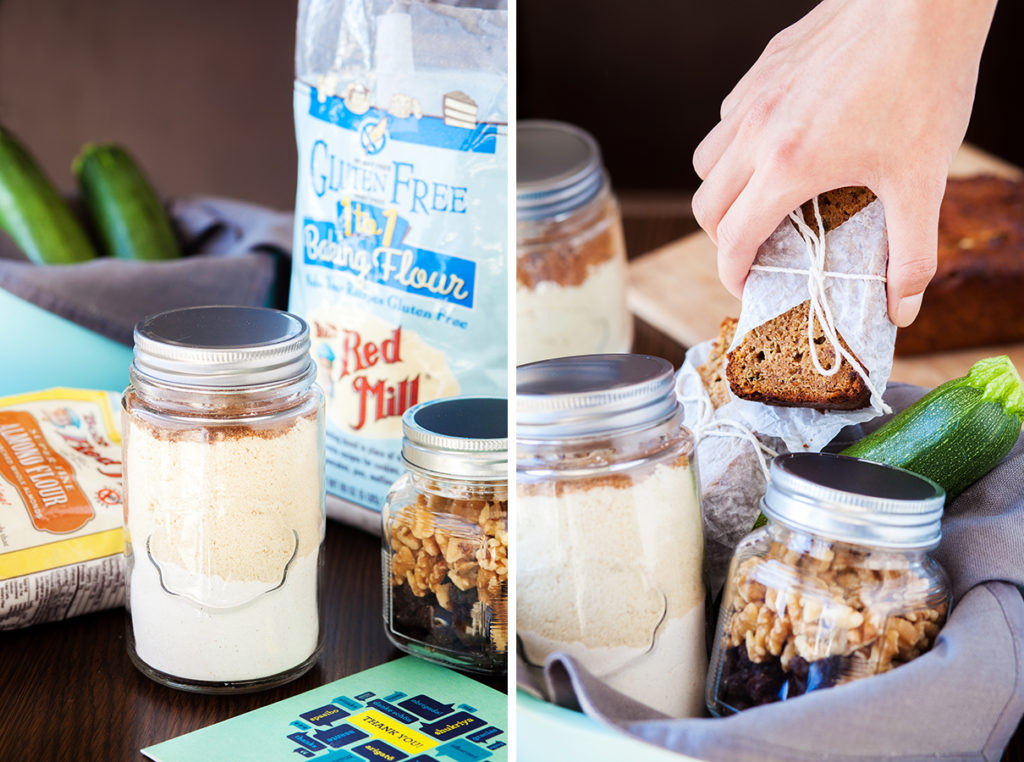 For my neighbors who are on gluten-free diets, I used Bob's Red Mill organic all-purpose gluten-free 1-to-1 baking flour. Let me tell you, I couldn't tell the difference and neither could my taste testers! It's so easy to use too…just like the name suggests, it's 1-to-1, so however much regular flour the recipe calls for, substitute the same amount with the gluten-free baking flour! So easy!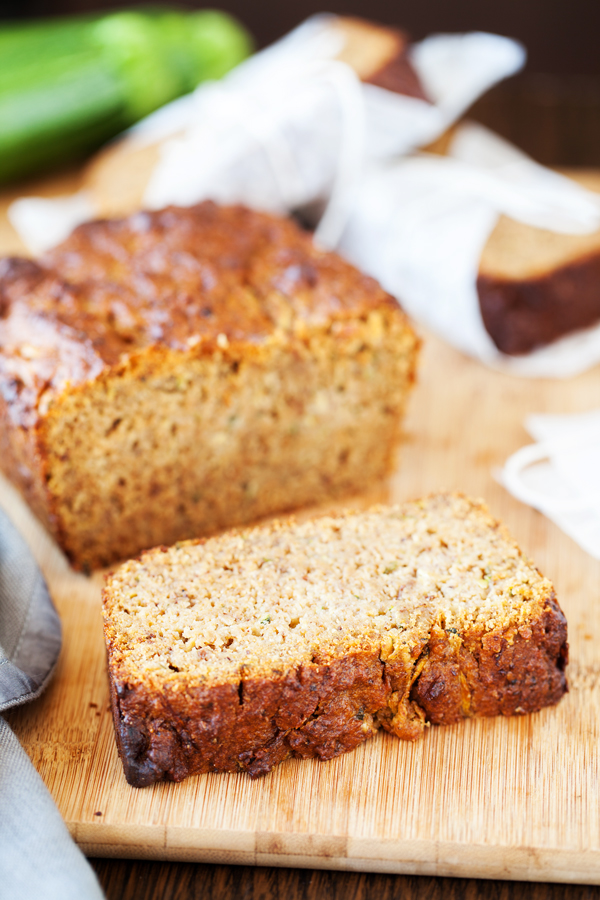 With the season of thankfulness and giving coming up, make sure to choose Bob's Red Mill for your baking and care package needs! Click on the image below to save on your next purchase.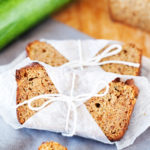 Zucchini Bread
Calories per Serving
:
2784
kcal
Ingredients
3/4

cup

Bob's Red Mill organic all-purpose flour

3/4

cup

Bob's Red Mill almond meal

2 1/2

teaspoon

baking powder

1/2

teaspoon

ground cinnamon

1/2

teaspoon

ground nutmeg

1/2

teaspoon

sea salt

1

cup

raisins

3/4

cup

chopped walnuts

2

large eggs

1/4

cup

olive oil

1/4

cup

honey

1 1/2

cups

shredded zucchini, unpeeled
Instructions
Preheat oven to 350°F and grease a 9x5-inch loaf pan.

In a large bowl, whisk together the flour, almond meal, baking powder, cinnamon, nutmeg, and salt. Set aside.

In the bowl of a food processor, pulse together the raisins and walnuts until a paste forms. Add the eggs, oil, and honey and pulse until combined.

Stir the raisin mixture into the flour mixture until just a few streaks of flour remain. Fold in the zucchini.

Transfer the batter into the prepared pan and bake for 45 to 55 minutes, until the top is golden and a toothpick inserted in the center comes out clean.
Recipe Notes
Gluten-free version: Substitute the flour with Bob's Red Mill organic all-purpose gluten-free 1-to-1 baking flour, use gluten-free baking powder, and increase the baking time to 55 to 65 minutes. Gluten-free version = 2814 calories.
Pro tip: Use the same measuring cup as the oil to measure the honey. The honey won't stick and will just slip right out!
Adapted from Bob's Red Mill Everyday Gluten-Free Cookbook
I was selected for this opportunity as a member of CLEVER and the content and opinions expressed here are all my own.
Note: This page contains affiliate links that help make The PKP Way possible. Should you choose to purchase anything via those links, I will receive a small commission paid by Amazon, not you.