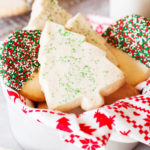 Yields about 1 dozen 4 1/2-inch cookies
Serving Size
:
1
Four and a half inch cookie
Calories per Serving
:
244
kcal
In the bowl of a stand mixer fitted with the paddle attachment, cream together the butter and sugar on medium speed until fluffy. Beat in the vanilla until combined, scraping down the sides as necessary.

Reduce the speed to low and add the flour and salt. Stir until a soft dough forms.

Place the dough between two sheets of parchment paper and roll until 1/2-inch thick.

Chill flat in the refrigerator for 1 hour or in the freezer for 20 to 30 minutes.

When ready to bake, preheat the oven to 325°F and line a cookie sheet with parchment paper or silpat.

Remove the chilled dough and place on the work surface. Carefully remove the top parchment sheet and cut out shapes using a 4 1/2-inch cookie cutter. Reroll any remaining scraps and chill, if needed, before cutting. Transfer cut dough to the prepared baking sheet, spacing 1-inch apart. Sprinkle on colored decorating sugar and gently press into the dough.

Bake for 16 to 20 minutes, rotating halfway through the bake time, until the edges are lightly browned. Allow to cool on the cookie sheet for 10 to 15 minutes before transferring to a cooling rack to cool completely.
*I use sea salt in a salt grinder adjusted to the coarse setting.