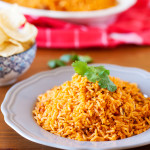 Yields about 4 cups of rice
Calories per Serving
:
365
kcal
1

can

(14.5 ounces) tomatoes, diced, whole, or sauce undrained*

1

cup

diced white onion

Water

4

tablespoons

vegetable oil

1 ½

cup

uncooked long grain white rice, rinsed

2

tablespoons

tomato bouillon, optional
Blend together the can of tomatoes and onion into a blender. Pour the cooking liquid into a measuring cup and pour in enough water to reach 2 ? cups.

In a large pot or Dutch oven, heat the oil over medium heat. Once shimmery, add the rice and stir continuously. The rice will become opaque and white. Once the rice reaches the tan-ish brown stage, add the tomato mixture.

Stir in the tomato bouillon, if using.

Bring the rice to a boil, reduce the heat and bring the rice to a simmer. Cover and cook for 20 minutes, until all the liquid has been absorbed.

After removing the cover, there may be some tomato pulp resting on the top layer of the rice and it may look soggy. Give the entire pot a good stir to remove some residual steam and distribute the pulp. Serve warm.
*Alternatively, you can use 1 medium sized tomato, coarsely chopped