Thick and flavorful White Chicken Chili has THREE kinds of chilies and flavor-building steps for a mouthful of depth and complex flavors with every bite.

I enjoy all things pumpkin and apples this time of year, but I also enjoy hearty and flavorful soups. Potato soup and tortilla soup are among my favorites, but this year, I'm adding this White Chicken Chili to my recipe arsenal. Okay, maybe chili isn't a soup, but it's totally appropriate this time of year.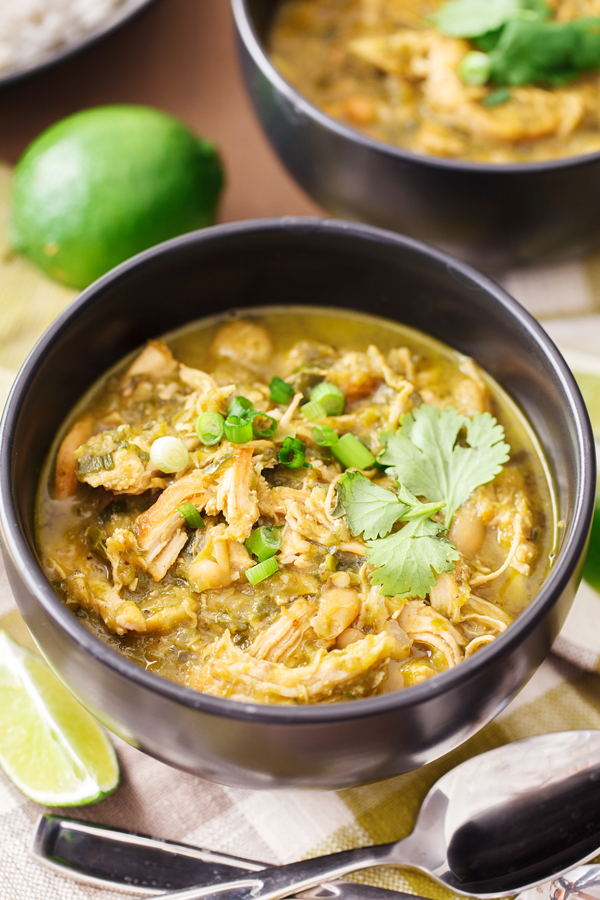 The White Chicken Chili has THREE kinds of chilies in it, but the best part is, YOU control the heat. Two out of the three chilies – Anaheim and Poblano – are mild, leaving the third chili, jalapeno, the one that imparts the heat. To control the spice level, simply control the amount of jalapeno seeds that you add. The more seeds you add, the spicier it will become! If you don't like any spiciness, don't add any seeds.
If any of you have ever made your own chili or have a secret chili recipe within your family, then you know that a good chili recipe takes time and requires multiple flavor-building steps.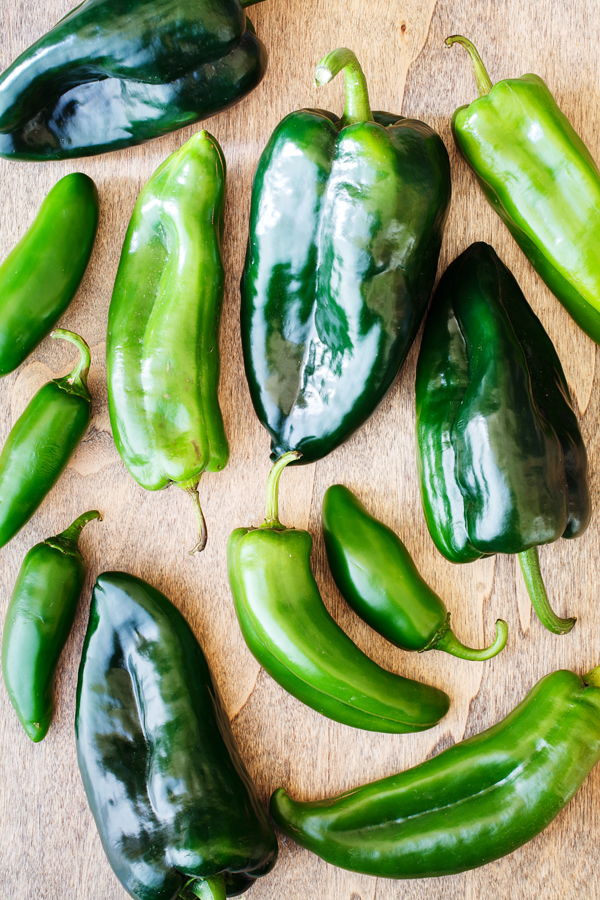 This White Chicken Chili is no different. It begins by creating what I like to call, a crust of flavor. You create the crust by searing skinless chicken breasts in hot oil. Not only is a flavorful crust achieved on the chicken, but also on the bottom of the pot.
All three chilies are chopped together and sautéed in the pot. I take advantage of the liquid released from the chilies by using it to "deglaze" that crust to make sure that every ounce of flavor is released.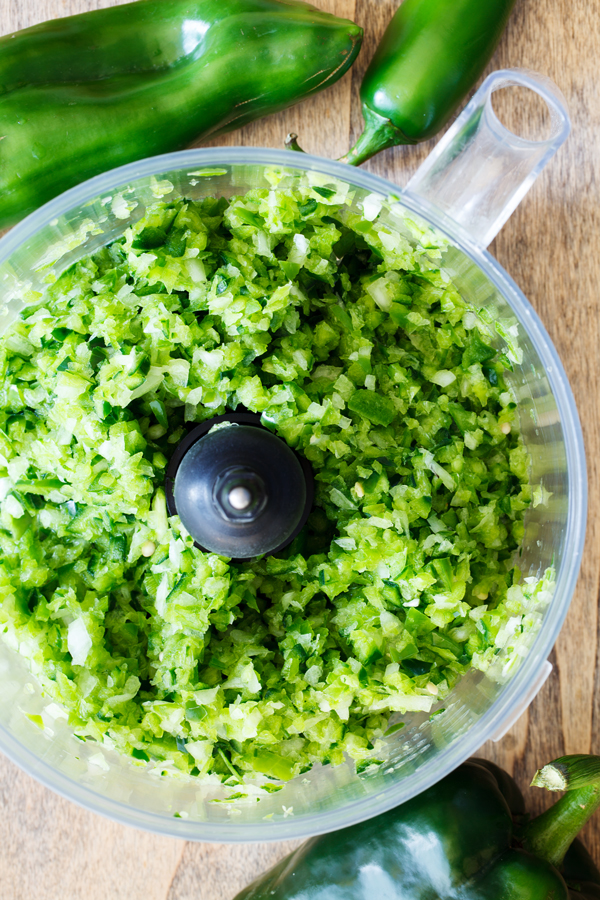 One of the best things about chili is how thick it is, isn't it? This chili is thickened by blending together a little bit of the softened chilies with some beans before adding it back to the pot. If you will, take notice in the recipe that the canned beans are only drained and not rinsed. I like to leave just the slightest bit of starch to help the thickening process.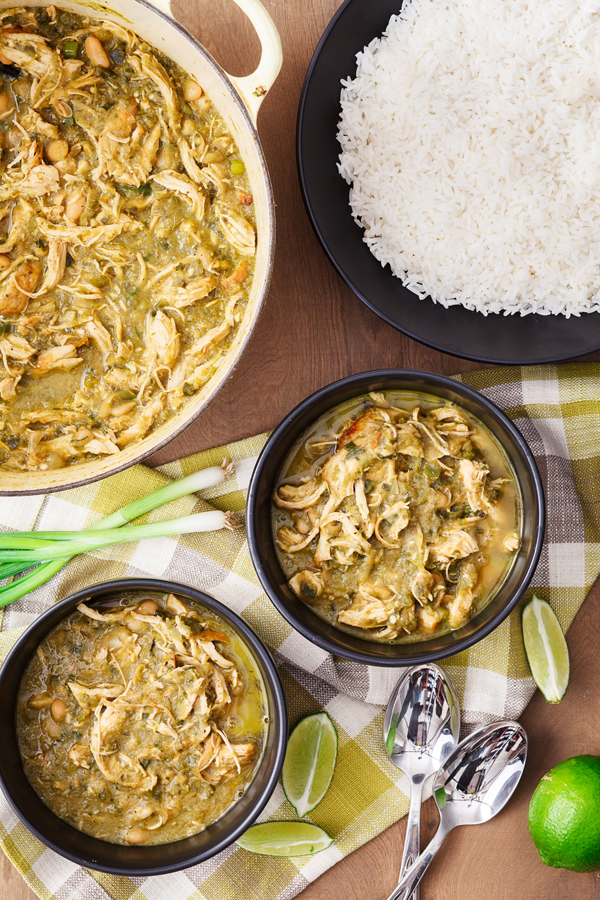 When serving, I like to brighten the chili up a bit with a squeeze or two of lime and garnish with cilantro and scallions. Feel free to make it your own and top it off with shredded cheese, corn chips, and even sour cream!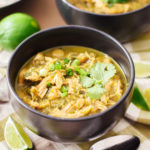 White Chicken Chili
Calories per Serving
:
3986
kcal
Ingredients
3

medium jalapeño chilies

3

medium Poblano chili peppers (may be labeled as pasilla chili), stemmed, seeded, and cut into large chunks

3

medium Anaheim chili peppers, stemmed, seeded, and cut into large chunks

2

medium onions, quartered

2

tablespoons

vegetable oil, divided

3

pounds

boneless, skinless chicken breast

6

medium cloves garlic, minced

1

tablespoon

ground cumin

1 1/2

teaspoons

ground coriander

2

14.5-ounce cans cannellini beans, drained

4 to 5

cups

chicken broth

5

tablespoons

fresh lime juice, from 2 to 3 limes

1/4

cup

minced fresh cilantro leaves, plus extra for garnishing

4

scallions, thinly sliced, plus extra for garnishing

Salt and pepper to taste
Instructions
Destem the jalapenos and transfer the seeds to a separate bowl. Discard the ribs. Mince the jalapeno flesh and set aside.

Working in batches if necessary, add the poblano chiles, Anaheim chiles, and onions to the bowl of a food processor and pulse until coarse.

In a large Dutch oven, heat 1 tablespoon of the oil over medium-high heat until shimmering. Add the breasts and cook, without moving, until golden brown, 4 to 6 minutes. Turn over (if it's ready, the chicken shouldn't stick when lifted) and cook the other side until golden, 2 to 3 minutes. Transfer breasts to a clean plate and loosely tent with foil. Maintain the heat.

Return the now empty Dutch oven to the heat and add 1 tablespoon of oil. Add the jalapeno flesh, chiles mixture, garlic, cumin, and coriander. Saute for 30 seconds, scraping up the brown bits at the bottom. Cover and let cook until jalapeno and chiles have softened (they will become a yellowish green color), stirring every 2 minutes. Off the heat.

Transfer 1 cup of the softened chiles back to the empty food processor bowl. Add 1 cup of the beans and 1 cup of broth. Pulse until smooth.

Add the smooth puree to the chiles in the Dutch oven along with the remaining broth and stir.

Nestle and submerge the seared breasts and pour in any juices that may have been released. Bring to a boil over medium-high heat. Reduce heat to low and allow to simmer, covered, until breasts are cooked through and registers 160 F with an instant thermometer, stirring occasionally.

Remove the breasts to a clean plate and cover loosely with foil. When cool enough to handle, shred the chicken using two forks.

To the Dutch oven, stir in the remaining beans and continue simmering, uncovered, until heated through and slightly thickened.

10. Stir in the shredded chicken along with any juices that may have accumulated. Add the lime juice, cilantro and scallions. Simmer for 1 minute and season with salt and pepper to taste. For a spicier chili, stir in a few of the reserved jalapeno seeds at a time, simmering for 1 minute after each addition, until level of heat is reached.

11. Serve hot and garnish with cilantro and scallions if desired.
Inspired by Cook's Illustrated Cookbook.
Note: This page contains affiliate links that help make The PKP Way possible. Should you choose to purchase anything via those links, I will receive a small commission paid by Amazon, not you.