This classic strawberry shortcake recipe combines tender and flaky shortcakes with fluffy whipped cream and juicy strawberries.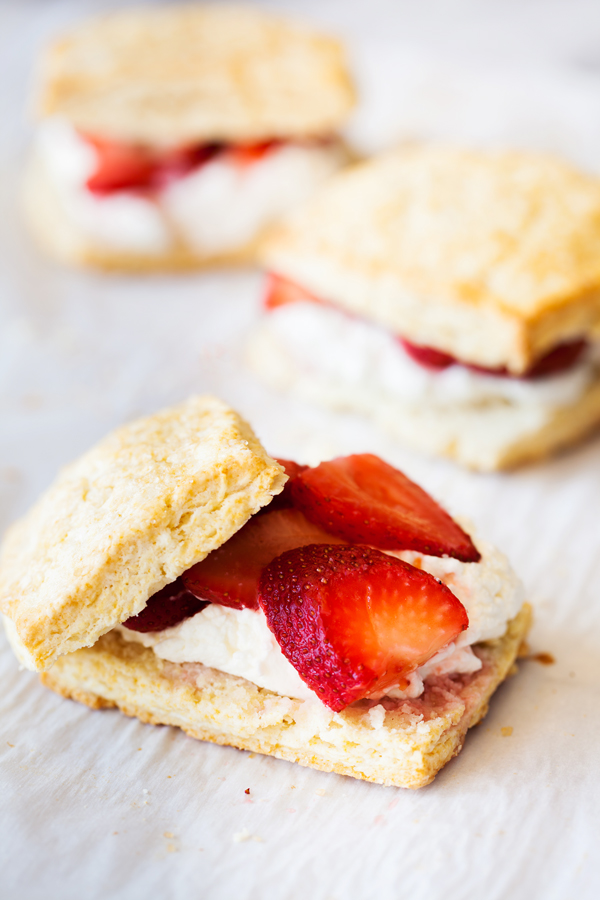 One of the best things about the weather getting warmer is the abundance of beautiful strawberries. I have been eating them straight out of the clamshell and baking up a storm with my latest haul. I decided to finish off the last bit I had on hand by making a favorite – classic strawberry shortcakes.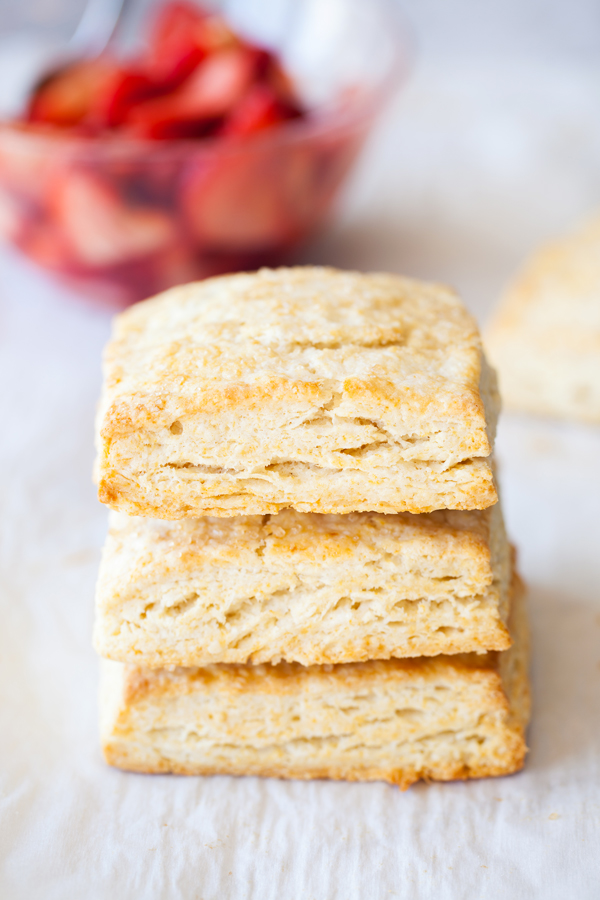 The shortcakes are tender, flaky, and reminiscent of a scone. Check out those layers. You get those flaky layers by keeping the butter cold. To keep the butter cold, I make sure that my liquid ingredients are stored in the refrigerator up until I need them and, I limit the dough's contact with my hands as much as possible.
As a special treat, each shortcake is sprinkled with some turbinado sugar before baking. The sugar adds a kiss of extra sweetness and a delightful crunch.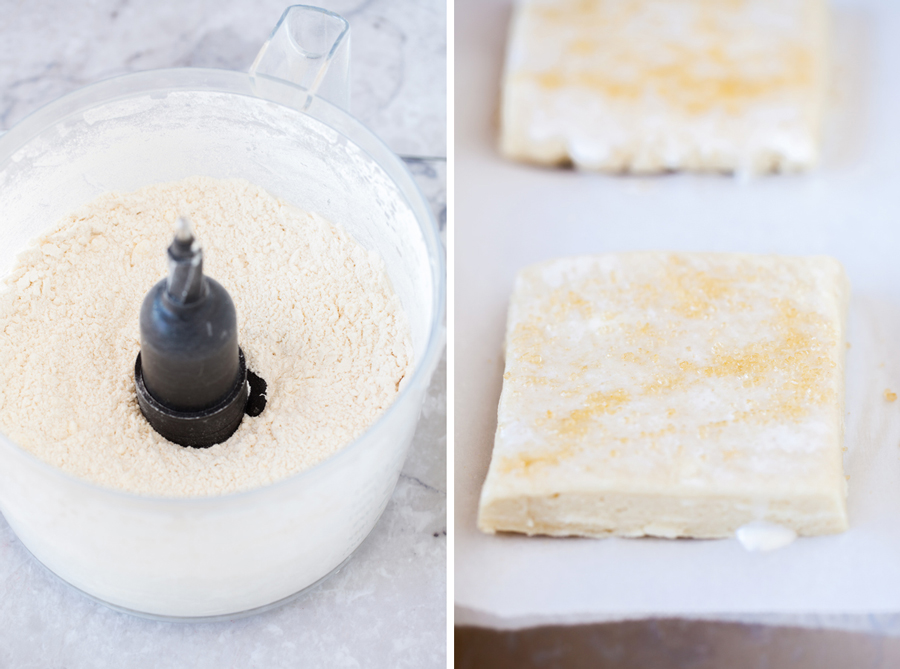 Inside each shortcake is a dollop of fluffy honey-sweetened whipped cream and fresh and juicy strawberries. The juices from the strawberries get extracted by marinating it with sugar while preparing the shortcakes. I like to save the extra juices and pour it over some ice cream or yogurt. I also like to drizzle it on the shortcakes too, letting it soak into the layers.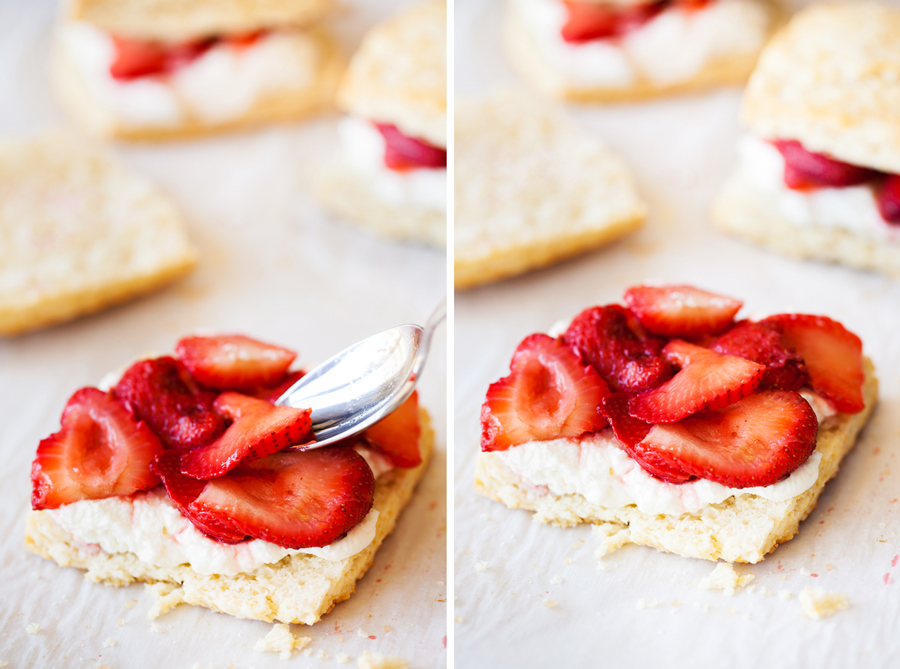 If strawberry shortcakes aren't your cup of tea, give my Strawberry Lemonade Sandwich Cookies or Strawberries 'n Cream Bites a try. Until next time, enjoy the warm weather!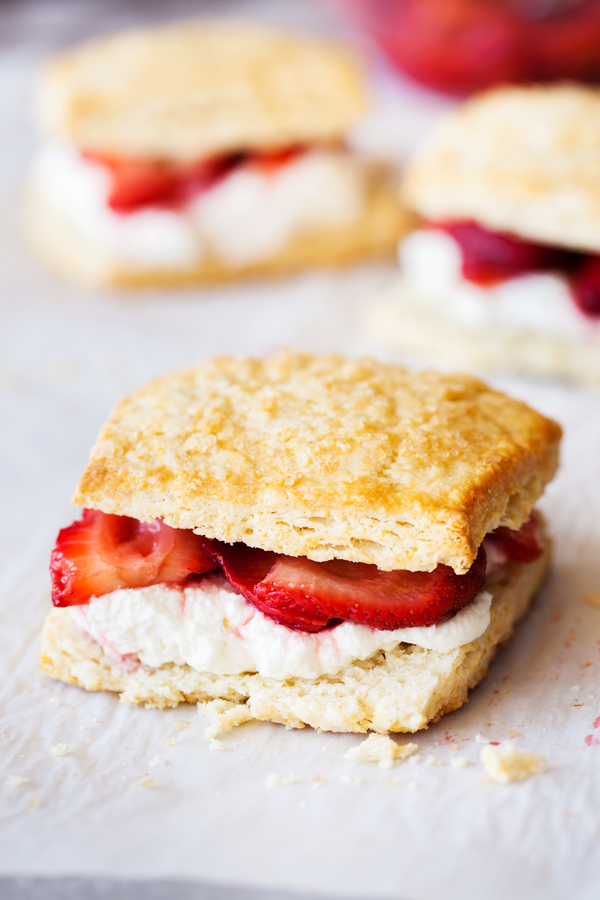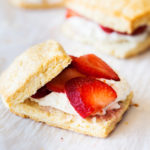 Strawberry Shortcakes
Yields 8 shortcakes
Serving Size
:
1
shortcake
Calories per Serving
:
469
kcal
Ingredients
Strawberry Filling
1

pound

strawberries, hulled and sliced

1/4

cup

sugar

Zest from 1 lemon
Shortcakes
2

cup

all-purpose flour

4

teaspoons

baking powder

3

tablespoons

sugar

1/8

teaspoon

salt

1/2

cup

(1 stick) unsalted butter, cubed and chilled

2/3

cup

half-and-half, chilled

2

tablespoons

heavy cream, chilled

Turbinado sugar (aka Sugar in the Raw)
Whipped Cream
1 1/4

cups

heavy cream

1

teaspoon

vanilla extract

3

tablespoons

honey
Instructions
Strawberry Filling
Combine the strawberries, sugar, and lemon zest in a medium bowl. Stir and let sit for 30 minutes. Refrigerate until ready to use.
Shortcakes
Preheat oven to 425°F and line a baking sheet with parchment paper.

In the bowl of a food processor, add the flour, baking powder, sugar, and salt. Pulse to combine, about 5 pulses.

Add the butter and pulse until pea-sized crumbs form.

Transfer to a large bowl and add the half-and-half. Stir until just combined and then bring together to form a dough.

On a floured surface, roll the dough to form a 1/2-inch thick square. Use a sharp knife to cut a 3x4-inch rectangle. Try not to use a sawing motion. Rather, cut down in one smooth motion.

Place the rectangles onto the prepared baking sheet, spacing 2-inches apart.

Brush each rectangle with the cream and sprinkle on the turbinado sugar.

Bake for 16 to 18 minutes, until edges are golden brown. Allow to cool on the baking sheet completely before assembling.
Whipped Cream
Add the cream and vanilla to the bowl of a stand mixer fitted with the whisk attachment. Turn onto medium-high speed and whip until cream soft peaks form.

Slowly pour in the honey and continue whipping until combined.

Split each of the cooled shortcakes in half using a serrated knife. Add a large dollop of whipped cream onto each bottom half. Spoon on the strawberry filling and cover with the top half. Serve immediately.
Recipe adapted from The Sprinkles Baking Book.
Note: This page contains affiliate links that help make The PKP Way possible. Should you choose to purchase anything via those links, I will receive a small commission paid by Amazon, not you.