Crispy spiralized potato tossed in a taco seasoned sauce makes for a no-dressing-needed salad.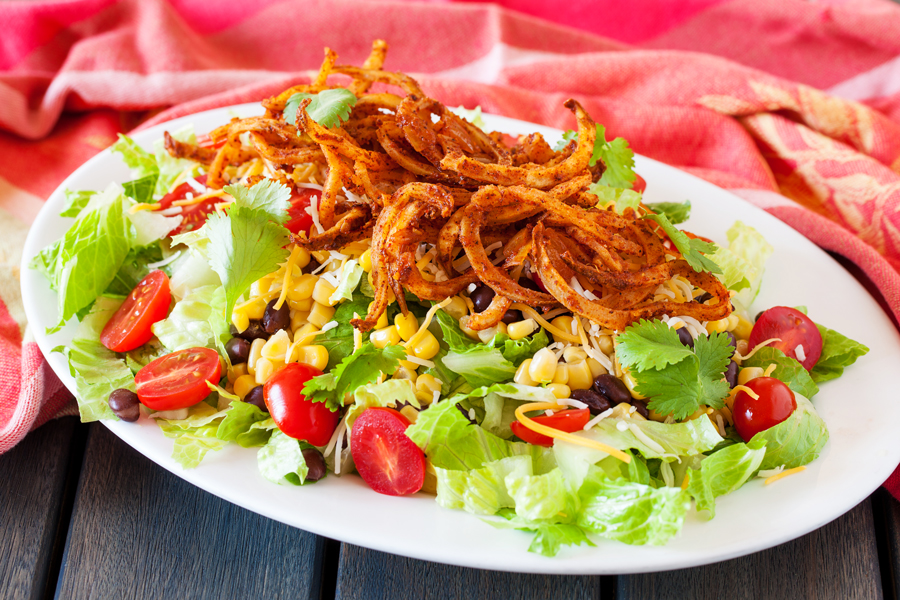 Have you ever had a salad so good it doesn't need dressing? I love when I find those salads. Not only are you saving on calories, but you're also not drowning your greens under anything. You get to taste all the deliciousness that Mother Nature intended.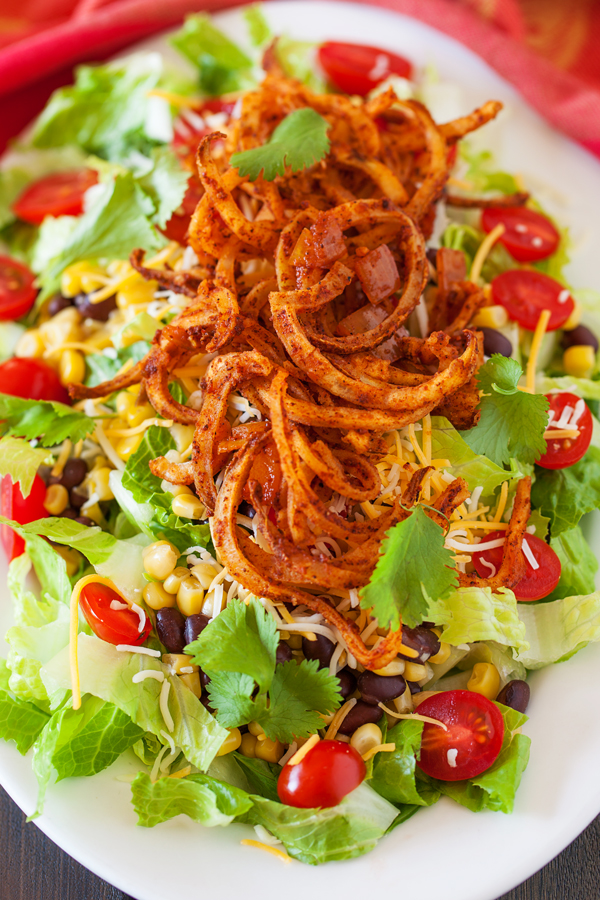 My spiralized potato taco salad is topped with spiralized potatoes, cooked in a tasty taco seasoning sauce. It's so tasty that no dressing is necessary. Every bite is crisp, refreshing, and full of flavor.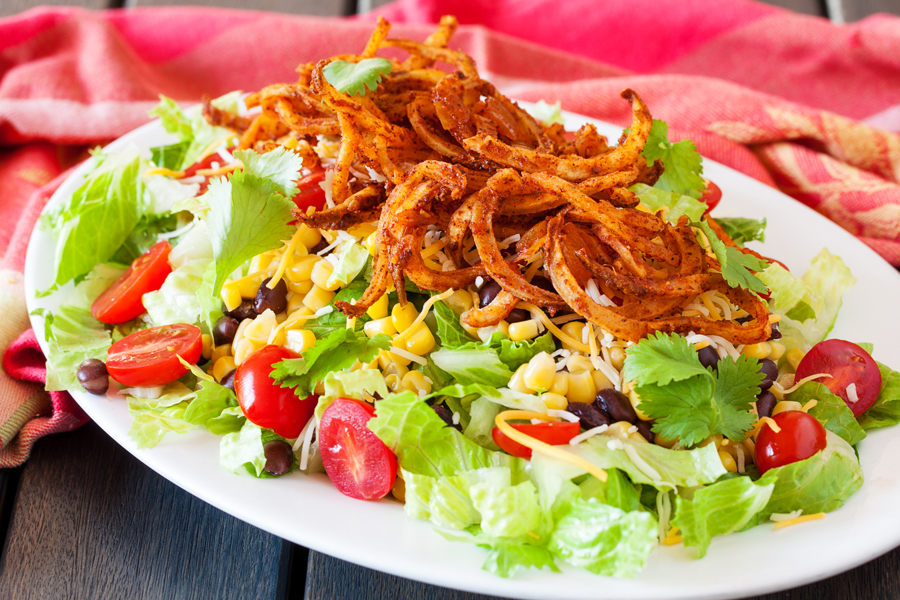 Originally, I was going to serve it up with a lime and cilantro dressing, but after tasting it as-is, I felt it could stand on it's own.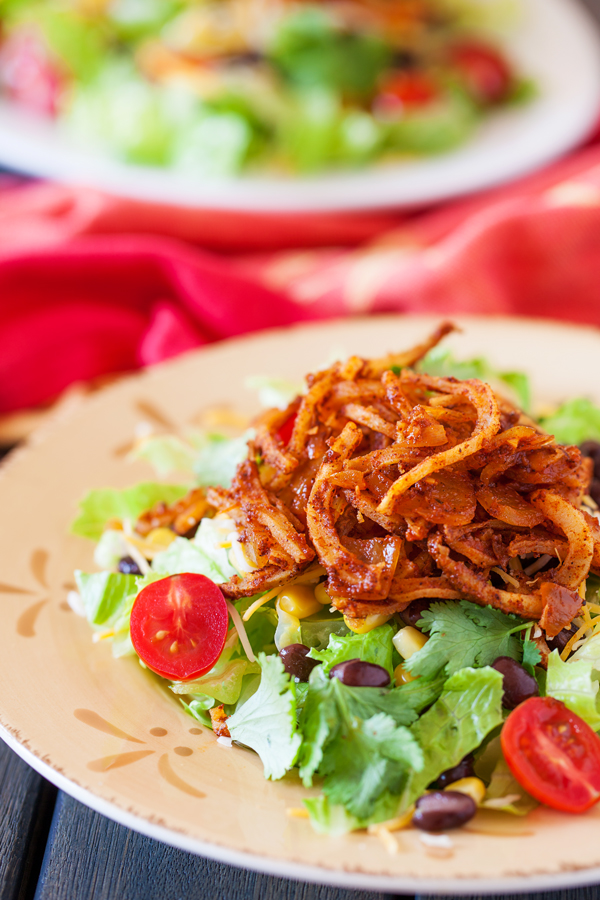 I love the spiralizing craze going on right now. There are so many types of spiralizers to choose from, with varying pricing, that this fickle blogger couldn't make up her mind. What should I look for in a spiralizer and why is this one so much pricier than that one? I was pulling my hair out! That's why I was so excited when OXO challenged me to create a healthy spring dish using their new OXO GoodGrips Spiralizer, launching this spring.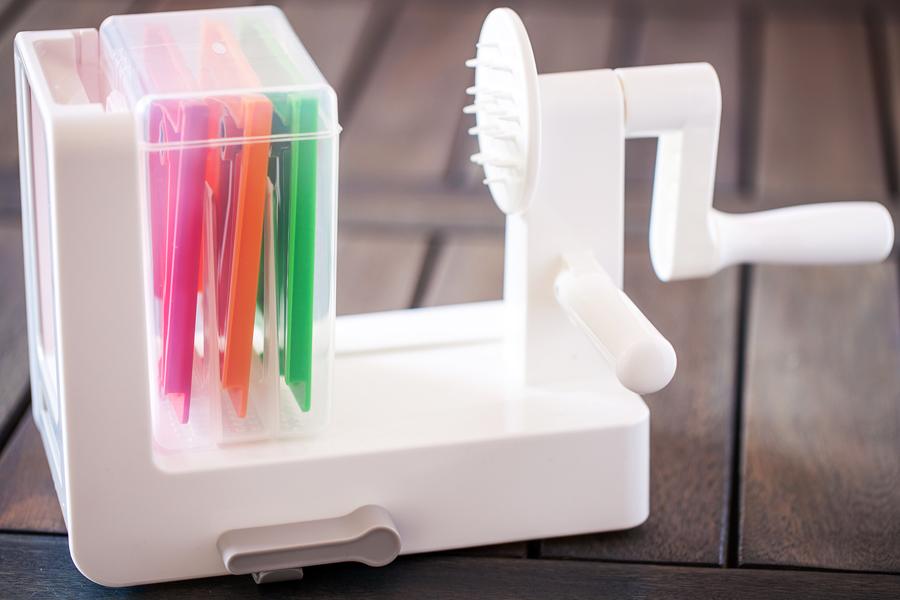 Let me just tell you, this piece of equipment has everything you could ever want in a spiralizer! They thought of everything!
It comes with three different types of blades so you can get varying types of cuts and spirals – spaghetti, fettuccine, and ribbon.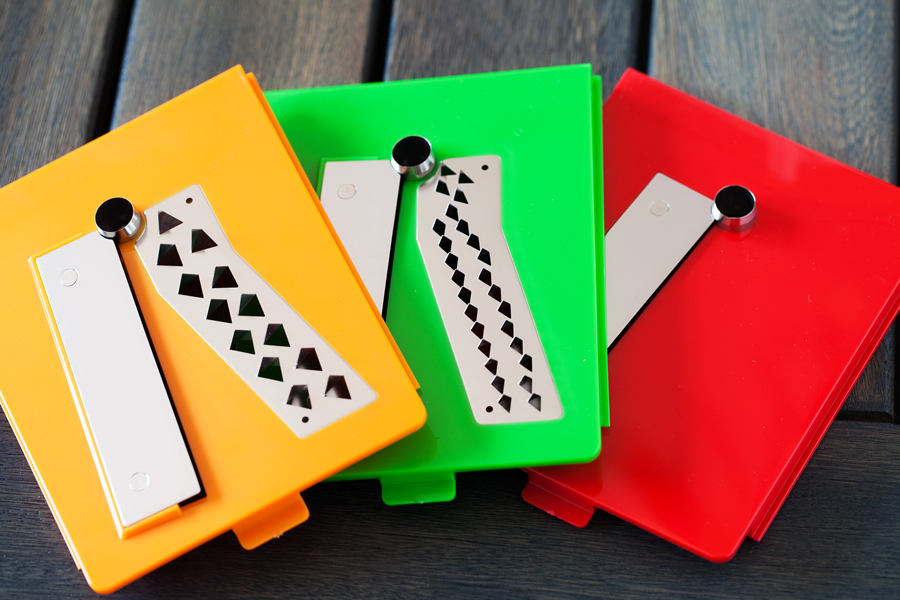 To safely store the blades, it comes with a handy dandy storage case that clicks nicely in the unit itself so you don't need any extra space to put the case.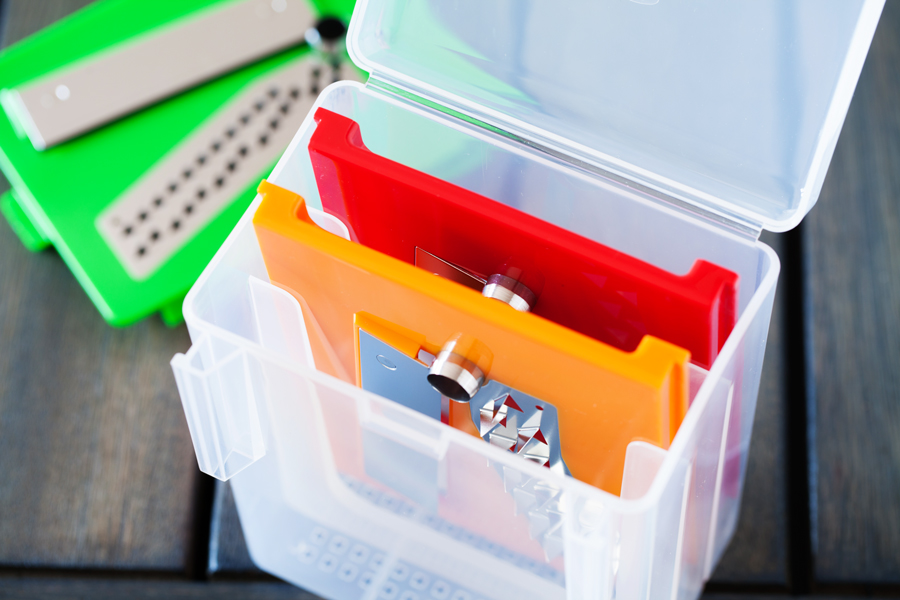 When you've chosen a blade, simply slide the blade into place.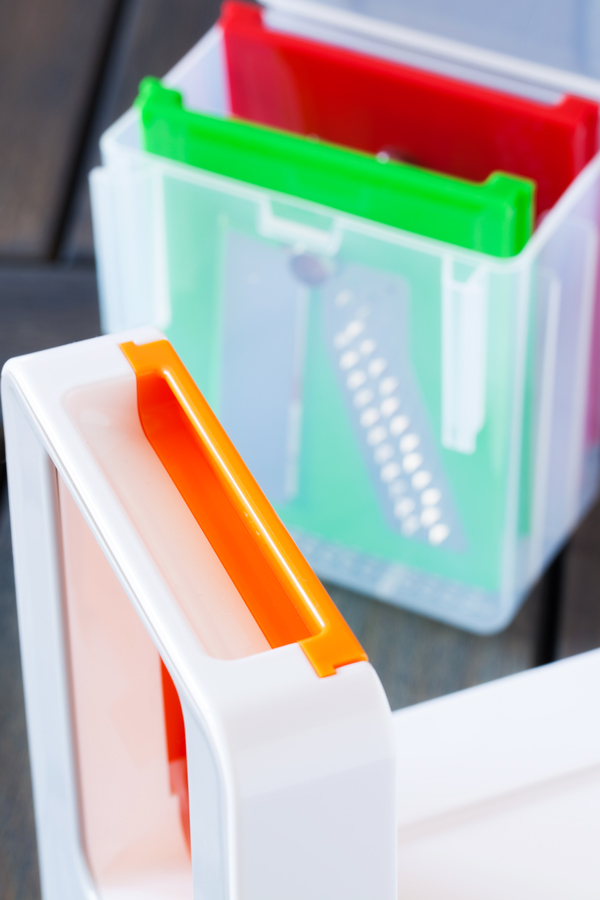 To keep the spiralizer firmly planted on your counter, there's a large suction cup under the unit. Create the suction by pushing the side lever to the down position.
Now, the spiralizer is ready to be used. Choose your product of choice, in my case, a potato. Cut off the ends to create a flat surface. Then, center and secure the potato in the spiralizer. Finally, using the two handles, push the potato into the blade, while spiralizing simultaneously. In a matter of seconds, you have fun and beautiful spirals! I used the fettuccine blade for these spirals.
I blanched my spiralized potatoes in boiling water for 30 seconds to remove some starch and give them a head start in cooking.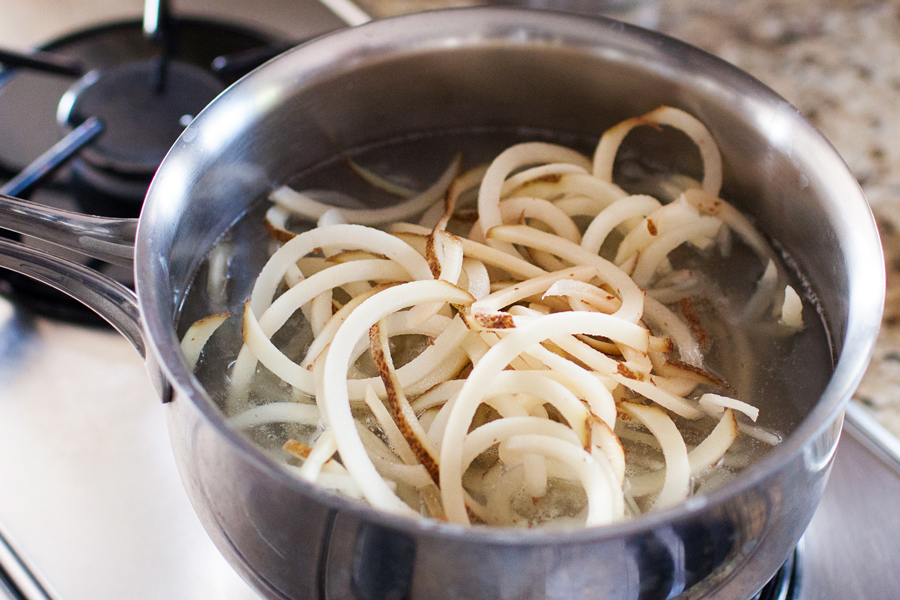 I gave them a rinse to remove even more starch and make them easier to crisp in the oven.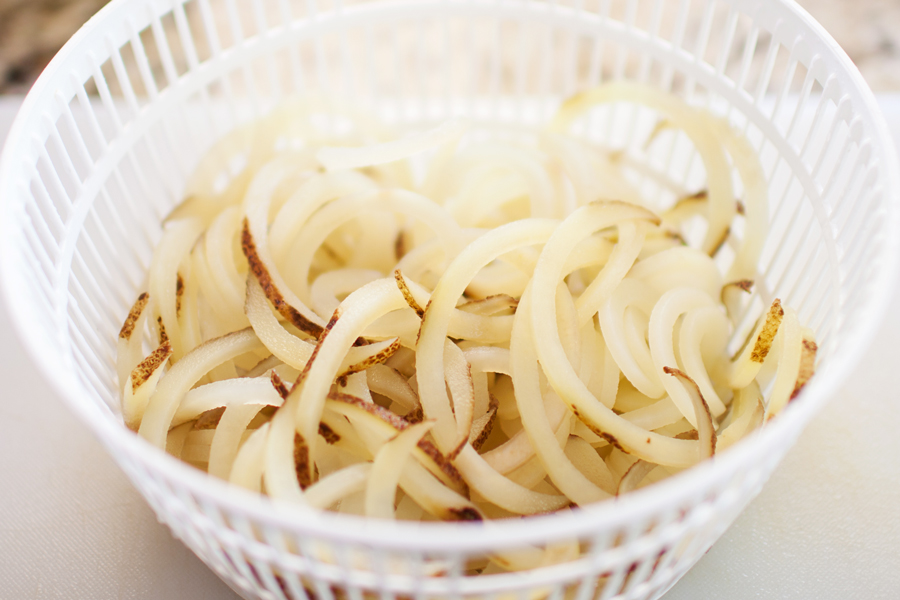 Then, I removed extra water by giving them a good pat down.

Finally, I spread them out onto one layer on a foil-lined baking sheet and popped them into the oven to finish cooking and get them nice and crispy.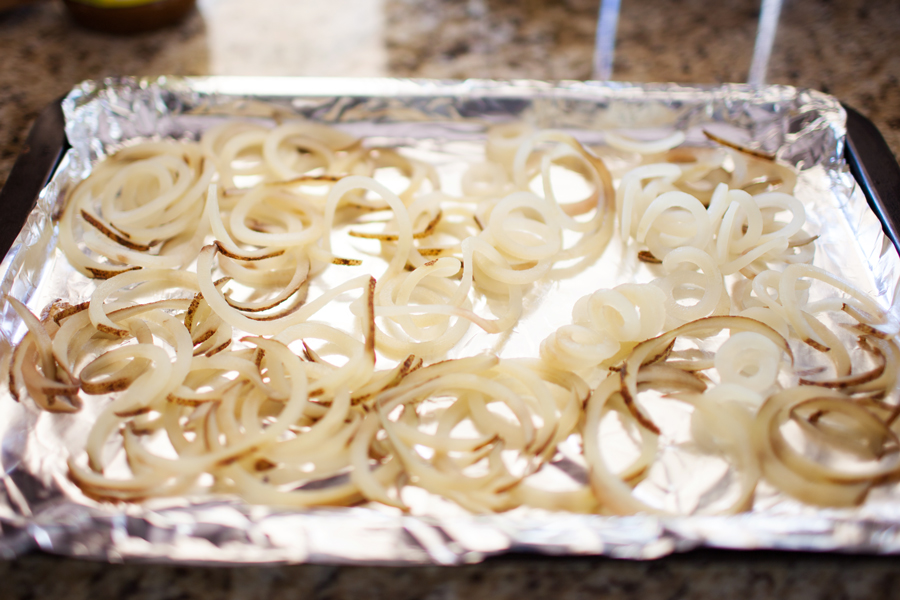 While in the oven I made the thick taco seasoned sauce.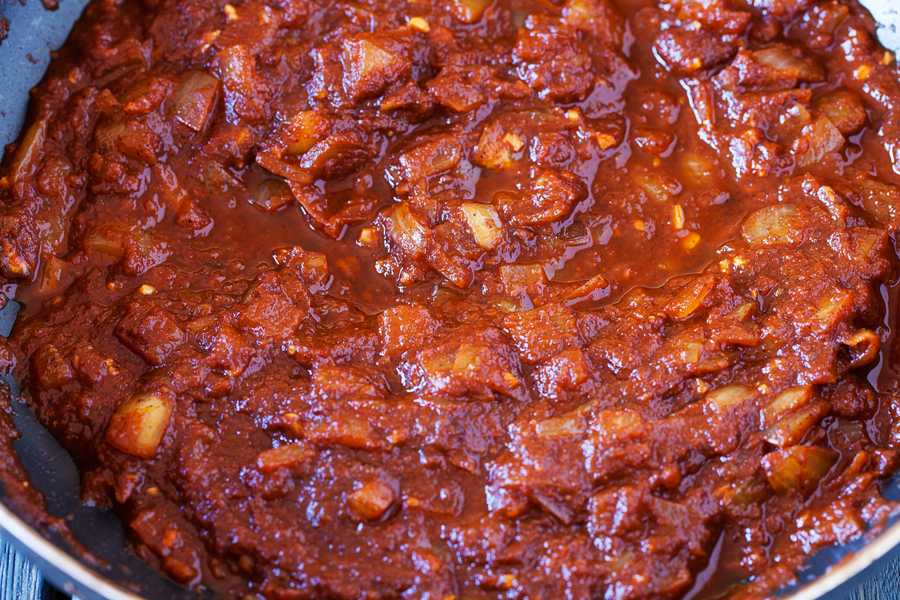 Once the potatoes were nice and crispy, I tossed them in the sauce until each potato fettuccine was coated. Once coated in the sauce, the countdown to soggy potato fettuccine begins, which is why it's so important to get the potatoes nice and crispy in the first place.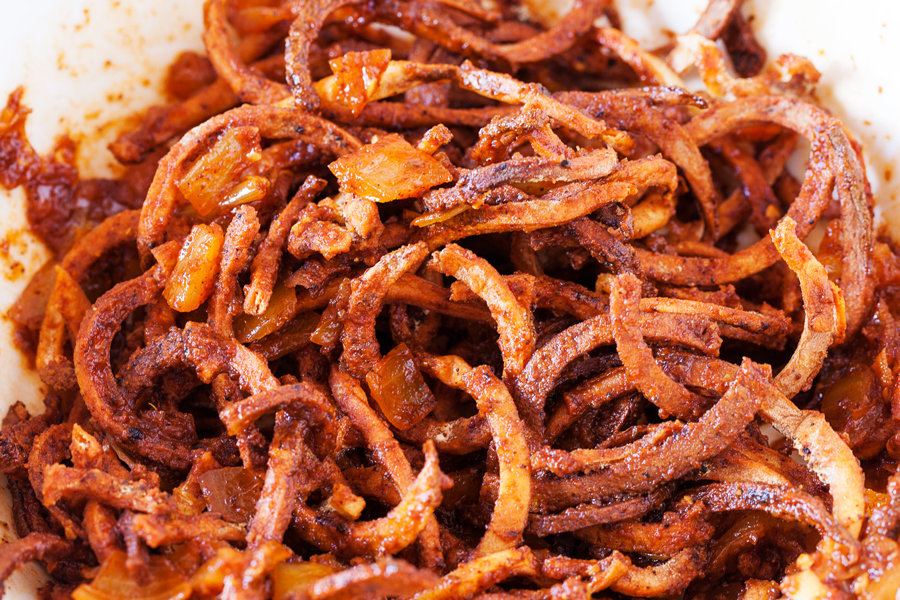 Top them over your favorite combination of greens and veggies and you're all set!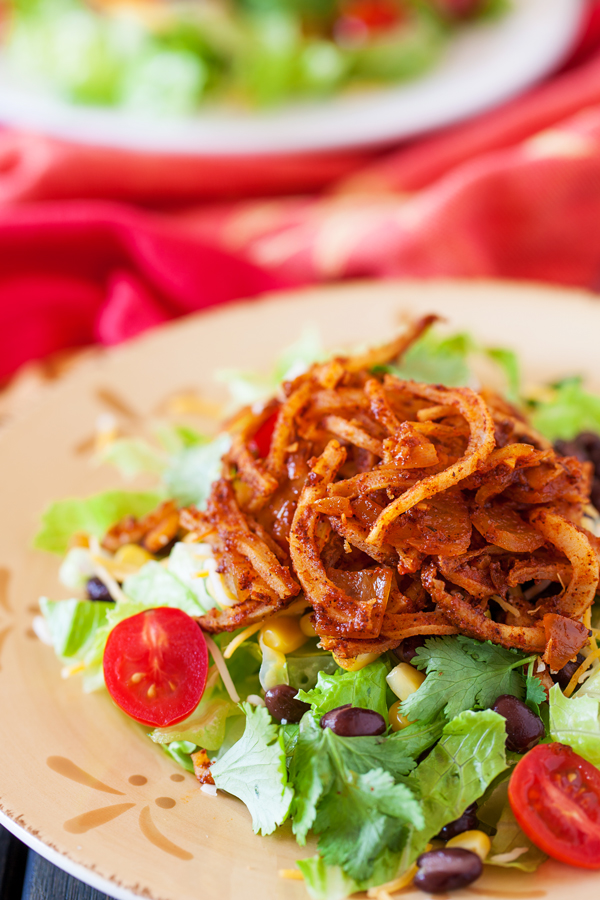 If you have some carnivores in your household, you can simply swap the potatoes with some ground meat. Simply cook up the ground meat of your choice, and pour the sauce over it. I knew my husband wouldn't be full off the salad alone, so I made some quesadillas using the extra sauce I had from the potatoes and some ground meat. If you don't have such a healthy appetite, such as yours truly, this salad will leave you feeling full and satisfied.
Spiralized Potato Taco Salad
Yields about 4 servings
Printer friendly version
Spiralized Potato Fettucine
Ingredients
1 large russet potato, spiralized (thoroughly washed, peeling is optional)
Directions
Preheat oven to 350°F and line a baking sheet with foil.
Bring a medium sized pot of water to boil.
Blanch the spiralized potatoes in boiling water and boil for 30 seconds*.
Rinse the blanched potatoes with cold running water and pat dry with paper towels.
Spread the rinsed spirals onto the prepared cookie sheet, in a single layer.
Bake for 20 minutes, flipping the potatoes half way through. Then, increase the temperature to 400°F and bake for another 20 minutes, flipping the potatoes half way through.
Taco Sauce
Ingredients
4 teaspoons vegetable oil
1 small onion, diced
4 teaspoons chili powder
2 garlic cloves, minced
1 cup (8 ounces) canned tomato sauce
½ cup (4 ounces) chicken broth
2 teaspoons cider vinegar (optional)**
1 teaspoon brown sugar
Spiralized potato fettucine (directions above)
Directions
In a large skillet over medium-high heat, heat the oil until shimmering.
Add the onion and cook until softened, about 5 minutes.
Stir in the tomato sauce, broth, vinegar (if using), and sugar. Bring to a boil, then reduce the heat to simmer and cook until slightly thickened, about 15 minutes.
Spoon the sauce over the spiralized potato and toss to coat***.
Notes
*Do not wait for the water to come back to a boil before starting the timer. Begin the 30 second countdown right when the potatoes hit the water.
**Adding the vinegar adds a sweet and fermented flavor. If you're not sure about this flavor, add 1 teaspoon at a time, tasting along the way. Or omit altogether.
***Once coated in the sauce, the countdown to soggy potato begins. Pour the sauce over the potatoes right before serving.
Taco Sauce adapted from The Complete Cooking for Two Cookbook
Disclaimer: OXO provided the equipment used in this post. All opinions are 100% my own.
Thank you for supporting The PKP Way and helping me work with brands I use and love.
Note: This page contains affiliate links that help make The PKP Way possible.