Learn to bake Sourdough Bread from scratch.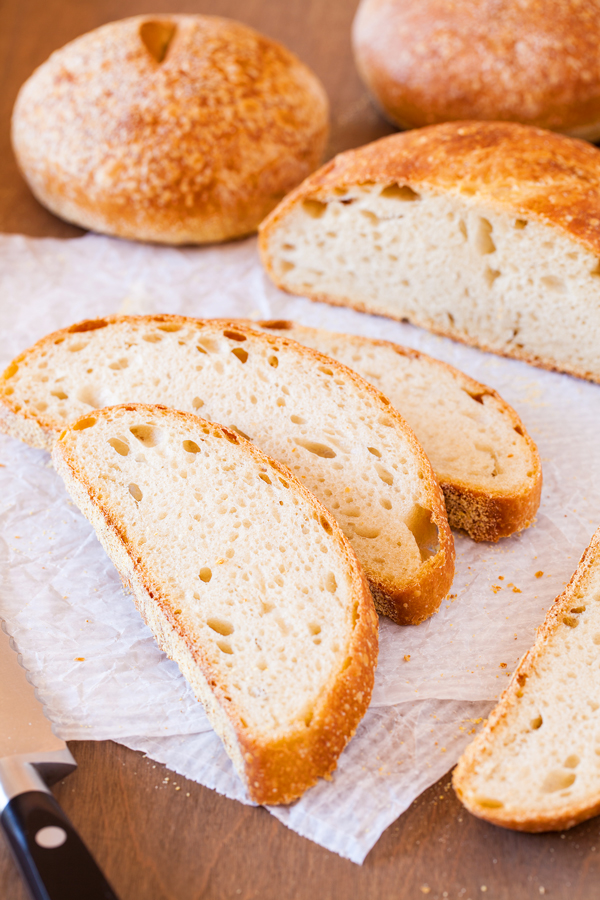 Now that your starter is well "fed" and anxious to be used, it's time to make Sourdough Bread! Before getting to the prize recipe, I wanted to share a little bit of my journey. I didn't learn how to bake cakes in a couple of days, so I couldn't expect to bake bread in a couple of days. And boy, did my initial loaves prove that!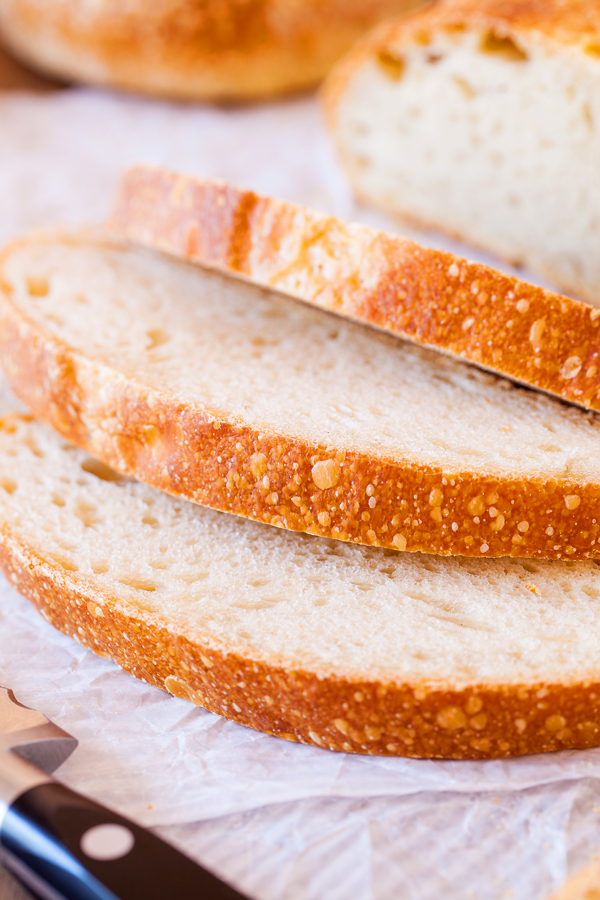 Below was my first attempt. Flatbread sourdough, anyone? With the recipe that I used, I found the dough to be too wet and sticky, even with floured hands and surface. As a result, it was very difficult to shape the dough into a loaf. So, I just ended up plopping it on the baking sheet :/ The bread tasted great and was perfect for dipping, but it just wasn't how I had envisioned a true loaf. So, onward I went.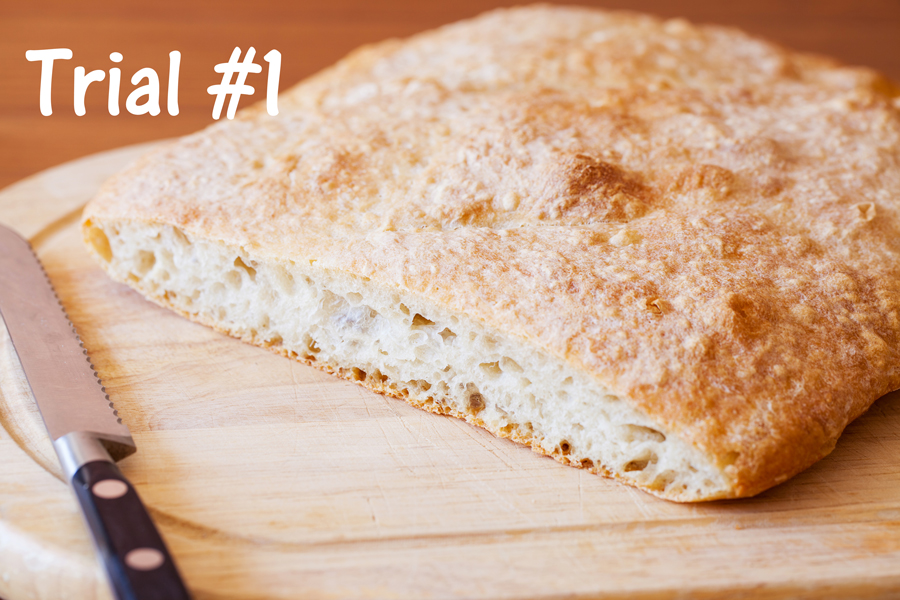 For my second attempt, I used the same recipe, but kneaded it a little longer in the stand mixer. This helped with the stickiness/wet dough a little bit. I tried to work quicker to avoid any sticking when shaping my dough. You can see that my dough was a tiny bit better formed, but still kind of flat :/ You probably notice the difference in color too. The left loaf was baked in a covered Dutch oven during the first bake while the loaf on the right was baked on a cast iron skillet. The covered Dutch oven traps in heat and moisture during the initial stages of baking, which maintains an even baking environment for a beautifully brown crust. In an uncovered cast iron skillet, the dough is on its own and browning reactions are not stimulated by the acidic nature of the dough.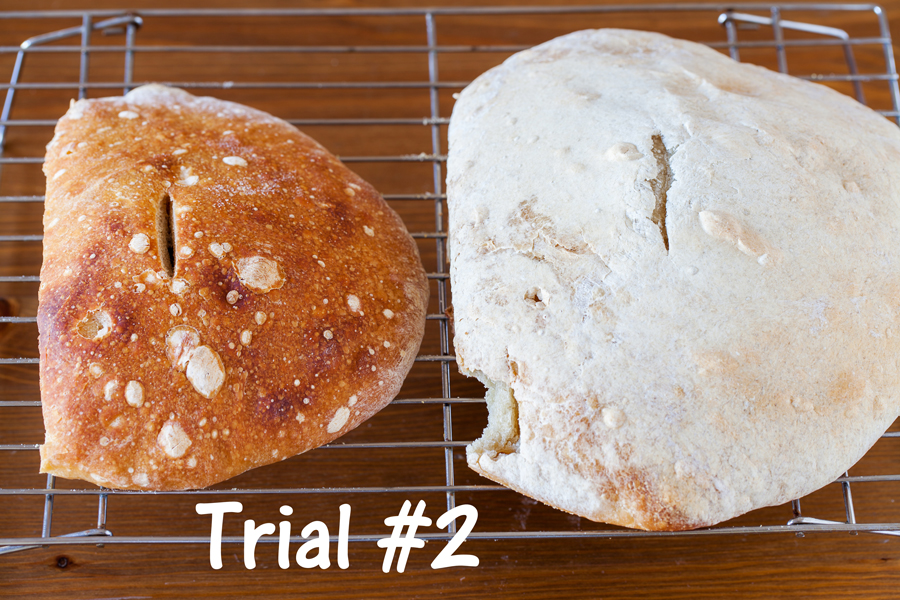 I ended up researching another recipe that includes the addition of oil, which made for a perfectly manageable dough. I was able to create a tight ball throughout the entire process. No more flat sourdough! Yay!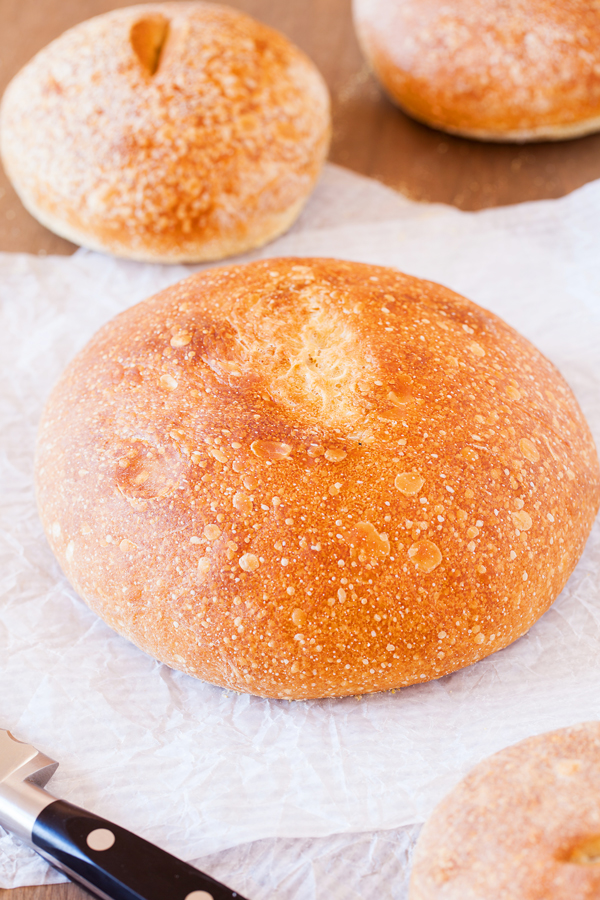 My intention was to slice the bread and make sandwiches, but they never got that far. I ended up eating the slices on their own ;)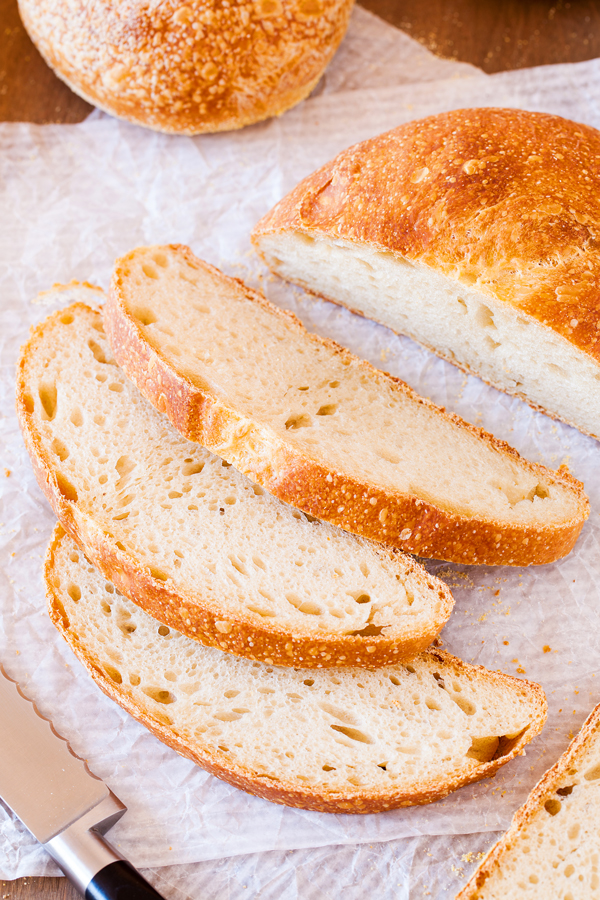 The crust was perfectly crisped and there was the perfect amount of sour tang. I tested the recipe a few times, experimenting with proofing times to get the right amount of tang and found that allowing the first rise to proof for 12 hours produced the perfect amount of tang because it provides more time for the starter to ferment and maximize flavor production.
I was so happy with the results that I even created mini loaves by placing them on mini cast iron skillets. They made for perfect crostinis! Just look at how cute they are!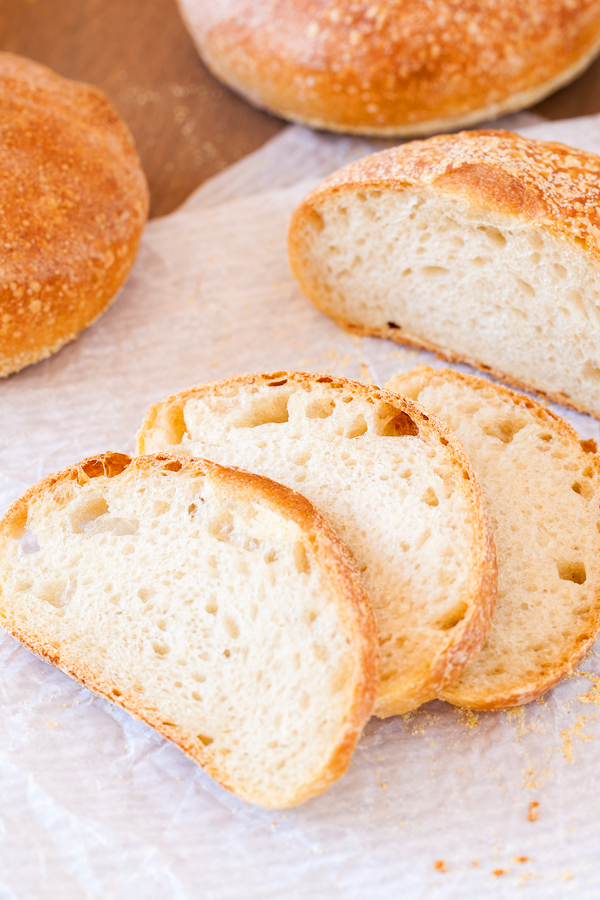 Since the mini loaves were in an open environment, as opposed to a covered Dutch oven, I knew they would have trouble browning. To get around this, I rubbed oil on them before baking, which did the trick.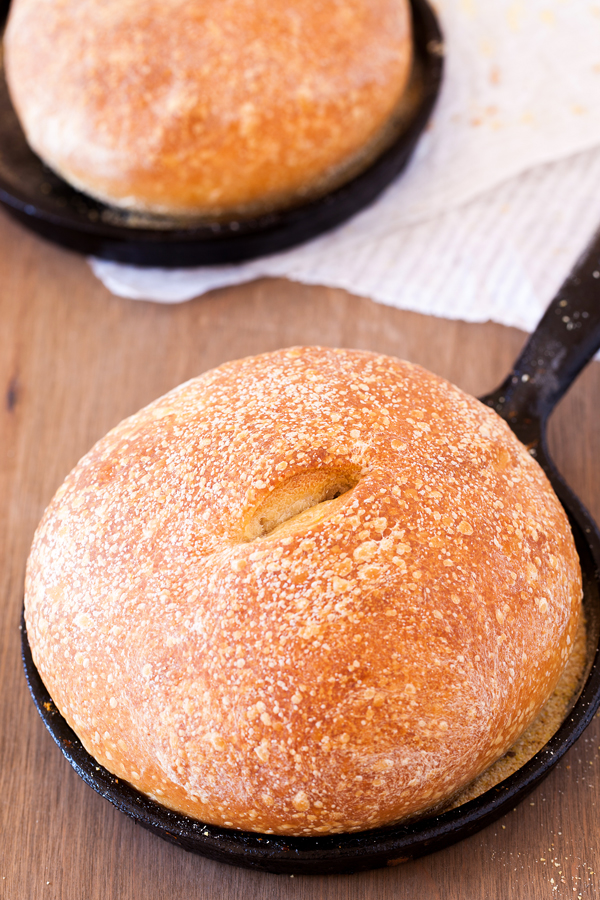 The moral of the story here is to not get discouraged in your Sourdough journey. If you have to take a break for a few days before beginning again, do it. I admit, if I didn't improve by the third try, I was going to work on something else for a couple of days before attempting it again. Luckily, I was successful. Hopefully with this recipe I will have saved you from a lot of wasted ingredients, wasted time, and frustration :D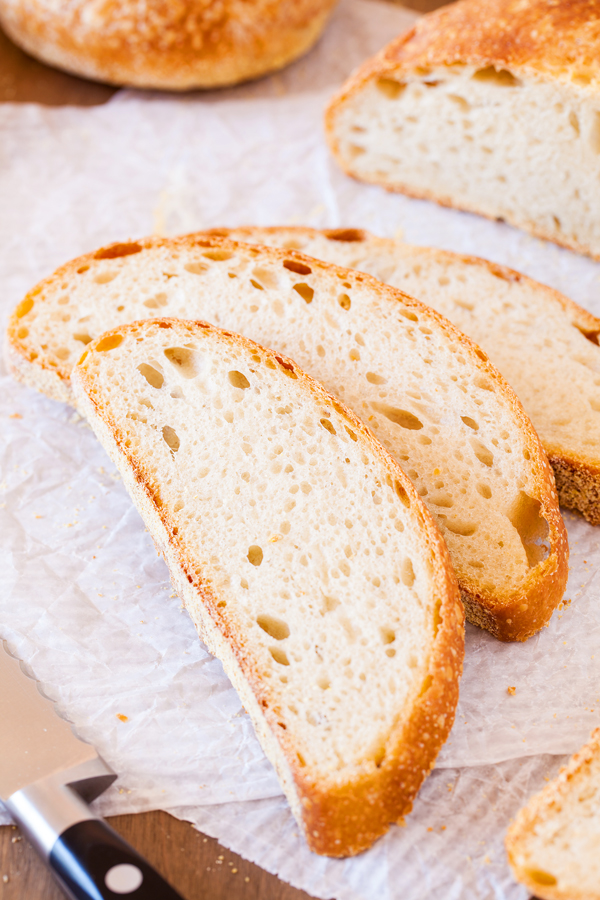 Helpful Video
I wouldn't have been able to achieve success without using Tessa's (from Handle the Heat) video as a guide. I must have watched it a dozen times! From the video, you can tell what your dough is supposed to look like every step of the way.
Sourdough Bread
Yields 2 loaves
Printer friendly version
Ingredients
150 grams active, fed starter (click to make your own!)
250 grams bottled water
25 grams olive oil
500 grams bread flour
10 grams fine sea salt
Cornmeal, for dusting
Directions
In the bowl of a stand mixer, add the starter, water, oil, and flour. Mix with your hands until combined. Set aside for 30 minutes.
Attach the dough hook attachment to the mixer and knead on low while sprinkling in the salt. Increase the speed to medium and knead until the dough is smooth and doesn't stick to the walls of the bowl, about 8-10 minutes.
Remove the dough from the mixer and form into a tight ball by gathering and tucking the sides into the bottom center of the dough. Place a large bowl, lightly greased with oil. Cover with plastic wrap and a clean towel. Place in a warm place* to rise for 8-12 hours**.
Divide the dough in half and form each half into a tight ball according to the description in step 3. Place each ball into a Dutch oven*** coated with cornmeal. Cover with the lid and allow to rise for 2 hours.
At 1 ½ hours turn the oven on to 450°F. Using a sharp knife or kitchen shears, slash the center of the dough about 2" long and ½" deep and replace the lid. While covered, place the Dutch oven**** into the oven, lower the heat to 400°F, and bake for 20 minutes. Remove the lid and continue baking for 40 minutes until a golden crust forms. The bread is done when the inside of the bread registers 205°F. Allow to cool on a cooling rack for at least 1 hour before slicing.
Notes
*I placed it in my off-oven.
**The longer the better. I let mine rise for 12 hours to maximize the sourness. The dough should double in volume.
***If you don't have a Dutch oven, place on a cornmeal dusted cast iron skillet or parchment paper-lined baking sheet and loosely cover with plastic wrap. Let rise for 2 hours.
****If using a cast iron skillet or parchment paper-lined baking sheet, lightly coat the dough with olive oil before baking.
Storage
Store non-sliced bread uncovered at room temperature. If sliced, store the loaf cut side down.
Adapted from Handle the Heat and used tips from The Clever Carrot, and King Arthur Flour Recipes and Blog.