Thick and buttery, these shortbread cookies have a melt-in-your-mouth quality and will become a family favorite year round.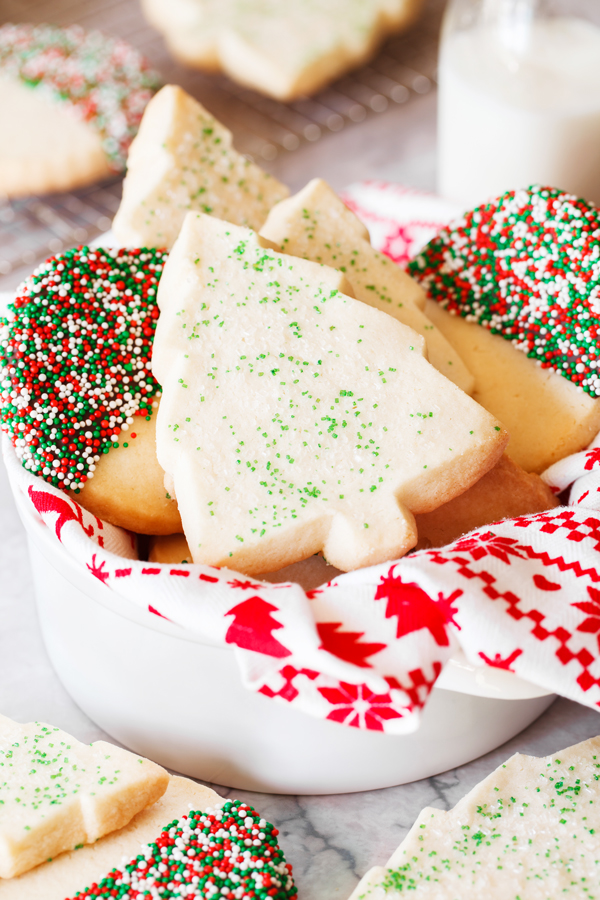 Our new home finally feels like home. I've even joined a ladies walking group with some of my new neighbors! Almost every Saturday morning, we walk a 3-mile trail around our neighborhood. The 1 hour walk goes by so fast as we chat and share what's new with each others' lives.
I feel so grateful to have these new friends in my life. They are all so supportive of one another, full of encouragement and wisdom, and love to cook and bake! I've truly found my tribe.
I learned quickly that one of these ladies is a fantastic cookie baker and was kind enough to share her shortbread cookies recipe with me and in turn, all of you!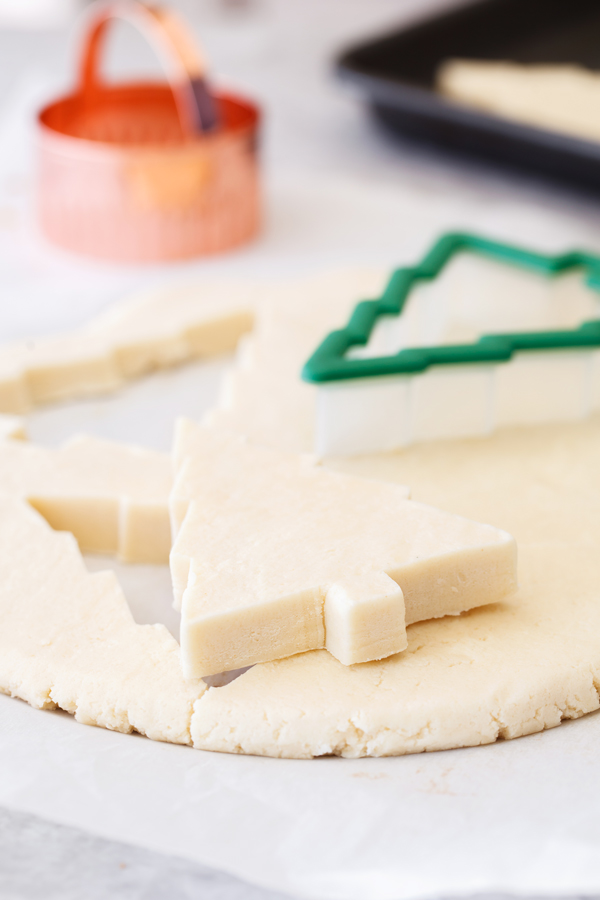 These shortbread cookies aren't your regular shortbread cookies. They are incredibly buttery and practically melt in your mouth at first bite. But perhaps what makes them absolutely unique is the addition of coarse salt and how thick they are.
The salt gives the shortbread cookies a sweet and salty quality, so it's not just a regular sweet cookie. Keeping them thick and not overbaking them, gives the cookies a soft, melt-in-your-mouth quality.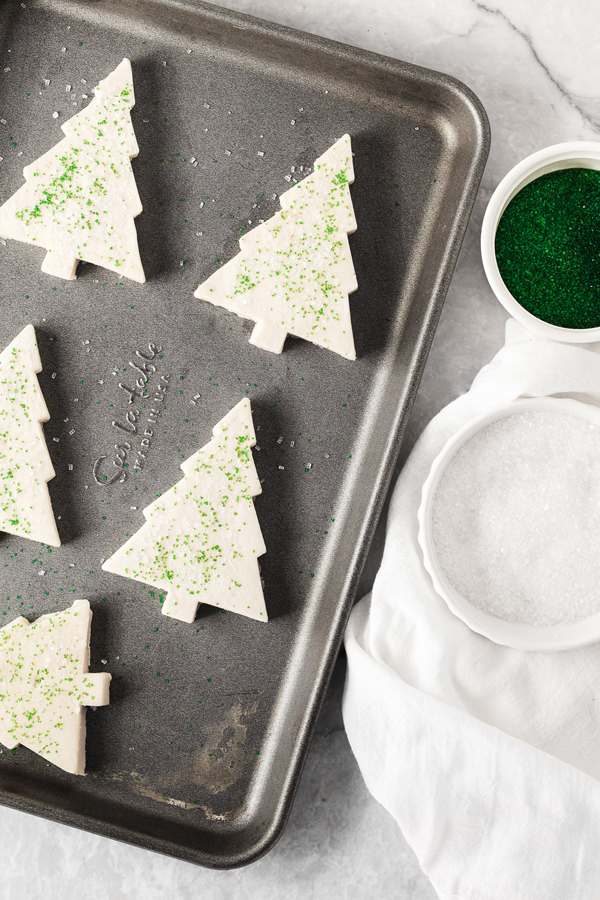 To decorate, I like to keep it simple. I usually opt to sprinkle on some colored sugar into the dough right before baking. When they come out of the oven, they're already decorated!
But if I have a little extra time, I'll get a little "fancier" and dip them in melted dark chocolate before giving them a heavy sprinkling of themed sprinkles.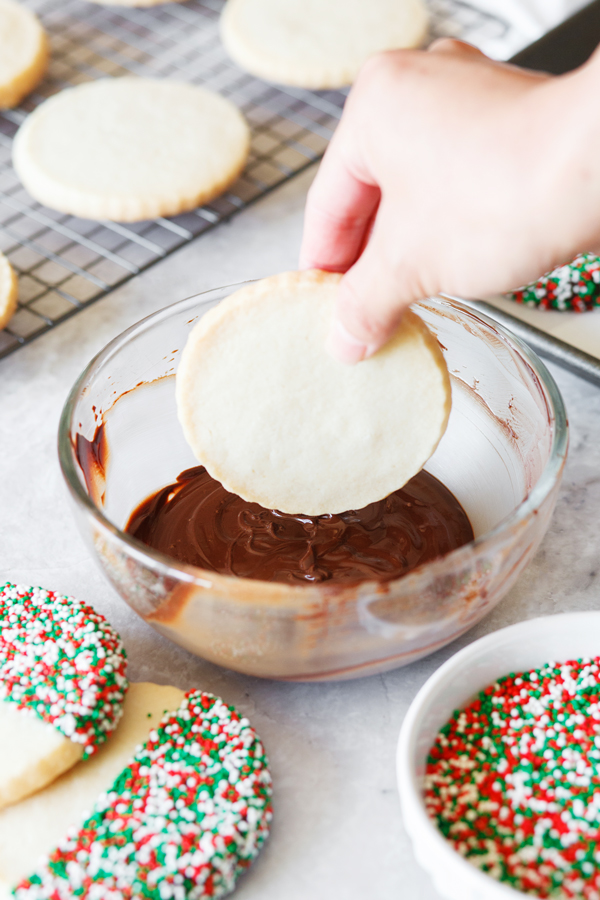 These shortbread cookies along with the gingerbread cookies are pretty much the only treat we've been living on this holiday season.
If you've never tried your hand at shortbread cookies before, I urge you to give it a try. The dough is so easy to work with and personally, I prefer them over sugar cookies any day :)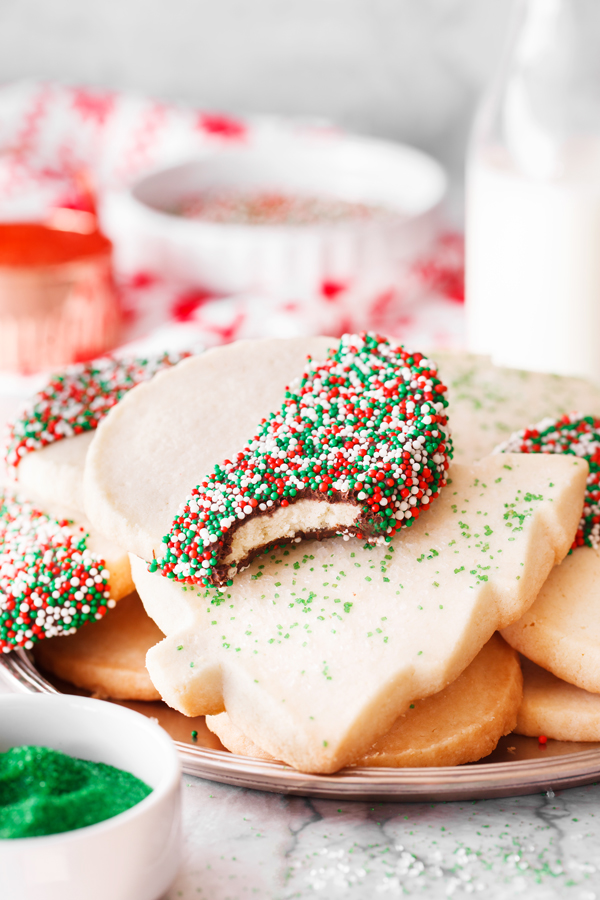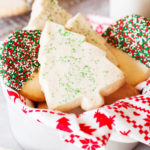 Classic Shortbread Cookies
Yields about 1 dozen 4 1/2-inch cookies
Serving Size
:
1
Four and a half inch cookie
Calories per Serving
:
244
kcal
Ingredients
1

cup

(2 sticks) unsalted butter, softened

1/2

cup

sugar

1

teaspoon

vanilla extract

2

cups

flour

3/4

teaspoon

coarse salt*

Colored decorating sugar
Instructions
In the bowl of a stand mixer fitted with the paddle attachment, cream together the butter and sugar on medium speed until fluffy. Beat in the vanilla until combined, scraping down the sides as necessary.

Reduce the speed to low and add the flour and salt. Stir until a soft dough forms.

Place the dough between two sheets of parchment paper and roll until 1/2-inch thick.

Chill flat in the refrigerator for 1 hour or in the freezer for 20 to 30 minutes.

When ready to bake, preheat the oven to 325°F and line a cookie sheet with parchment paper or silpat.

Remove the chilled dough and place on the work surface. Carefully remove the top parchment sheet and cut out shapes using a 4 1/2-inch cookie cutter. Reroll any remaining scraps and chill, if needed, before cutting. Transfer cut dough to the prepared baking sheet, spacing 1-inch apart. Sprinkle on colored decorating sugar and gently press into the dough.

Bake for 16 to 20 minutes, rotating halfway through the bake time, until the edges are lightly browned. Allow to cool on the cookie sheet for 10 to 15 minutes before transferring to a cooling rack to cool completely.
Recipe Notes
*I use sea salt in a salt grinder adjusted to the coarse setting.