Full of chocolate and peanut butter flavor, these Reese's Peanut Butter Chocolate Cookies are a great way to use up your leftover Halloween candy.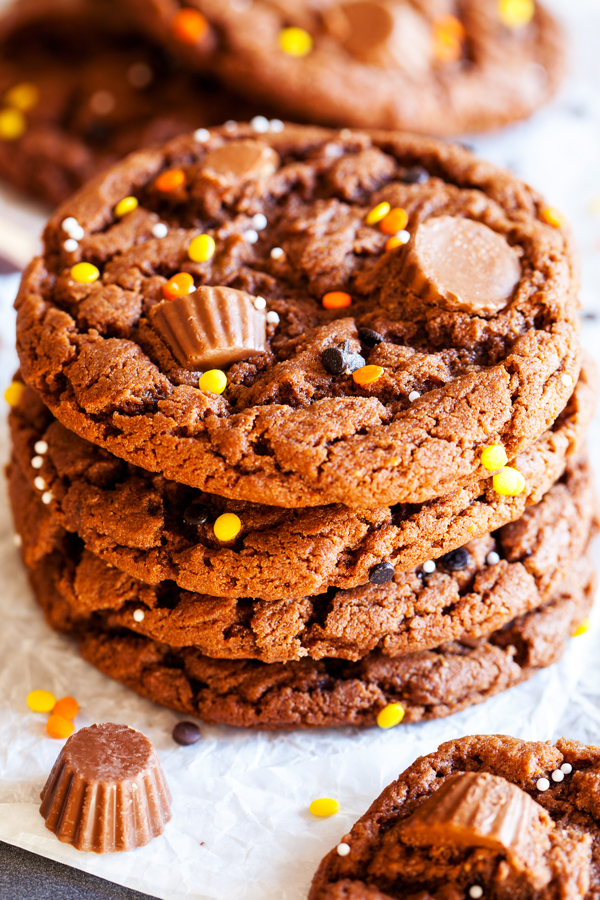 The morning after Halloween, I took a trip to Target to take advantage of any candy that was on sale. I intended to pick up bags and bags of candy corn (my favorite!), but to my disappointment, they only had one bag left. And it was the small bag too :( Oh well. It was probably better for my blood sugar anyway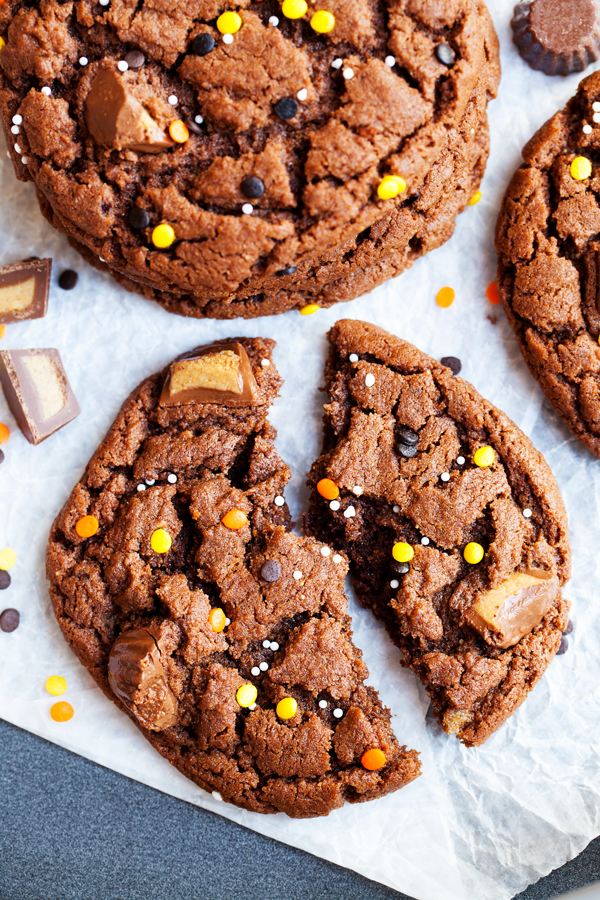 While at Target, I took a stroll down the baking aisle and saw that they had bags of Reese's Peanut Butter Cups Minis on sale. Have you guys seen these? They're so fun to snack on and bake with! I suddenly had a craving for peanut butter chocolate cookies with these cups as an inclusion. No joke, I really had that specific craving, right there in that aisle. It's amazing what a sale can do :)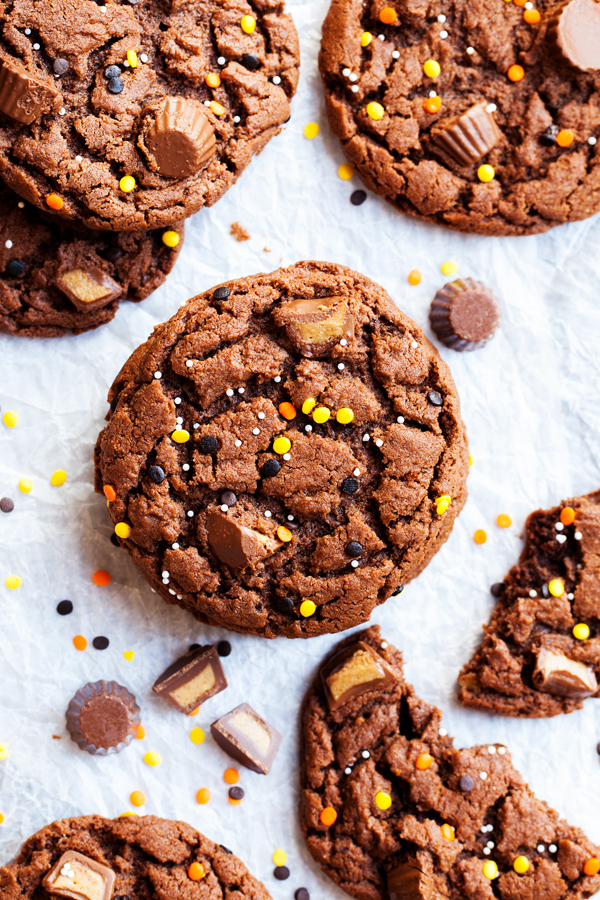 When I got home, I immediately got to working on these Reese's Peanut Butter Chocolate Cookies. I wanted a chewy chocolate cookie that had both the flavor of chocolate and peanut butter so I used The Only Chocolate Cookie Dough You Need as a jumping off point. To that dough, I added a ¼ cup dose of creamy peanut butter and amped up the chocolate flavor by adding more coffee! I also increased the scoop amount for a larger cookie and adjusted the time in the oven to achieve just the right amount of chewiness.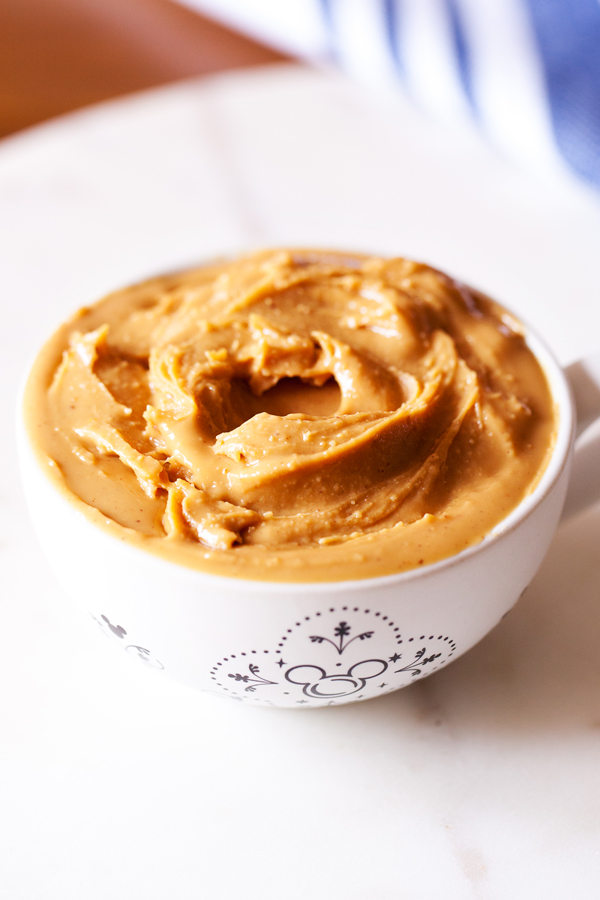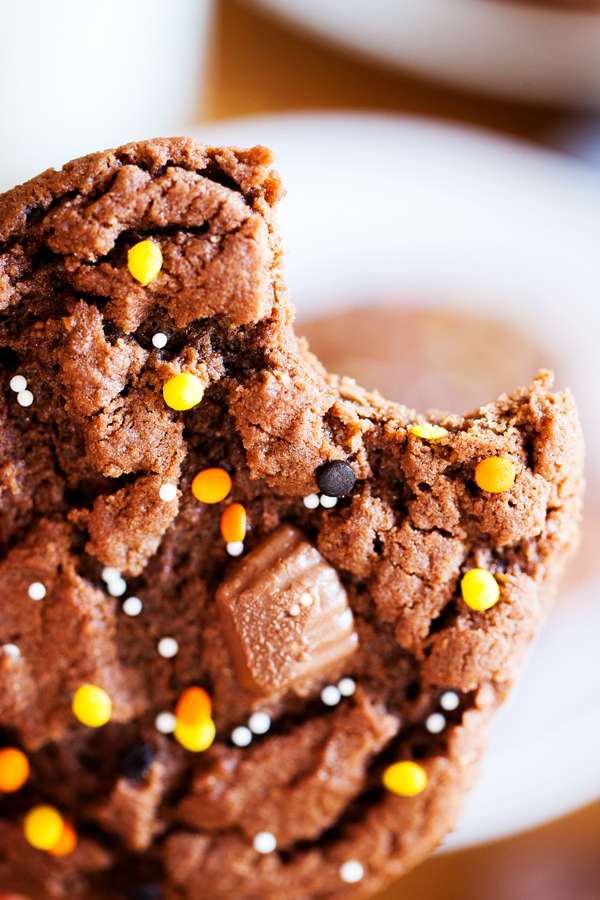 What came out was exactly what I was craving in that Target aisle. I was in heaven! If you love Reese's Peanut Butter Cups (who doesn't?) and chocolate, this is the cookie for you. And, don't limit yourself to just the Reese's Peanut Butter Cups, add Reese's Pieces or any leftover chocolate candy you may have lying around from Halloween. Just chop them up before adding them in.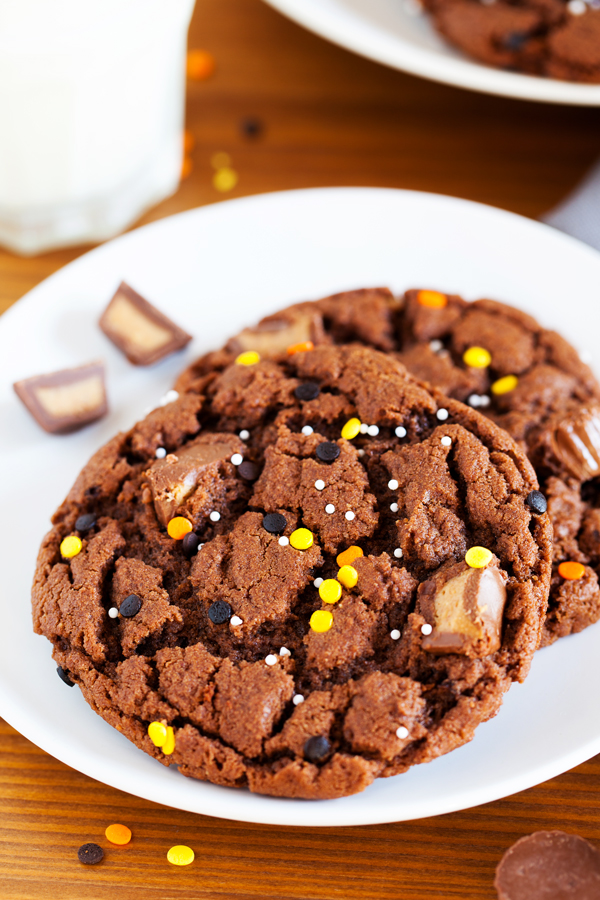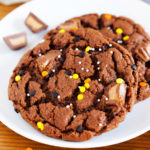 Reese's Peanut Butter Chocolate Cookies
Yields about 1 dozen cookies
Calories per Serving
:
250
kcal
Ingredients
1

cup

plus 3 tablespoons all-purpose flour

½

teaspoon

baking soda

½

teaspoon

sea salt

⅓

cup

unsweetened natural cocoa powder, not Dutch processed

½

cup

(1 stick) unsalted butter, room temperature

¼

cup

creamy peanut butter, room temperature

⅔

cup

packed brown sugar*

⅓

cup

granulated sugar

1

egg, room temperature

½

teaspoon

instant coffee granules

1

teaspoon

pure vanilla extract

1 - 2.5

ounce

bag of Reese's Peanut Butter Cups Minis, cut half of the cups in half and leave the other cups whole*

Seasonal sprinkles (optional)
Instructions
Sift together the flour, baking soda, salt, and cocoa powder. Whisk to combine.

In the bowl of a stand mixer fitted with the paddle attachment, cream together the butter, peanut butter, and sugars on medium speed until light and fluffy, about 2 minutes. Add in the egg, coffee granules, and vanilla until combined, scraping down the sides as necessary.

Reduce the mixer to low and add in the flour mixture in three additions, scraping down the sides as necessary. Off the mixer and fold in the peanut butter cups.

Place plastic wrap directly over the dough's surface and chill in the refrigerator for at least 2 hours or overnight**.

About 15 minutes before removing from the refrigerator, preheat the oven to 350°F and line two baking sheets with parchment paper or silpat.

Scoop mounds of dough, about 3 tablespoons each, on the prepared baking sheets, spacing about 2-inches apart. Sprinkle on the sprinkles, if using, onto each mound and gently press down.

Bake for 15 – 15 ½ minutes***. Allow to cool on baking sheet for 10 minutes before transferring to a cooling rack to cool completely.
Recipe Notes
*If you can't find the minis, use 4 (2 packages) of the regular peanut butter cups and cut into cubes.
**Chilling is mandatory. The dough will be very soft and sticky, resembling a mousse. Once chilled, the dough should resemble modeling clay and be easier to scoop.
***If you like softer cookies, bake for 15 minutes. For firmer and chewier cookies, bake for 15 ½ minutes.
Storage
Store in an air tight container at room temperature for up to 5 days.
Note: This page contains affiliate links that help make The PKP Way possible. Should you choose to purchase anything via those links, I will receive a small commission paid by Amazon, not you.