A bed of quinoa and spinach topped with a confetti of beets, mandarins, and tomatoes, this quinoa confetti salad is full of nutrients, vitamins, and fiber to make your meal that much healthier.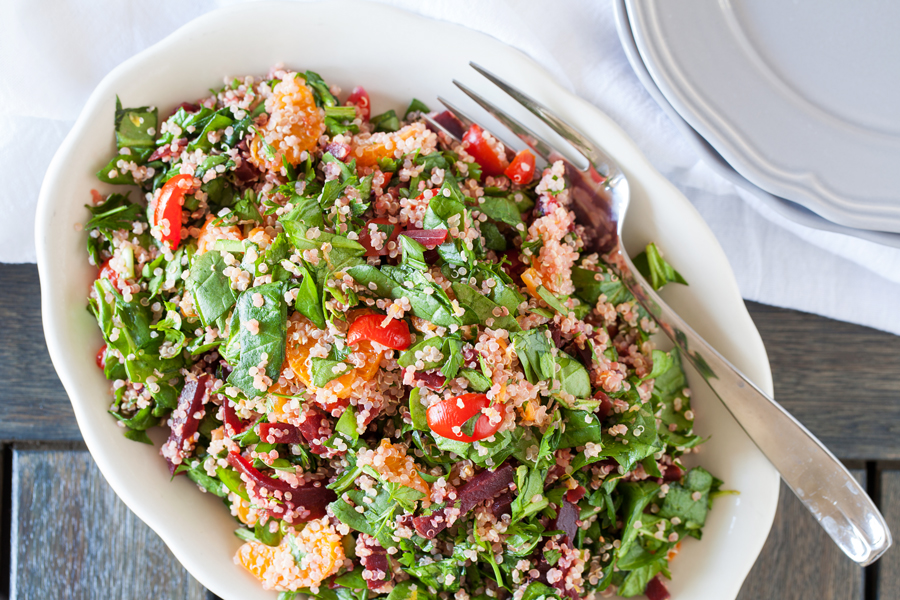 This year, Warren and I are striving to make healthy and sustainable changes to our lifestyles. We want to make healthier food choices, add more fruits and vegetables to our diet, and exercise on a regular basis.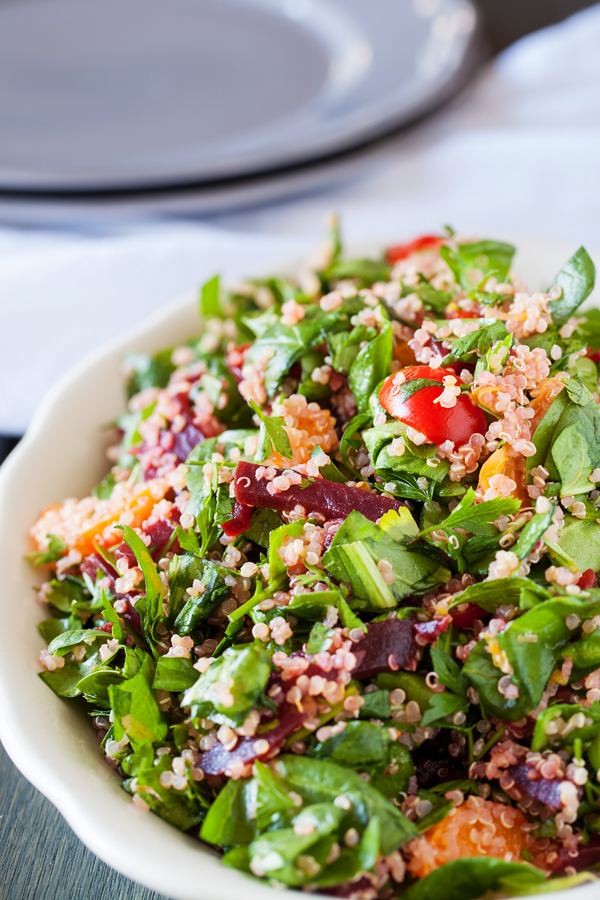 You might be wondering why this is a big deal. Because up until now, our diets were let's say, indulgent. We rarely thought twice about making healthy choices. Yes, we'd order a salad to share to go along with our let's say fried dinner, but we'd seldom make a conscious choice to choose the healthier option. We pretty much ate what we wanted when we wanted.
I won't speak for Warren, but my goal is to sustain a healthy body and mind (but that's a topic for another day). High cholesterol, blood pressure, and diabetes run in my family, so I'm already predisposed. My hope is that when I reach my parents' age, I will already be used to the lifestyle changes I'm making right now, so that any other changes won't be so drastic and deprivative.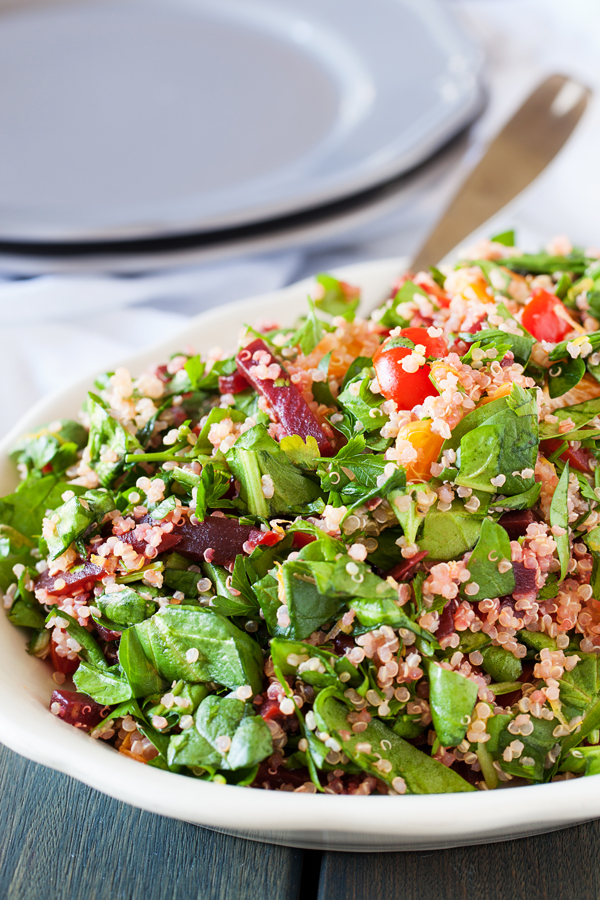 This quinoa confetti salad is a salad we're loving and devouring at the moment. I make a large batch at the beginning of the week and then I have enough to use as a dinner side and lunch side all week long! So far, we've paired it with my baked lemon and herb salmon, Ina Garten's lemon chicken, and pesto pasta.
Within the bed of quinoa and spinach, there is a fibrous and nutritious confetti of beets, mandarins, and tomatoes. The colors alone make the salad so attractive that you actually want to dive in!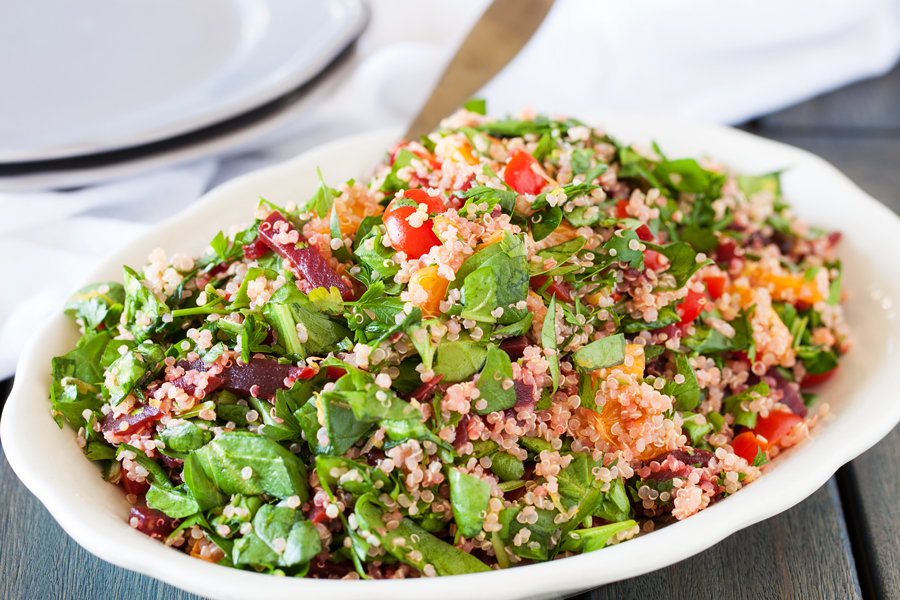 The salad is so simple to throw together and yields a large enough batch for dinner the entire week. If you want to add it to your lunch menu, just double the batch.
Start with a bed of spinach.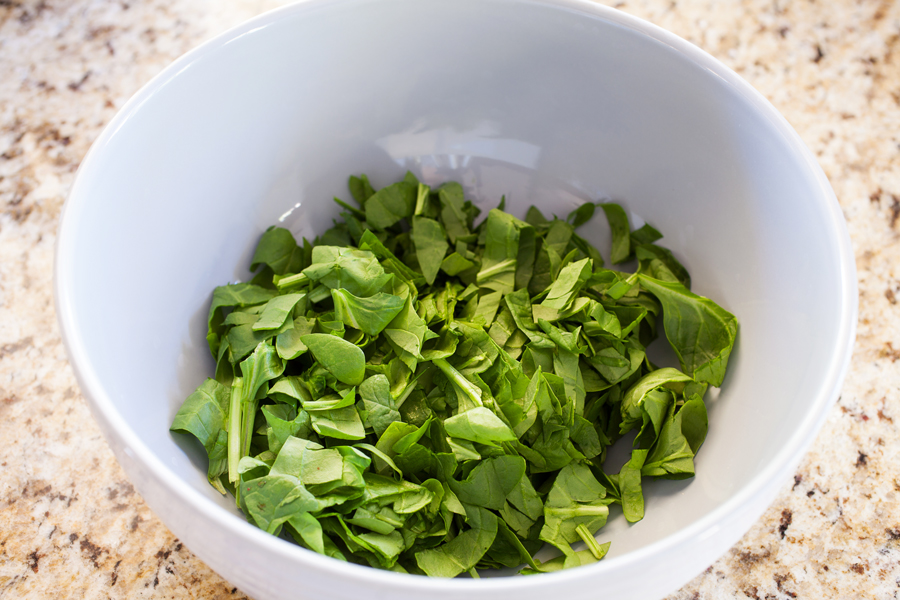 Add hot, freshly cooked quinoa.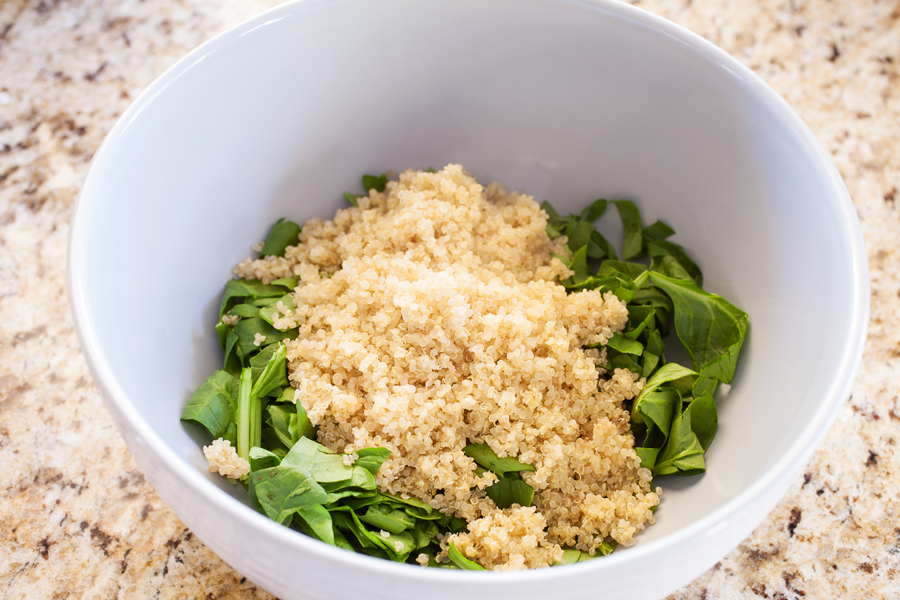 Prepare the confetti.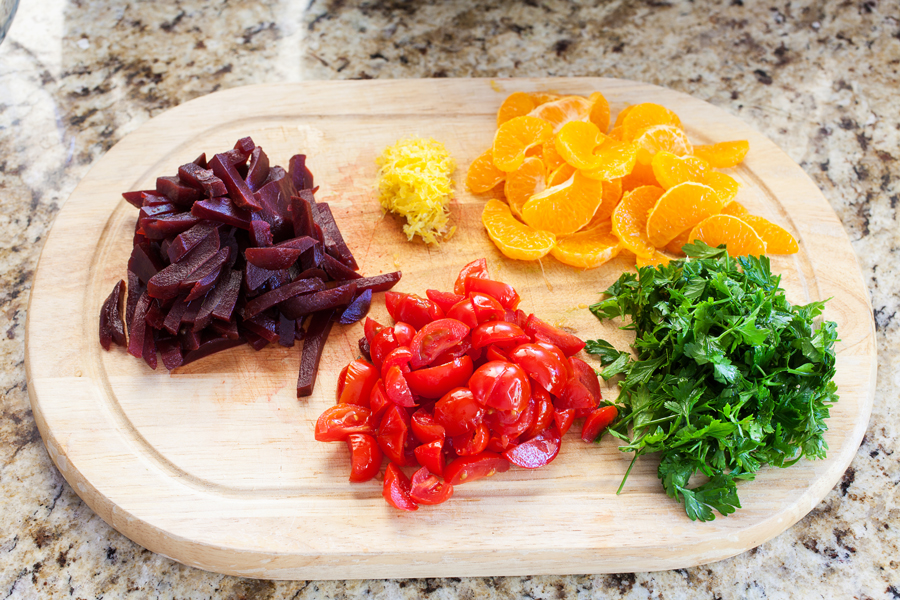 Add the confetti.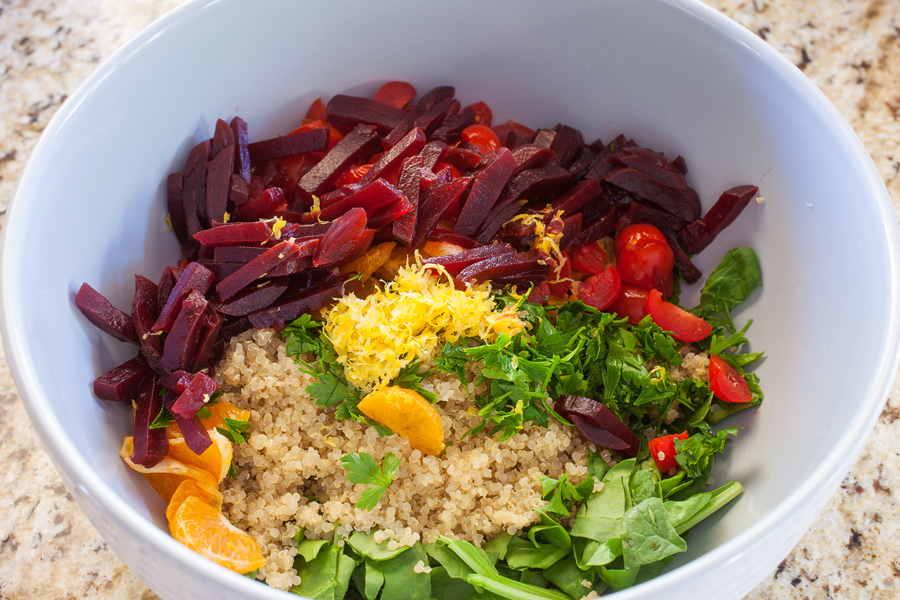 This salad is perfect without a dressing. A simple drizzle of olive oil and freshly cracked pepper will do. BUT just for fun, I made a quick dressing out of olive oil, unsweetened apple juice leftover from my caramel apple, millet, and walnut breakfast cupcakes, and freshly squeezed lemon juice. Sublime!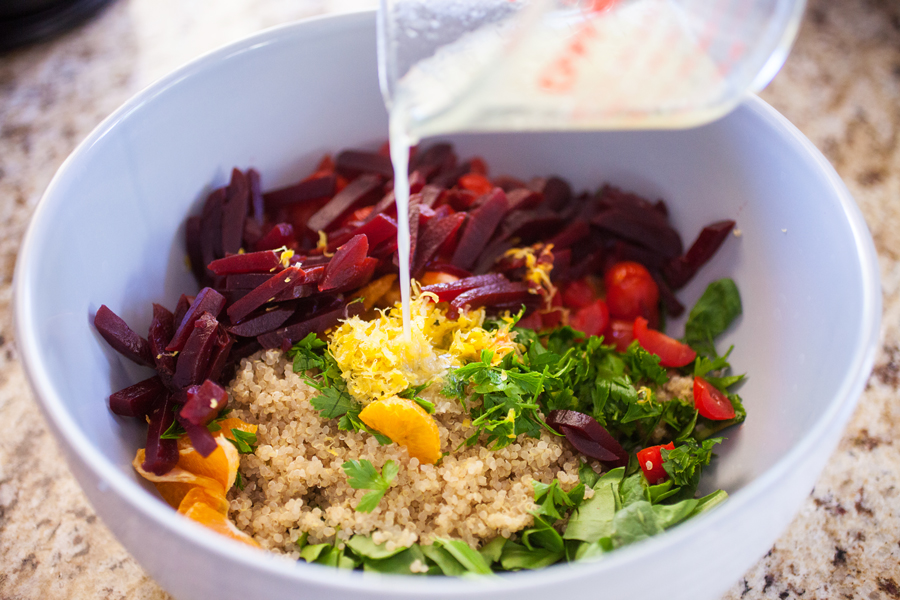 Give it a big stir! That's it!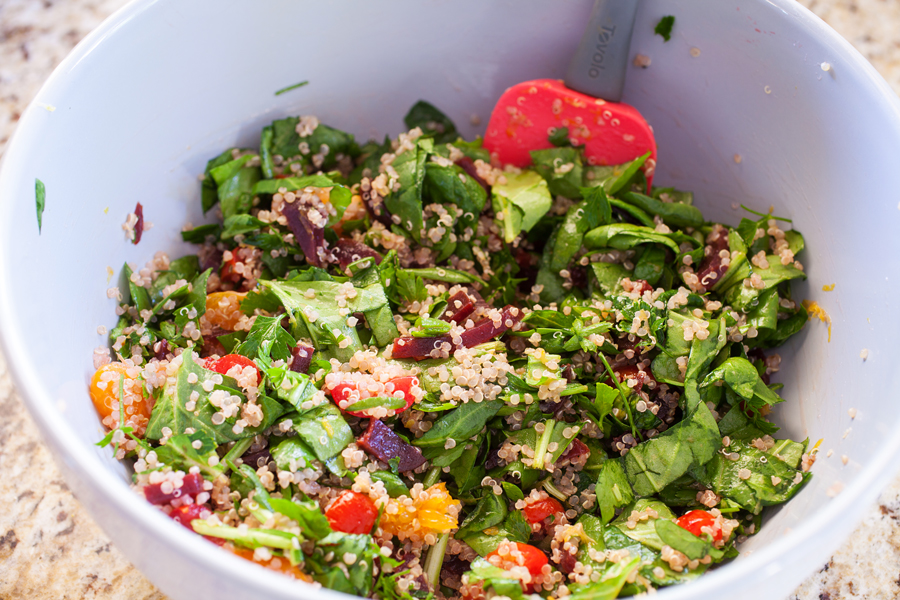 If you're also looking to add more fruits and veggies to your diet, add this quinoa confetti salad to your recipe tin.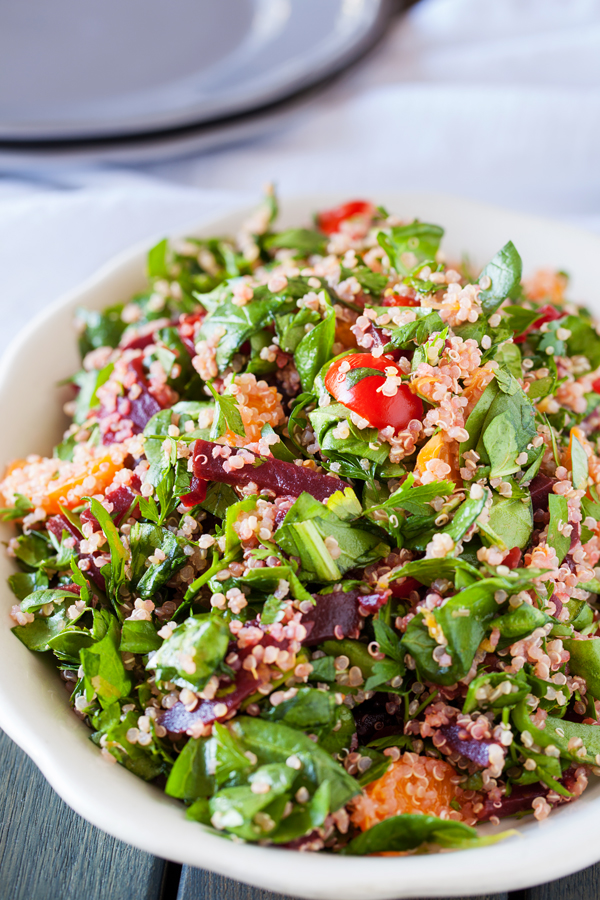 Quinoa Confetti Salad
Yields 6 servings
Printer friendly version
Salad
Ingredients
2 cups fresh spinach leaves, roughly chopped
1 ½ cups freshly cooked quinoa*
½ cup grape tomatoes, quartered
2 mandarins, peeled and segmented**
2 beets, peeled and julienned
Lemon zest from one lemon
¼ cup fresh parsley leaves, chopped
2 tablespoons olive oil (optional)
Freshly cracked pepper to taste (optional)
Directions
In a large bowl, add the spinach. Top with the hot quinoa and let sit for 5 minutes.
Add the tomatoes, mandarins, beets, zest, and parsley.
Drizzle with olive and freshly cracked pepper to taste or with dressing (recipe below).
Dressing
Ingredients
1 tablespoon fresh lemon juice, about half lemon
1 tablespoon unsweetened apple juice***
1 tablespoon olive oil
Directions
Whisk together all the ingredients until combined.
Notes
*Cook ½ cup uncooked quinoa according to package directions.
**I also sliced each segment in half to release the juices.
***I used honey crisp apple juice.