Pumpkin Cinnamon Rolls – The only pumpkin dessert you need to make this season.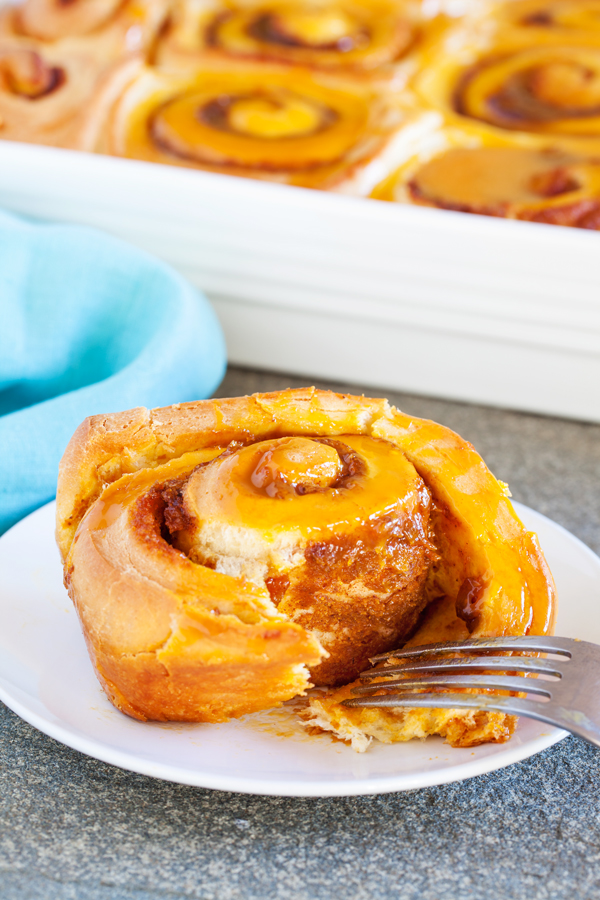 OH MY GOODNESS!!! These Pumpkin Cinnamon Rolls…I can't even begin. I guess let's just start with…they're delicious! Well, of course they are, otherwise I wouldn't be sharing them with you! Gosh, when did delicious become not enough? Here goes…they're soft, and cinnamon-y, and have pumpkin at every turn! One bite into these warm Pumpkin Cinnamon Rolls is enough to make you forget about your bad day. Powerful stuff!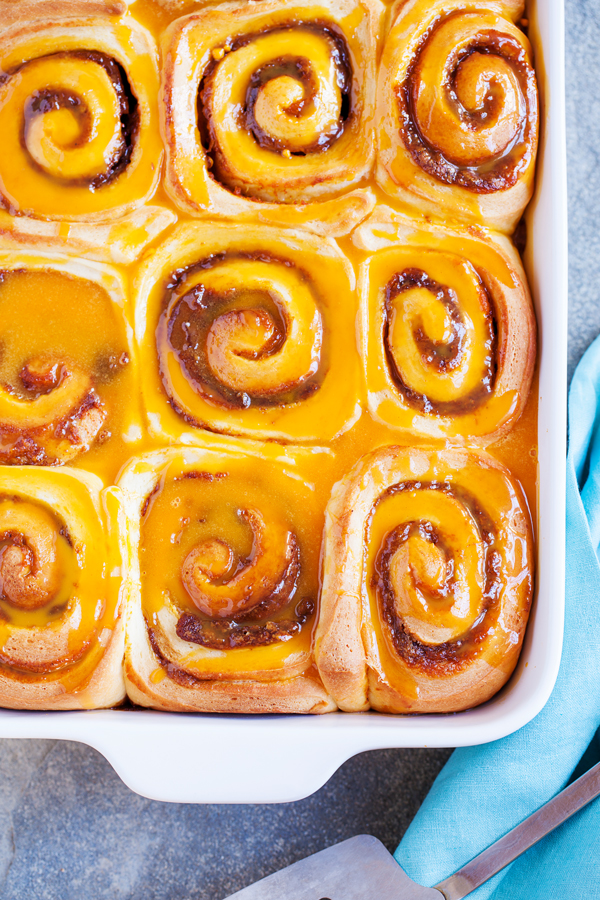 Was that enough to convince you? No? How about the fact that my mother and Warren have had at least one roll every morning for the past 4 days! Or, that my mother brought a pan to work and they were devoured in seconds! Or, that after said devouring, Warren immediately asked where they all went when he came home, which ultimately led to me making more and snapping (thepkpway) and IG storying (@thepkpway) the entire experience!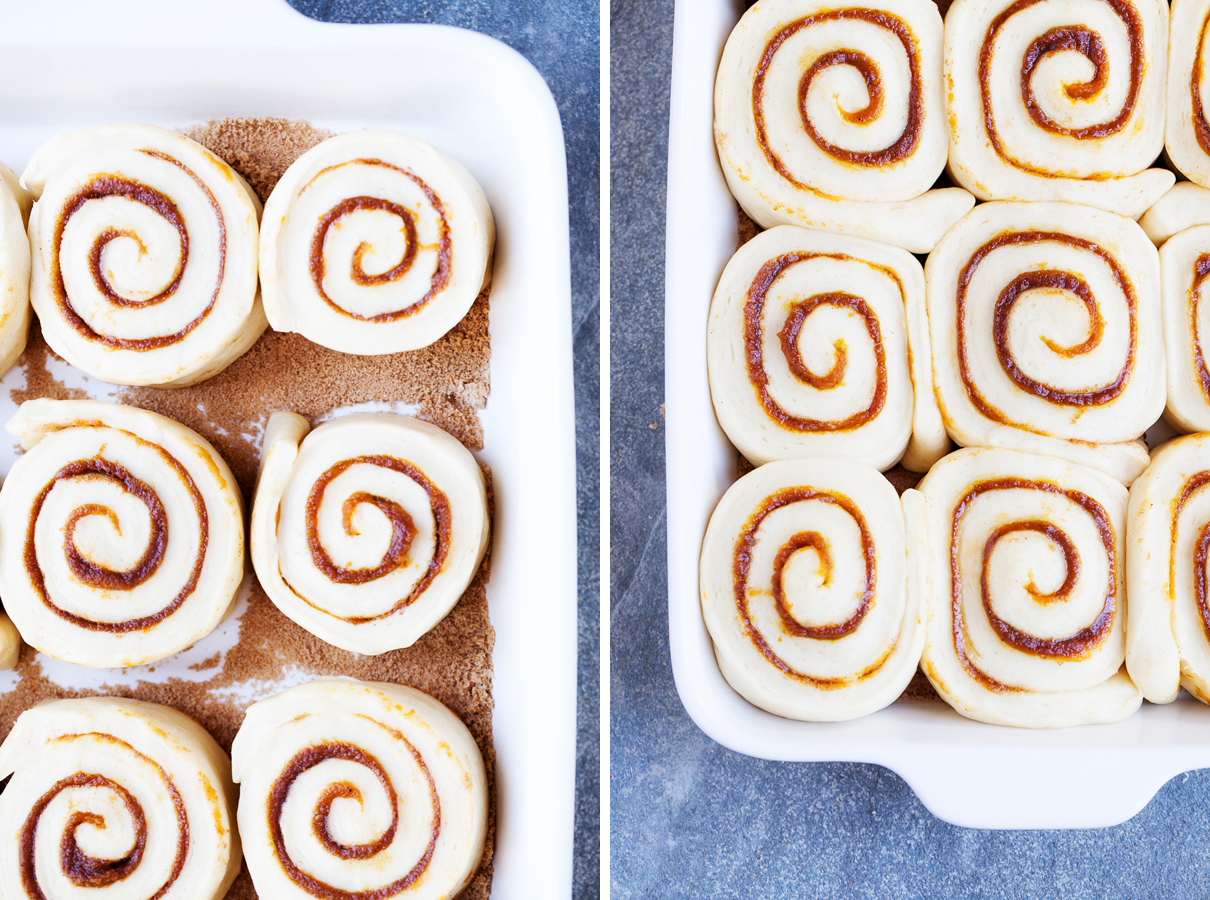 Still not enough? Well, let me tell you a bit more about what they're filled with and topped with and maybe then, you won't doubt me so.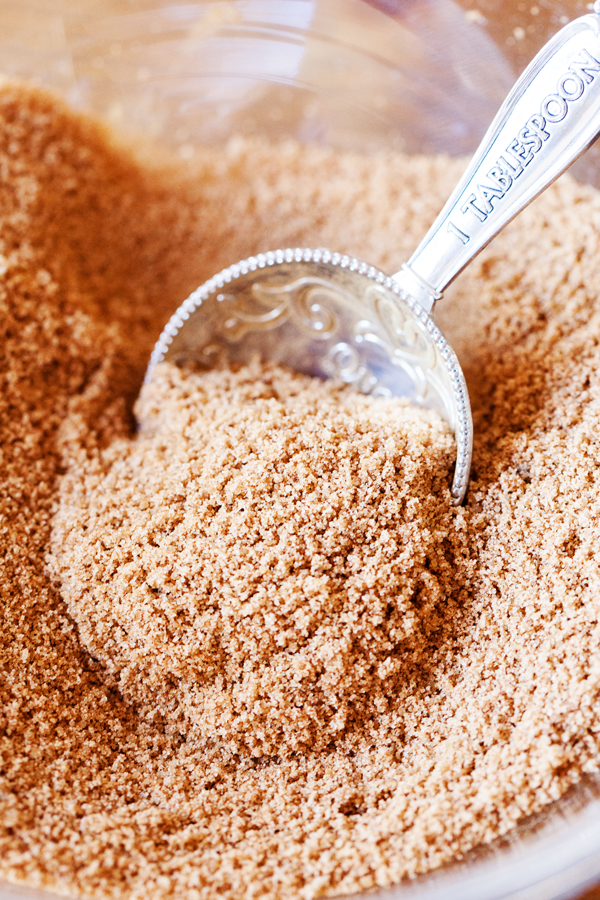 We start with a soft and beautiful dough. All my baker friends out there will know what I mean. One that comes together so easily and not in the slightest bit sticky so that it's a pleasure to handle. That kind of dough just makes me so happy :D

Then, we roll it out and fill it with homemade pumpkin butter and a generous sprinkling of cinnamon and brown sugar. Divine!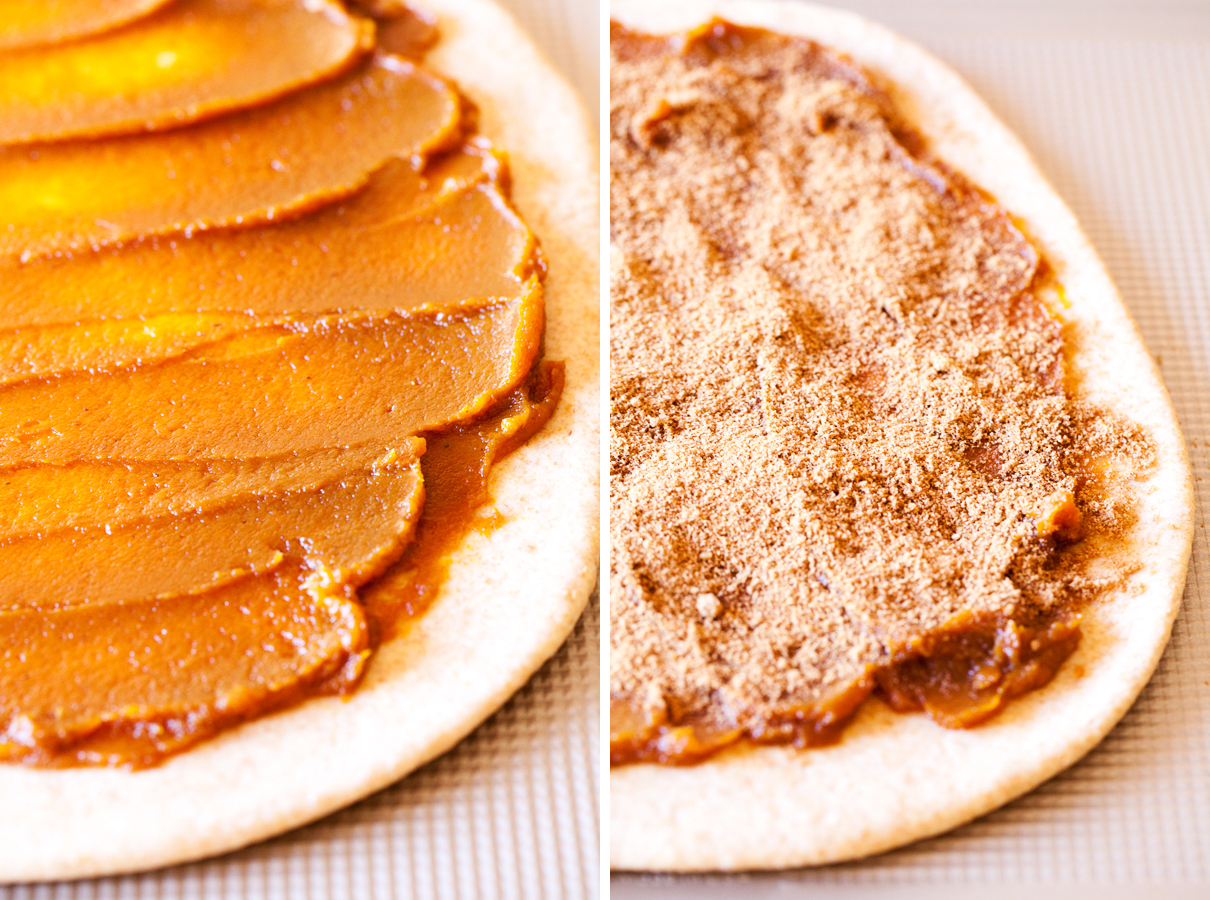 After some time in the oven, we pour on a pumpkin spice "ganache". OH MY WORD. It is HEAVEN!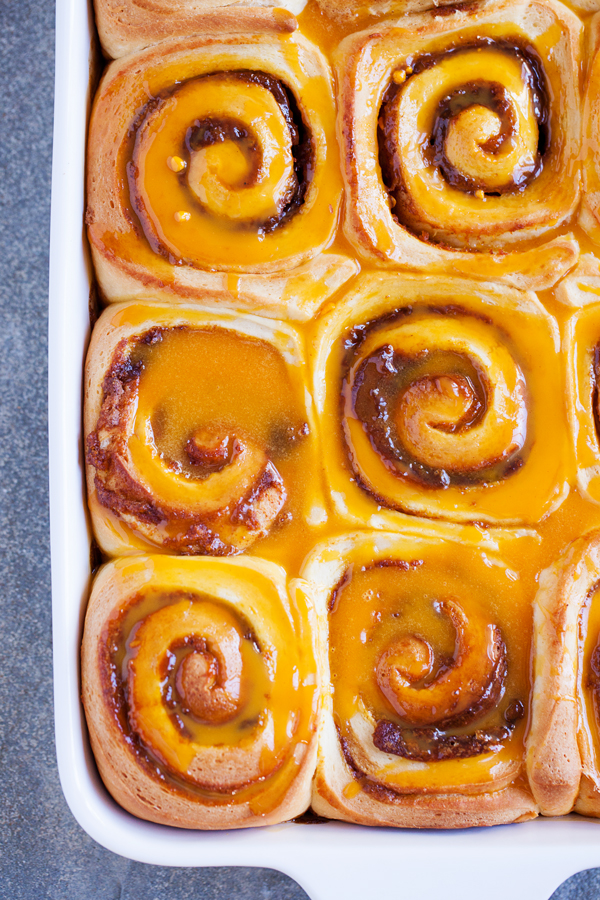 There. I think that was enough to convince you. If you make one pumpkin-y treat this season, let it be these Pumpkin Cinnamon Rolls! You will not be sorry, I promise.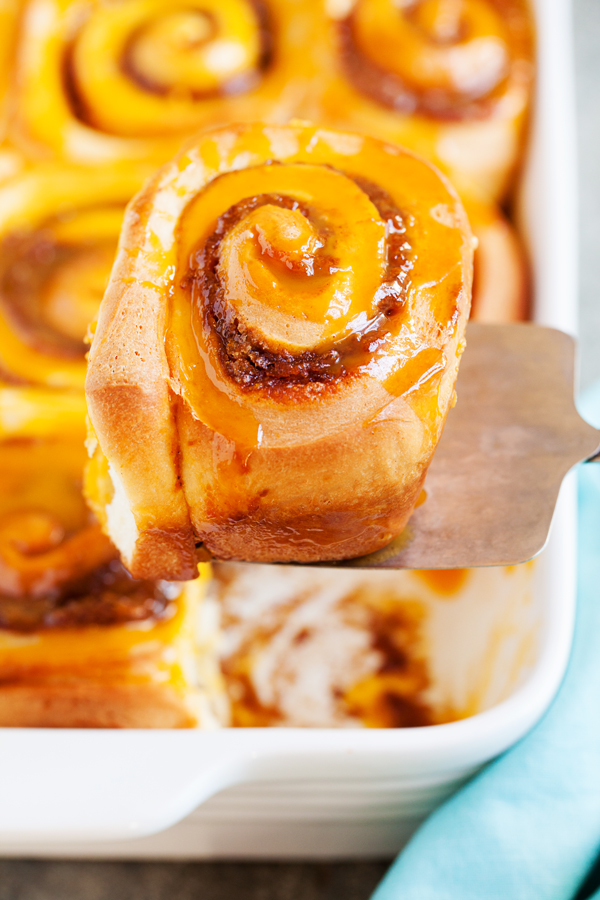 Looking for Classic Cinnamon Rolls? Here ya go!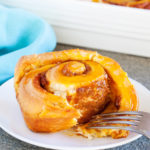 Pumpkin Cinnamon Rolls
Yields 12 rolls
Calories per Serving
:
436
kcal
Ingredients
Dough
1

cup

milk, whole or 1%

½

cup

unsalted butter, room temperature

⅓

cup

granulated sugar

4 – 5

cups

all-purpose flour

2 ½

teaspoons

dry active yeast

2

large eggs, room temperature

2

teaspoons

sea salt
Pumpkin Butter
1

can (15 ounces) pure pumpkin

2/3

cup

brown sugar, packed

¼

cup

honey

1

tablespoon

fresh lemon juice

¼

teaspoon

ground cinnamon

⅛

teaspoon

ground cloves
Pumpkin Spice Ganache
½

cup

heavy cream

½

cup

pumpkin spice morsels (I used Nestle)
Instructions
Dough
Heat the milk in a small saucepan over low heat. As soon as the heat begins to boil remove from heat.

Pour the hot milk into the bowl of a stand mixer and add the butter. Swirl to melt the butter and add the sugar. Check the temperature of the milk mixture. It should be between 80°F – 105°If it's too hot, add ½ cup of flour and check the temperature again. Once cool enough, add the yeast. Swirl slightly to wet the yeast and let sit for 10 minutes until bubbles form.

Attach the dough hook to the mixer and turn on low. Add the egg and salt and wait for the hook to break the yolk. Add the remaining flour up to 4 cups. Continue kneading until a cohesive dough forms. If the dough is sticky, add the remaining flour in ½ cup increments until it's soft and no longer sticky (I used all 5 cups).

Cover loosely with plastic wrap and let rise in a warm* location for 1 ½ hours.

Deflate the dough and form into a log. Fold into thirds and roll flat. Fold into thirds again and roll flat. A rectangle should be forming. Roll the dough into a 16x20-inch rectangle.

Spread on the pumpkin butter and sprinkle generously with the cinnamon sugar filling, leaving about a ½ - inch rim uncovered (save about ¼ cup of the cinnamon sugar filling).

Roll the rectangle into a tight log, beginning from the longest edge. Keep the seam side down and cut into 12 equal pieces.

Sprinkle the bottom of a 9x13-inch baking dish with the remaining cinnamon sugar filling. Transfer the dough pieces into the pan, either cut side up. Leave a little room in between each piece to allow rising room. Loosely cover with plastic and let rise in a warm location for 30 minutes until the dough expands.

While rising, preheat oven to 375°Once risen, uncover and bake for 20 – 25 minutes, rotating at about 10 minutes. The rolls are done when the outside edges are golden brown and the centers have risen.

Remove from oven and use a metal spatula to push down any centers that rose too much.

Let cool for 10 minutes. Spoon on the pumpkin spice ganache.
Pumpkin Butter
In a small saucepan over medium heat, add all the ingredients. Stir constantly until thickened, about 20 – 30 minutes.
Pumpkin Spice Ganache
In a small sauce pan over medium heat, heat the cream until right before boiling. Place the morsels in a glass or heat-resistant bowl. Pour the hot cream over the morsels and let sit for 5 minutes. Stir until smooth.
Recipe Notes
*I stored it in an off-oven with the light turned on.
If you followed along on Snapchat and Instagram, I made the traditional (non-pumpkin) version. To make the traditional, simply omit the pumpkin butter and replace pumpkin ganache with a topping made from beating together ½ cup room temperature cream cheese, ½ cup room temperature butter, 2 teaspoons vanilla extract, and 2 cups sifted powdered sugar.
Storage
Store in an air tight container at room temperature for up to 5 days.
Dough adapted from A Spicy Perspective
Pumpkin Butter adapted from The PKP Way