A colorful and tart salad, this Persimmon and Pomegranate Salad uses seasonal ingredients to ring in the New Year in style.

Romance, comedy, and suspense are just a few of my favorite movie genres. But within the last couple decades, a new favorite has been added – foodie films!
You know what I'm talking about, right? The movies that instantly make you hungry and inspire you to get into the kitchen to create your own culinary masterpiece.
Movies like Spanglish, Julie and Julia, It's Complicated, and Chef are some of my favorites. Storyline aside (I love them all btw), I could jump to any of the mouthwatering, food-featuring scenes and just swoon.
I was sent a copy of Nourished, by Lia Huber, and I would consider it to be a must-read for all of my foodie readers who are just that – readers – and not movie-goers.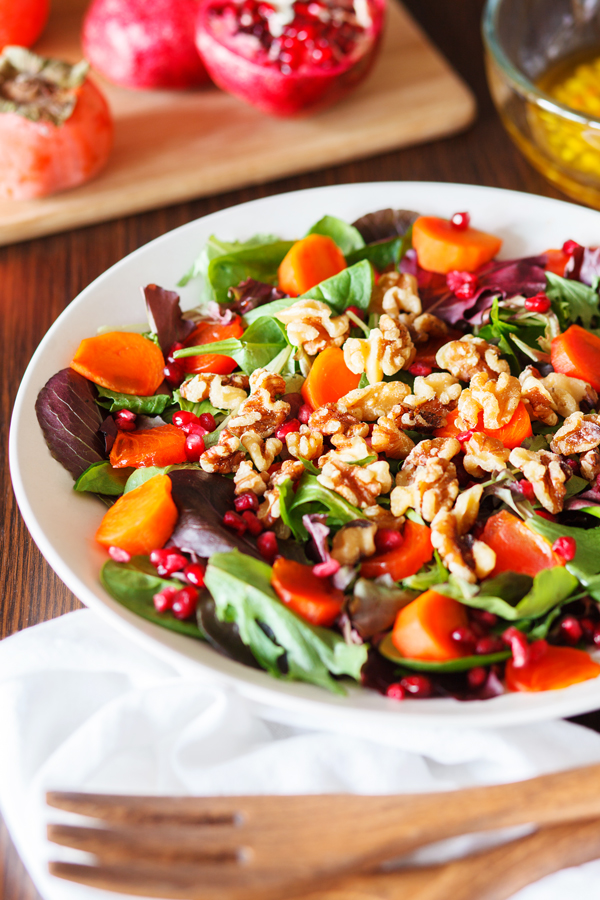 Unlike any of the aforementioned films, Nourished is a memoir about the journey to satisfying emotional and spiritual hunger, not just physical. Being a memoir, every delicious sentence used to describe a gustatory experience was actually experienced. How cool is that?
Ready for more? The chapters are accompanied with recipes that somehow relate to her travels and experiences. Talk about a memoir and a cookbook in one! I had the hardest time choosing just one to share with you, but ultimately decided on this Persimmon and Pomegranate Salad. Using seasonal ingredients, this salad would be perfect for a New Year's Eve dinner party.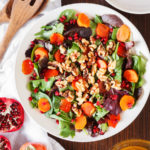 Persimmon and Pomegranate Salad
Serving Size
:
1
dressed salad using half the dressing
Calories per Serving
:
625
kcal
Ingredients
Salad
1

pound

spring mix or frisee

1

persimmon, peeled, quartered and sliced thin

Seeds from 1 pomegranate

1/4

cup

walnut halves
Dressing
1

tablespoon

minced shallot

1/4

cup

champagne vinegar

2

tablespoons

olive oil

2

tablespoons

walnut oil

1

tablespoon

pomegranate molasses or honey

Sea salt and freshly ground black pepper
Instructions
In a large salad bowl, add all the salad ingredients. In a small bowl, whisk together all the dressing ingredients. Pour the dressing over the salad and toss to lightly coat.

Divide among serving plates and serve immediately.
Excerpted from Nourished by Lia Huber. Reprinted with permission from the author and publishing company.
Note: This page contains affiliate links that help make The PKP Way possible. Should you choose to purchase anything via those links, I will receive a small commission paid by Amazon, not you.