Your go-to Linguine and Clams recipe, made using fresh lemon juice, white wine, and fresh clams.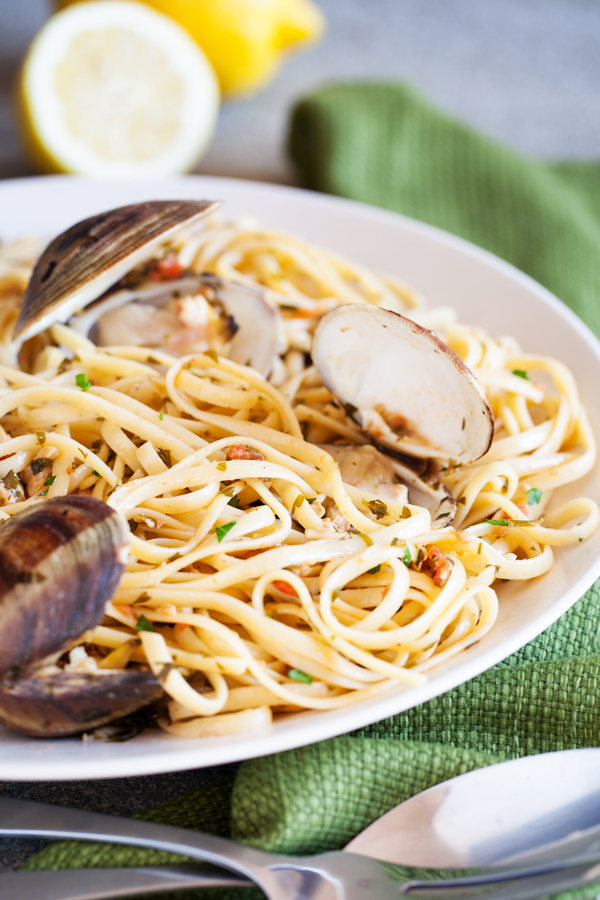 A couple weekends ago, we took a quick trip to NYC for my sister's white coat ceremony at Columbia University. She's studying to become a physical therapist and we are all so proud :)
After the ceremony, my sister took us to one of her favorite restaurants, Cotenna. She recommended their Linguine Vongole (Linguine and Clams) and since it is one of my favorite dishes, I had to try it!
Boy, oh boy, it was delicious! Creamy, with just a splash of sweet and sour lemony goodness and a kiss of briney and savory clam flavor, without overpowering the entire dish. It was divine!
About halfway through the bowl I realized I have yet to post a recipe for Linguine and Clams here. Completely unacceptable. I enjoyed the rest of the bowl while memorizing the flavor profile so that I can best recreate it when I returned to CA.
With great pride, I bring you today's recipe, inspired by Cotenna's Linguine Vongole.
If you've never cooked with clams before, I understand how it might be intimidating. But trust me, there really isn't anything to be intimidated by.
To make sure clams are clean, simply soak them in water for about 20 minutes.
To cook, toss them in a layer of sautéed garlic and cover. That's it! They open on their own :)
Make sure to toss out any clams that don't open. Generally, that means they were dead before you cooked them and you would have no idea how long they've been dead for. Clams should be live up until cooking.
During recipe testing, I noticed that only the larger ones didn't open. I hypothesized that they just needed more time. So, for experimentation purposes, I removed all the opened clams, so to not overcook them, and continued to cook the large, unopened clams. I was right. The large ones just needed more time. Shortly after returning to heat and covering, you can even hear a pop! Kind of cool :)
Once the clams are cooked, the rest is all about developing the sauce. A combination of lemon juice, white wine, tomatoes, and parsley developed the correct flavor profile. I hefted the sauce a bit more with canned clams and added another pat of butter to make it a bit richer.
Mamma Mia, make my Linguine and Clams stat and don't lose the recipe!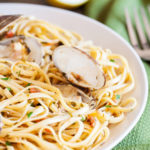 Linguine and Clams (Linguine Vongole)
Calories per Serving
:
1018
kcal
Ingredients
2

pounds

fresh littleneck clams

1

pound

linguine

6

tablespoons

olive oil, divided

10

tablespoons

unsalted butter, divided

8

garlic cloves, minced

4

tablespoons

lemon juice, freshly squeezed

1

cup

dry white wine

1

can

(12 ounces) diced tomatoes, drained

¾

cup

fresh parsley, finely chopped

2 6-

ounce

cans minced clams, drained

Salt and pepper to taste
Instructions
Clean the clams by soaking them in fresh water for 20 minutes. Proceed with the recipe while the clams are soaking.

Cook linguine according to package directions. Drain and return to empty pot. Toss with 2 tablespoons of olive oil. Set aside.

In a large skillet over low heat, heat the butter and remaining olive oil until the butter has melted. Add the garlic and cook until fragrant, 30 seconds. Do not let the garlic brown.

Remove the fresh clams from the water and add to the butter. Stir to coat. Increase the heat to medium, cover and let sit until the clams open, about 5 to 8 minutes.

Reserve the clam juices in the skillet by using a slotted spoon to remove the clams to a clean bowl. Discard any clams that don't open.

To the skillet, add the lemon juice, wine, tomatoes, and parsley. Bring to a simmer and cook, stirring occasionally, until reduced and slightly thickened, about 5 minutes. Stir in the canned clams and cook until heated through.

Season with salt and pepper to taste.

Add back the fresh clams and stir to combine.

Toss with the cooked linguine. Serve immediately.