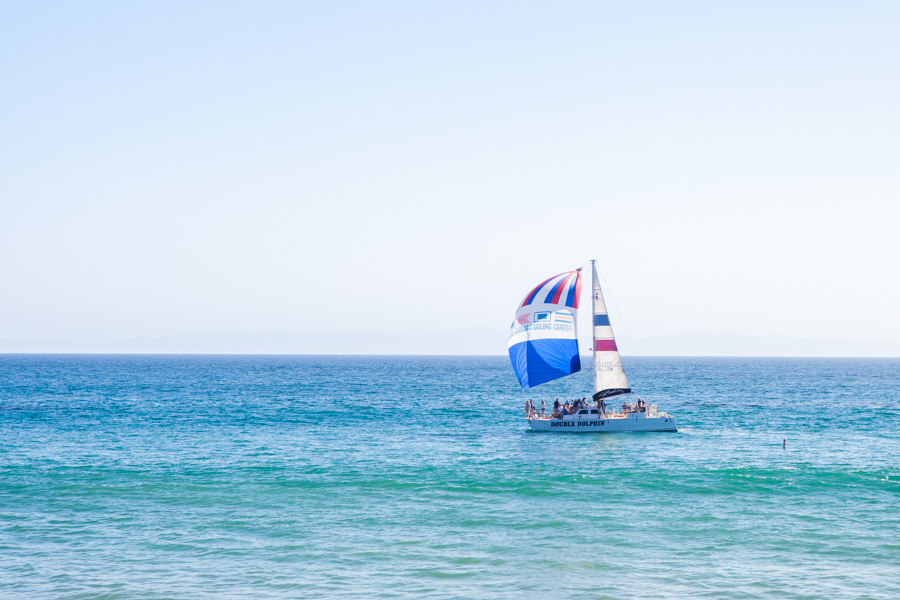 Over the Labor Day weekend, Warren and I took an impromptu day trip to Santa Barbara. Typically, we spend weeks planning trips, but for this trip, we simply decided to go the night before!
Our first stop was at Four Seasons Resort The Biltmore Santa Barbara. This Four Seasons holds a special place in our hearts because it was the first destination we went to on the day Warren proposed. But, that's another story for another day. We walked the grounds of the resort, enjoying the lush greenery and Spanish décor.

I'm a sucker for fountains…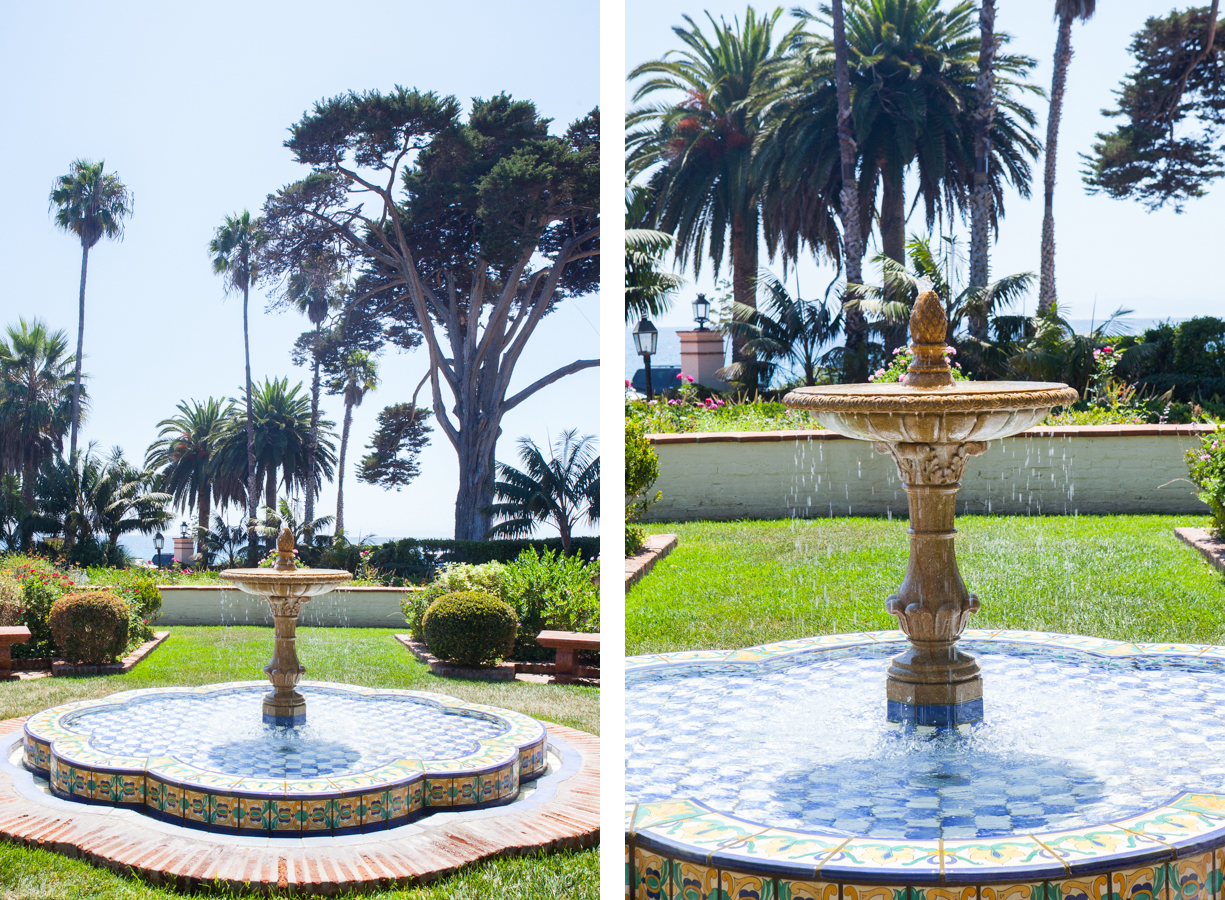 Then, we walked across the street to Butterfly Beach. We've been having extreme heatwaves in California, but got lucky on this day. It was in the upper 70s so we were able to enjoy the sand and the water without it being unbearable.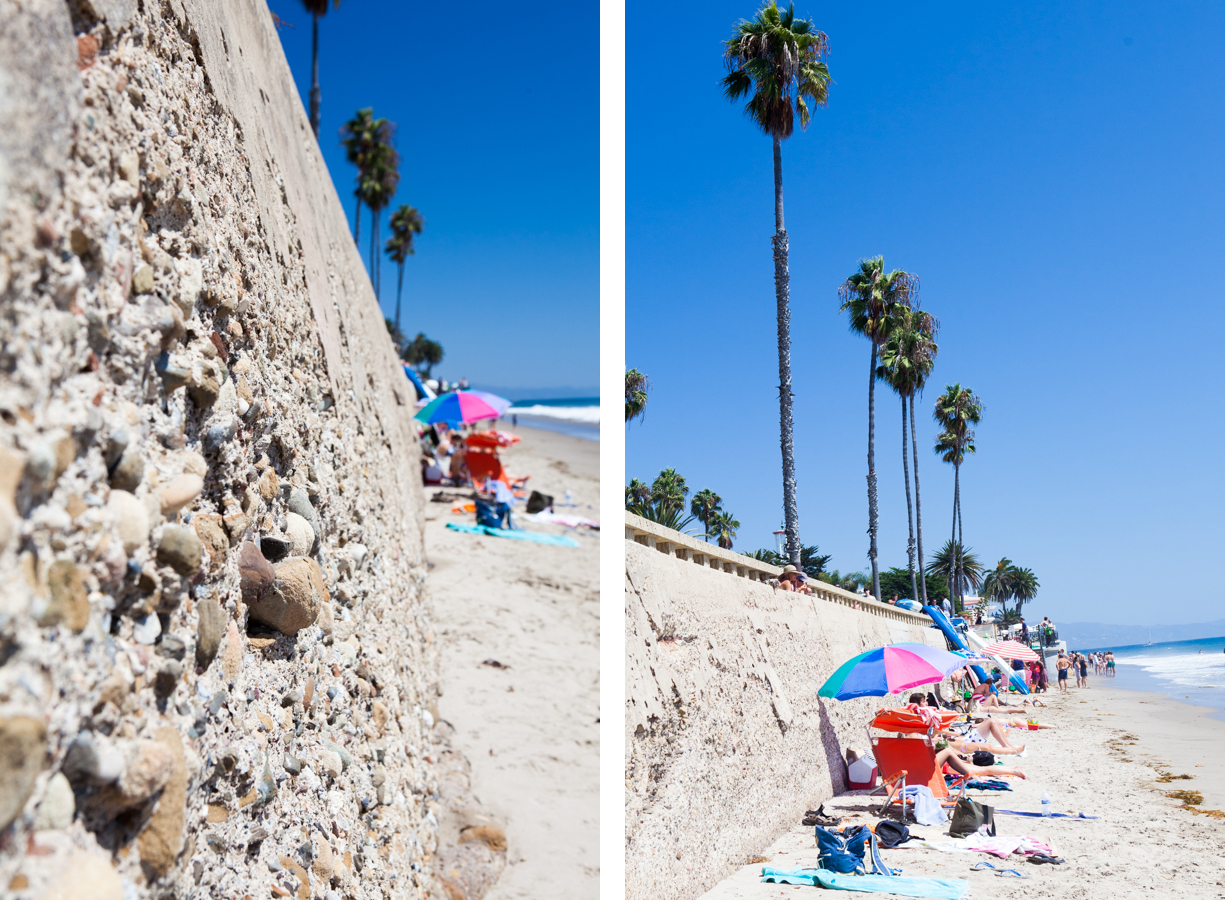 Warren decided to build a sand cake over my legs (boys will be boys). Being his practical self, he built a moat around it to protect it from the high tide that day. To his point, it worked!
The city is known for its palm trees, so here ya go!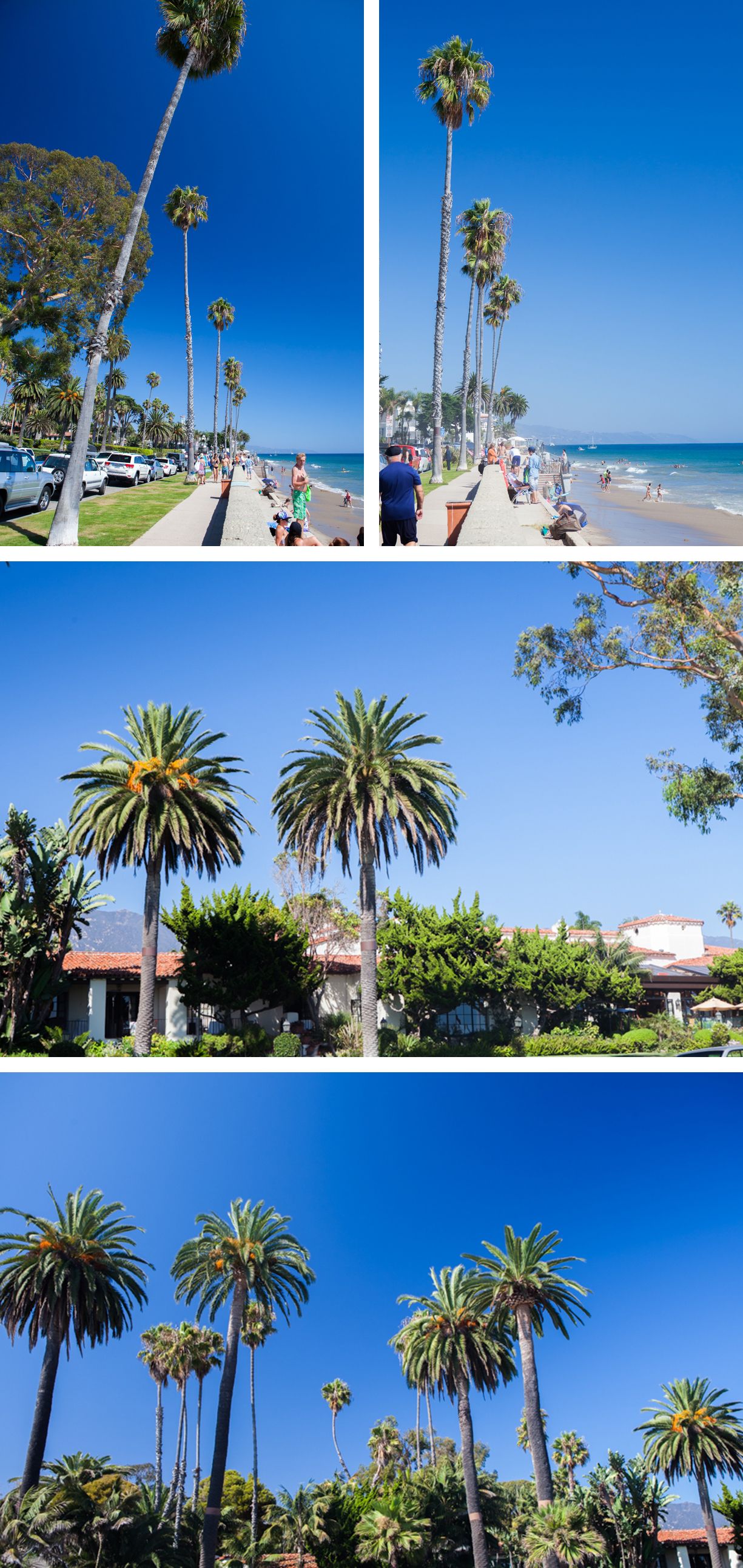 After we were nice and toasty, we headed to the Santa Barbara County Courthouse. It was the first time for the both of us. The courthouse is filled with beautiful architectural details and is adorned with hand-painted ceilings, wrought iron chandeliers, and imported tiles.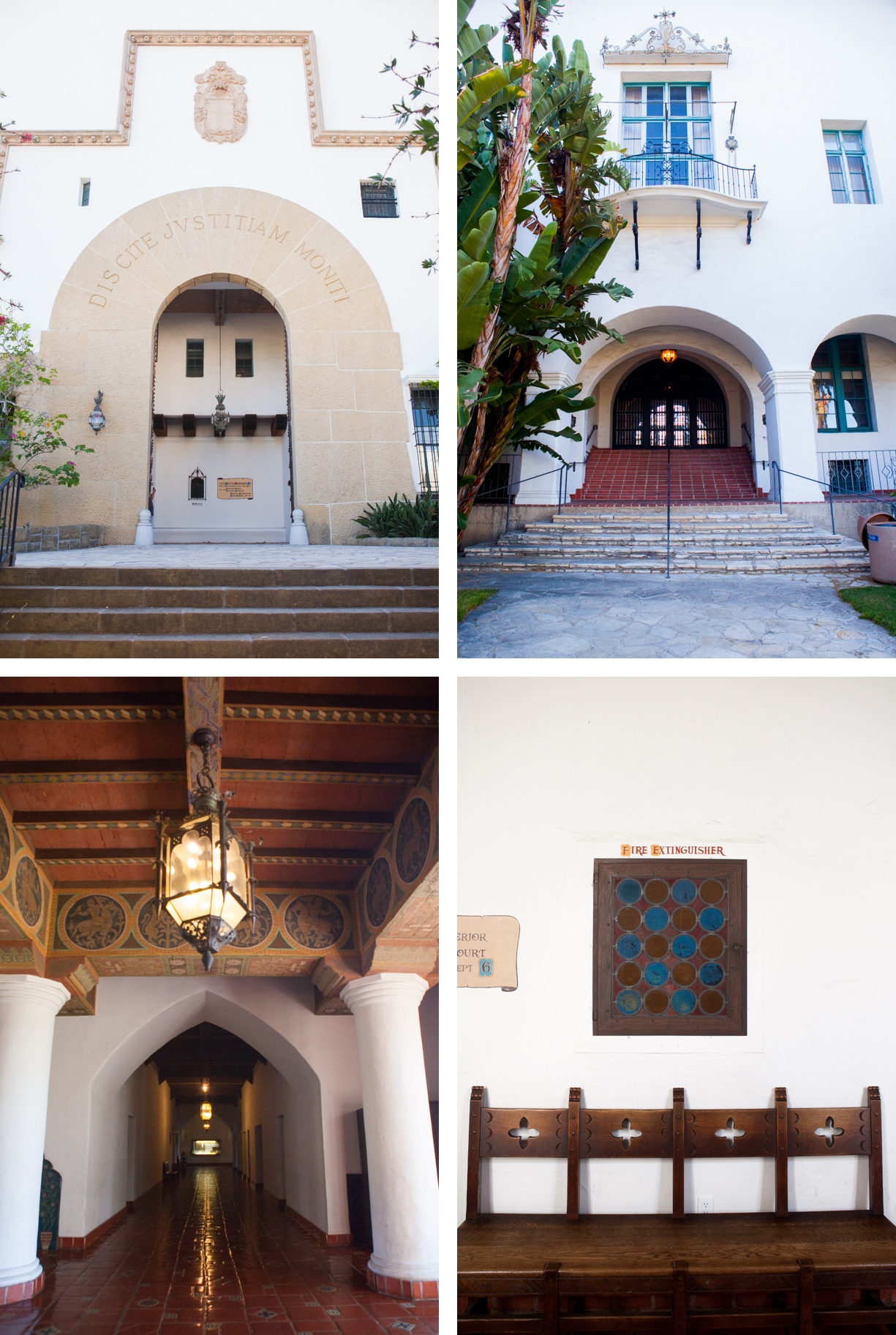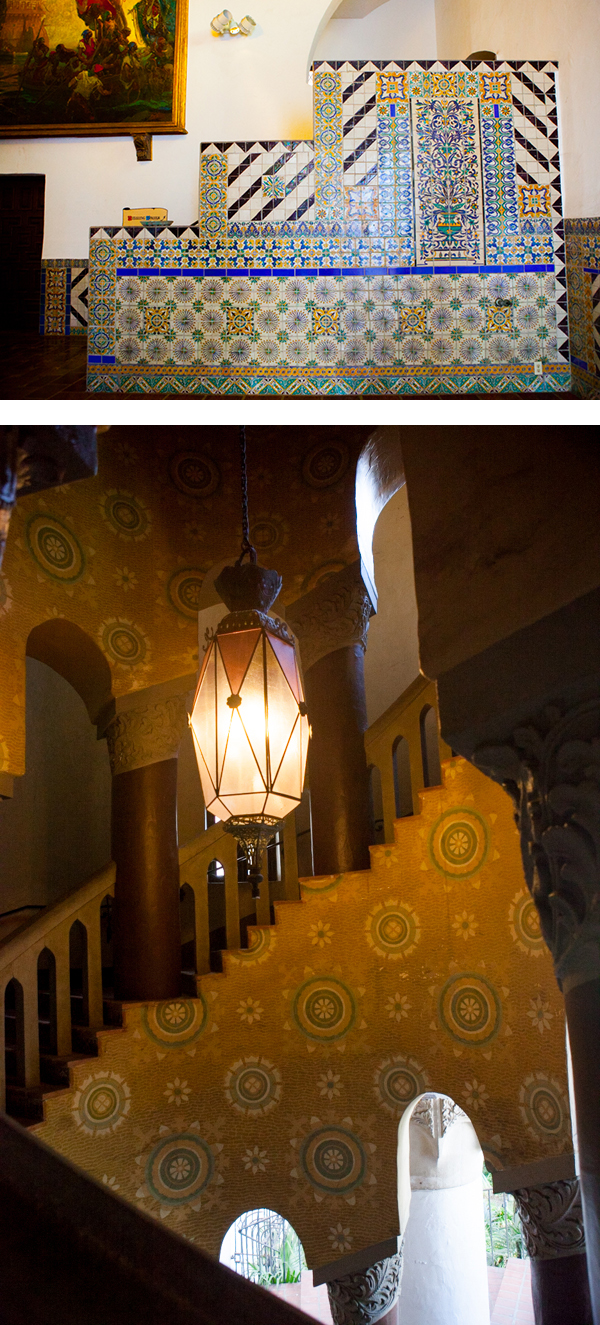 We walked up to the viewing tower about 10 minutes before it closed and were able to take in the breathtaking views of the city.

On our way down, we visited the stunning mural room, where hundreds of couples hold their wedding ceremony each year. How spectacular would it be to have your wedding ceremony here!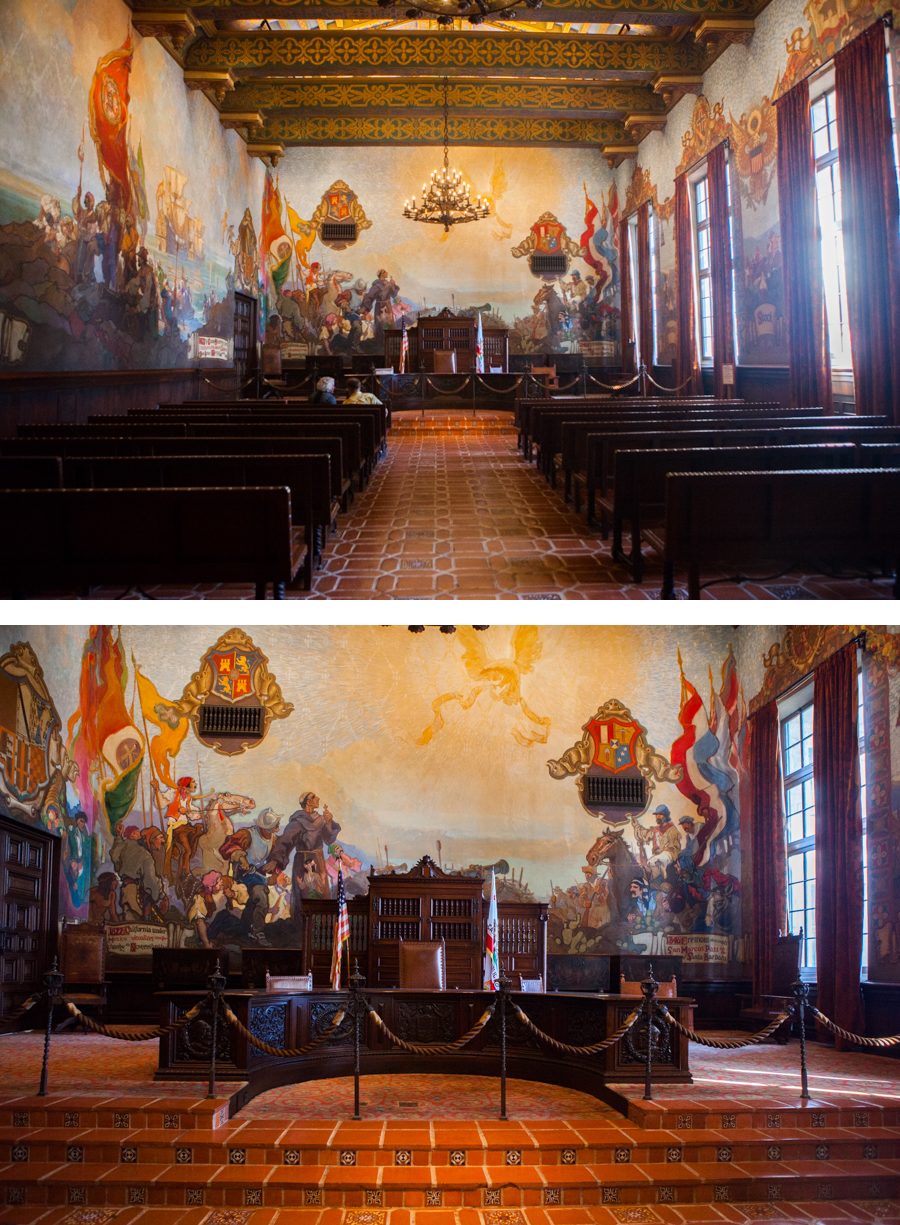 After the courthouse, we walked downtown for an evening stroll and dinner. Downtown Santa Barbara is so charming, complete with brick-lined sidewalks, unique and funky shops, and of course, palm trees.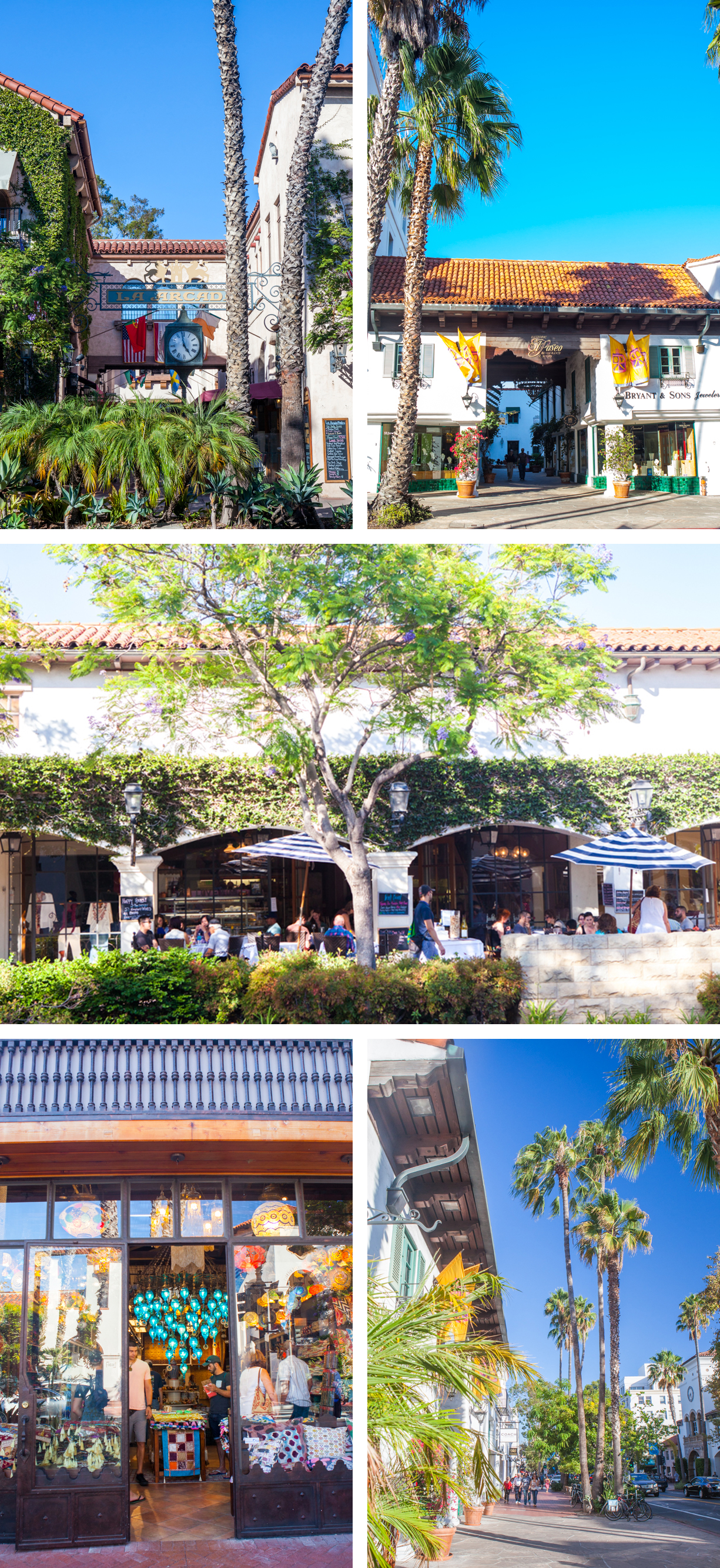 For dinner, we chose The Palace Grill, which serves Creole and Cajun cuisine. This was such a fun place and usually has a line out the door! The Palace Grill opens at 5:30 PM for dinner. We got there at 5:45 PM and there was already a wait. After we put our names down, we were informed that tables will most likely not clear out until about 6:45 PM so we were free to walk around and check back later. The restaurant's policy is if you're not there when they call you, they will not cross your name off the list, but they won't hold the table for you either. We didn't want to take the chance of not being there when our name was called (we were famished!), so we decided to stick around. We were seated around 6:10 PM because the people ahead of us on the list were not there when their name was called. After we were seated, the nightly sing-a-long to Louis Armstrong's "What a Wonderful World" began and the staff came around toasting every table with a glass of wine. What an experience!
In lieu of a bread basket, The Palace Grill serves a basket of 5 mini muffins, each having different flavors. I wasn't at the table when the waiter described each of the flavors and Warren couldn't remember all of them, so we tried to figure them out by taste. There were some that left me confused, so I asked the waiter to write all the flavors down for me so that I can share them with you all! The waiter politely said that he didn't have time and brought back the restaurant's recipe book of all the muffins for me to transcribe/snap pictures! I was so excited and cannot wait to share all the recipes with you very soon, so stay tuned!
Until then, here are the muffin flavors:
Banana Walnut
Blackstrap-Molasses-Raisin
Orange-Apricot
Rosemary-Buttermilk
Jalapeño-Cheddar Corn
For dinner, we ordered the seafood gumbo, Cajun crawfish popcorn, Creole crawfish crabcakes, Creole Caesar salad, and blackened Norwegian salmon. Everything was delicious. The only disclaimer I would have is that the seafood gumbo could have used a few more bites of seafood and the crabcakes could have been flakier and less doughy. Other than that, the flavors were wonderful and we left busting at the seams.