This from-scratch, quick, and easy Italian Sausage Tomato Pasta Sauce will become your go-to meat sauce.
Follow along with the video!
You've seen a simple marinara sauce and a lemony clam sauce, but you have not seen a delicious and simple meat sauce. That all changes today. I'm so excited to share with you an Italian Sausage Tomato Pasta Sauce that does not take all day simmering on the stove (although there's nothing wrong with that!).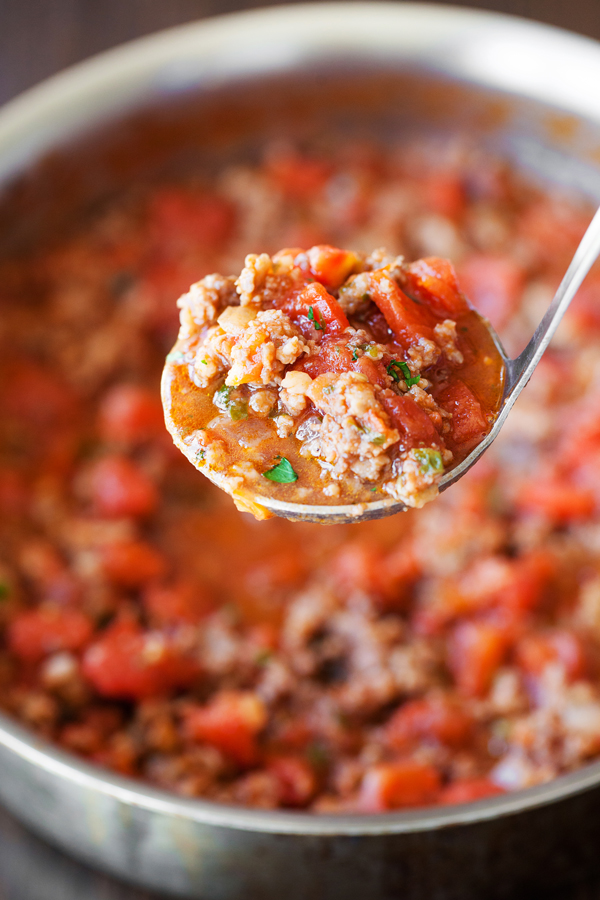 The recipe starts with the standard sautéing of onions and garlic. Then, I add store-bought ground Italian sausage. One day I might learn how to season Italian sausage, but until then, store-bought it is!
Don't fret about anything that gets stuck to the bottom of the pan because it's all flavor and will all come off after you deglaze the pan with red wine!
After all that flavor development, I add in a large can of diced tomatoes, juices and all! Let it boil for a little bit, add in some fresh parsley and season with salt and pepper to taste!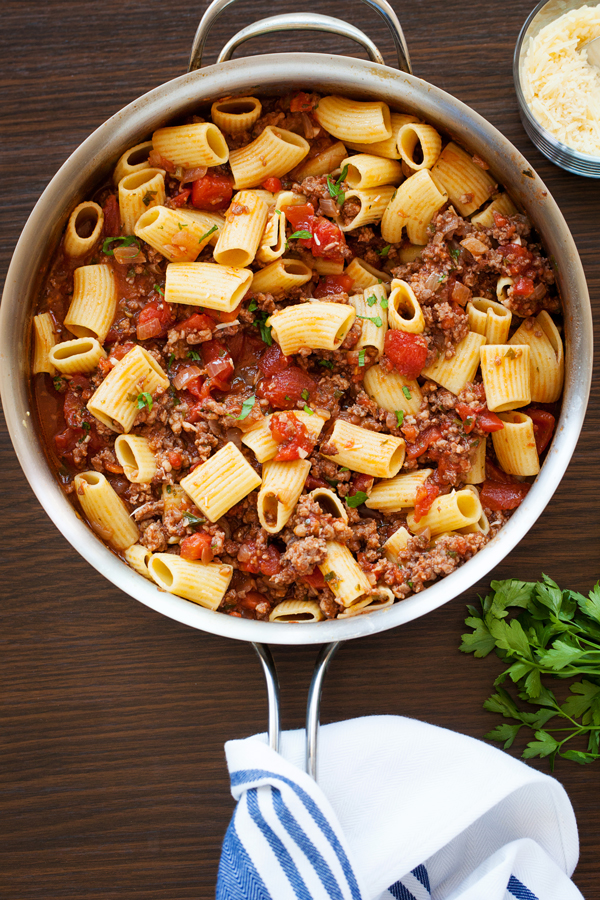 Serve it over your favorite pasta and garnish with a sprinkling of Parmesan cheese. We've enjoyed the sauce over both short and long cut pasta and it's delicious all the same.
Although I take advantage of modern conveniences by using pre-seasoned Italian sausage and canned tomatoes, I still consider this a from-scratch recipe :) So there you have it, from-scratch, quick, and easy!
Italian Sausage Tomato Pasta Sauce
Calories per Serving
:
1384
kcal
Ingredients
1

tablespoon

olive oil

1

medium onion

diced

4

cloves

garlic

minced

1

pound

ground Italian sausage

1/2

cup

red wine

1

large can (28-ounces) diced tomatoes, with juices

1

tablespoon

chopped fresh parsley plus extra for garnishing

Salt and pepper to taste

Shredded Parmesan cheese, optional
Instructions
In a large skillet, heat the olive oil over medium heat until shimmering.

Saute the onion until soft and translucent. Add the garlic and cook until fragrant but not browned, about 20 to 30 seconds.

Add the ground Italian sausage and cook until no longer pink, breaking up into crumbles with the back of a wooden spoon.

Pour in the red wine and scrape off any brown bits at the bottom of the skillet.

Add the tomatoes, stir, and let boil for 1 minute. Stir in the parsley. Season with salt and pepper to taste.

Serve over your favorite cooked pasta and garnish with fresh parsley and Parmesan cheese, if using.