These Homemade White Bread Rolls will trump any store-bought dinner rolls.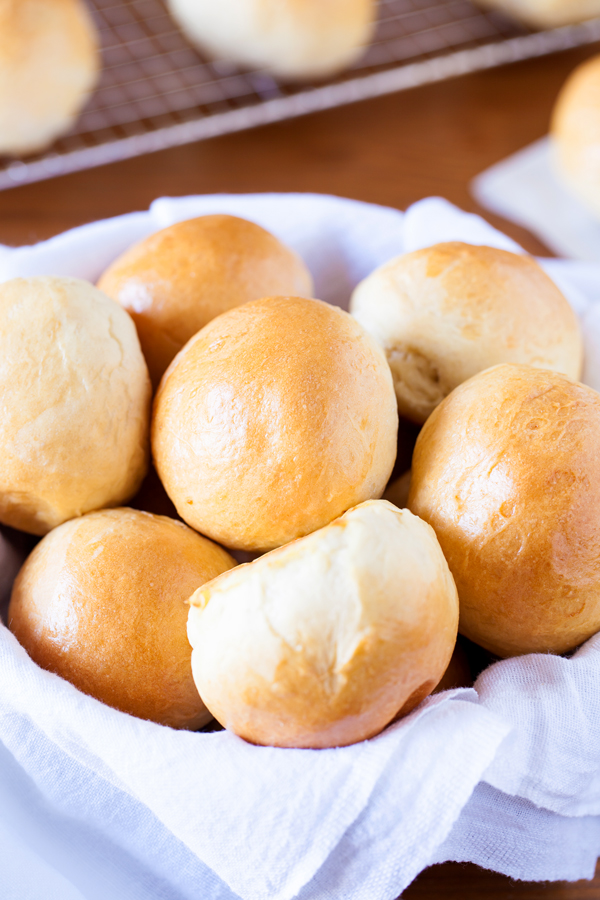 It's been said that sourdough bread is one of the most difficult breads to master. So naturally, sourdough bread is how I decided to begin my bread baking journey, homemade starter included.
Now that I've accomplished sourdough bread, my confidence level in bread baking has increased and I am no longer as intimidated as I used to be. Yay! As a result, my kitchen now has a surplus of bread and my family has been eating English muffins for breakfast daily :D
The latest bread going on in The PKP Way kitchen are these Homemade White Bread Rolls. You may recall the bread rolls I mentioned from The Roaring Fork in Arizona. What I didn't tell you was that I asked them for the recipe and they gave it to me! So, these rolls are straight from The Roaring Fork kitchen, in case you don't have the opportunity to visit soon.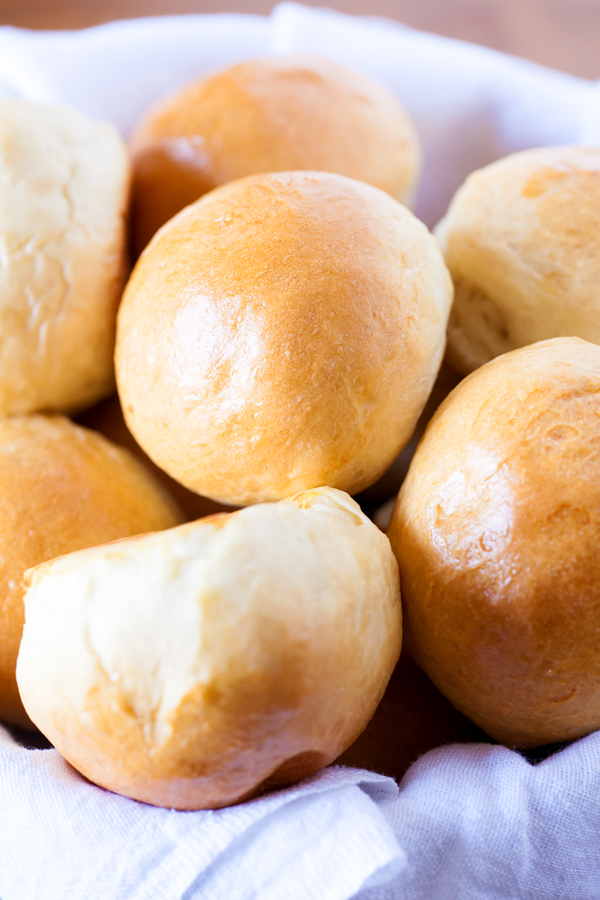 Once you bake your own Homemade White Bread Rolls you may never go back to store-bought ever again! They make your entire house smell incredible, like you stepped into a bread factory! These Homemade White Bread Rolls have a slightly crisped outer crust and are incredibly soft inside. I enjoy them toasted and plain. But a smear of butter would be heaven too!
If you're interested in beginning your journey into bread baking, I would recommend beginning with these. The dough is incredibly easy to work with and very forgiving. It's not sticky, making it easy to handle and you don't need any specialty kitchenware that you may not already have. I tested these rolls on parchment paper, Silpat, and a cast iron skillet and the results were nearly identical.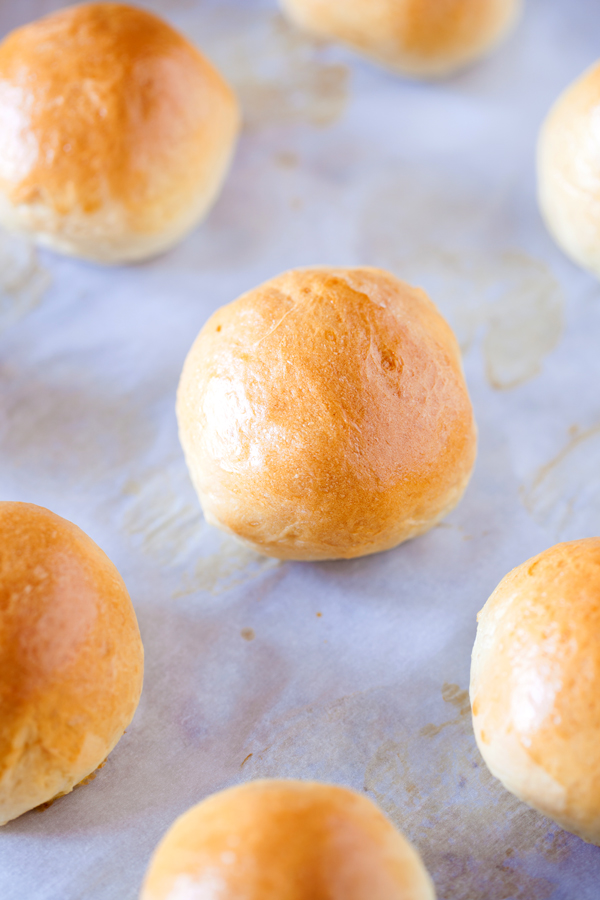 You begin by activating the yeast with some water and sugar. Let it become gaseous and double in volume.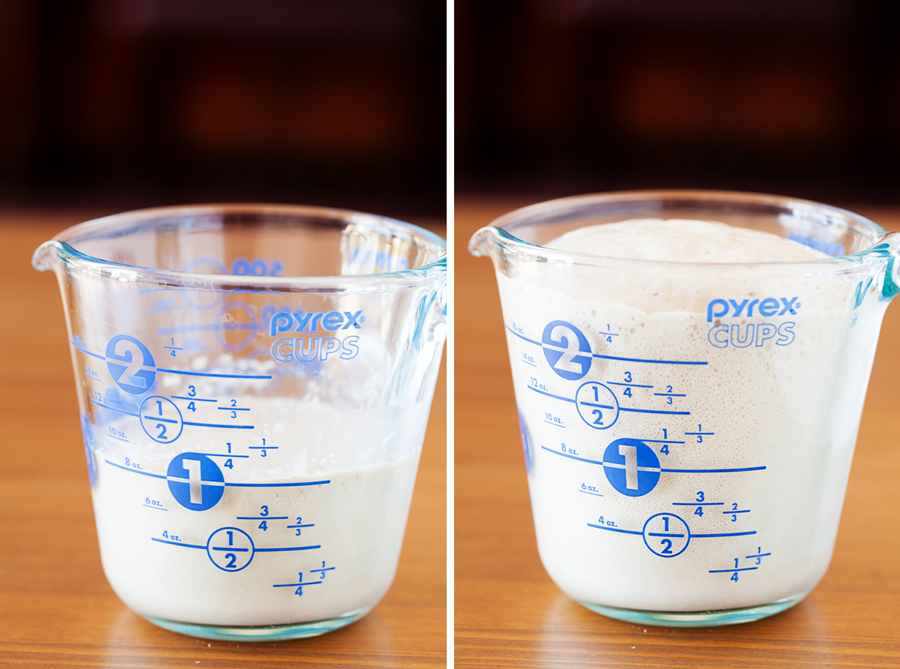 Then, you combine the yeast with the rest of the ingredients in a mixer and let it knead for about 7 minutes. Set it aside and let it rise for one hour.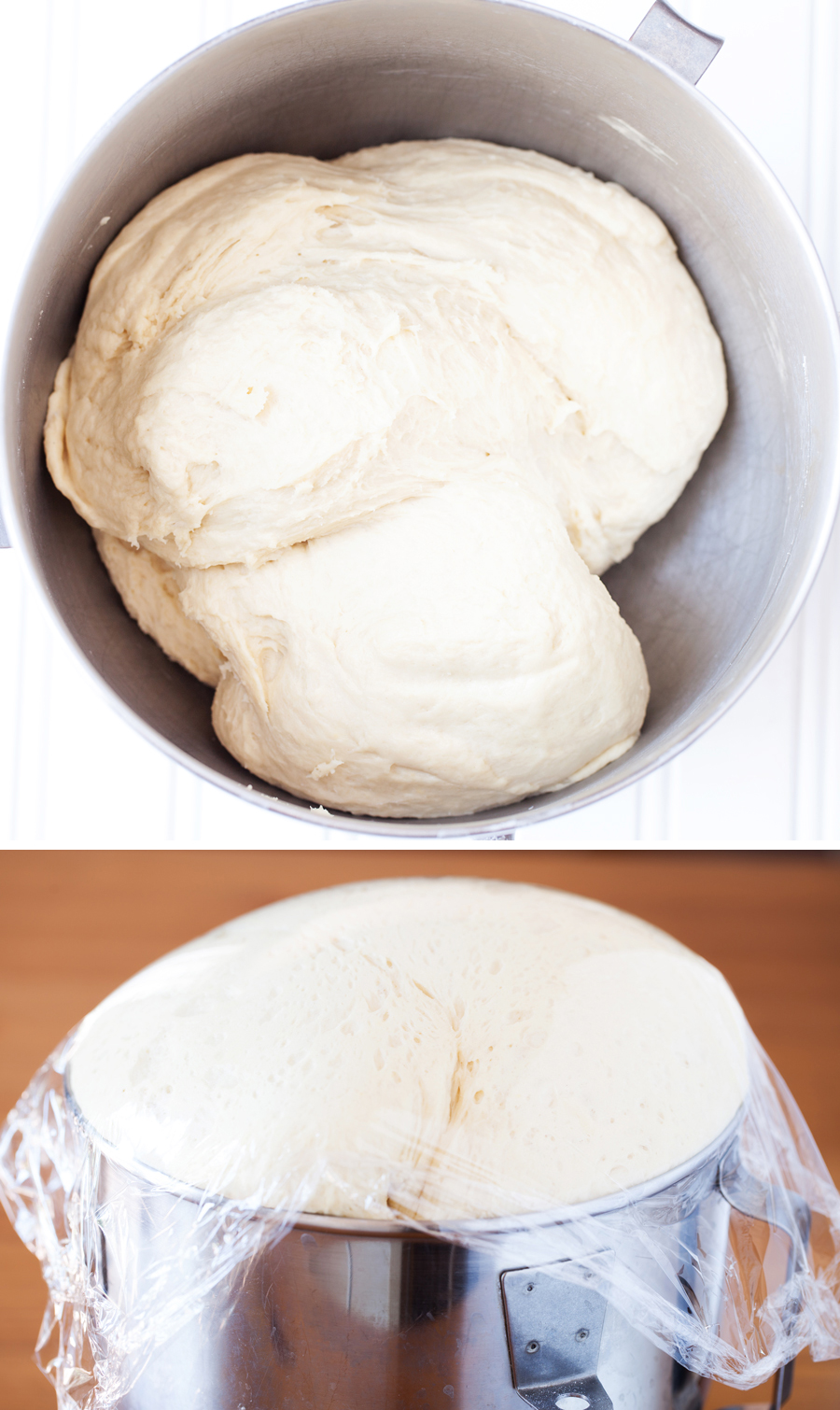 I love how puffy it gets! It's only going to get puffier, so punch it down and let it rise again for another hour.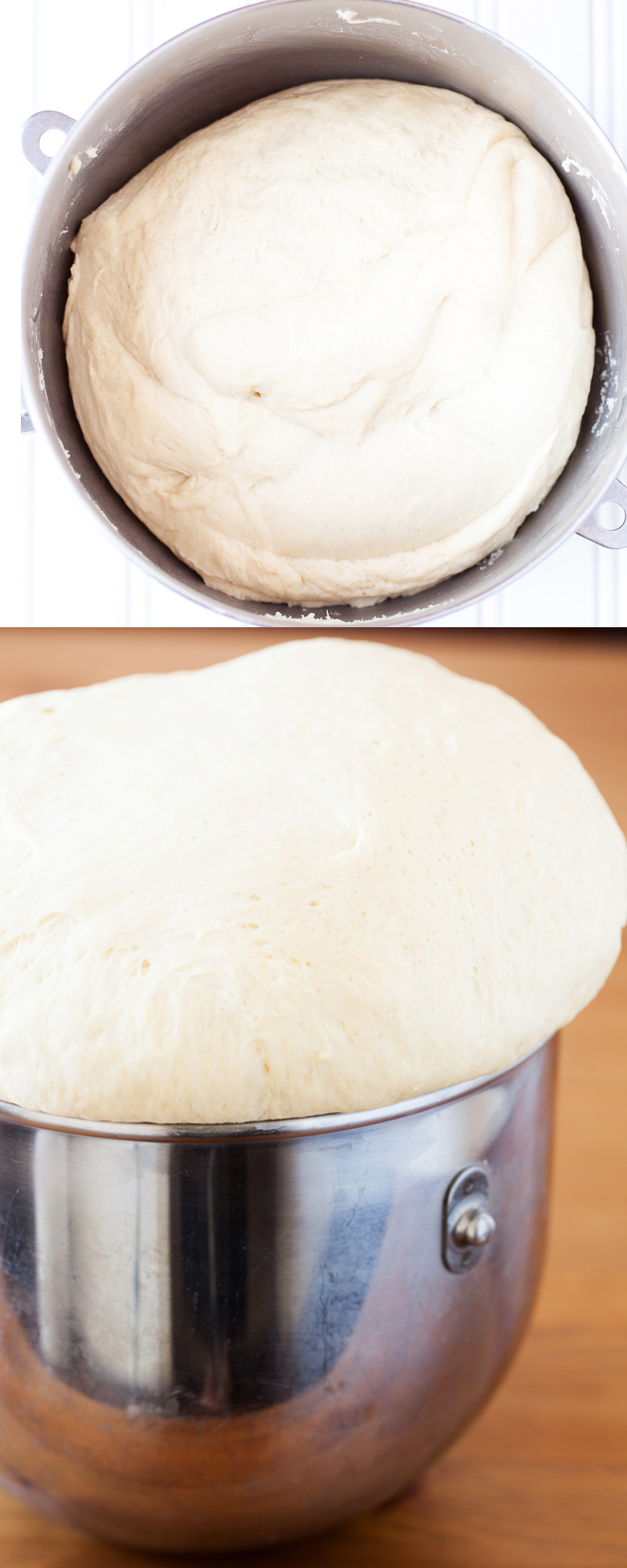 Then, you form large rolls and let it rise again.

And finally, you form smaller rolls and place them on your baking sheet and let it rise one last time.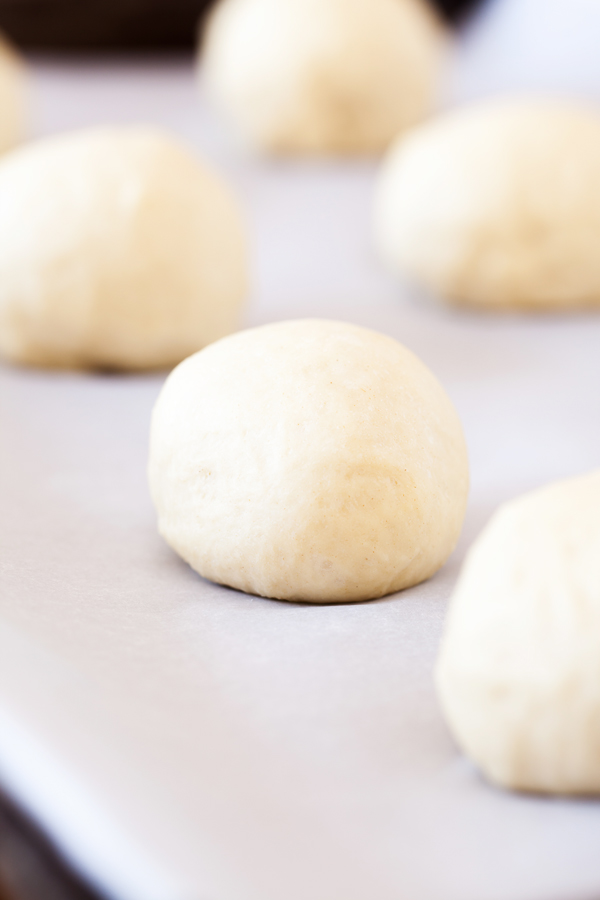 Brush it with an egg wash and pop them into the oven until they're golden, shiny, and your kitchen smells heavenly!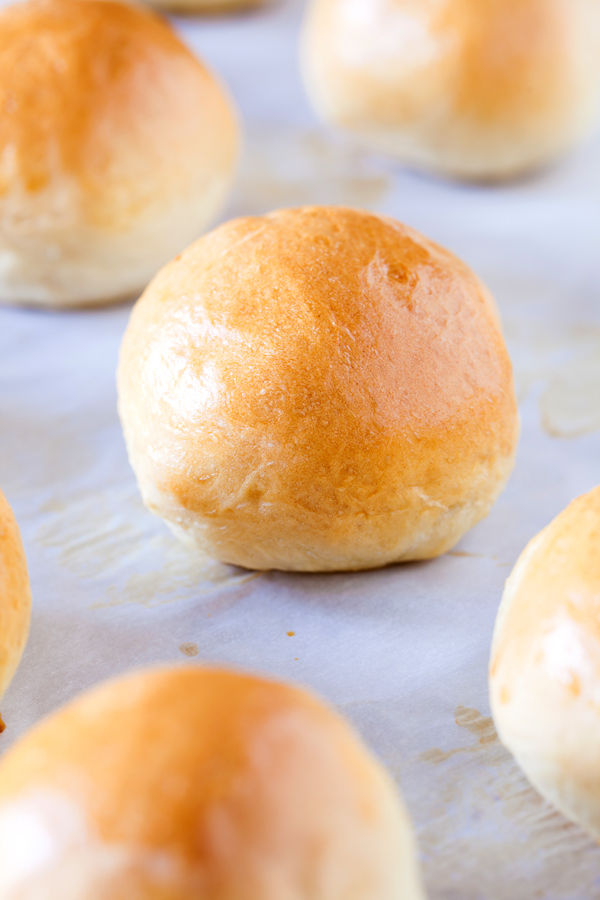 It might be too early to think about Thanksgiving, but these would trump any store-bought rolls. Just sayin' ;)

Tools to help you succeed
Kitchen scale – using a scale to measure out ingredients will improve your baking tremendously and is a MUST for optimum results with these rolls.
Plastic pan or bowl scraper – I used this to help transfer every last piece of dough from the bowl. It acts as an extension of your hand, so you don't have to deal with dough under your fingernails!
Metal dough scraper – I used this to easily and cleanly cut through the dough when measuring out each roll.
Homemade White Bread Rolls
Yields about 40 rolls
Printer friendly version
Bloom
Ingredients
1 ¼ ounces instant yeast
½ ounce sugar
½ cup (4 ounces) warm water*
Directions
In a medium bowl or at least 2-cup measure, stir tougher the ingredients. Allow to become gaseous and double in volume, about 5 minutes.
Bread
Ingredients
1 ½ cups (12 ounces) warm water*
2 ¾ ounces sugar
1 ounce light brown sugar
½ ounce salt
¼ pound (4 ounces) cold butter, cubed
½ pound (8 ounces) cake flour
2 pounds (32 ounces) bread flour
3 eggs plus 1 extra egg to be used for an egg wash
Directions
In the bowl of a stand mixer fitted with the dough hook attachment, add the water, sugars, and salt. Swirl to dissolve.
Add the activated bloom and all the remaining ingredients**. Knead on low for 7 minutes, until the dough is cohesive, soft, and smooth.
Cover loosely with plastic wrap and let rise for 1 hour, until doubled in volume. Punch the dough down, cover, and let rise for 1 more hour.
Transfer the dough onto a lightly floured surface. Divide and roll the dough to form balls of 15 ounces each. Let rest for 20 minutes, until doubled.
Pre-heat oven to 350°F and line a baking sheet with parchment paper or Silpat.
Working with one rested ball at a time, divide and roll the dough to form balls of 1 ½ ounces each and place on the prepared baking sheet, 2 inches apart. Let rest for 30 minutes, until doubled.
Whisk together the remaining egg with a splash of water and lightly brush over each roll. Bake for 15 – 18 minutes or until golden. Repeat steps 6 & 7 with the remaining dough until all the dough is used up.
Notes
*I placed the water in a microwave-safe glass and heated for 25 seconds.
**Use only 3 eggs.
Storage
Store in an air tight container at room temperature for up to 4 days.
Thank you to The Roaring Fork for your generosity and providing me with this recipe.
This page contains affiliate links that help make The PKP Way possible.