A rich and thick Red Enchilada Sauce made entirely from scratch using fresh garlic and guajillo chilis.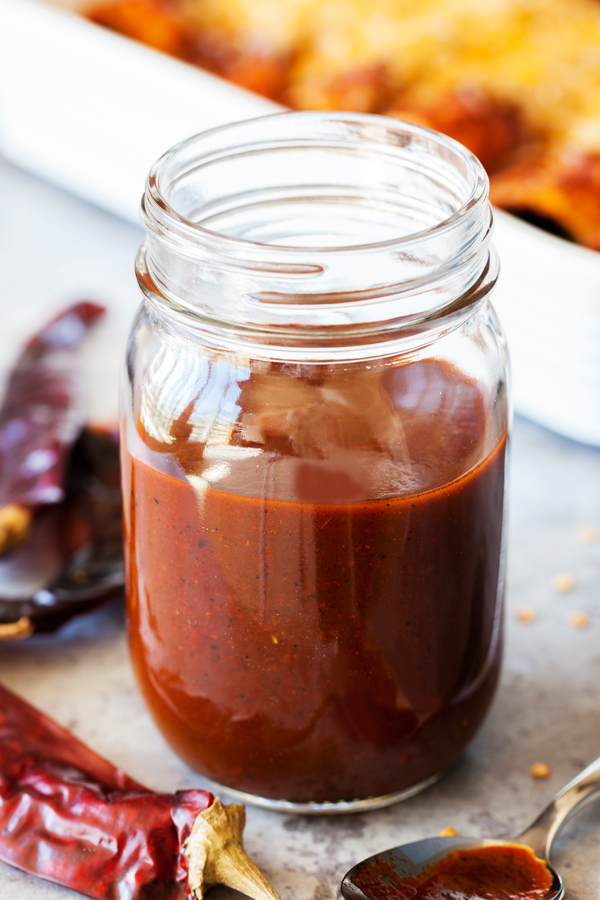 From-scratch, homemade sauces are assumed to be better than store-bought. If you ask me, that's over-generalizing. Yes, homemade sauces can be better IF you have the right recipe. The one with the right ratio of each ingredient, proper cook time, and all other tricks that send it over the top.
One sauce that's better than store-bought, without question, is my Homemade Red Enchilada Sauce. Like all my other Mexican recipes, it usually takes multiple tries, if not years because I'm not happy until it's as close to authentic as possible. I'm thankful that today's enchilada sauce didn't take years, only multiple tries :)
The smooth, thick, beautifully deep red sauce made from fresh garlic, dried guajillo chilis, and other pantry spices is in a league all its own. One taste and you will become an enchilada sauce snob and will never buy store-bought again! You might even scoff at the sauces being served at some restaurants. Proceed with caution.
Begin by charring fresh garlic. That's simply heating up a dry skillet and allowing each side blacken.
Next up are the dried guajillo chilis. Cut off the stems, remove the vein and most of the seeds, and char them on the skillet too. It will expand a little and become fragrant. That's when you know it's done. You don't want to char it as much as the garlic (that will make the sauce bitter), but just enough for a light burn on the skin.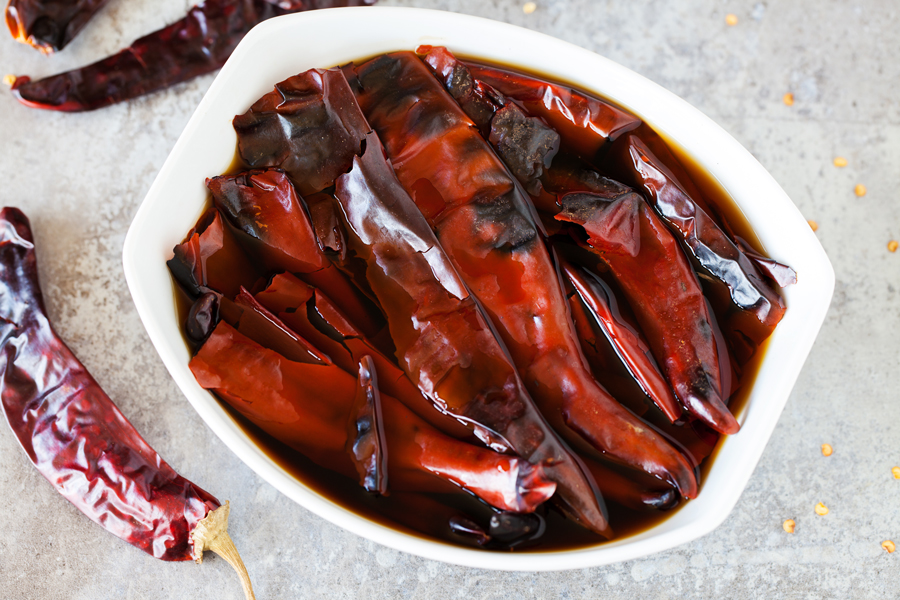 Then, rehydrate the chilis in hot water. Throw the hydrated chilis and garlic into a blender along with a few other spices and chicken broth and give it a whirl until completely blended. (The aroma when you first open the blender is intoxicating!)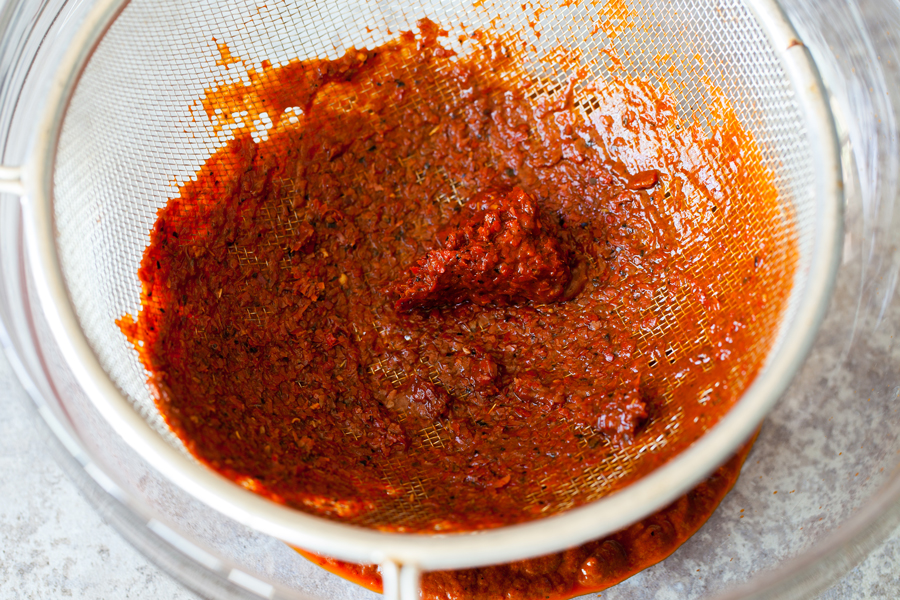 Run it through a sieve so that your enchilada sauce is nice and smooth. Then, pan-fry the sauce. This is one of the most important steps, if not THE most important. Let it cook in a hot skillet to burn off any bitterness and to get a concentrated paste.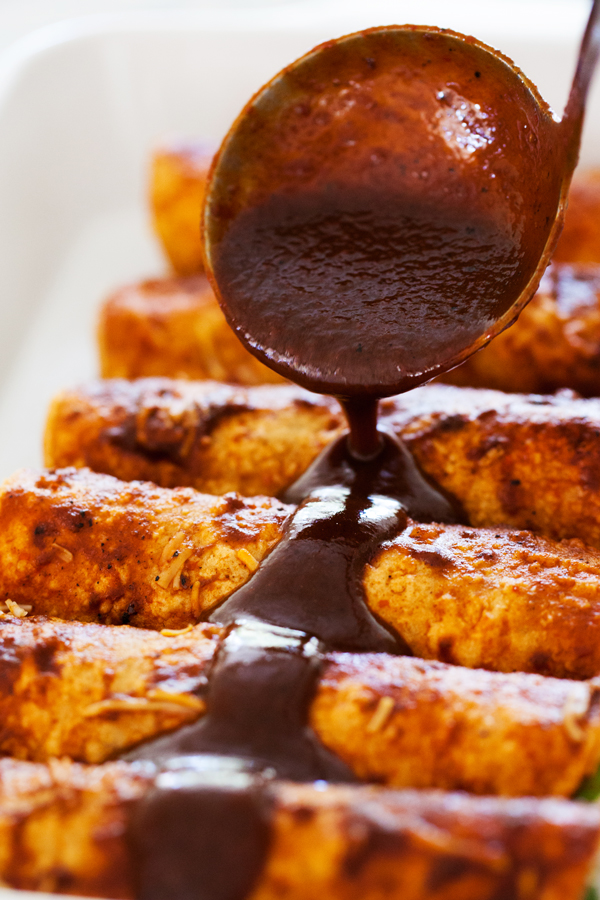 Finally, reconstitute that paste with some chicken broth and let it simmer into the best enchilada sauce ever!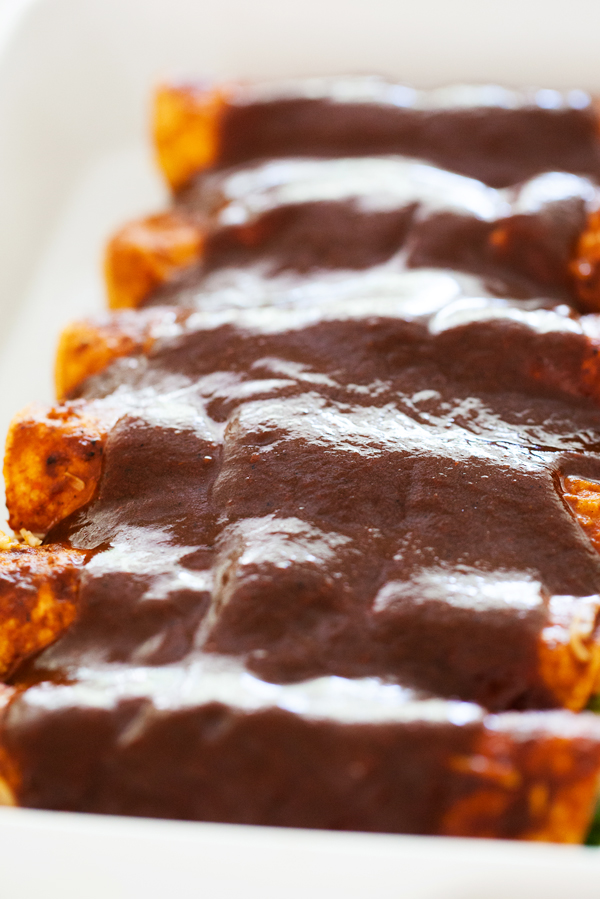 Follow the visuals from my Spinach and Cheese Enchiladas to see how to use the sauce!
Homemade Red Enchilada Sauce
Calories per Serving
:
679
kcal
Ingredients
12

garlic cloves

, left unpeeled

16

(4 ounces) dried guajillo chilies

, stemmed, deveined, and seeded

2

teaspoons

dried oregano

½

teaspoon

black pepper

¼

teaspoon

cumin

2 ½

cups

chicken broth

1 ½

tablespoons

vegetable oil

Salt to taste
Instructions
Place the garlic in a large dry skillet over medium-high heat. Let each side char before flipping on to the next side. Remove the garlic and let cool. Maintain the heat.

To the empty skillet, toast each side of the chili, about 10 to 15 seconds per side. The chili will expand, make a slight crackling noise, and become fragrant. The skin should darken, but do not allow to burn or char.

Place the toasted chilies into a large bowl and add enough hot water to submerge. Let sit for 30 minutes. While rehydrating, peel the cooled garlic and place in a blender. Drain the chilies and add to the blender along with oregano, pepper, cumin and 1 cup of the broth. Blend on high until mostly smooth.

Strain the blended sauce through a sieve into a clean bowl. Heat the oil in a large pot over medium-heat. Test the temperature of the oil with a drop of the sauce. If the sauce begins to crackle, pour all of the strained sauce into the pot. Continuously stir until deep red in color and the sauce doesn't flow back when a spatula is dragged through.

Add the remaining 1 ½ cups of broth and bring to a boil. Reduce the heat and let simmer until thickened, about 30 minutes, stirring until occasionally. Season with salt to taste, if needed.
Recipe Notes
*Leave more seeds in if you like it spicy.
Store in a glass container in the refrigerator until ready to use.