Learn to make Homemade Lemon Curd and never buy it from the store again!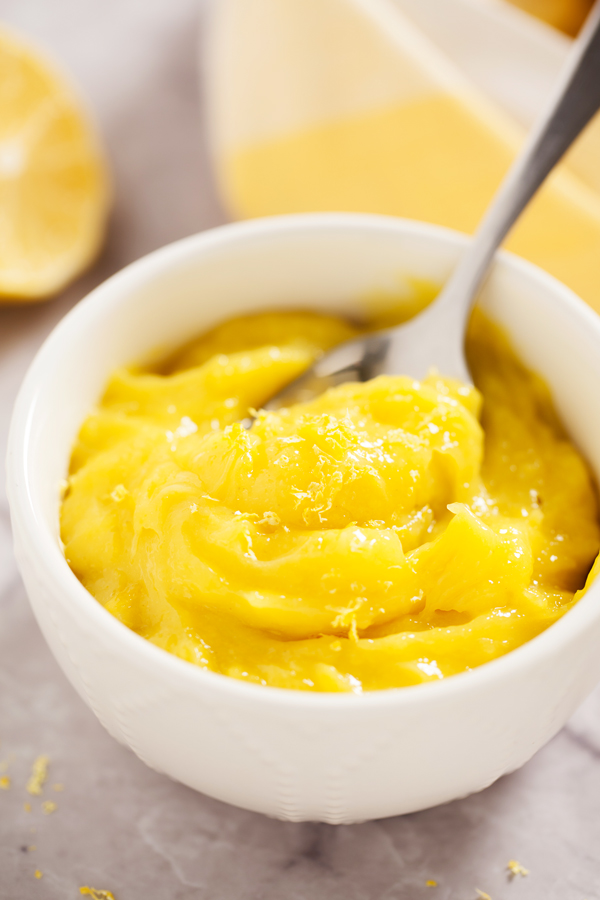 Homemade Lemon Curd is one of those staples that I love to have on hand at all times. I'll spread it on toast, use it as a filling in layered cakes, and even stir it in some strawberry yogurt for some extra tartness. Not to mention, it's a great way to use up the lemons that you bought in bulk (just me?) and the excess egg yolks leftover from my Orange Cranberry Cake, Red Velvet Espresso Cake, and Lemon Meringue Frosting!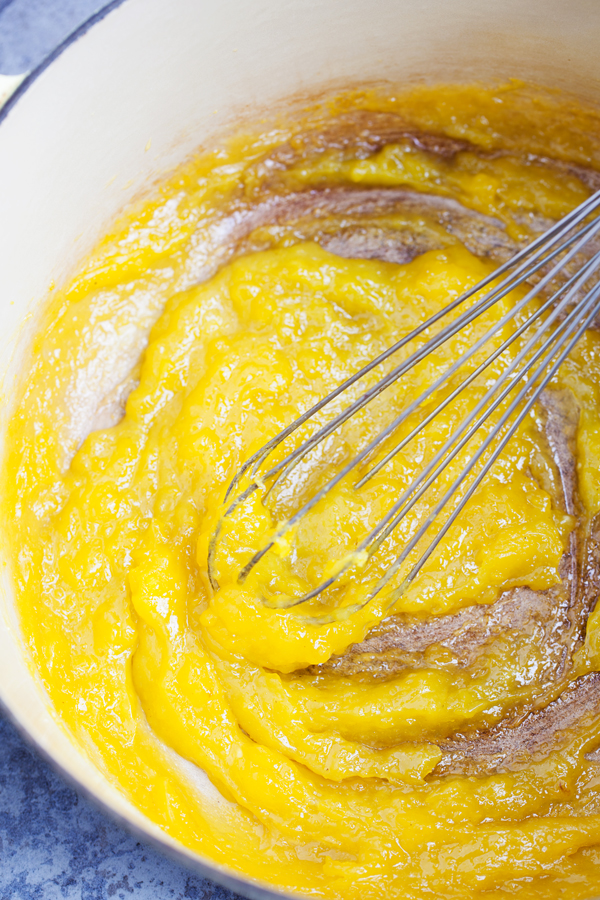 It's so easy to make too and when you learn how, you'll never buy Lemon Curd from the store again! All you need are a few simple ingredients.
Start by whisking together sugar and cornstarch in a medium nonreactive saucepan over medium-low heat. When I say nonreactive, I mean a saucepan made from a material that won't react (discolor or indent) with acidic ingredients. Stainless steel and enamel coated cookware are usually a safe bet.
Next, stir in egg yolks and lemon juice and continue whisking until thickened. Let the mixture come to a boil and allow to boil for one full minute. Then, strain the Lemon Curd through a fine mesh sieve to get rid of any yolks that may have cooked during the cook.
Finally, to the strained Lemon Curd, add in some butter to get it smooth and creamy, and some lemon zest for some zing! Easy peazy, right? You now have a healthy helping of Homemade Lemon Curd for days!
Homemade Lemon Curd
Yields 1 1/4 cup
Serving Size: 1/4 cup
Calories per Serving
:
257
kcal
Ingredients
¾

cup

granulated sugar

1 ½

tablespoons

cornstarch

½

cup

freshly squeezed lemon juice

6

egg yolks

3

tablespoons

unsalted butter, room temperature

Zest from 1 lemon
Instructions
In a medium, nonreactive saucepan, whisk together the sugar and cornstarch. Stir in the lemon juice and yolks and heat over medium-low heat. Bring to a boil and allow to boil for 1 minute, stirring continuously, until thickened.

Off the heat and strain through a fine mesh sieve into a glass cup or bowl. To the strained curd, stir in the butter until completely melted. Add the zest and stir to combine.

Gently press plastic wrap directly on top of the curd's surface and refrigerate for at least 1 hour before using.