Homemade dulce de leche is thick, smooth, rich and can be made right on your stovetop!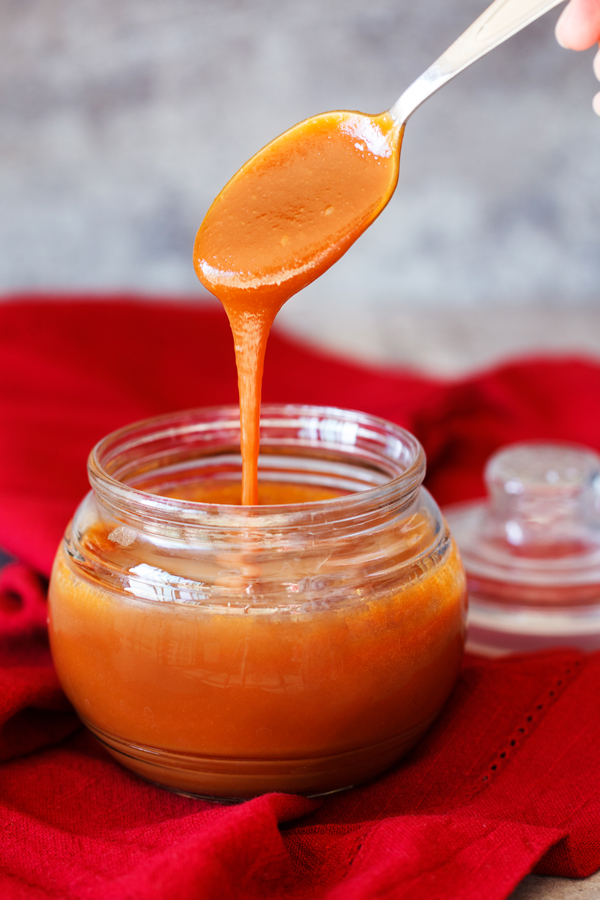 If you've never made homemade dulce de leche, I think it's time you give it a try. Just like my homemade ricotta, making dulce de leche at home is easier than you think and so much better than store-bought!
I really can eat it by the spoonful, but since it might not be socially acceptable to do so, I limit the spoonful intake for "testing" purposes and end up drizzling the dulce de leche on pretty much everything in sight instead.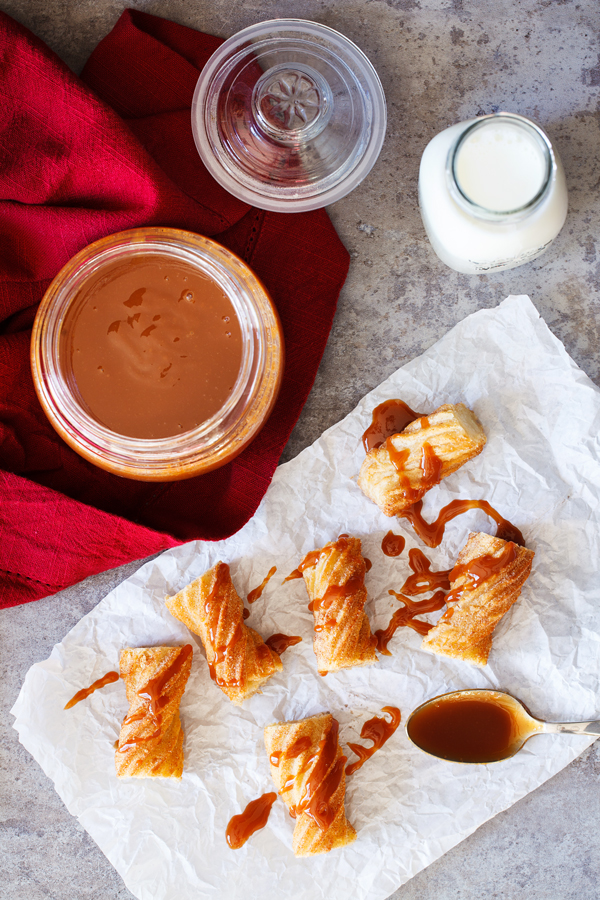 I'll dip apple slices, use it in place of caramel in my French vanilla and caramel affogato frappe, and even use it in place of syrup on my quick yeast waffles.
I've been feeling extra indulgent lately, so my latest obsession has been dipping store-bought churros in them. Talk about an addicting treat!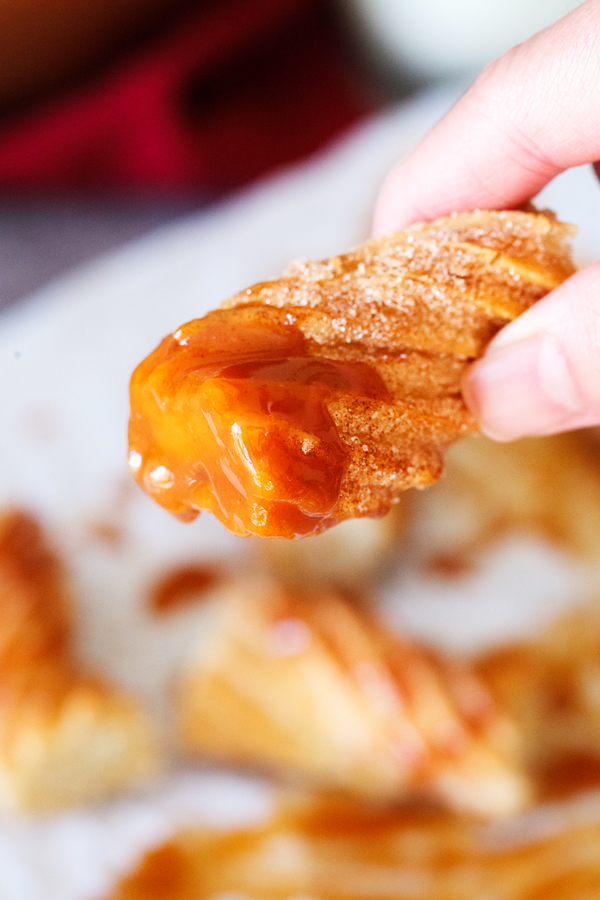 To make the homemade dulce de leche, you'll combine WHOLE milk, sugar, and vanilla in a large sauce pan. Whole milk is so important for a thick consistency. If you use a milk with less fat, the dulce de leche will be thinner and resemble caramel.
You'll bring the mixture to a simmer and make sure that the sugar has dissolved. Then, you'll add baking soda, which helps prevent protein coagulation. You're aiming for a smooth dulce de leche.
Once the baking soda is added, it really reacts with the mixture and A LOT of foaming occurs. To prevent overflow and boiling over, make sure to use a larger sauce pan than you think you'll need.
The foaming will eventually lessen and then it's all about stirring every so often on low heat. The mixture sits on the stove for about 2 ½ to 3 hours to allow for the sugar to slowly caramelize for ultimate depth of flavor development and for the mixture to thicken.
Once it's done, you'll strain the mixture into a heat resistant container, allow to cool, and store in the refrigerator. Pretty easy, right?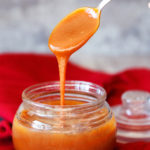 Homemade Dulce de Leche
Yields 1 cup
Calories per Serving
:
1794
kcal
Ingredients
1

quart

4 cups whole milk

1 1/2

cups

granulated sugar

1

tablespoon

vanilla extract

1/2

teaspoon

baking soda
Instructions
In a large saucepan or pot*, combine the milk, sugar, and vanilla. Stir to combine. Heat over medium heat until the sugar has dissolved and the mixture is simmering.

Add the baking soda and stir to combine. When the baking soda is added, a lot of foam will be produced. If it looks like it will overflow, remove from heat immediately and continue stirring until the foam subsides. Return to low heat and allow to simmer for 2 1/2 to 3 hours, stirring every 20 to 30 minutes. As foam forms on the surface, skim it off. Do not mix it back into the mixture.

Mixture is done when deep golden brown. Strain through a sieve into a heatproof container. Allow to cool before covering. Store covered in the refrigerator for up to 4 weeks.
Recipe Notes
*Use a larger saucepan or pot than you think you'll need!
Adapted from Food Network.