Look no further for your go-to gingerbread cookie recipe. This recipe yields thick, chewy, and spicy gingerbread cookies that is perfect for decorating, gifting, and ornament-making!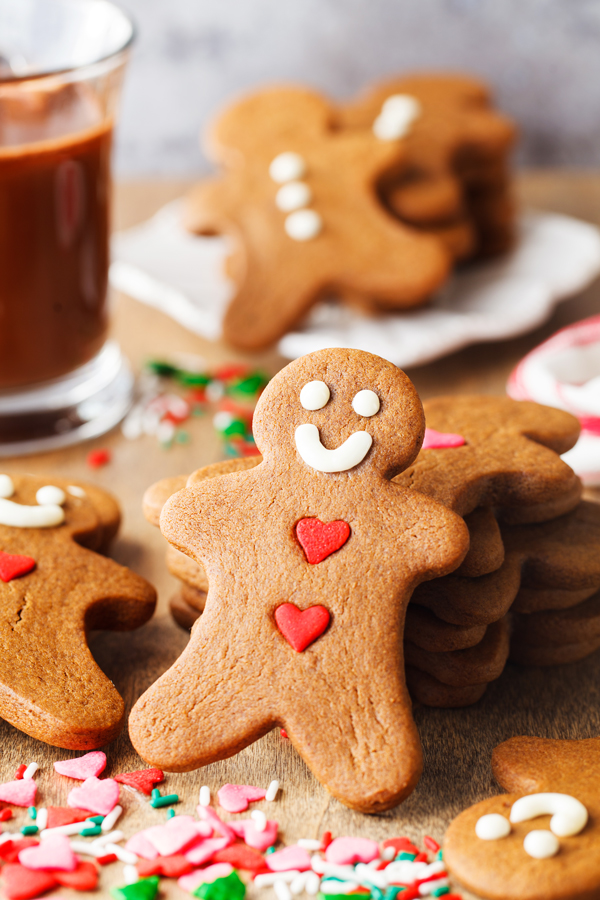 In our house, it's not the Christmas holiday season until a spicy batch of gingerbread cookies are made.
We love to spend time piping on icing or simply decorating them with fun sprinkles. We have a lot of fun making up stories of the gingerbread men and women that we create and I've also been known to even turn these little guys into gifts with my Gingerbread Men Cookie Decorating Kits.
On days when we really just want the taste of gingerbread cookies but are too busy with the hustle and bustle of the season, we'll leave them plain and enjoy them just the same.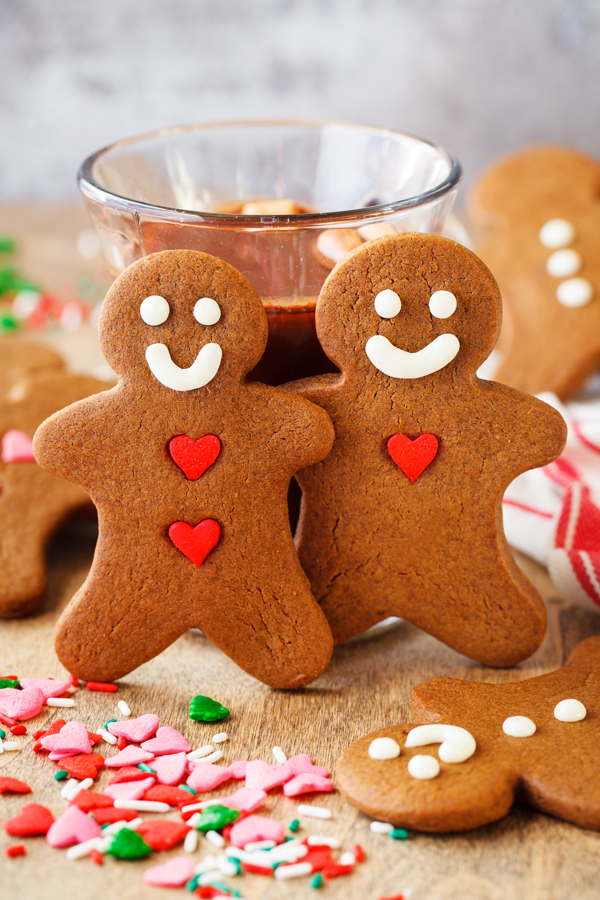 How to Make Gingerbread Cookies
Making these gingerbread cookies couldn't be easier. You start by throwing all of the dry ingredients and the spices into the bowl of a stand mixer. Run the mixer just to combine the ingredients together.
In the next step, you add the butter and it's perhaps the most important step. You have to make sure that the butter is the correct temperature. If the butter is too cold, it won't incorporate properly and if it is too soft, it will incorporate too well and yield a sticky and impossible-to-work-with-dough.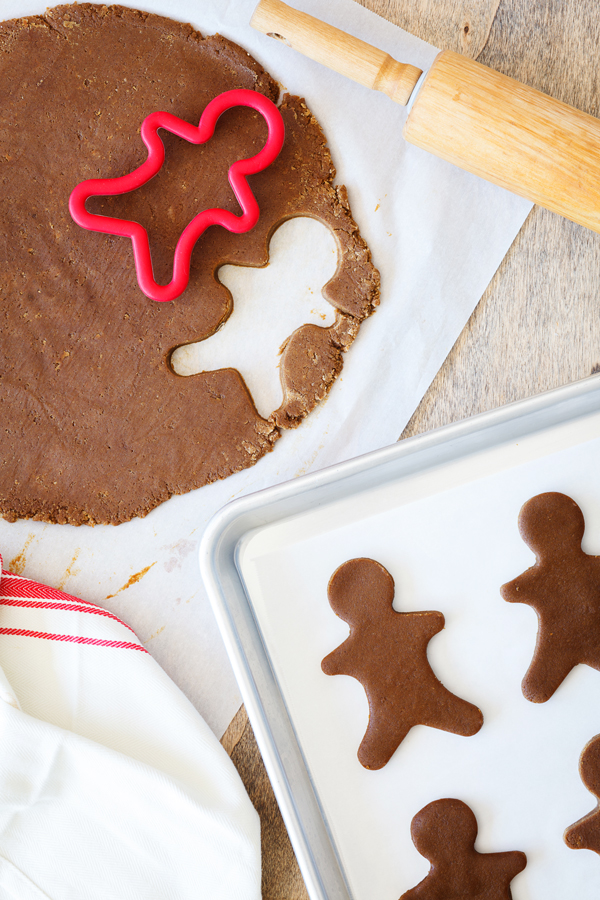 The recipe card says to slightly soften the butter. By this, I mean it shouldn't be straight from the refrigerator and it shouldn't be soft enough to make buttercream either. It should be just soft enough for you to be able to make a dent when you firmly press into it with your finger, but there should be some resistance such that your finger doesn't just go straight through.
Yes, it's kind of difficult to describe, but this is what I do to ensure the temperature is just right. I remove the butter from the refrigerator and cut it into ½-inch cubes. Then, I'll place the cubes in a cool area in my kitchen – anywhere without direct sunlight shining on it will do.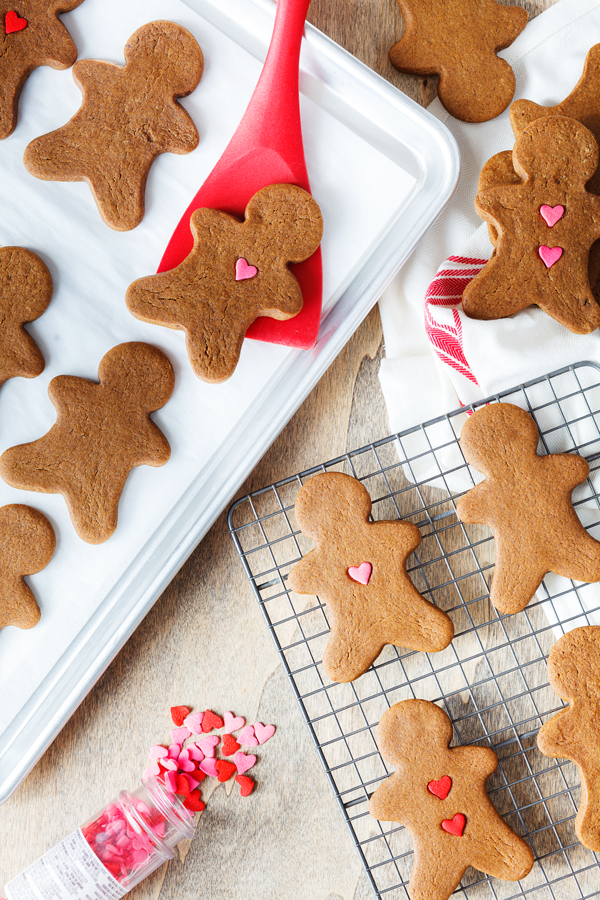 After about 20 minutes, I'll check the temperature by pressing on a cube. If there's a lot of resistance and I need a lot of pressure to make a dent, I know it needs more time. After the first 20 minutes, I'll continue to check on it about every 10 minutes until it's soft enough where I can make a dent, without going straight through. It might take you a couple of batches to get it right, but you'll get it. Trust me!
Once the butter temperature is just right, you add it to the mixer and mix until you form both pea and sand-sized pieces.
Then, in goes the molasses and the remaining wet ingredients. Mix until thoroughly moistened and a soft dough forms.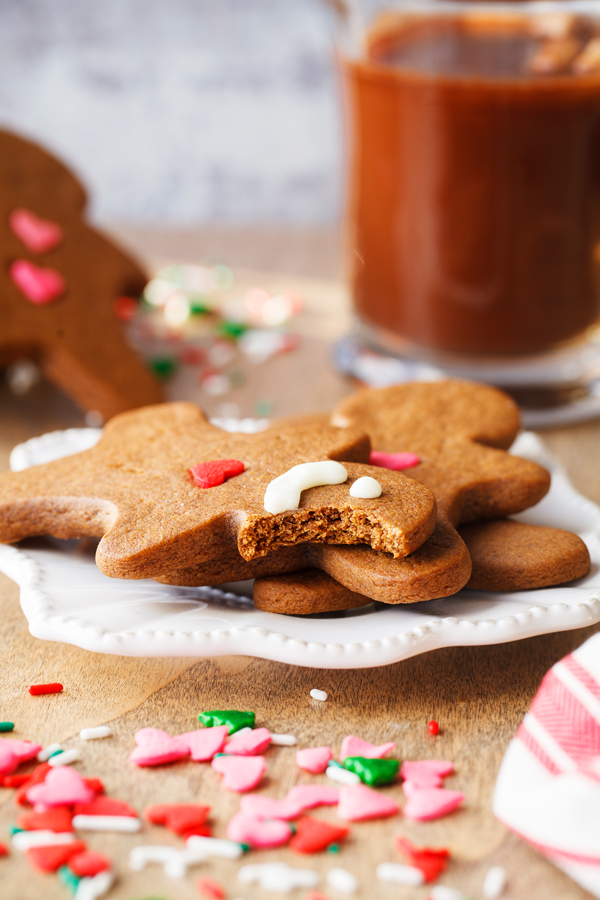 Roll out the dough in between two pieces of parchment paper to a thickness of ¼-inch. Then, chill in the refrigerator for at least 4 hours. To speed up the process, I chill it in the freezer for about 30 minutes.
Finally, cut, bake, and decorate!
I include a recipe for royal icing below, but if you don't want to pipe on any decorations, you can decorate the easy way by pressing on some festive sprinkles into the cut dough right before baking. The cookies will come out already decorated!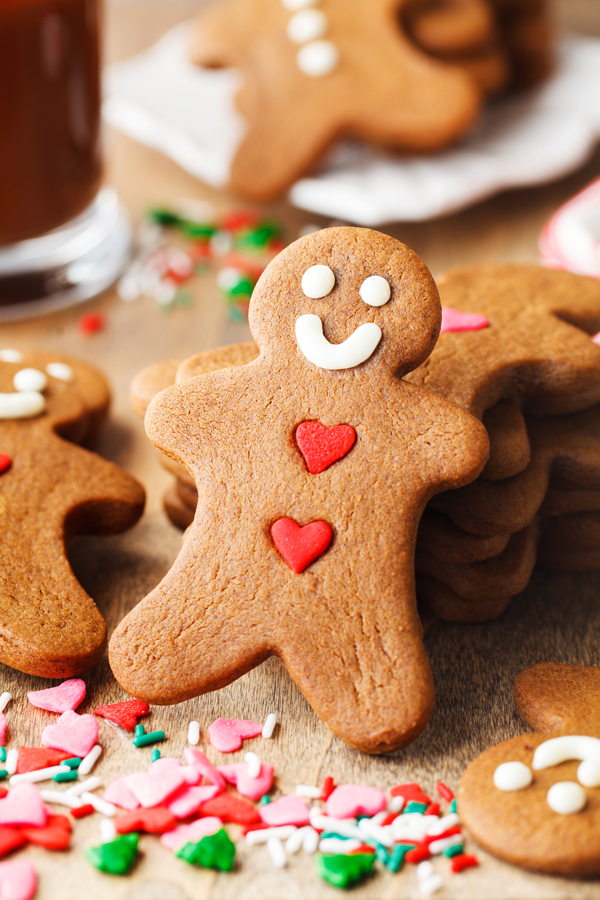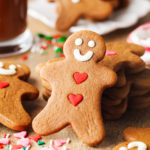 Gingerbread Cookies
Yields about 2 dozen 4.5-inch cookies
Serving Size
:
1
4.5-inch cookie without icing
Calories per Serving
:
166
kcal
Ingredients
Gingerbread Cookies
3

cups

all-purpose flour

3/4

cup

packed brown sugar

1

tablespoon

ground cinnamon

1

tablespoon

ground ginger

1/2

teaspoon

ground cloves

1/2

teaspoon

table salt

3/4

teaspoon

baking soda

12

tablespoons

1 1/2 sticks unsalted butter, cut into cubes and slightly softened*

3/4

cup

unsulphured molasses

2

tablespoons

milk
Royal Icing
1 ½

cups

confectioners' sugar, sifted

½

teaspoon

vanilla extract

1

teaspoon

light corn syrup

1¾ - 2 ½

tablespoons

room temperature water
Instructions
Gingerbread Cookies
In the bowl of a stand mixer fitted with the paddle attachment, add the flour, brown sugar, cinnamon, ginger, cloves, salt, and baking soda. Mix on low speed until combined.

Stop the mixer and add the butter. Mix on medium-low speed until there is a mixture of pea-sized and cornmeal-sized pieces.

In a small bowl, add together the molasses and milk. Reduce the mixer speed to low and pour in the molasses mixture. Continue to mix until the dough is moistened, scraping down the sides as necessary.

Lay down a large piece of parchment paper. To the center of the paper, scrape out half of the dough from the mixer bowl. Using clean hands, bring any scraps together to form a ball. Top with another piece of parchment paper and roll the dough out until 1/4-inch thick. Set aside and repeat with the remaining half of dough.

Chill the dough, flat, in the freezer for 30 minutes or overnight in the refrigerator.

When ready to bake, adjust the oven rack to the center position, preheat the oven to 350°F, and line two baking sheets with parchment paper.

Remove one of the chilled dough sheets and place on the work surface. Gently peel off the top parchment paper and cut out shapes using 4.5-inch cutters. Transfer to the prepared baking sheets, spacing 2-inches apart. Bring together any remaining scraps, re-roll, and cut. Repeat with the second sheet of chilled dough.

Bake on the center rack for 9 to 11 minutes, rotating halfway through the baking time. The cookies are done when the edges are slightly crisped and the center lightly indents when gently pressed.

Allow to cool on the baking sheet for 15 minutes before transferring to a cooling rack to cool completely. Decorate with icing (recipe follows).
Royal Icing
Whisk together the sugar, vanilla, and corn syrup. Add water a little at a time, stirring in between, until a pipeable consistency is reached.

Add to a piping bag fitted with a small round tip or a squirt bottle to decorate.
Recipe Notes
*This recipe will not work if the butter is too soft. The butter is ready when there is just a bit of resistance when pressing into the butter cubes.
Cookie recipe adapted from Cook's Illustrated Cookbook.
Royal Icing adapted from Sally's Baking Addiction.
Note: This page contains affiliate links that help make The PKP Way possible. Should you choose to purchase anything via those links, I will receive a small commission paid by Amazon, not you.