These raspberry muffins have a special ingredient that amplifies the raspberry flavor and intensifies the sweet muffin aroma.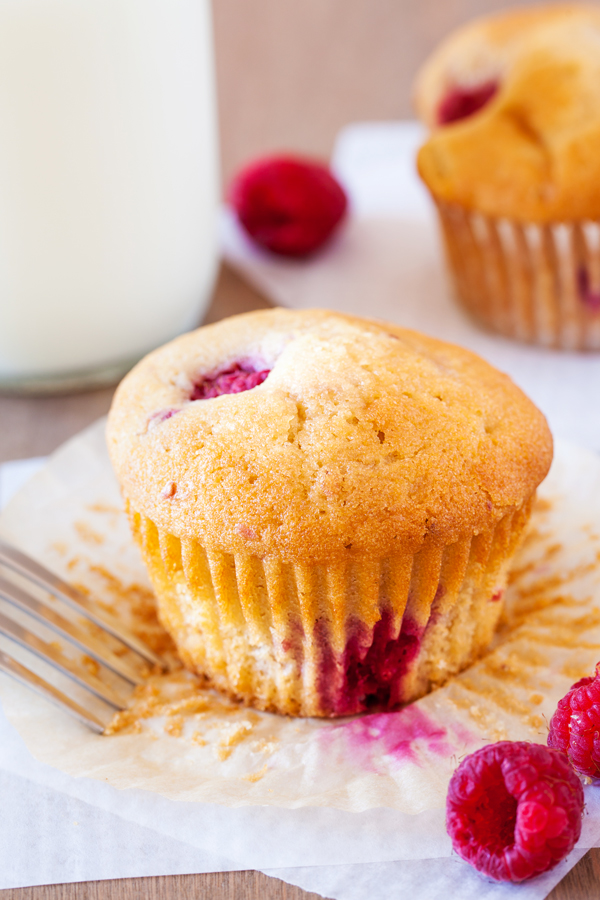 My original intention when developing this raspberry muffin recipe was to create a raspberry apple muffin recipe as good as my Blueberry Lemon Muffins. I wanted it to be just as soft, moist, and delicious. As for the flavor, I wanted a muffin infused with apple flavor and pops of raspberries with every bite.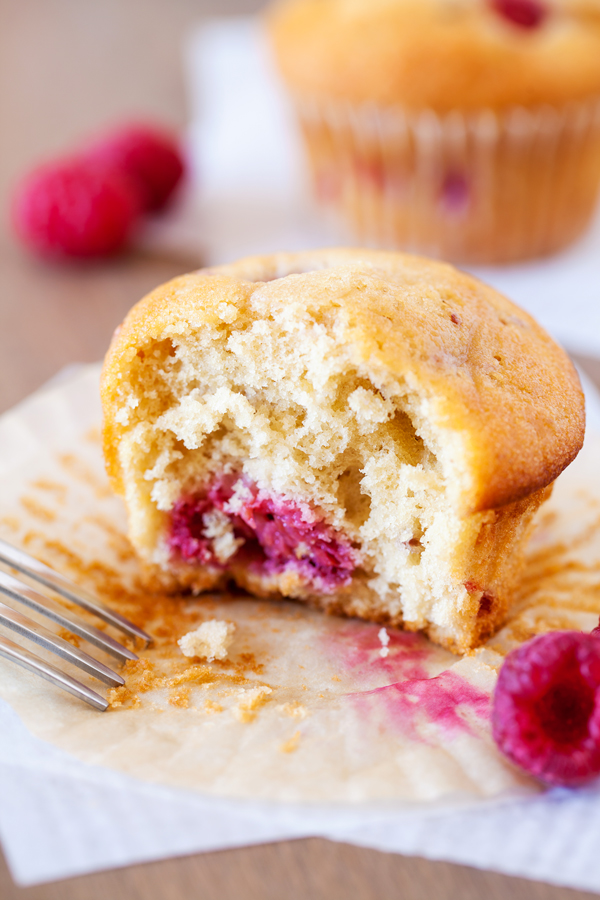 I had unsweetened apple juice on hand from my Caramel Apple Millet and Walnut Breakfast Cupcakes, so I decided to incorporate it in the wet ingredients. The juice was pressed solely from Honey Crisp apples so I had no doubt that the juice would impart an intense apple flavor. Alas, there was no apple flavor in sight, believe it or not!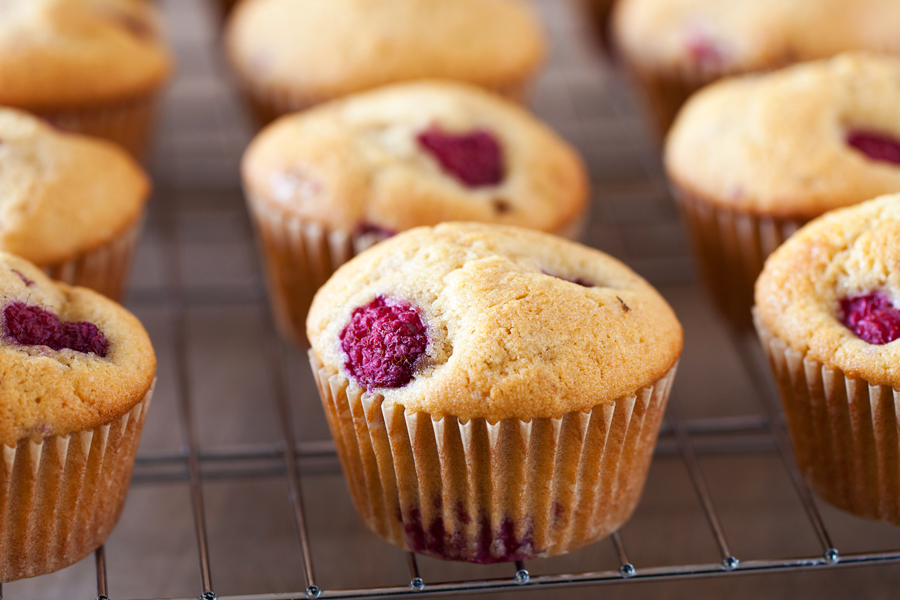 Instead, what I got was incredibly surprising! Not only did the apple juice intensify and amplify the raspberry flavor, but it also created an incredibly aromatic and fragrant muffin that you'd experience if you were to walk into a commercial bakery. I don't know if commercial bakeries use apple juice as a secret flavor boosting ingredient, but I do know that I will never make muffins without apple juice ever again!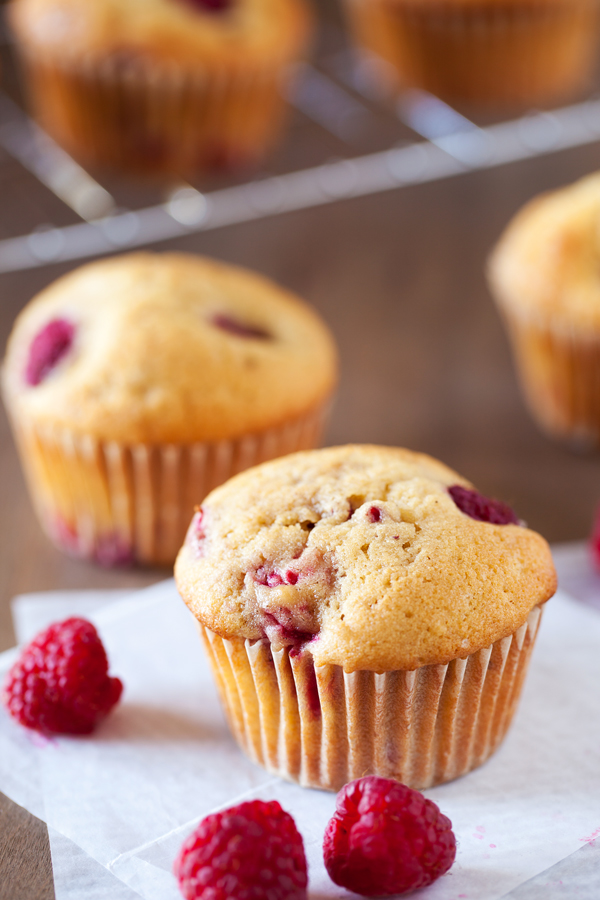 I gave some to my friend Meggan over at Culinary Hill and she said, "…just ate 3 of your muffins in a row…they are SO GOOD!" If that's not enough to convince you, my mother (who is not afraid to express her true feelings and understands the importance of developing a trusting relationship between blogger and readers) had a taste and she was also in awe. She knew there was something different in these muffins that gave them a sweet quality in both the gustatory and olfactory systems. She just couldn't put her finger on it. When I told her it was apple juice, she was just as surprised as I was!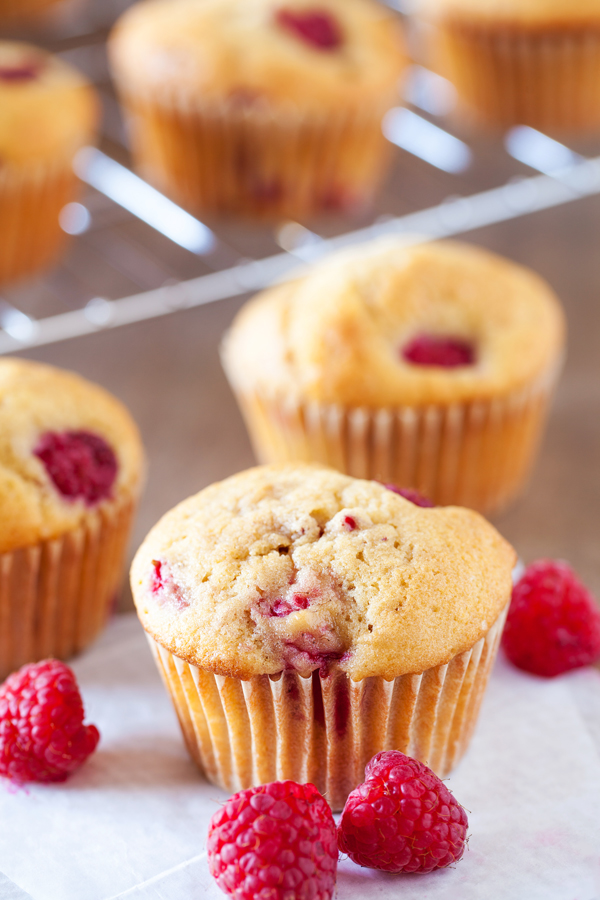 So, I did not achieve the raspberry apple muffins I sought, but I ended up finding something arguably better. I found a way to make raspberry muffins taste as good as they smell, fresh out of the oven, from a commercial bakery. The muffin itself is soft, moist, and mildly sweet (nothing overpowering, trust me). Then, there's the fresh raspberries suspended between the airy crumbs. The baking process softens the berries, creating an almost jam-like quality. They burst in your mouth with every bite, releasing their sweet and slightly acidic juices.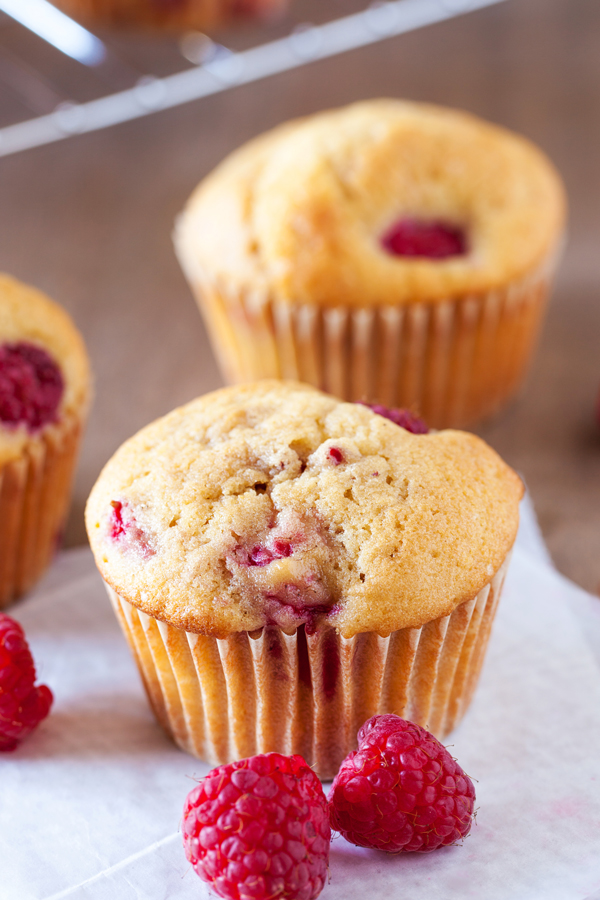 Now, while you step away to make these muffins, I'm going to continue on my trek to developing the perfect raspberry apple muffin recipe. Wish me luck!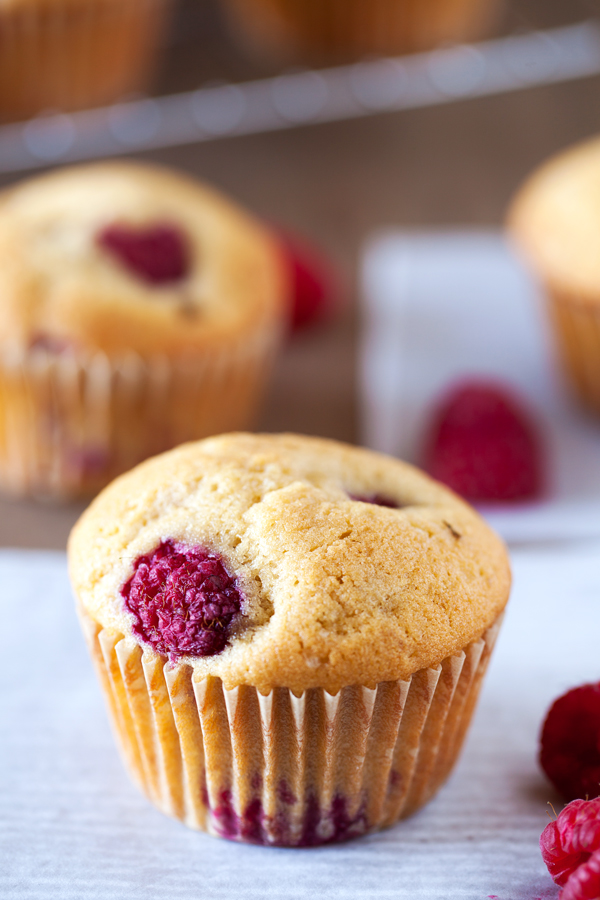 Game-Changing Raspberry Muffins
Yields 12-14 muffins
Printer friendly version
Ingredients
1 ¾ cups all-purpose flour
2 teaspoons baking powder
½ cup (1 stick) salted butter, softened*
¾ cup brown sugar, packed**
1 tablespoon turbinado sugar (aka Sugar in the Raw), divided
2 large eggs, room temperature
1 teaspoon vanilla extract
¼ cup milk***, room temperature
¼ cup unsweetened apple juice, room temperature
¾ cup fresh raspberries
Directions
Preheat oven to 425°F and line a muffin tin with 12 liners.
In a medium bowl, whisk together the flour and baking powder.
In the bowl of a stand mixer, fitted with the paddle attachment, on medium speed, cream together the butter and sugars, until fluffy.
Beat in the egg, one at a time, and vanilla, scraping down the sides as needed.
In a small bowl or liquid measuring cup, whisk together the milk and apple juice together.
Reduce the mixer speed to low and alternate the flour mixture and milk mixture, beginning and ending with the flour mixture. During the last addition of flour, mix only until flour streaks are no longer visible. Do not overmix. Gently fold in the raspberries by hand.
Fill the lined wells about ¾ full. Bake for 5 minutes. Then, reduce the temperature to 375°F and continue baking for 15-17 minutes or until a toothpick inserted comes out clean. Cool in pan on a cooling rack for about 2 minutes before transferring to a cooling rack to cool for about 15 minutes. Serve warm.
Notes
*If you don't have salted butter on hand, use the same amount in unsalted butter and add ½ teaspoon salt to the flour mixture
**Light or dark is fine. Use what you have on hand
***I used 1%
Storage
Store in an airtight container at room temperature for up to 5 days
Reheating Instructions
Reheat in the microwave for 15 seconds