This shop has been compensated by Collective Bias, Inc. and its advertiser. All opinions are mine alone. #NestleSchoolDays #CollectiveBias
Create easy meals using Nestlé products and enter to win a $100 gift card.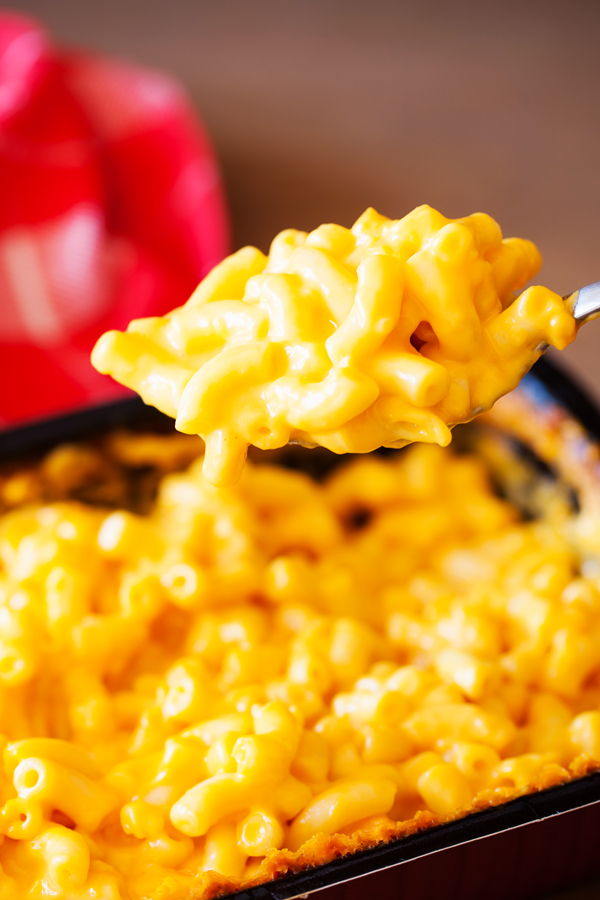 My kid sister is going to physical therapy school! She opted out of attending school in Chicago and decided on a school in New York. Though this West Coast family will miss her dearly, we are beyond excited to witness her begin this new chapter in her life and cannot wait to see all the lives she touches in her future.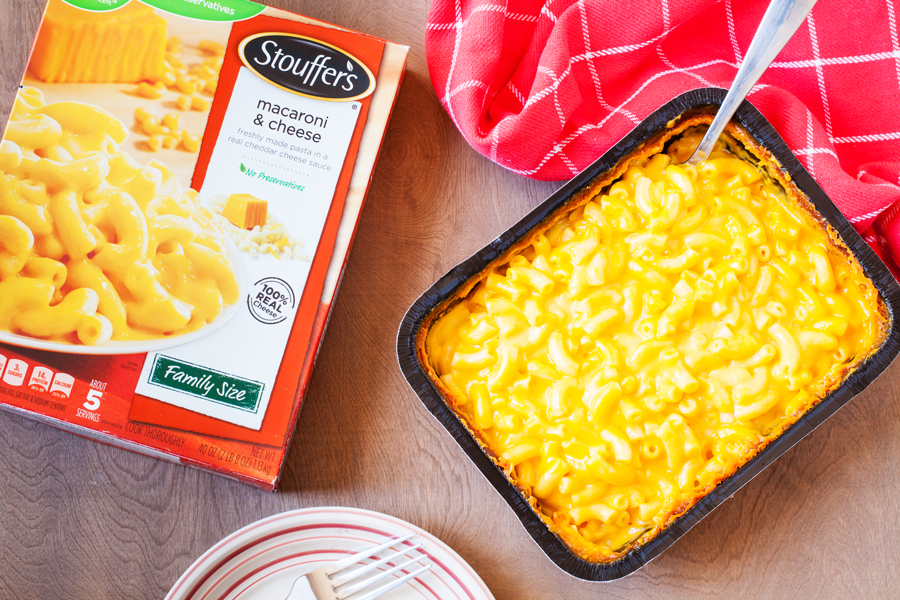 If her graduate school experience is anything like mine and Warren's, she will be spending a lot of time in the library and very little time in the kitchen. So that she doesn't spend her life savings on eating out, I decided to give her a few tips on making quick and easy meals so that she can get back to studying!
I live down the street from a Vons, a Safeway market, so I headed there for inspiration. One of the first things I picked up was STOUFFER'S® Family Size Entrées, in the frozen food aisle. My sister and I loved STOUFFER'S® Mac & Cheese growing up so this seemed perfect. To make it a complete meal, all she has to do is pair it with a side salad or veggie of her choice.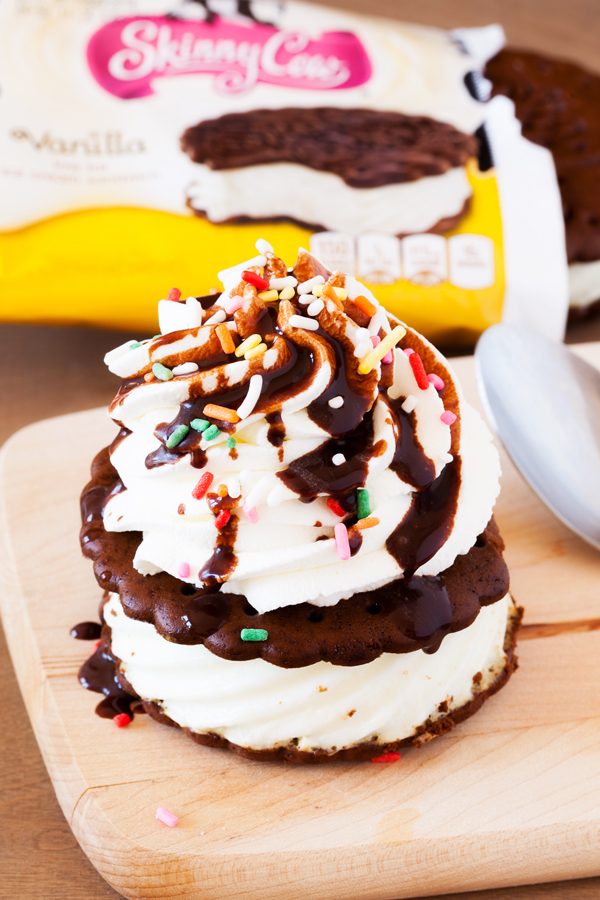 As I made my way down the frozen food section, I spotted SKINNY COW® Frozen Snacks. I was addicted to their vanilla ice cream sandwiches while in college and I think she is going to love them too! To make them even more irresistible, she could top each sandwich with some whipped cream, fudge, and sprinkles for an easy ice cream sundae! You guys, this sundae was delicious. I had trouble eating just one!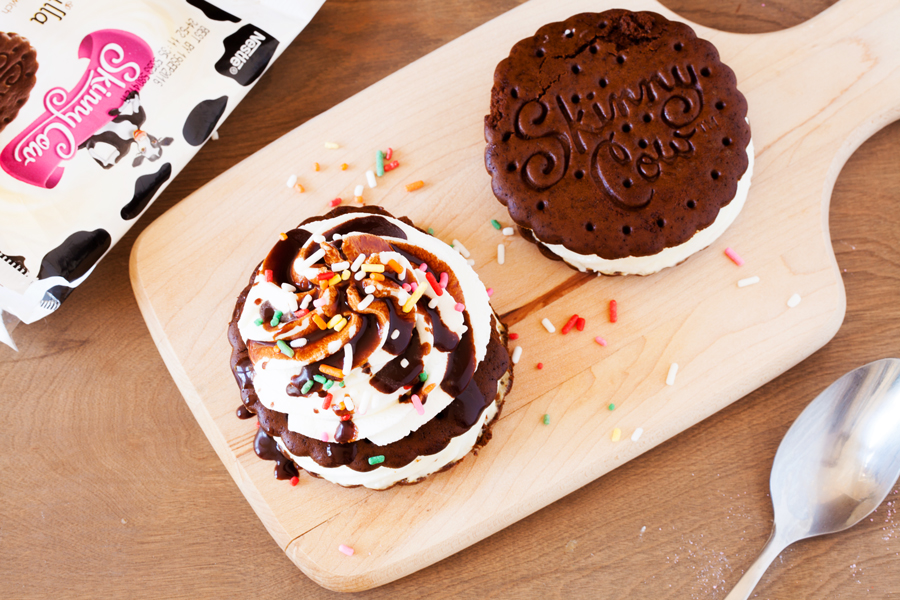 Because I love to bake, I wanted to give her a recipe that she could bake so she can feel like she's at home :D My sister is partial to cooking and usually leaves the baking to me, so I knew that a box mix would need to be in the recipe. I spotted the NEW NESTLÉ® TOLL HOUSE® Baking Mixes, in the brownie variety, and knew these would be perfect for her brownie-loving taste buds.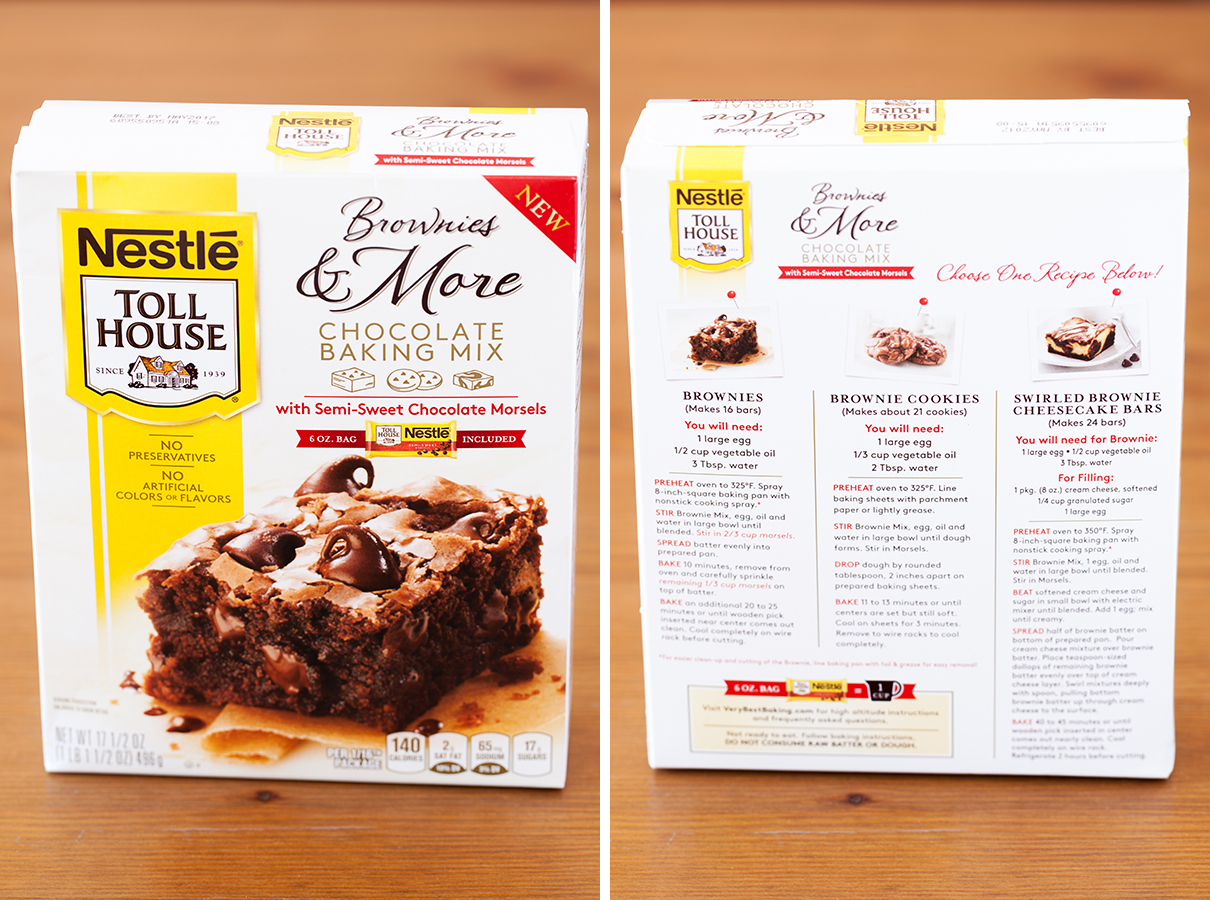 Have you guys seen these mixes? On the back of each box are three different recipes. With just one box, you can make brownies, cookies, or bars! It even came with a bag of NESTLÉ® TOLL HOUSE® Morsels. LOVE IT! Box mixes sure have come a long way since I was a kid.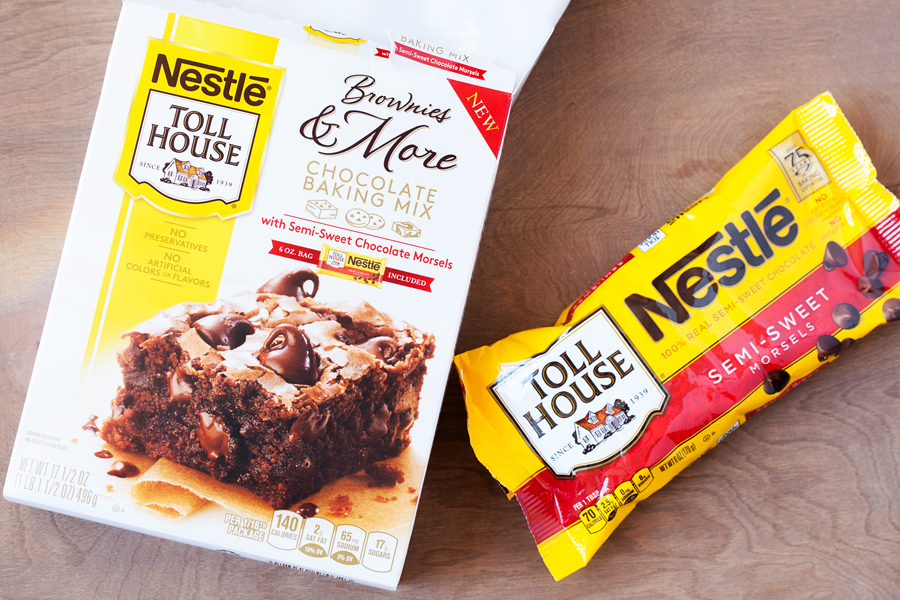 Knowing how much my sister loves brownies, I decided to come up with a brownie variation recipe so she can mix things up a little. I came up with an easy coconut chocolate brownie recipe. To the mix I added shredded coconut and a little coconut extract. To make the brownie extra decadent, I glazed it with a coconut glaze and a drizzle of chocolate. YUM! Keep reading for the recipe.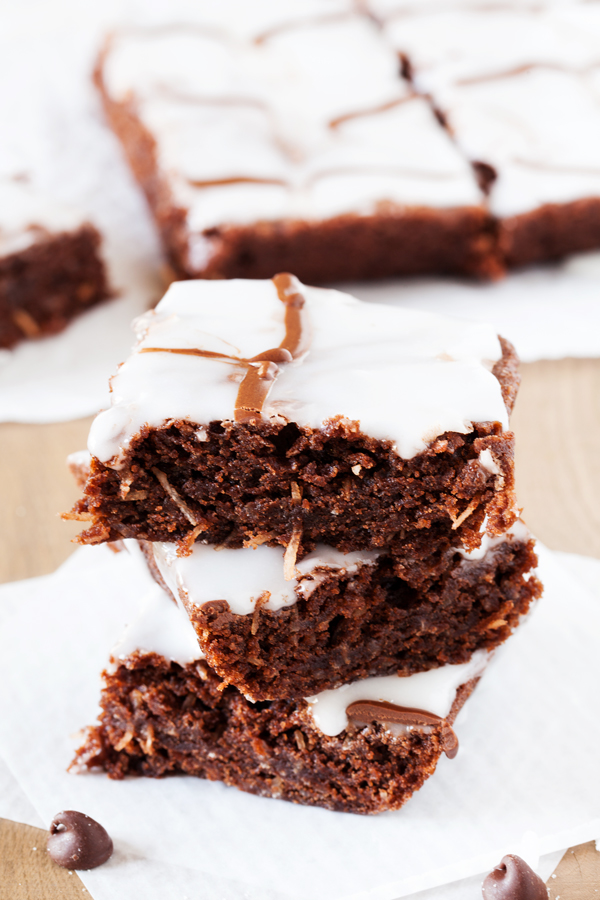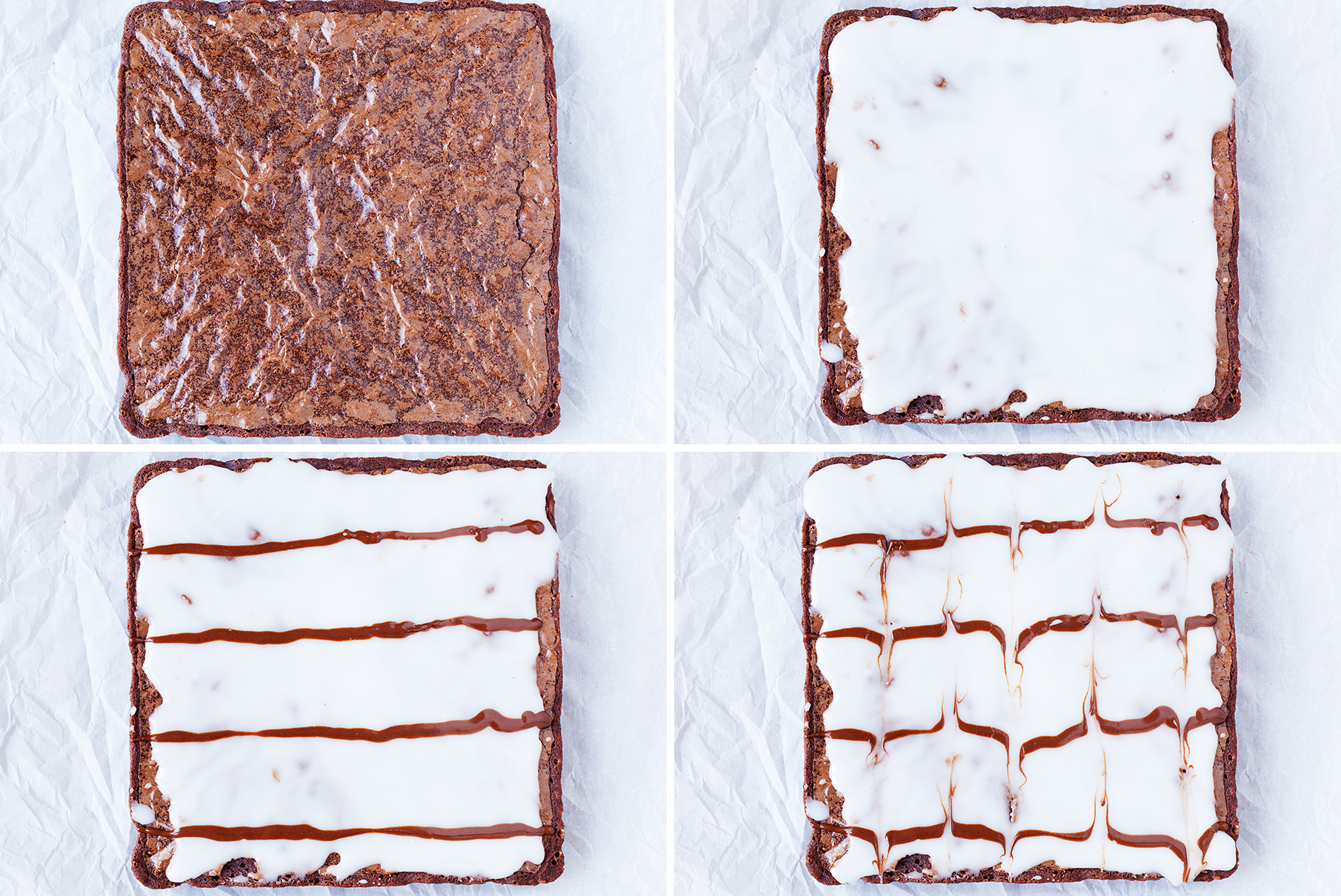 These are just a few ideas on how Nestlé products can provide helpful meal solutions to help make mealtimes during this busy season run a little smoother. You can use mine or come up with your own by visiting your local Safeway store.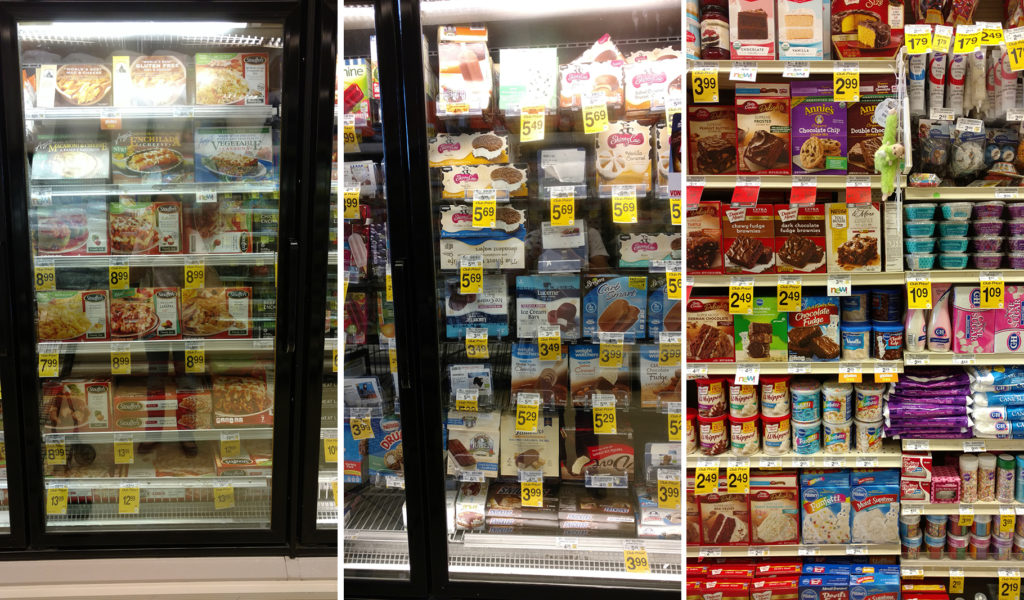 For your chance to win a $100 Safeway gift card, make sure to enter the #NestleSchoolDays Sweepstakes below. In the meantime, make sure to check safeway.com for digital coupons before you go!
#NestleSchoolDays Sweepstakes Coconut Chocolate Brownies
Yields 9 bars
Printer friendly version
Coconut Chocolate Brownies
Ingredients
1 box NESTLÉ® TOLL HOUSE® Brownies & More Chocolate Baking Mix
1 egg, room temperature
½ cup vegetable oil
3 tablespoons water
½ teaspoon coconut extract
½ cup sweetened shredded coconut
Directions
Preheat the oven to 325°F and line an 8-inch baking dish with a foil sling and lightly grease with nonstick cooking spray or butter.
To a large bowl, stir together the baking mix, egg, oil, water, and extract until combined. Fold in the coconut and pour into the prepared baking dish. Bake for 20 – 30 minutes or until a toothpick inserted comes out clean. Cool completely on a cooling rack before removing from the pan.
Coconut Glaze
Ingredients
1 cup powdered sugar
¼ teaspoon coconut extract
1 tablespoon corn syrup
3 – 4 teaspoons water
Directions
Stir together the sugar, extract, and corn syrup. Add water 1 teaspoon at a time until a pourable consistency is achieved.
Chocolate Drizzle
Ingredients
1 ½ tablespoons semi-sweet chocolate morsels
1 teaspoon shortening
Directions
In a small microwave-safe bowl, add the morsels and shortening. Microwave for 10 seconds and stir. Repeat until melted, smooth, and combined. Transfer to a sandwich bag and push the chocolate to a corner. Snip off a bit of the corner and drizzle lines over the coconut glaze.
Decorative Design
Create a decorative design by drizzling parallel lines over the glazed brownie. Use a toothpick to drag straight lines down the brownie, perpendicular to the chocolate lines.