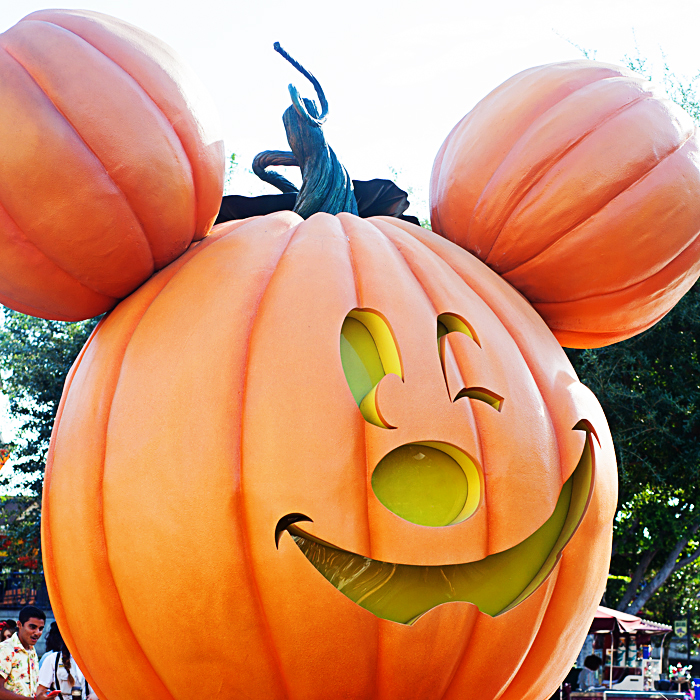 Pre annual pass days (over 8 years ago), trips to Disneyland were very strategic and scheduled. Because of the high ticket prices (let's not even talk about what they are today), we wanted to make the most of our day. We'd wake up at 4:30 AM, get to our favorite pre-Disneyland restaurant, The Original Pancake House, by 6 AM (when they opened), and get to the park by 8 AM! Our first stop was to grab a FastPass from Space Mountain before heading to Matterhorn. While in line, we'd pull out the park map and plan the next 3 attractions, taking FastPasses into account. This continued with all subsequent lines for the rest of the day. At the end of every attraction, time was never spent deciding what to do next. It was all planned out and everyone in our party knew the plan. By noon, we'd have all the FastPass attractions out of the way to spend a little time enjoying lunch. During lunch, we'd plan out which parades we'd like to watch and when we need to start "setting up camp" for fireworks and Fantasmic. After lunch, we'd spend the rest of our day lining up for rides where FastPasses aren't an option. We only left the park when it closed at midnight and by the time we left the parking lot, it was nearly 1 AM. Those days were exhilarating, exhausting, and over!
Now, Warren and I have annual passes and no longer have to be so regimented. We get to look around the park and enjoy everything it has to offer! Sometimes, we would just grab dinner, catch a ride, MAYBE stay for the fireworks, and call it a day. We get to breathe a little ;) This brings me to the inspiration for this post. Halloween Time and Holidays at Disneyland are extremely magical for all Disney fans. Right now, Halloween Time will last until November 1st and I wanted to slowly make my way through the park to enjoy all the details that cast members spent countless hours planning and setting-up, that make Halloween Time so special for visitors.
I hope you enjoy this virtual tour of the Halloween Time details as much as I enjoyed capturing them :)
The details begin even before entering the park. This is right above the gates into the park.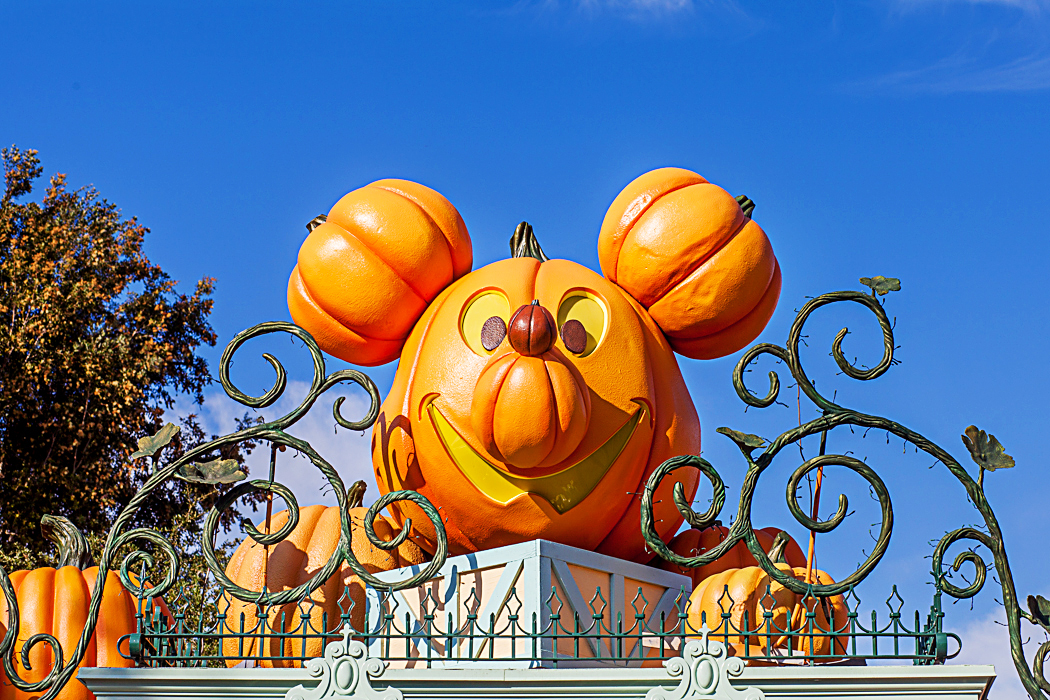 The signage around the park is adorable and some even pay tribute to the Diamond celebration.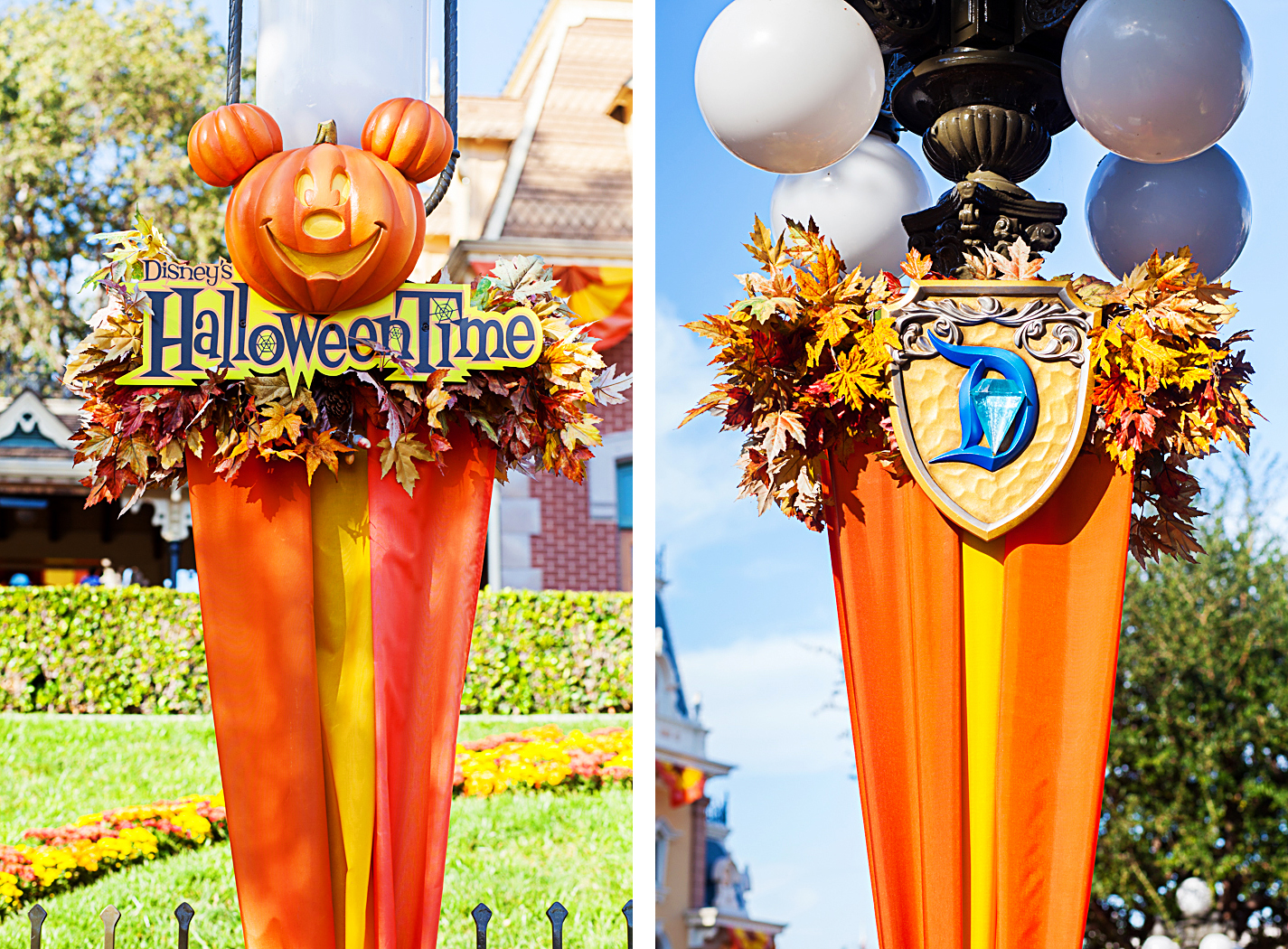 Just past the flag pole, you are welcomed into Main Street by the Mickey Pumpkin, which is an obligatory picture spot.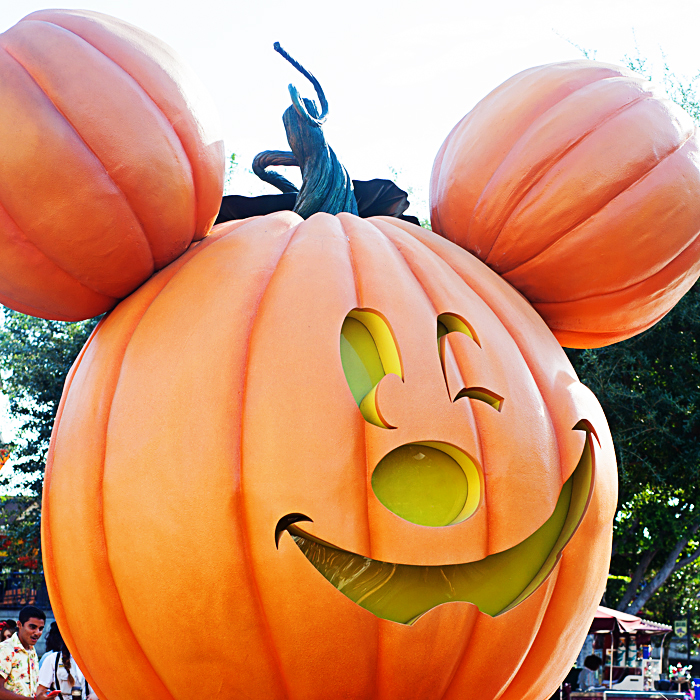 Jack o' Lanterns line balconies and window sills up and down Main Street.

I particularly enjoy the window displays. They are always so creative.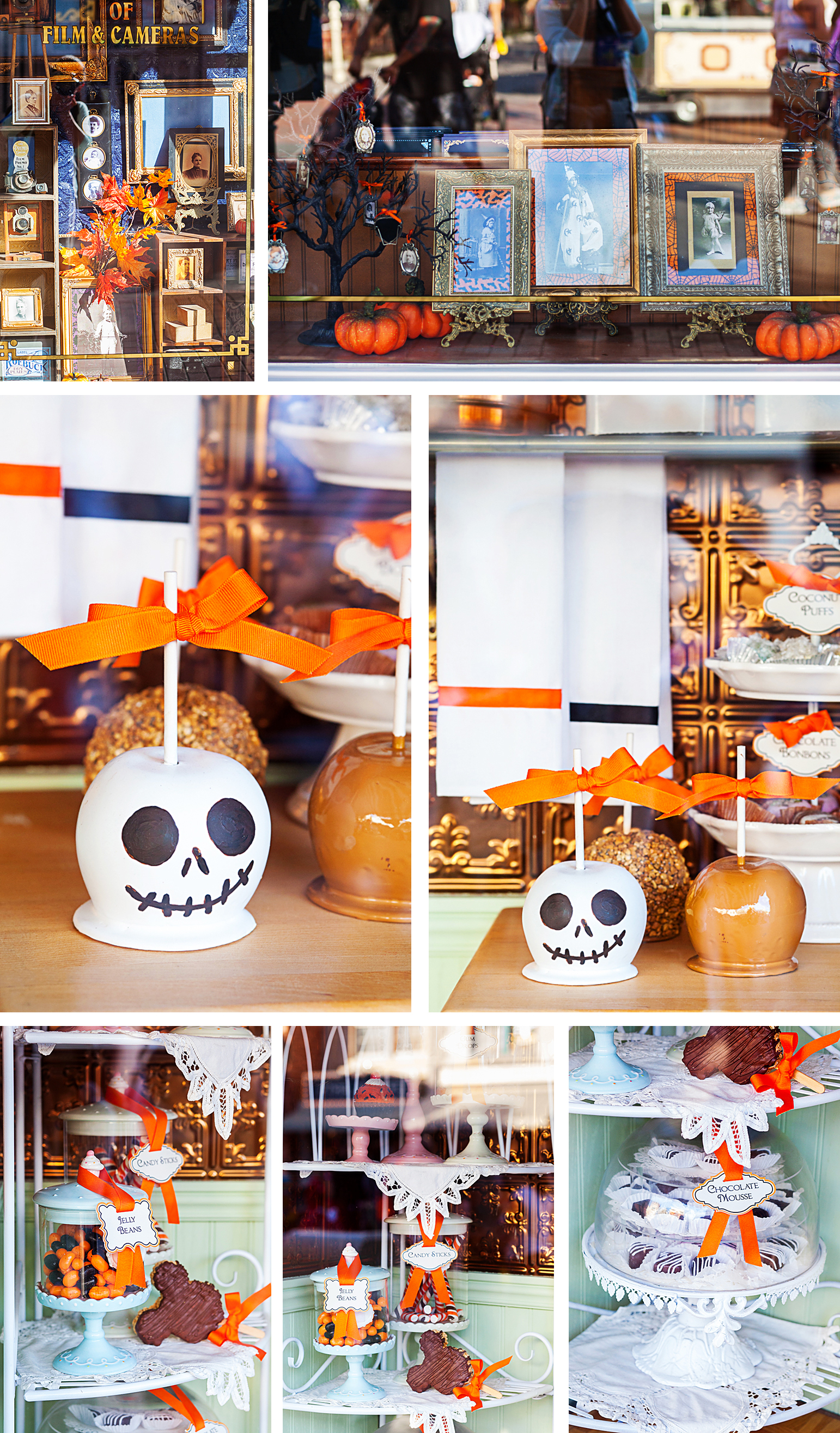 How awesome is this clock?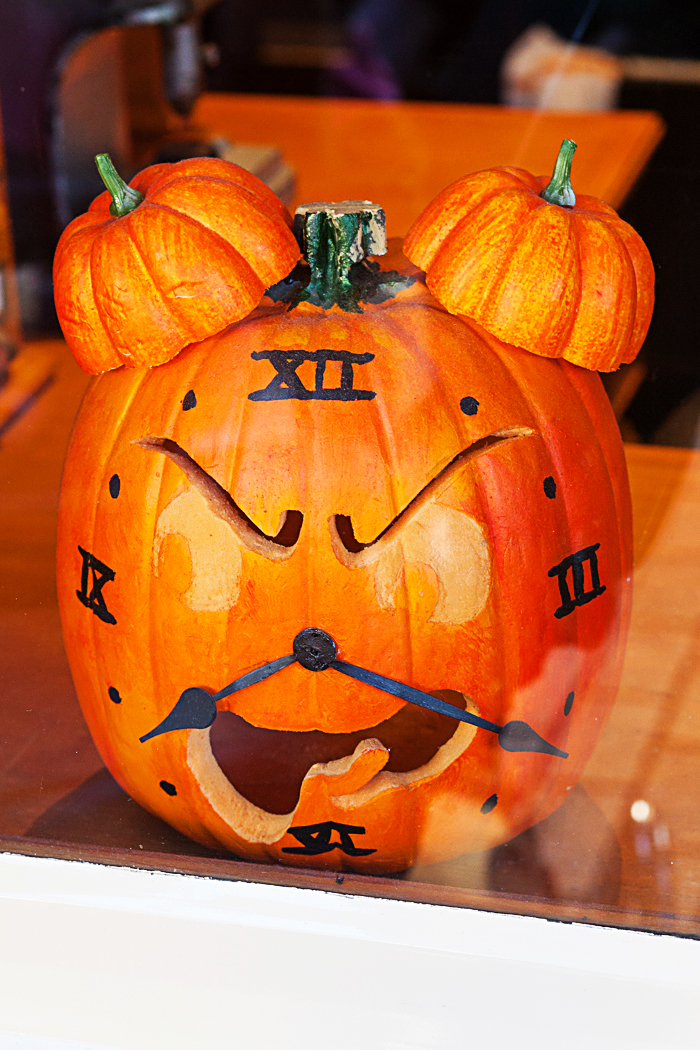 Even the plants are strategically chosen to represent the autumn theme.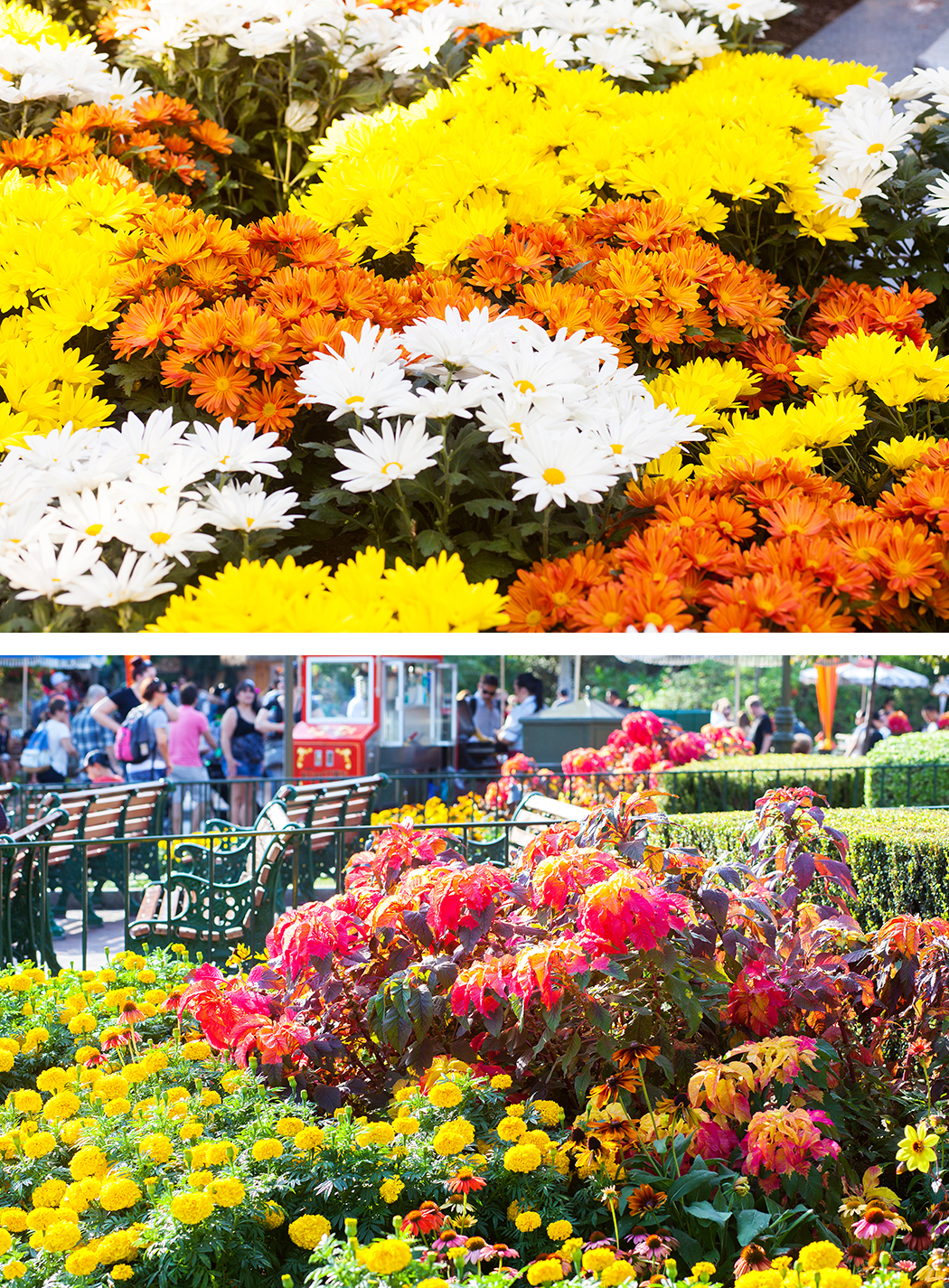 Surrounding the Partners Statue are character pumpkins that represent each land.
On Mickey's Halloween Party days, these Mickey ghosts are set-up.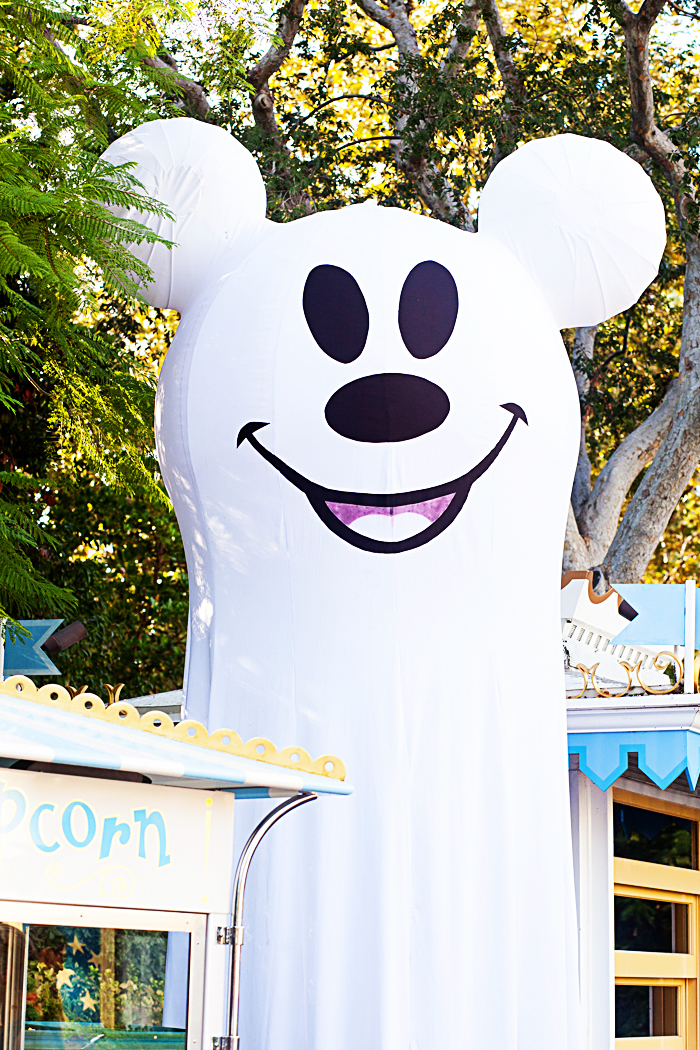 Mickey's Toontown is especially adorable. Even the table umbrellas are swapped out.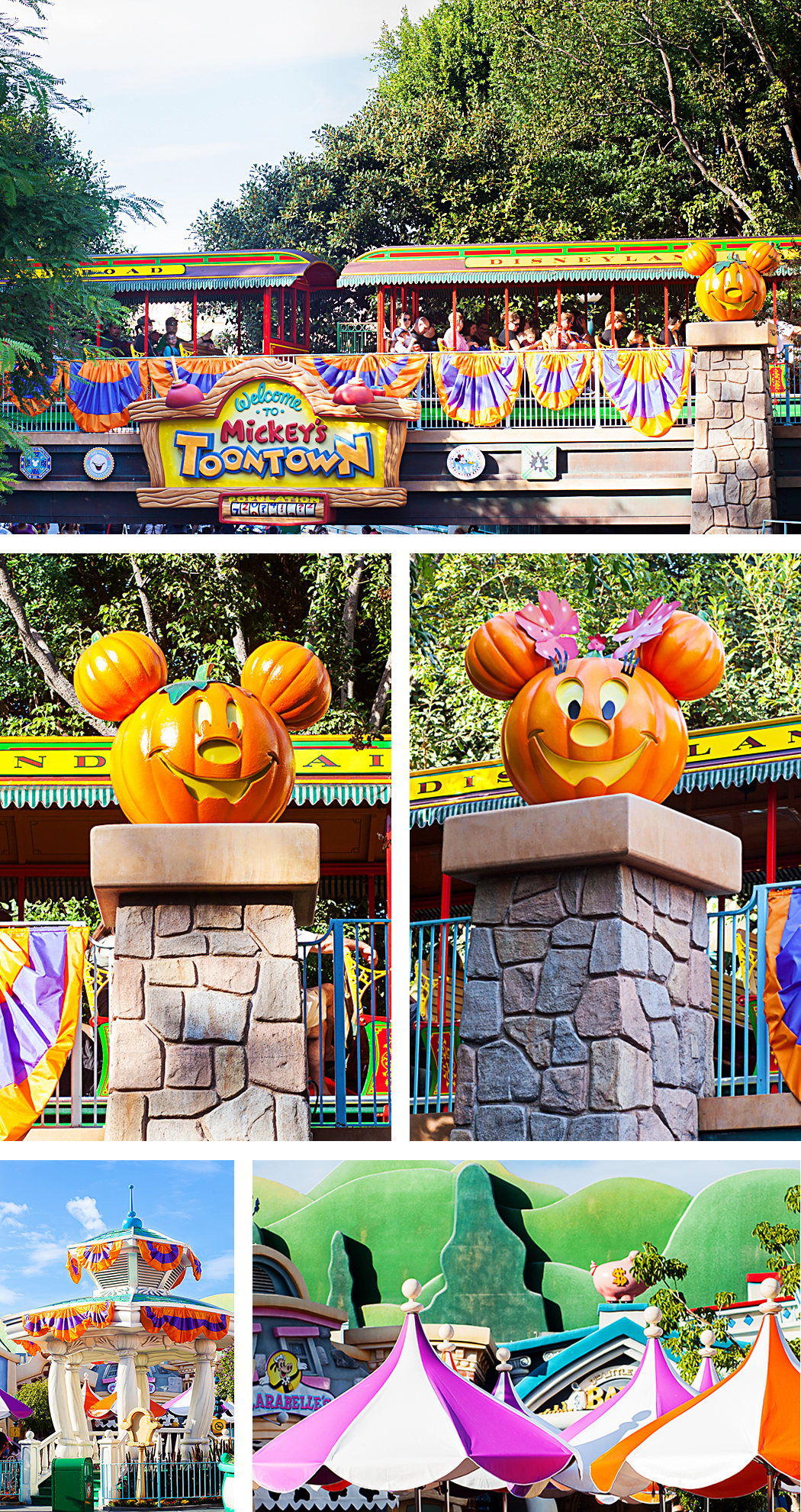 This wagon leads up to Big Thunder Ranch Barbecue.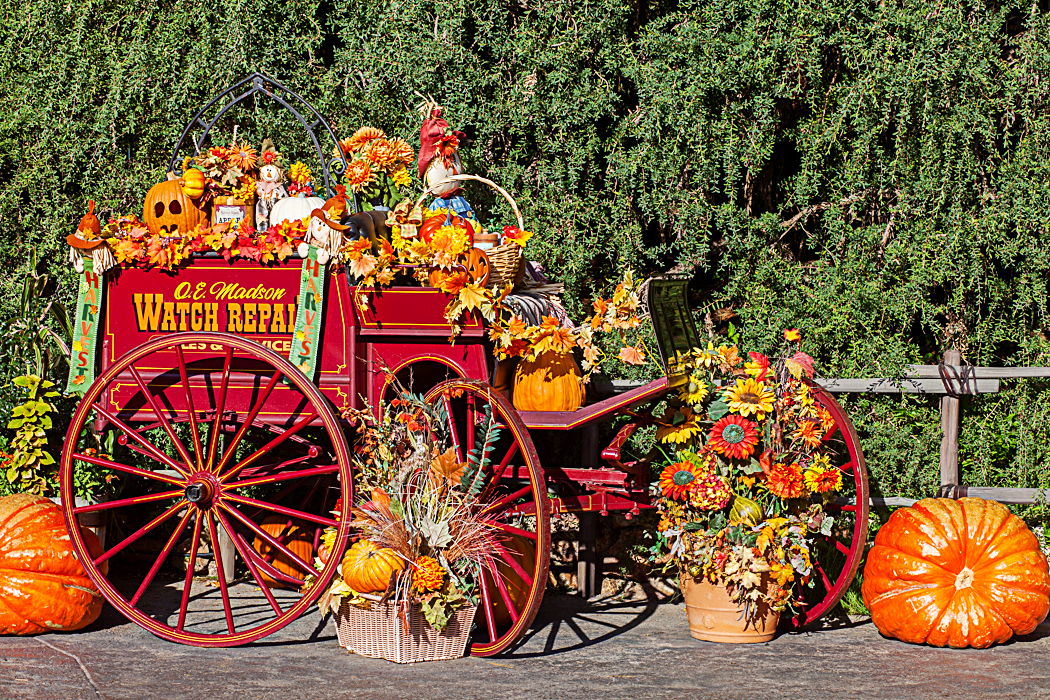 Big Thunder Ranch Barbecue is host to the Thunder Barbecue Halloween Roundup.

Alongside Big Thunder Ranch Barbecue is the petting zoo which was complete with scarecrows.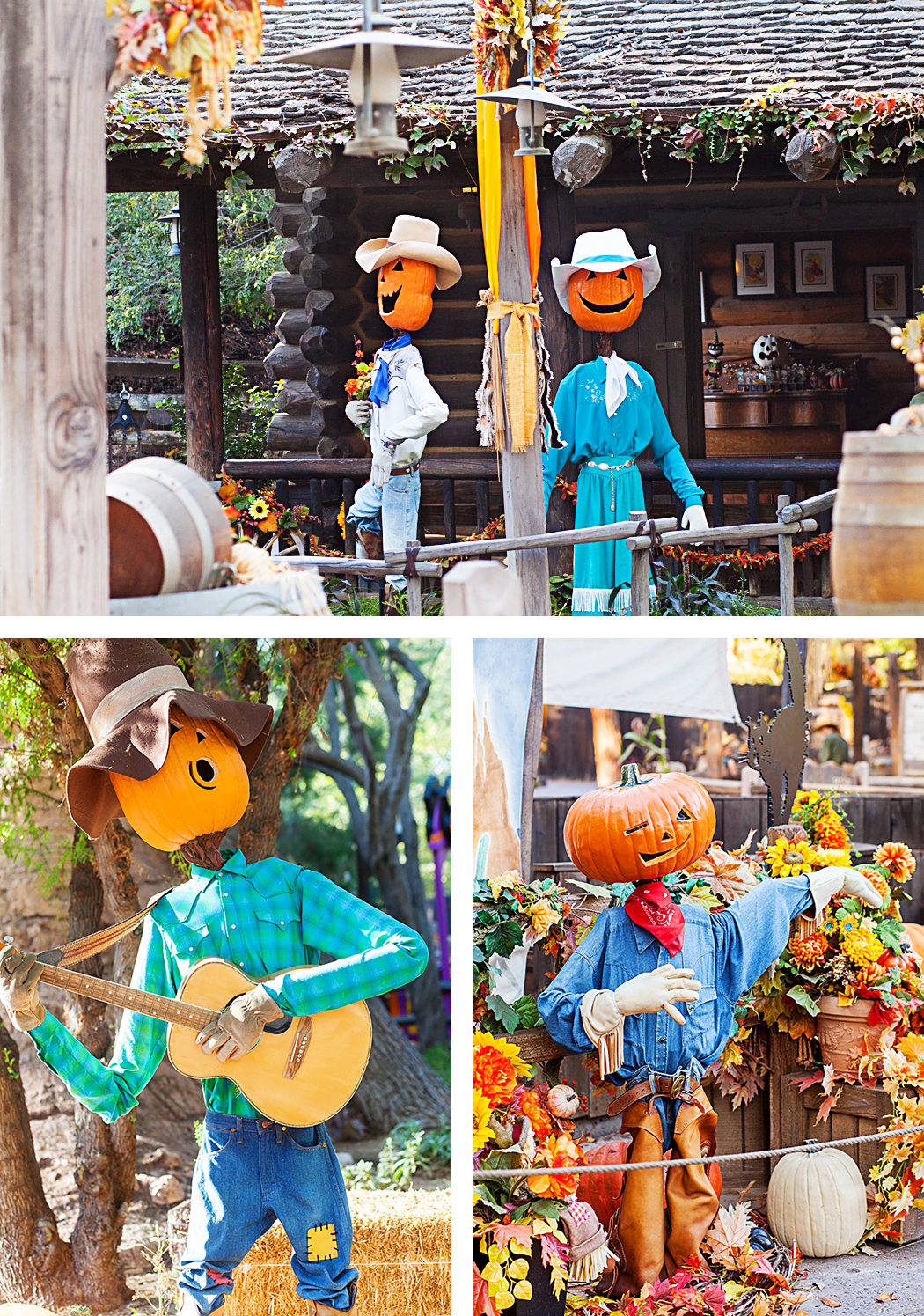 Frontierland pays tribute to Dia de los Muertos at Rancho del Zocalo Restaurant.

Haunted Holiday Mansion is something to look forward to every year.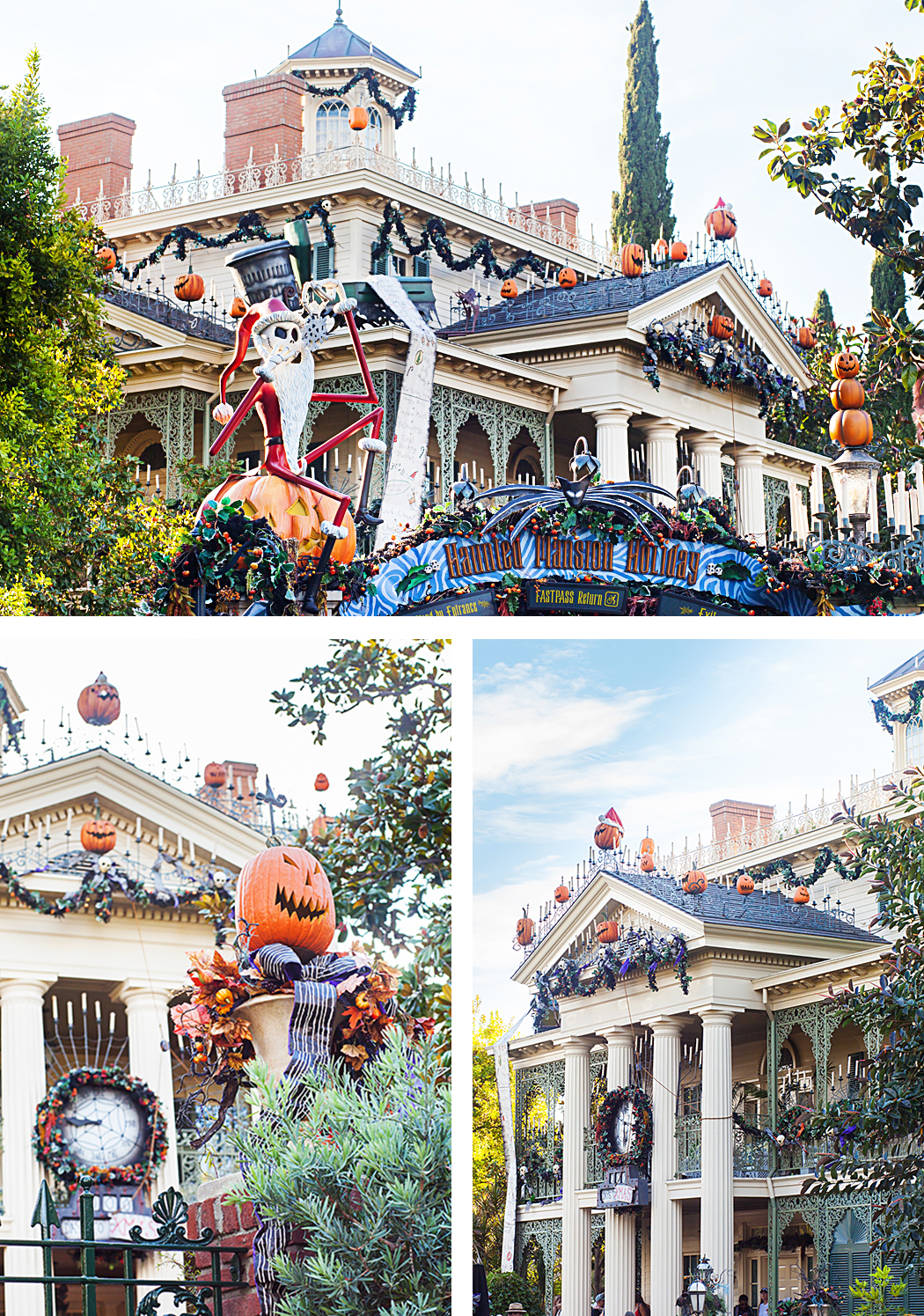 The Vampire Mickey Popcorn bucket is too cute!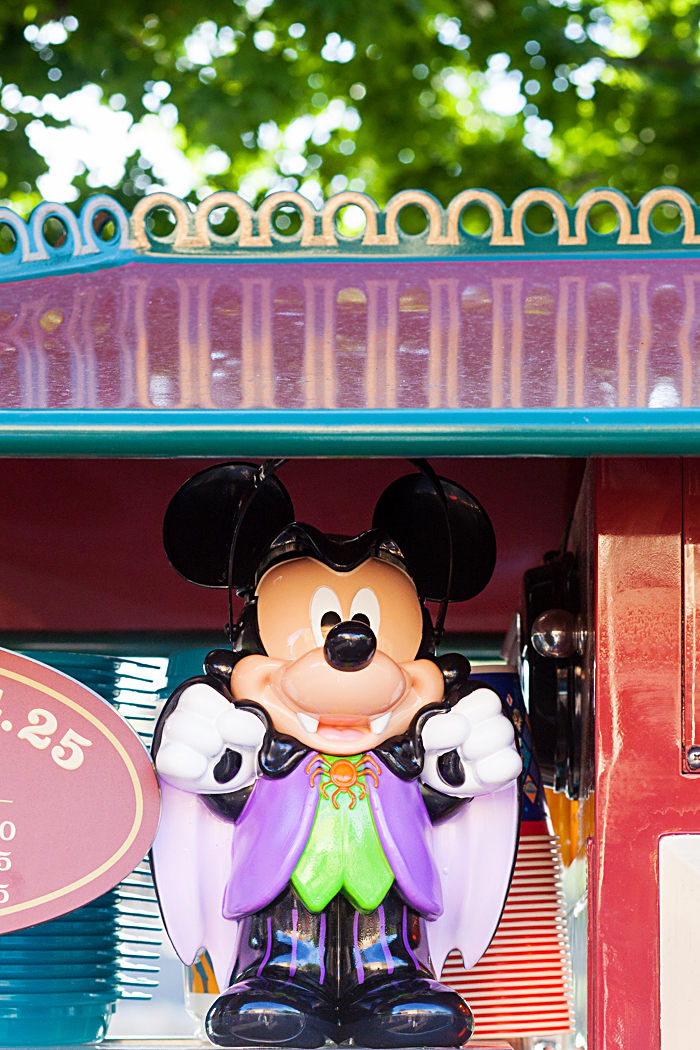 Even the balloons are festive.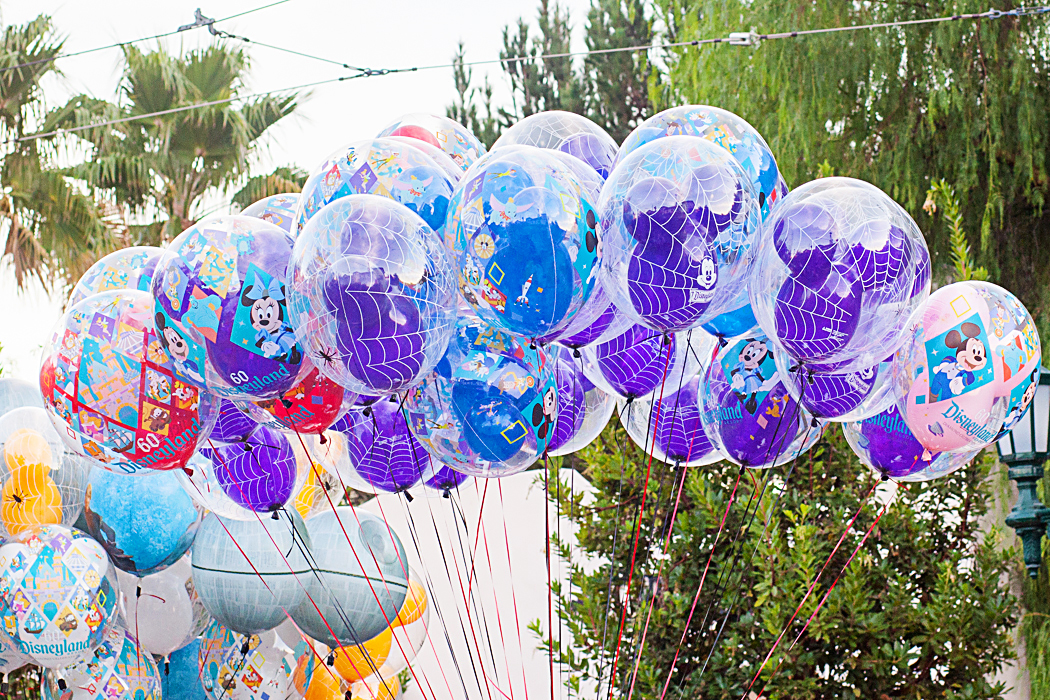 Disneyland is always fully stocked with sweets and treats.

Finally, the lobby at Disney's Grand Californian Hotel & Spa is always featuring an impressive creation by a team of artists, engineers, and bakers. This is the Halloween "Tree-t" Cake. It was created by the Pastry Kitchen Bakers and Craft Services. Standing over 5 feet tall, it consists of 18 pounds of marshmallows, 54 pounds of rice Krispy cereal, 30 pounds of white chocolate, 40 pounds of gum paste, and 15 pounds of fondant!
Have a safe and wonderful Halloween!