Ultra-moist and topped with peppermint pattie buttercream, this recipe for Valentine's Day Peppermint Pattie Chocolate Cupcakes for Two is perfect for you and your Valentine.
Follow Along with the Video!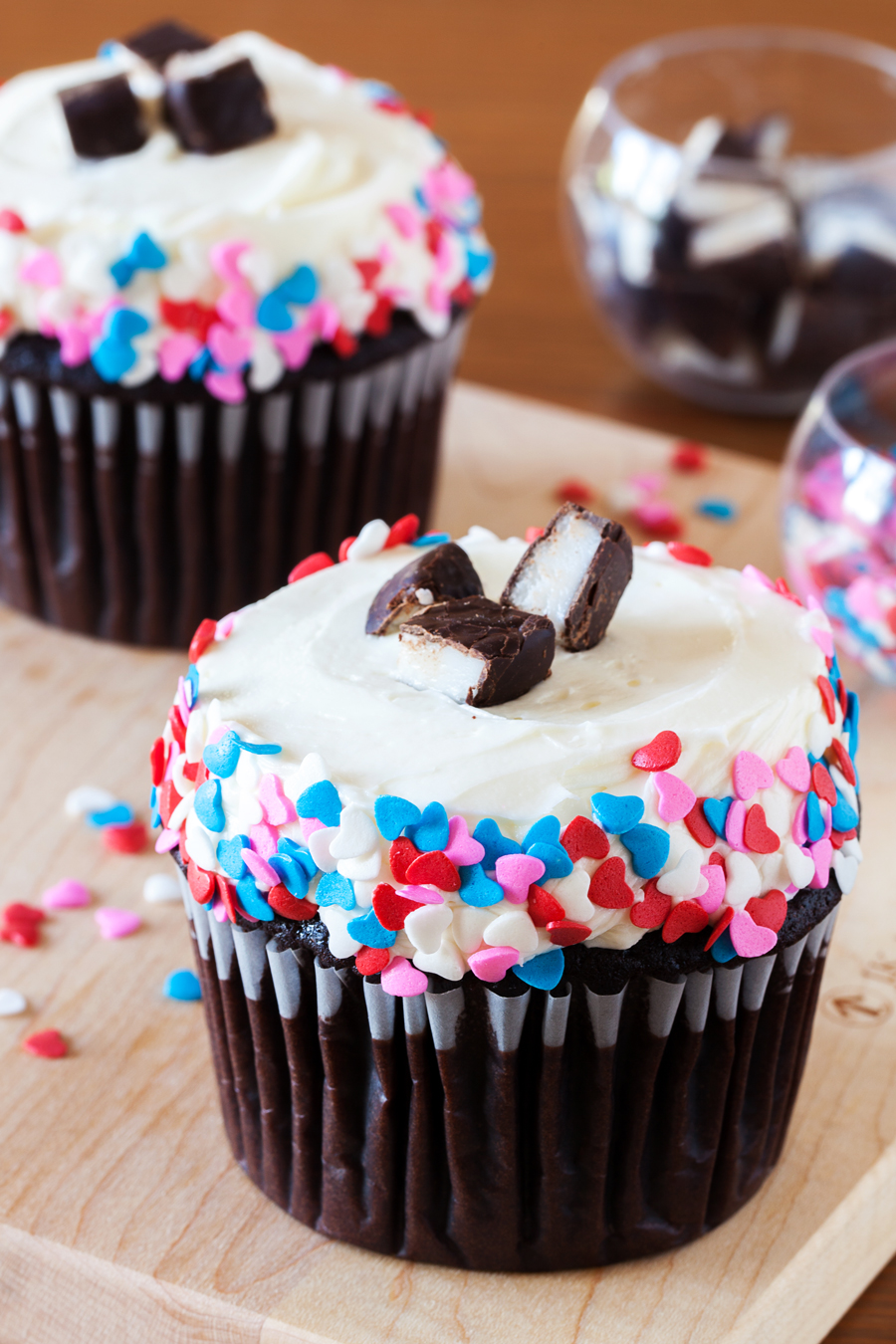 I'm back to give you another sweet treat option on Valentine's Day! The heart shaped apple hand pies I shared earlier this week was really to kick off the morning of Valentine's Day. Today, I present you with another installment of my Cupcakes for Two series so that you're covered for dessert after dinner.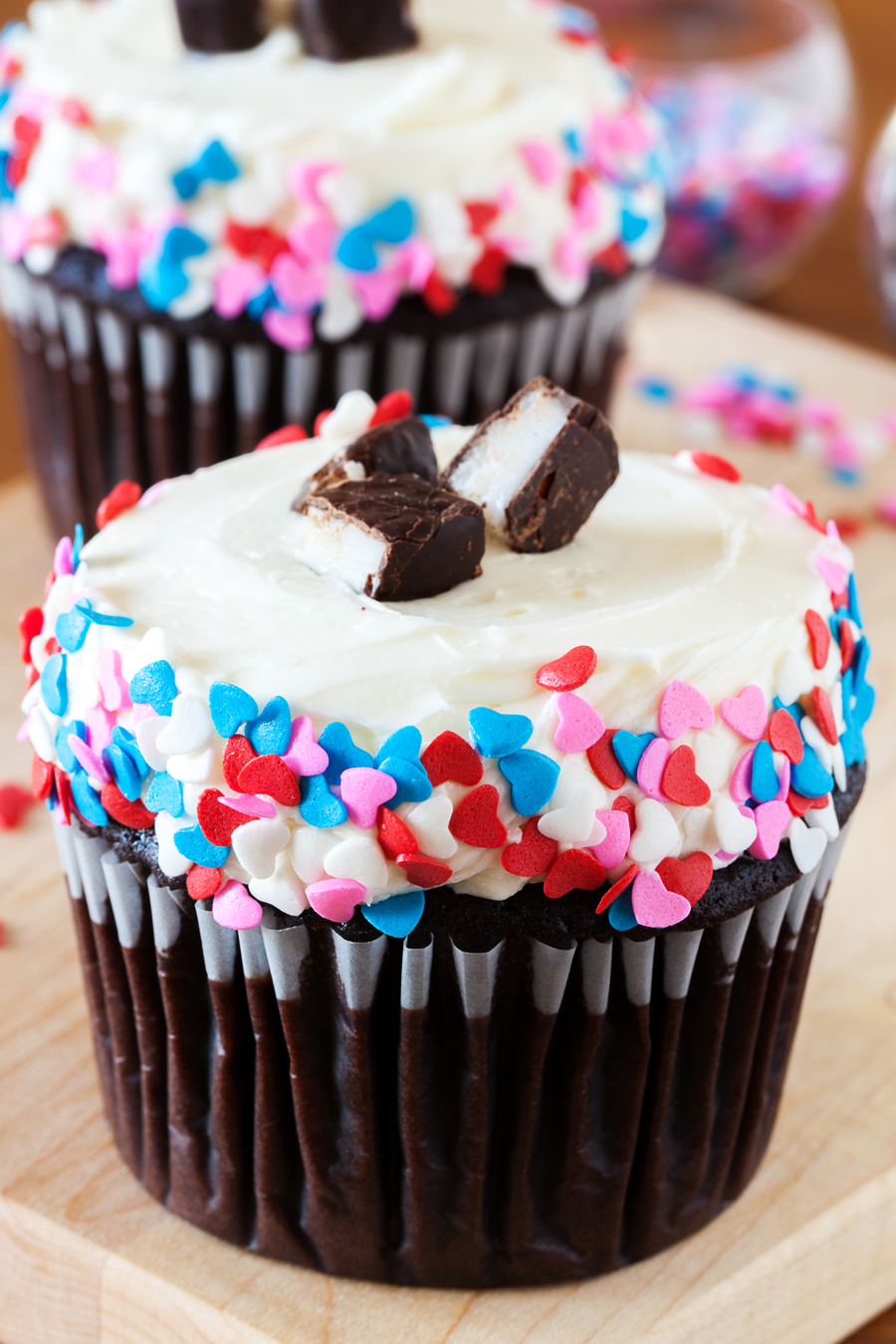 I love developing Cupcakes for Two recipes because they're perfect for when you just need that one (maybe two) cupcake. Recipes that yield only two cupcakes will save you a trip to your local cupcakery AND prevent you from wasting ingredients that would otherwise yield over half a dozen cupcakes.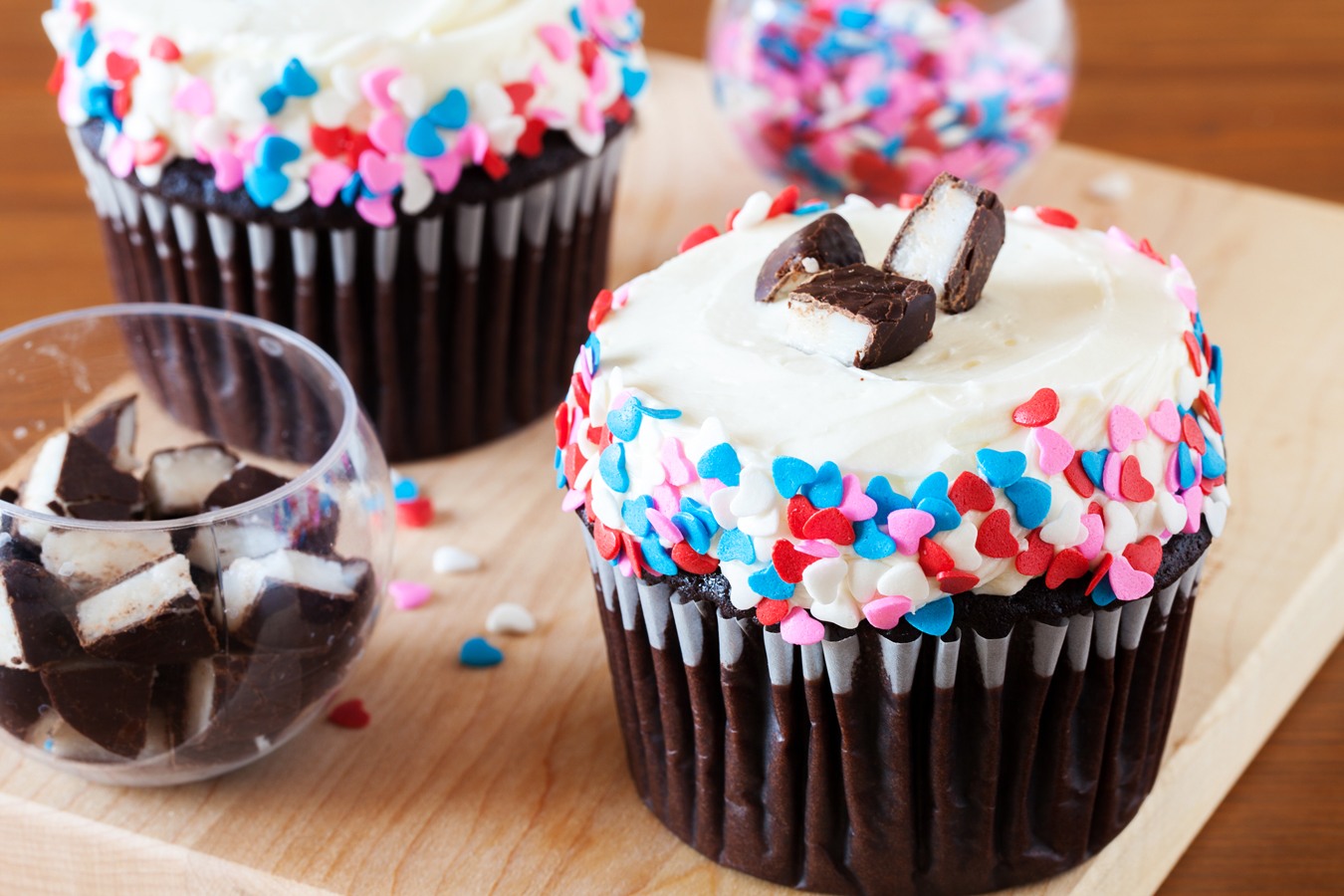 A few things about these cupcakes for two:
They have an ultra-moist chocolate cake base. It took me four tries to achieve the perfect combination of moistness and chocolaty flavor.
They're topped with a peppermint pattie buttercream, ya know, so you can have fresh breath ;)
They're JUMBO sized. Since they were developed specifically with Valentine's Day in mind, I wanted to give them a little something extra. Trust me, no one's going to complain that the cupcakes are too big. If you don't happen to have a jumbo sized cupcake tin, a standard sized tin will do. You'll just end up with four cupcakes instead of two.
I garnished them with some hand-cut York Peppermint Pattie pieces so that there would be no question as to what kind of cupcakes they were and gave them a heart sprinkle trim.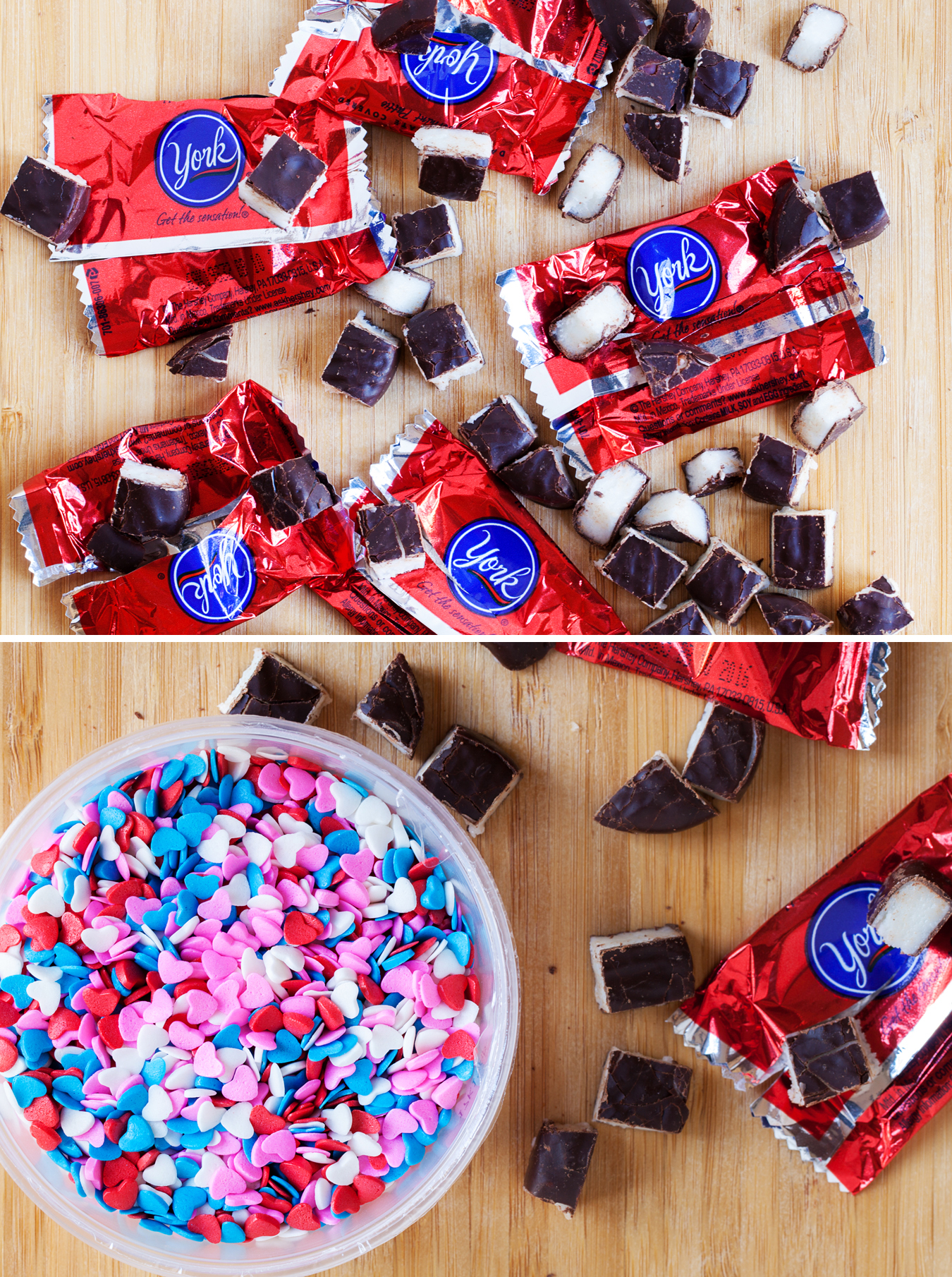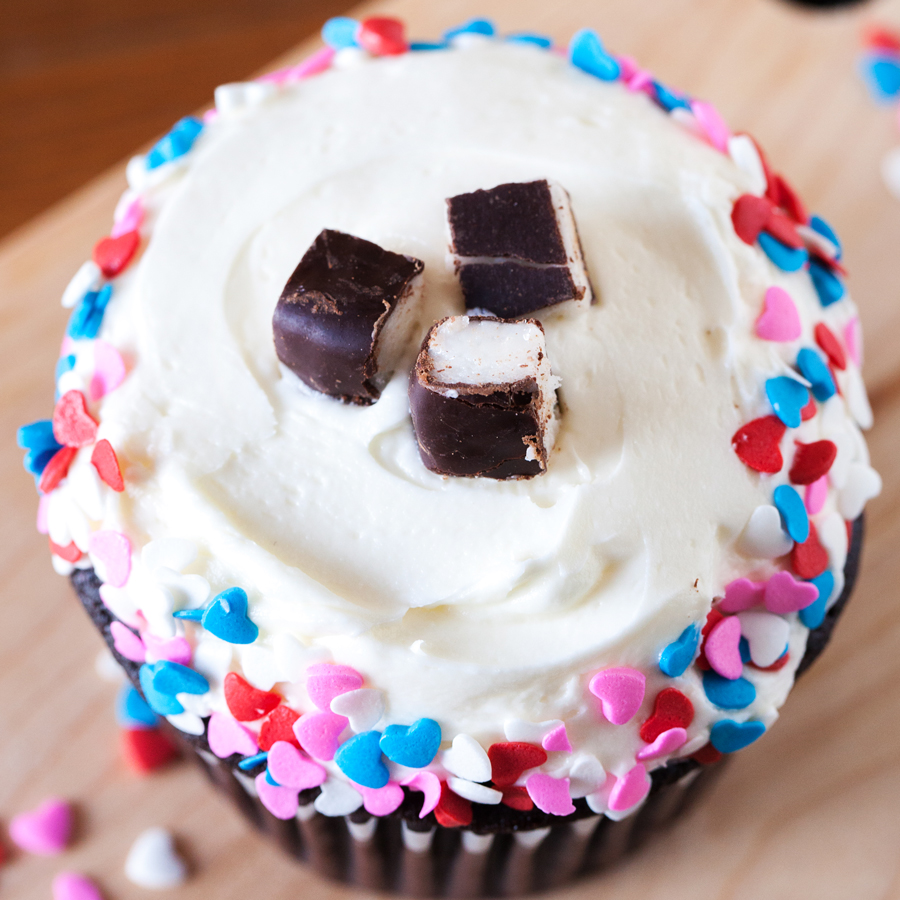 I found these heart sprinkles in the dollar section of Target. Aren't they adorable? I just love the blue mixed in!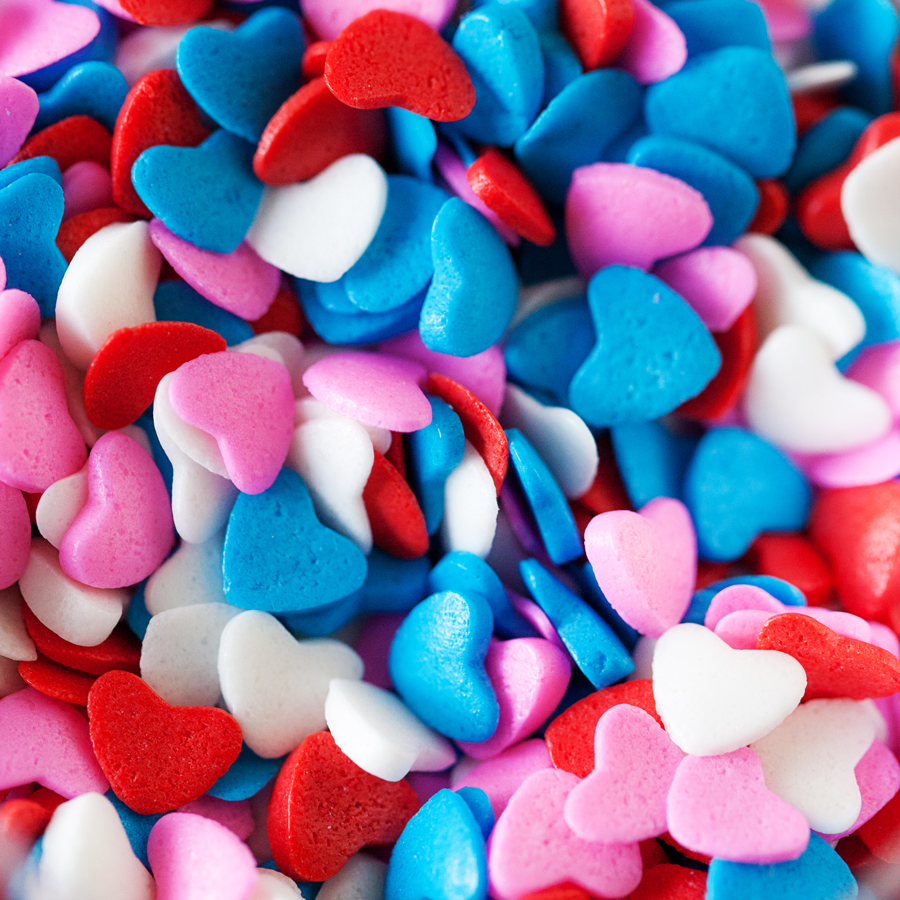 If you and your special someone like chocolate and peppermint patties, you can't go wrong with this one! I hope you both enjoy these cupcakes as much as I enjoyed making them!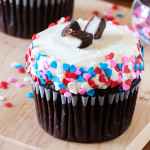 Cupcakes for Two: Valentine's Day Peppermint Pattie Chocolate Cupcakes
Yields 2 jumbo cupcakes or 4 standard cupcakes
Calorie count is for 1 jumbo, unfrosted cupcake.
One batch of frosting yields 332 calories.
Serving Size
:
1
jumbo cupcake
Calories per Serving
:
573
kcal
Ingredients
Peppermint Pattie Chocolate Cupcakes
1 ½

ounce

bittersweet chocolate chips*

3

tablespoon

unsweetened natural cocoa powder (not Dutch-processed)

¼

cup

hot coffee**

¼

cup

(1 ¼ ounces) unbleached bread flour

¼

teaspoon

baking soda

⅛

teaspoon

baking powder

⅛

cup

granulated sugar

⅛

cup

packed brown sugar***

4

tablespoons

vegetable oil

1

large egg, room temperature

3

tablespoons

buttermilk****

½

teaspoon

vanilla extract
Peppermint Pattie Buttercream
1

tablespoon

heavy cream

¾

teaspoon

peppermint extract

8

tablespoons

(1 stick) unsalted butter, softened

1

cup

confectioners' sugar, sifted

2

York Peppermint Patties, cut into ¼-½" pieces

Decorative sprinkles
Instructions
Peppermint Pattie Chocolate Cupcakes
Preheat oven to 325°F. Line 2 cups of a jumbo muffin tin or 4 cups of a standard muffin tin with paper liners.

In a small bowl, combine the bittersweet chocolate and cocoa powder. Pour the coffee over the chocolate and allow to sit for 5 minutes. Stir until melted and smooth.

In a medium bowl, sift together the flour, baking soda and powder, and sugars. Stir to combine and set aside.

In a medium bowl, whisk together the oil, egg, buttermilk and extract.

Whisk the chocolate mixture into the egg mixture until combined. Pour over the flour mixture and stir to combine.

Fill the prepared tin about ¾ full. Bake for 25-28 minutes or until a toothpick inserted comes out clean. Let cool in the tin for 5 minutes before transferring to a cooling rack to cool completely.
Peppermint Pattie Buttercream
Combine the cream and extract in a small bowl.

In a medium bowl, beat the butter on medium speed with an electric hand mixer. Add the sugar and beat until smooth.

Add the cream and beat until smooth and fluffy.
Assembly
Spread the buttercream over the cooled cupcakes and decorate with the patties and sprinkles.
Recipe Notes
*If using a bittersweet bar, finely chop the bar
**I used what was left from my coffee maker. Alternatively, you can mix 1 teaspoon of espresso powder or instant coffee to ½ cup of hot water and use only what's called for in the recipe.
***Light or dark. Use whatever you have on hand
****If you don't have buttermilk on hand, add ½ teaspoon of white vinegar to ¼ cup milk and let it sit for 10 minutes. Use only what's called for in the recipe.