With some unexpected ingredients, you too can make deliciously tangy, ultra-smooth and Creamy Macaroni and Cheese.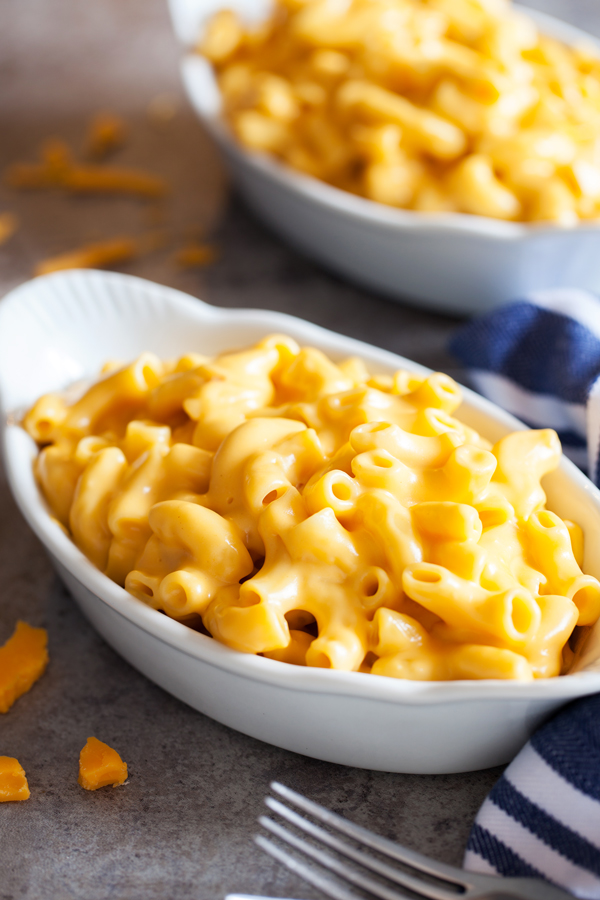 A recipe for Creamy Macaroni and Cheese has been a long time coming. Over the years, I have made many many batches, but none as good as this batch right here! All the recipes I've tried in the past resulted in a dry and curdly looking batch, no matter what trick I tried. Shred your own cheese. Check. Still curdled. Cook over low heat. Check. Still curdled. Nothing worked! With each batch, I was sent on a hiatus from homemade macaroni and cheese before I tried again. And so began a reoccurring cycle of making, dissatisfied eating, and frustration.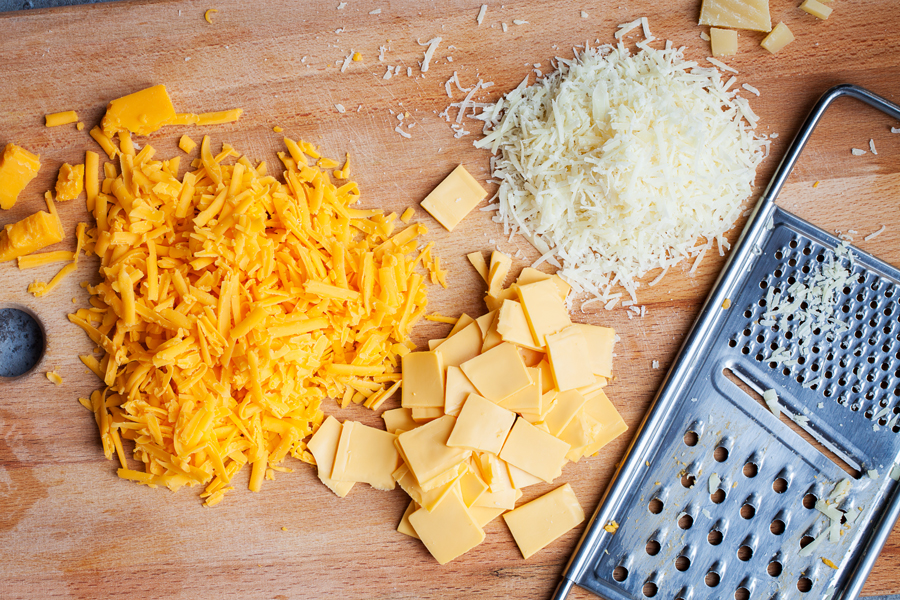 Until now! I stumbled upon an article in the latest Martha Stewart Living magazine that made it all click! The article outlined a basic recipe for the cheese sauce, one of the ingredients being American cheese because it melts smoothly and evenly. Aha! Those words – smoothly and evenly – caught my attention. Perhaps it was the answer to all of my macaroni and cheese problems. In all of my trials, I have never tried American cheese.
Off to work I went and I was beyond thrilled that I was able to make a non-curdled, non-dried cheese sauce! AND be able to replicate it! Since that recent recipe, I have modified the basic recipe some, tweaking here and there and including techniques that I've heard along the way. The result is this ultra-smooth and­­ Creamy Macaroni and Cheese.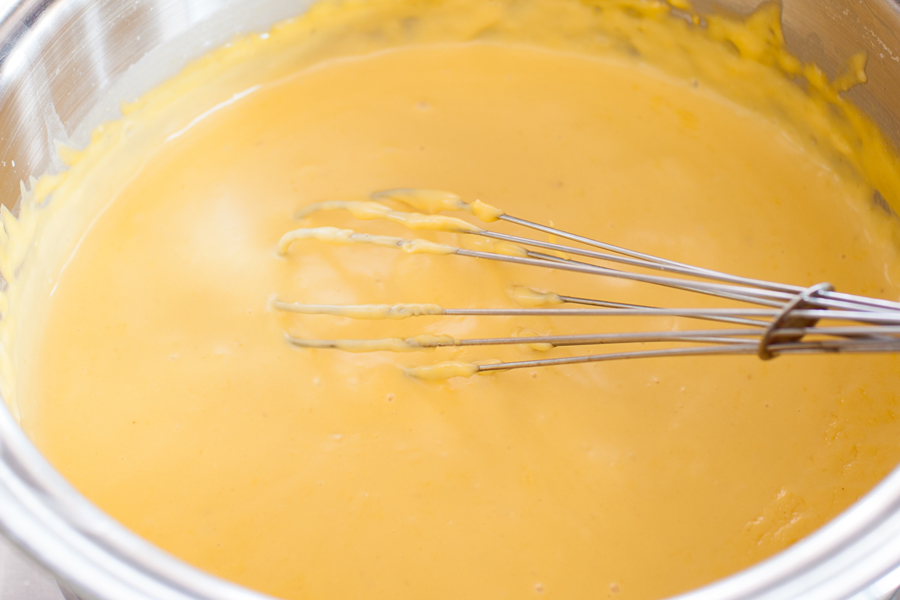 In addition to the American cheese, which is largely contributes to the smooth melt, are two other cheeses – extra sharp cheddar cheese and Parmesan. In my opinion, extra sharp cheddar cheese is required. It gives the sauce a tangy zing like Stouffer's Macaroni and Cheese, which I'm addicted to. And the Parmesan gives it a nutty undertone.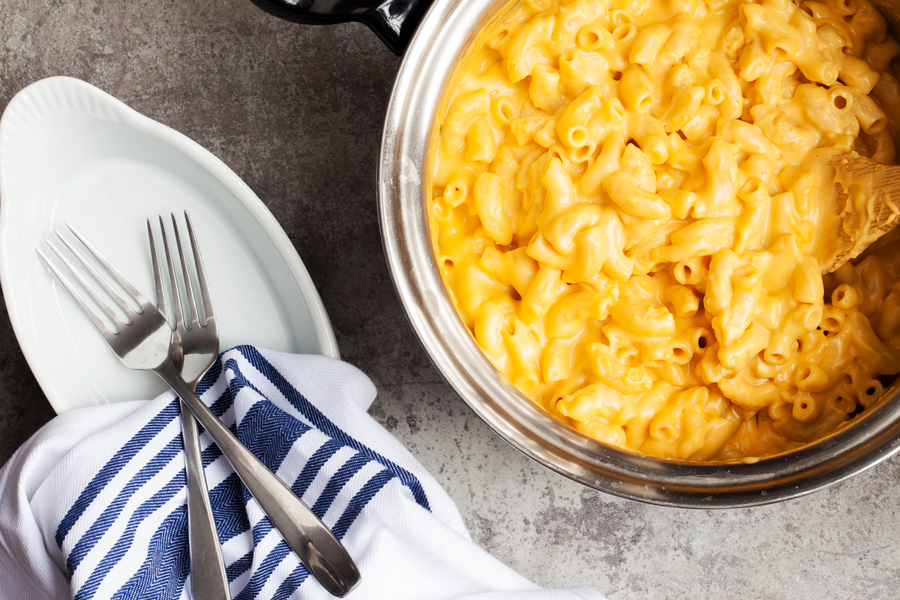 Other things that help make this macaroni and cheese smooth and creamy are using milk AND evaporated milk to make the roux. And, warming both before adding it to the butter and flour mixture helps with temperature control to prevent the flour from clumping.
If you've had trouble with producing Creamy Macaroni and Cheese in the past, I STRONGLY encourage you to give this recipe a try. It's foolproof!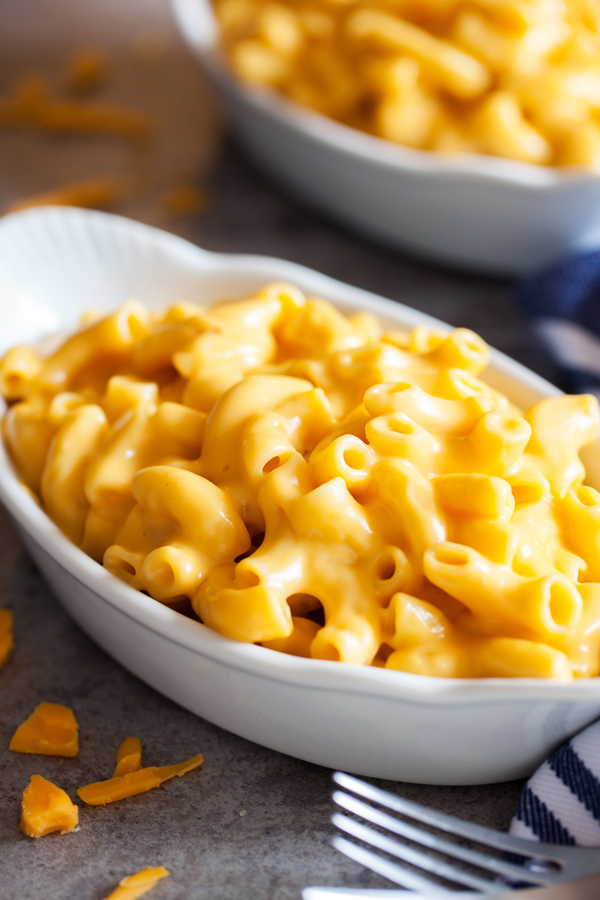 Video by Katie from Made to be a Momma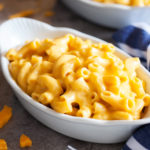 Creamy Macaroni and Cheese
Yields 4 servings
Calories per Serving
:
905
kcal
Ingredients
16

ounces

large elbow macaroni*

3

tablespoons

unsalted butter

¼

cup

flour

2

teaspoons

mustard powder

1

cup

whole milk, warmed**

1

can

(12 ounces) evaporated milk, warmed**

1

cup

(4 ounces) American cheese, chopped***

2

cups

(8 ounces) extra sharp cheddar, shredded

1

cup

(4 ounces) fresh Parmesan, grated
Instructions
Heat a large pot to boiling and cook the macaroni for the time instructed on the packaging minus 1 minute (ie. if the instructions say cook for 9 minutes, cook for 8 minutes). Reserve 2 cups of pasta water and drain.

To the now empty pot, heat the butter over medium heat until melted and foaming. Add the flour and whisk until no clumps remain. Whisk in the mustard powder until combined.

Stir in the two milks until combined. Bring to a boil and reduce heat to low to simmer. Simmer until thickened.

With the heat on low, add the American cheese, ½ cup at a time, and stir using an 8 figure motion until mostly melted before adding the next ½ cup. Repeat with the remaining cheeses.

Pour the cooked macaroni into the cheese sauce and stir until fully coated. If the cheese sauce is too dry, add in the reserved pasta water ¼ cup at a time until the desired consistency is reached. Serve immediately.
Recipe Notes
*I liked using the large elbows because there's that much more sauce in each bite, but feel free to use regular elbows!
**About 30 to 60 seconds in the microwave.
***Like Kraft Singles, found in the refrigerated section. DO NOT USE Velveeta.