These Coconut Macadamia Nut Almond Snack Bars are perfect for an after school snack and will fill your mouth with warm, tropical flavors.

Summer is quickly coming to a close and though I can go without the heatwaves, I'm not ready for it to come to an end. Once the end of summer arrives, it seems like the rest of the year just flies by. Very soon, stores in the U.S. will be filled with pumpkin everything and shortly after that, radio stations will be playing holiday music 24/7. Although I love the Fall and Winter seasons, I just don't want the year to come to a close. I can see the 2017 horizon! Can't you?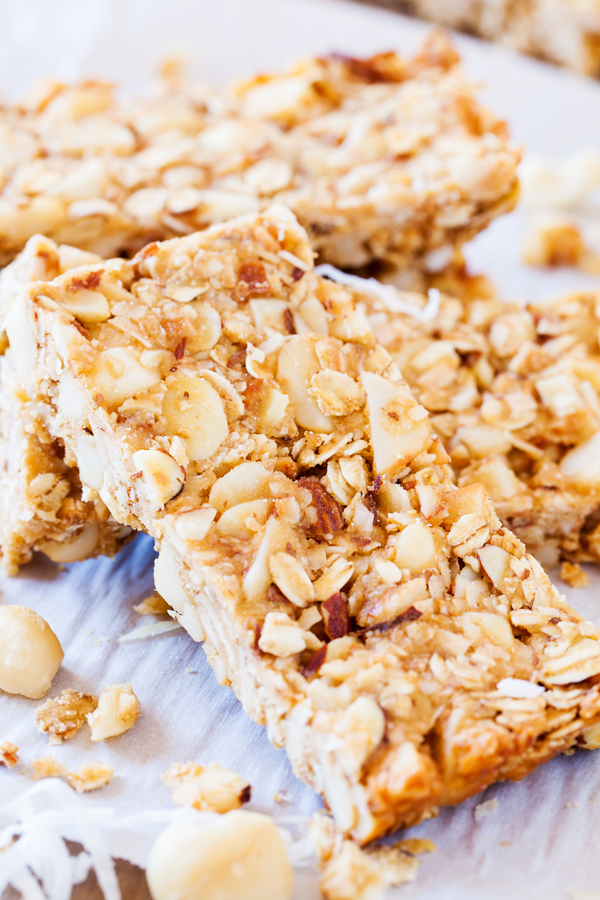 So, I'd like to enjoy summer a little bit longer and I'd like to do it enjoying these Coconut Macadamia Nut Almond Snack Bars. One bite of the coconut and macadamia nut combo fills your mouth with warm, tropical flavors so that we can pretend to slow down time and feel like summer is only beginning. Yes, I am in denial, but I'd like to enjoy every last bit of summer before reintroducing my taste buds to Fall flavors!
If you've made my Crunchy Peanut, Almond, and Oat Bars or Chewy Café Mocha Nut Bars, you already know how similar to Kind Bars they are and how they are so much better than granola bars! I'm just slightly obsessed with Kind Bars, so being able to replicate and customize the flavors at home is a HUGE plus.

If you are a Coconut fan, you are going to LOVE these. I used coconut flour with agave nectar to bind everything together. Have you tried coconut flour? I originally bought some to bake for my gluten-free friend (check-out these gluten-free cookies that I baked for her) and Oh…My….Word….it's phenomenal! It smells incredible, like I've died and gone to coconut heaven, and bakes up nicely in sweet baked goods. It's super fine too and very reminiscent of cake flour, just without the gluten ;)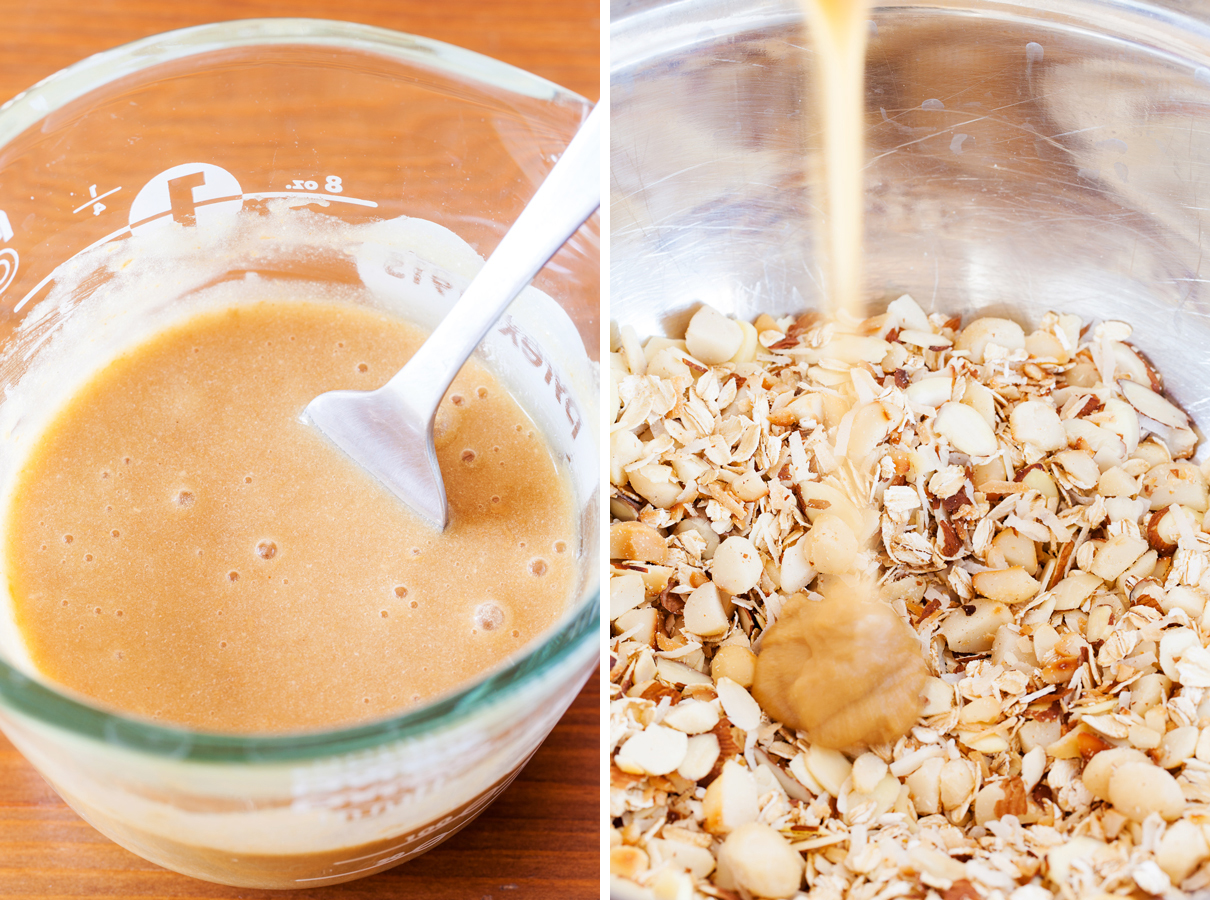 Aside from the coconut flour, there's also toasted coconut! The added coconut gives it a slight crunch and a nice bite. Now, where there's coconut, there must be macadamia nut, so I chopped some up, toasted them lightly and tossed them in! Yes, both coconut and macadamia nuts are toasted. Do not skip the toasting step because it helps to release the fragrant and aromatic oils and really enhances the flavor. It really makes all the difference!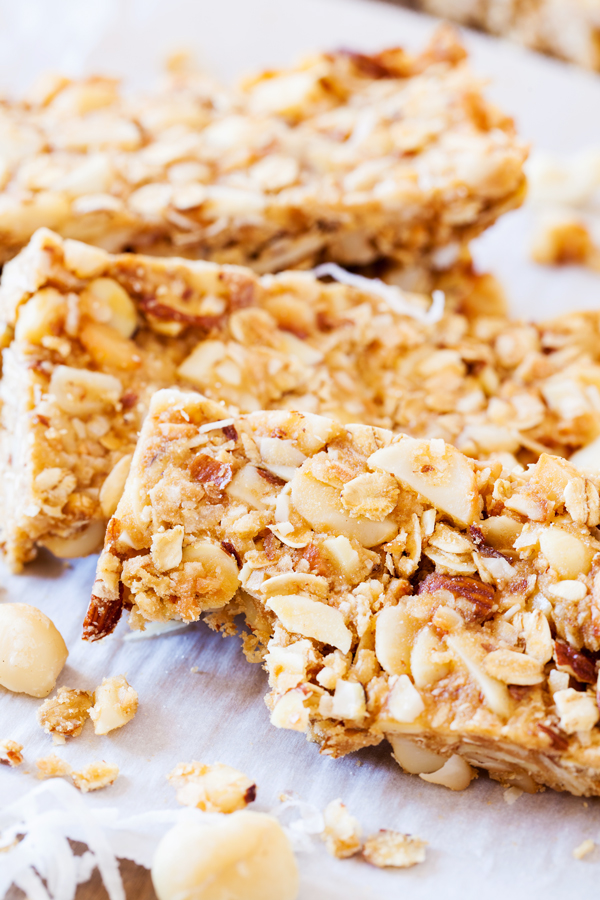 To me, a snack bar isn't a snack bar without almonds, so I threw some sliced almonds in too! But, if you are a purist, feel free to add more macadamia nuts.
I hope you enjoy these Coconut Macadamia Nut Almond Snack Bars as much as I do. You may just end up making them year-round ;)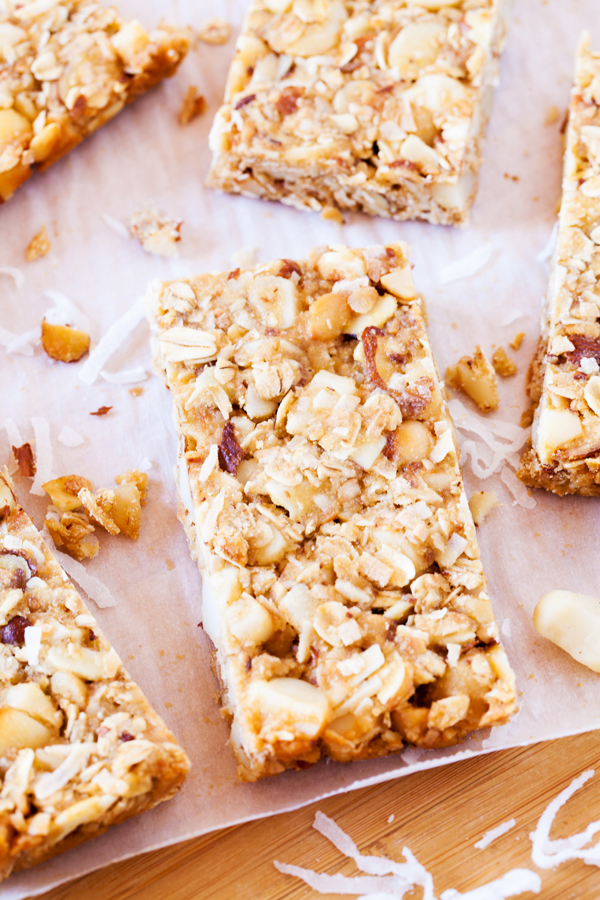 Coconut Macadamia Nut Almond Snack Bars
Yields 8 bars
Calories per Serving
:
267
kcal
Ingredients
⅓

cup

agave or honey

1

tablespoon

sunflower butter or almond or peanut butter

1

teaspoon

vanilla extract

¼

cup

coconut flour or almond meal

1

cup

unsalted macadamia nuts, chopped and toasted*

½

cup

sliced almonds

½

cup

sweetened shredded or flaked coconut, toasted*

½

cup

dried oats
Instructions
Preheat the oven to 300°F and line a 8-inch baking dish with a sling made from parchment paper.

In a small bowl, whisk together the agave, sunflower butter, vanilla extract, and coconut flour. Set aside.

In a large bowl, combine the macadamia nuts, almonds, coconut, and oats.

Pour the agave mixture over the nut mixture and stir until combined.

Transfer the mixture into the prepared baking dish and tightly pack the mixture down in the baking dish with slightly wet hands, creating an even surface.

Bake for 20 minutes. Remove from the oven and allow to cool in the baking dish on a cooling rack for 1 hour.

Using the overhang from the sling, gently remove the plaque and cut evenly into 8 bars.
Recipe Notes
*To toast, heat in a skillet over medium-low heat, stirring constantly until golden.
Storage
Store in an air tight container in the refrigerator for up to 7 days. Separate each layer using a sheet of parchment paper.