Chili Cheese Stuffed Potato Skins consist of an entire russet potato half, are loaded with a hefty filling, and finished off with mouthwatering toppings.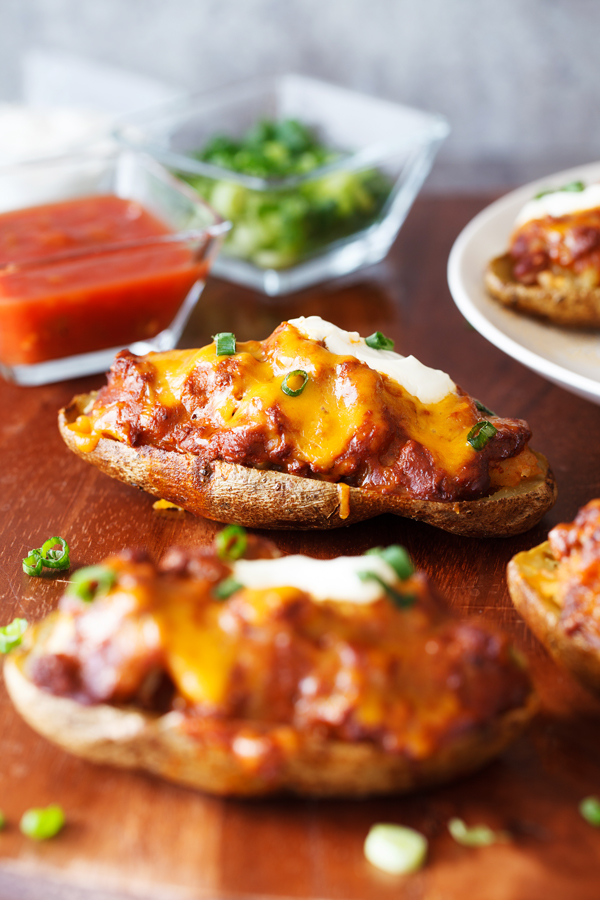 Is your team going to the Super Bowl? If you're anything like me, it doesn't matter. Though I'll be watching the Big Game, I'm really there for the commercials, halftime show, and FOOD!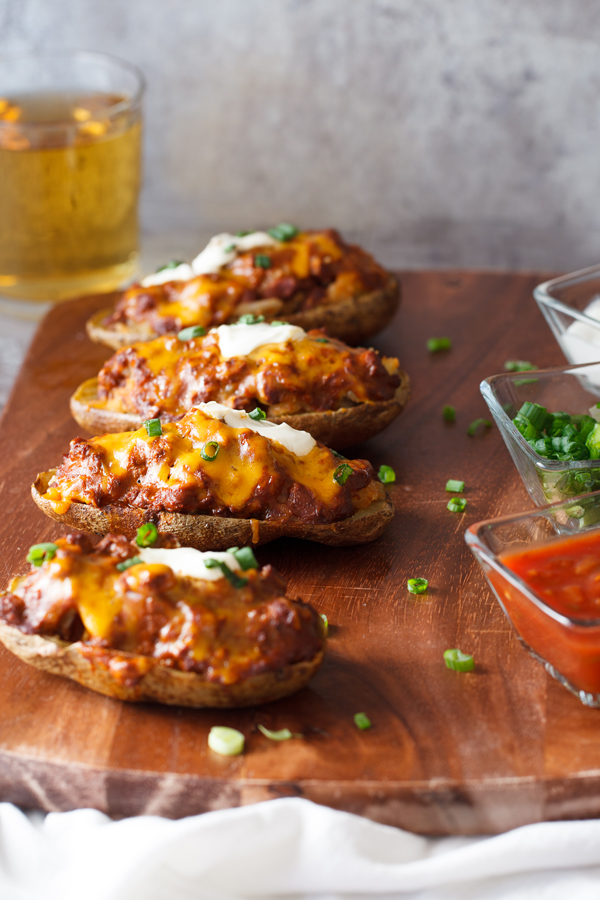 For the Big Game, I will be serving these Chili Cheese Stuffed Potato Skins. Typically, potato skins are treated as appetizers, but my version loads them up with beans, chili, and all sorts of delicious toppings. In fact, each skin is made of an entire half of a russet potato, so that's already a lot of heft. Just one skin has the power to fill you up!
As "side dishes", I will also be making my Better than Restaurants Skillet Nachos and Pico de Gallo.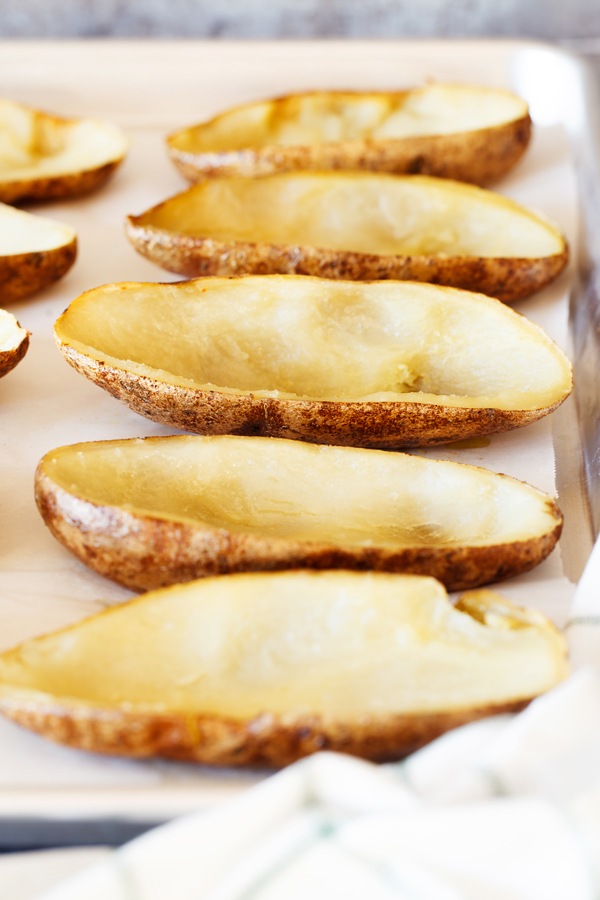 To make these Chili Cheese Stuffed Potato Skins, you start by baking the potatoes until tender. Then, you halve them and scoop out the flesh before sending the skins back to the oven to crisp up.
The crisped skins get filled with a mixture of the potato flesh and beans and topped off with some chili and a sprinkling of cheese.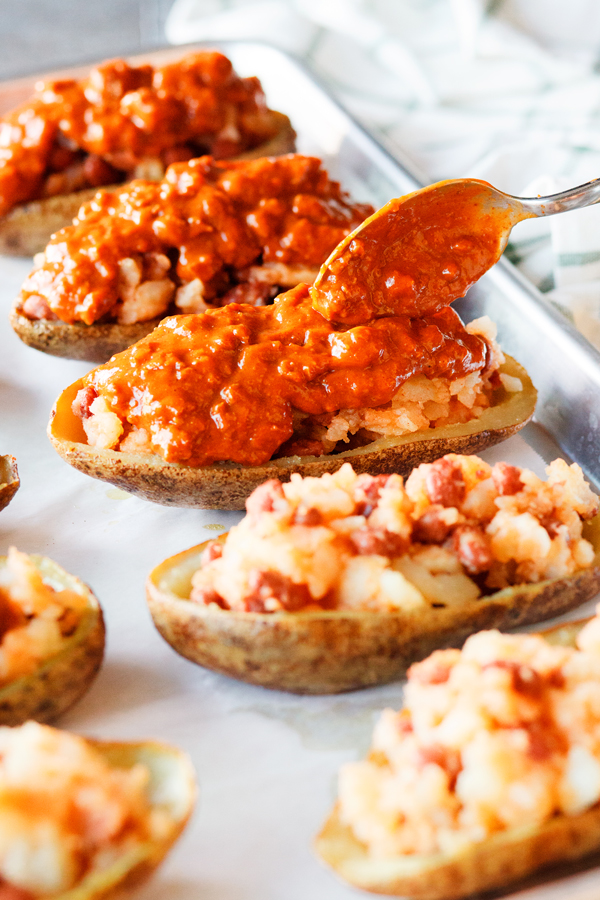 Then, comes one of the best parts – the toppings! The sky's the limit when it comes to the toppings. I like to serve them with salsa, sour cream, and scallions, but in the past I've also served them with chopped bacon, sliced avocado, and pickled jalapenos.
If you're not a chili cheese fan, feel free to use this recipe as a jumping off point. Now that you know how to make crispy skins, you can go ahead and fill them with anything your heart desires.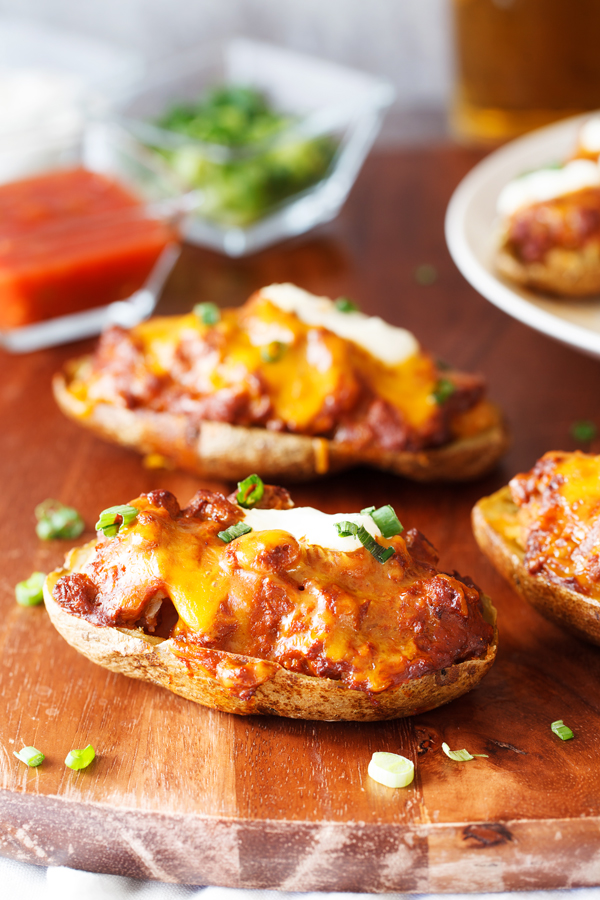 Chili Cheese Stuffed Potato Skins
Yields 10 potato skins

Calories do not include suggested toppings
Serving Size
:
1
stuffed skin
Calories per Serving
:
292
kcal
Ingredients
5

russett potatoes, washed and scrubbed

3

tablespoons

olive oil

1

can

(15.5 ounces) chili beans, drained but not rinsed

1

can

(15 ounces) canned chili, without beans

1/2

cup

shredded cheddar cheese

Toppings such as:

scallions, sour cream, salsa, avocado
Instructions
Preheat oven to 350°F and line a baking sheet with parchment paper. Place the potatoes on the prepared baking sheet and bake the potatoes for 60 to 70 minutes, until tender when pierced with a fork. Maintain the oven temperature and allow the potatoes to cool on the baking sheet for 30 minutes, until warm enough to handle.

Halve the potato skins lengthwise. Use a small spoon to scoop out the potato flesh into a medium bowl, leaving about 1/4-inch of flesh attached to the skin.

Brush the inside and outside of each potato skin with olive oil. Return to the oven and bake the skins for 20 to 25 minutes, until crispy. While maintaining the oven temperature, allow the skins to cool while preparing the stuffing.

Mash the potato flesh with the back of a fork or a potato masher, until few large lumps remain. Gently mix in the chili beans.

Spoon the potato and bean mixture into the baked potato skins and top with the chili.

Return to the oven for 10 to 15 minutes to warm through. Sprinkle on the cheese and return to the oven just until the cheese has melted.

Top with suggested toppings and serve warm.