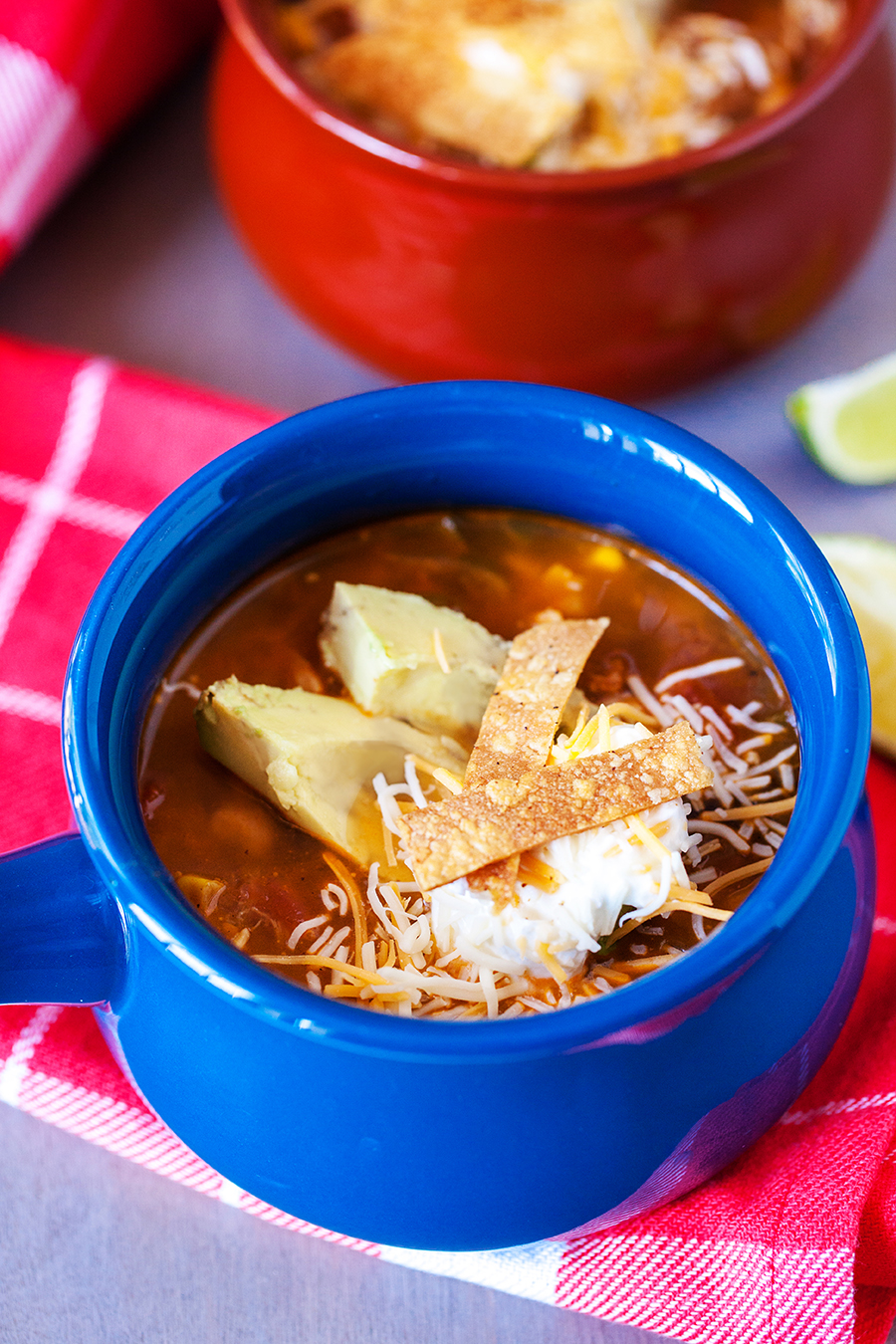 Over the holidays, I caught a little bug that thankfully only resulted in an annoying sore throat. I knew it was from lack of rest, but I pushed through because things needed to get done! On a cold night, I briefly stopped by my friend, Katie's, house to deliver gifts to her two precious girls. Katie was throwing a dinner party and was serving tortilla soup. She didn't want me to go home empty handed, so she generously packed some up for me to take home.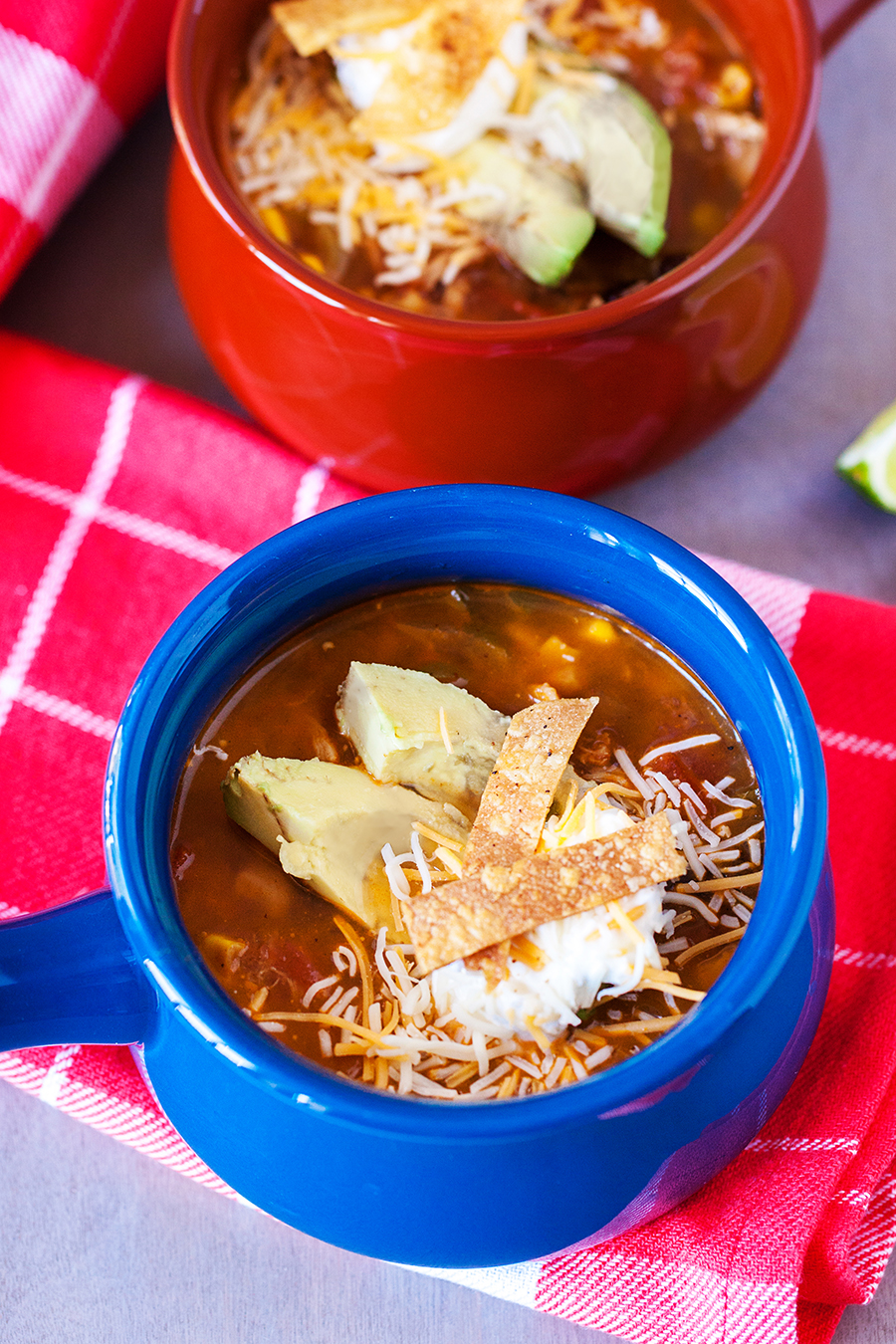 After getting home I promptly heated it up, took a bite, and was hooked! Not only was it wonderful on my throat, but it tasted delicious. Warren was impressed too and yours truly may or may not have had trouble sharing. After polishing off the container I immediately texted her for the recipe. She was more than happy to share.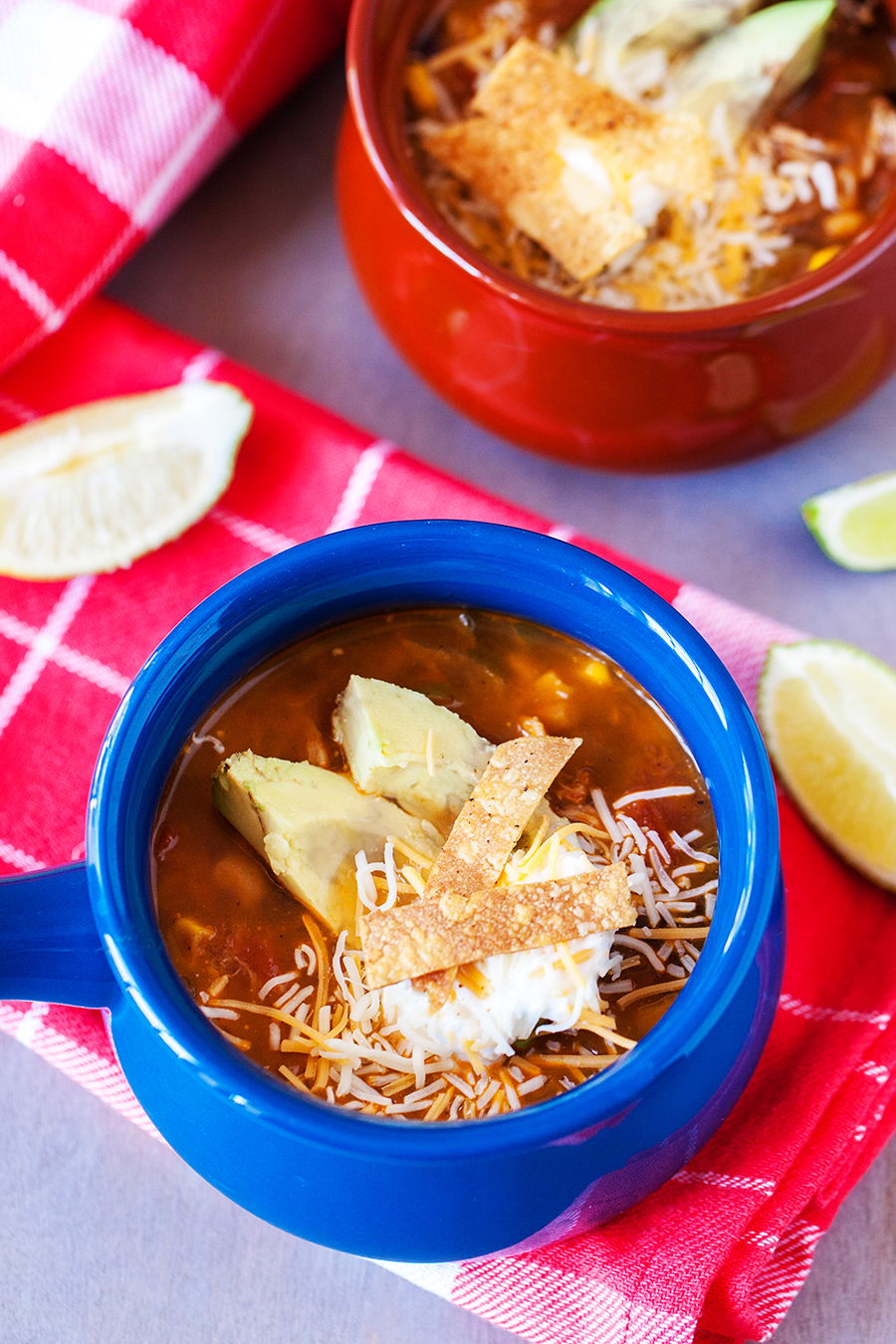 And now, I am sharing it with you! As a disclaimer, I did make some modifications based on what I had on hand and how much heat we like around here. It's become a favorite at our house. I am urging you to make this ASAP! This soup is so comforting and is perfect for the cold evenings that presumably you are experiencing this season. It's so hearty and filling, incredibly flavorful, and contains a good kick of spice!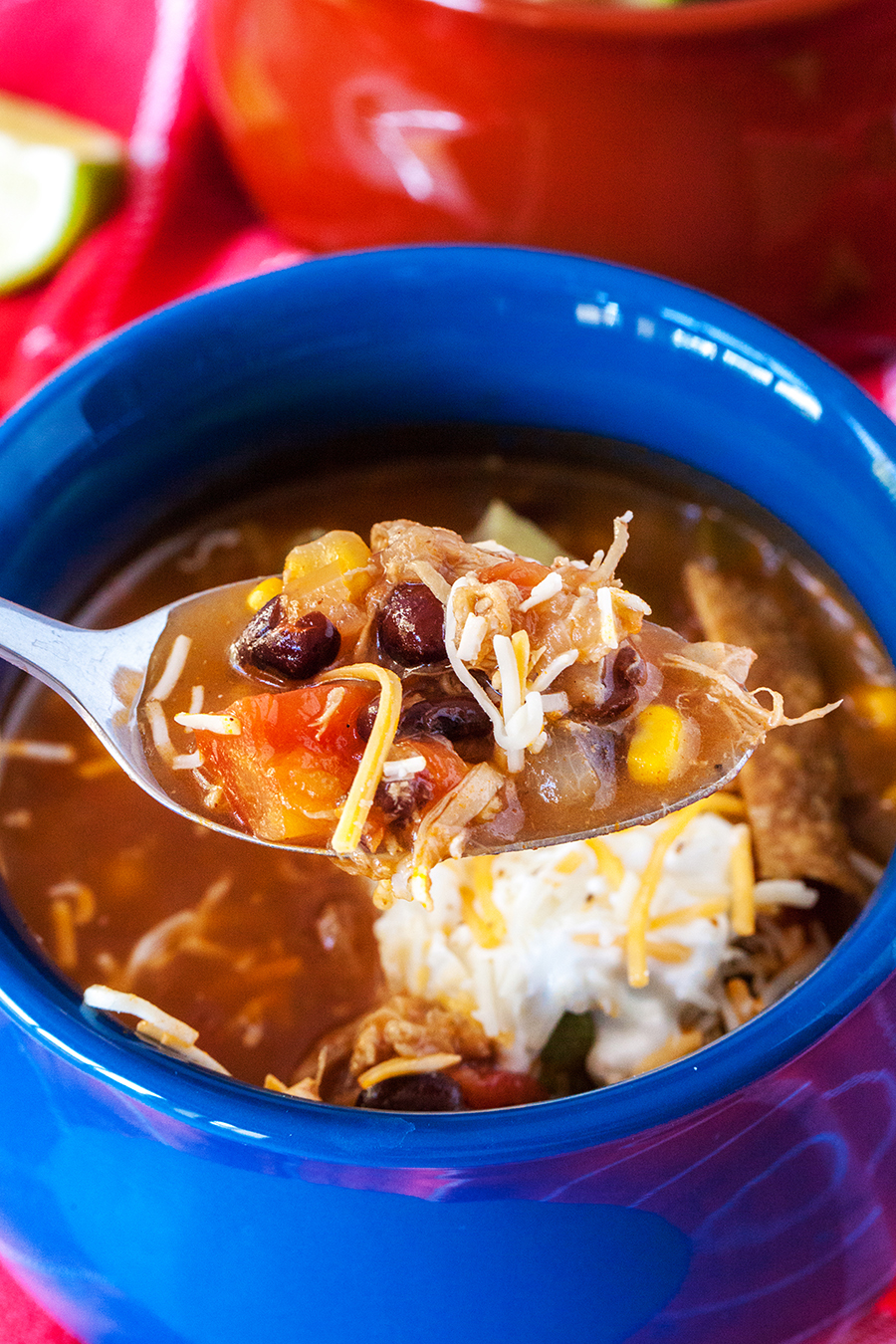 Best of all, you probably already have the ingredients stocked in your kitchen. For the base, you'll need diced onions, garlic, jalapeno pepper, chili powder, ground cumin, canned diced tomatoes, diced tomatoes with green chilies, canned corn, canned black beans, sliced green olives, and chicken broth.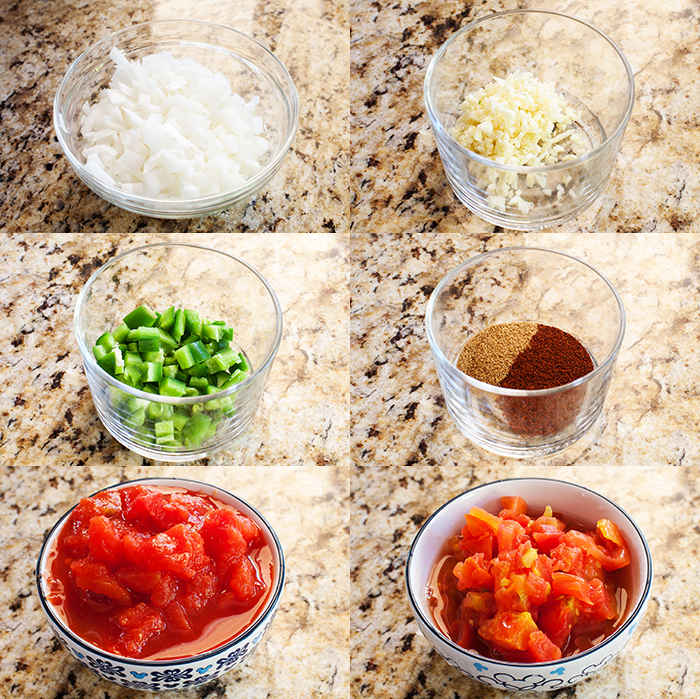 I work in layers to develop flavor, but essentially you throw everything into a large pot and let it simmer for about 2 hours.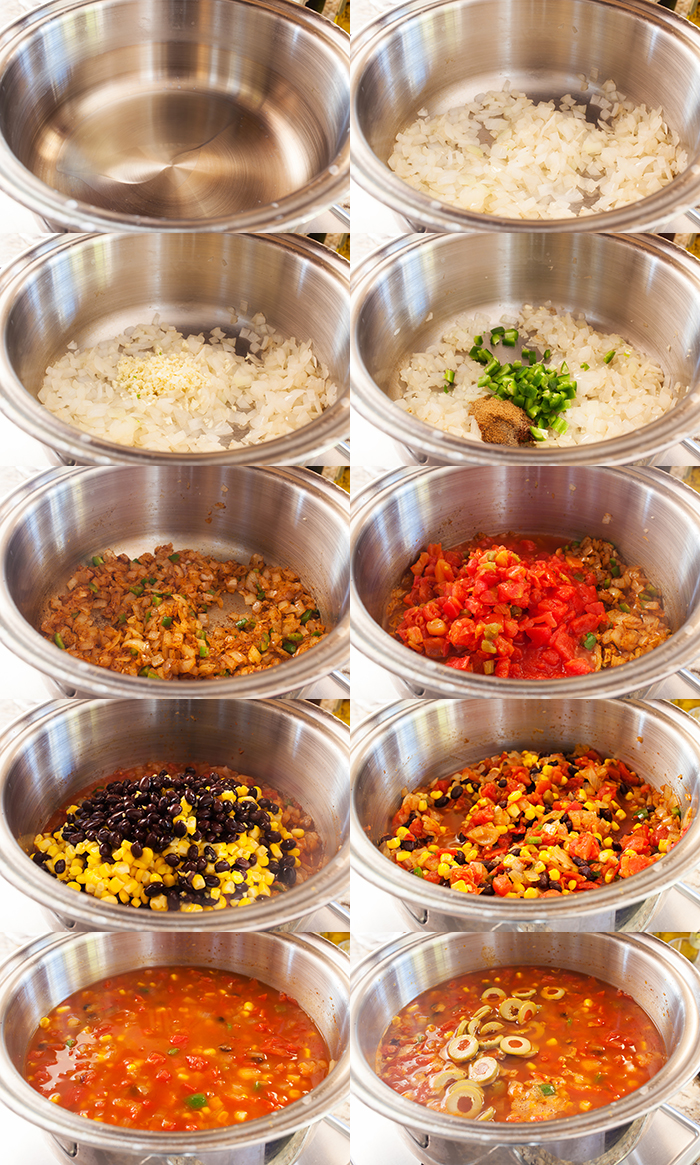 While the soup is simmering, I took some frozen chicken breasts and boiled them until thoroughly cooked. Then, I used Amanda's method of quickly shredding chicken. While the chicken was still hot, I threw it into an electric mixer and with the paddle attachment, turned it to high. In a few seconds I had shredded chicken! Then, I threw the shredded chicken into the soup during the last half hour of simmering.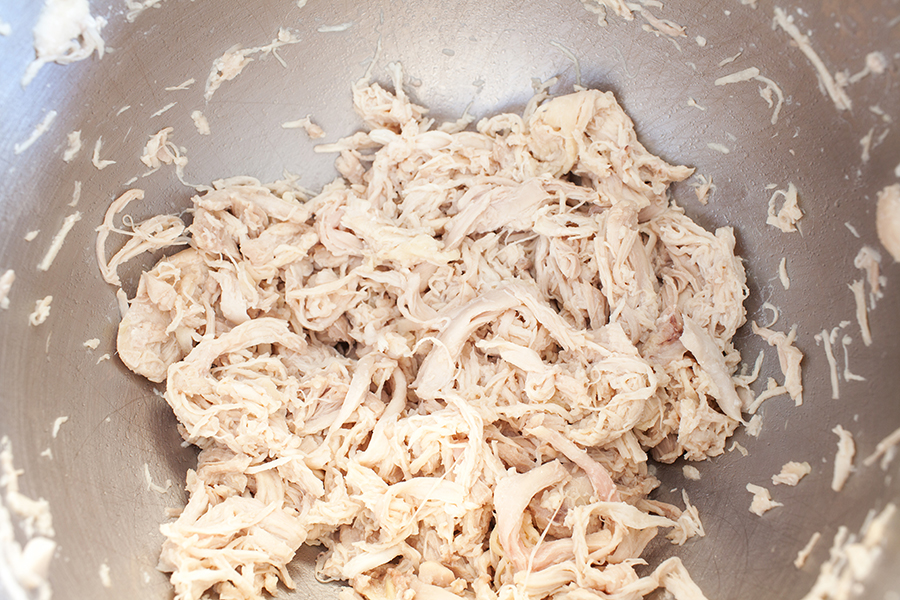 One of the best parts about tortilla soup are all the toppings. I made my own crispy tortilla strips by cutting strips of corn tortilla, sprinkling with olive oil, salt, pepper, and taco seasoning. Then, I baked it until golden and perfectly crunchy. This is totally optional and you can buy pre-made strips, but I already had the tortillas in my freezer and found they added a nice touch. The rest of the toppings are up to you. I used lime wedges, avocado slices, sour cream, and Mexican blend shredded cheese.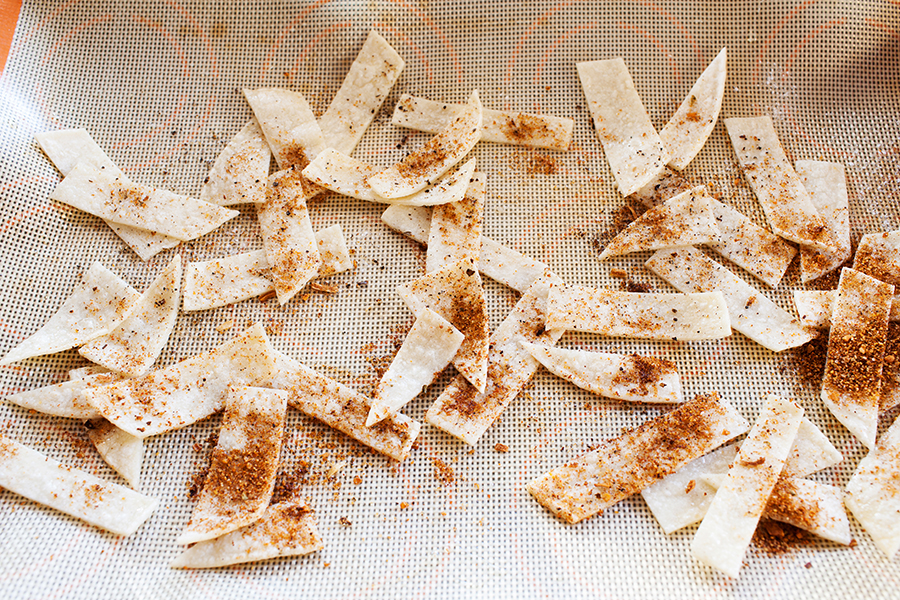 A word of advice…double the recipe because your family will be asking for more the next day!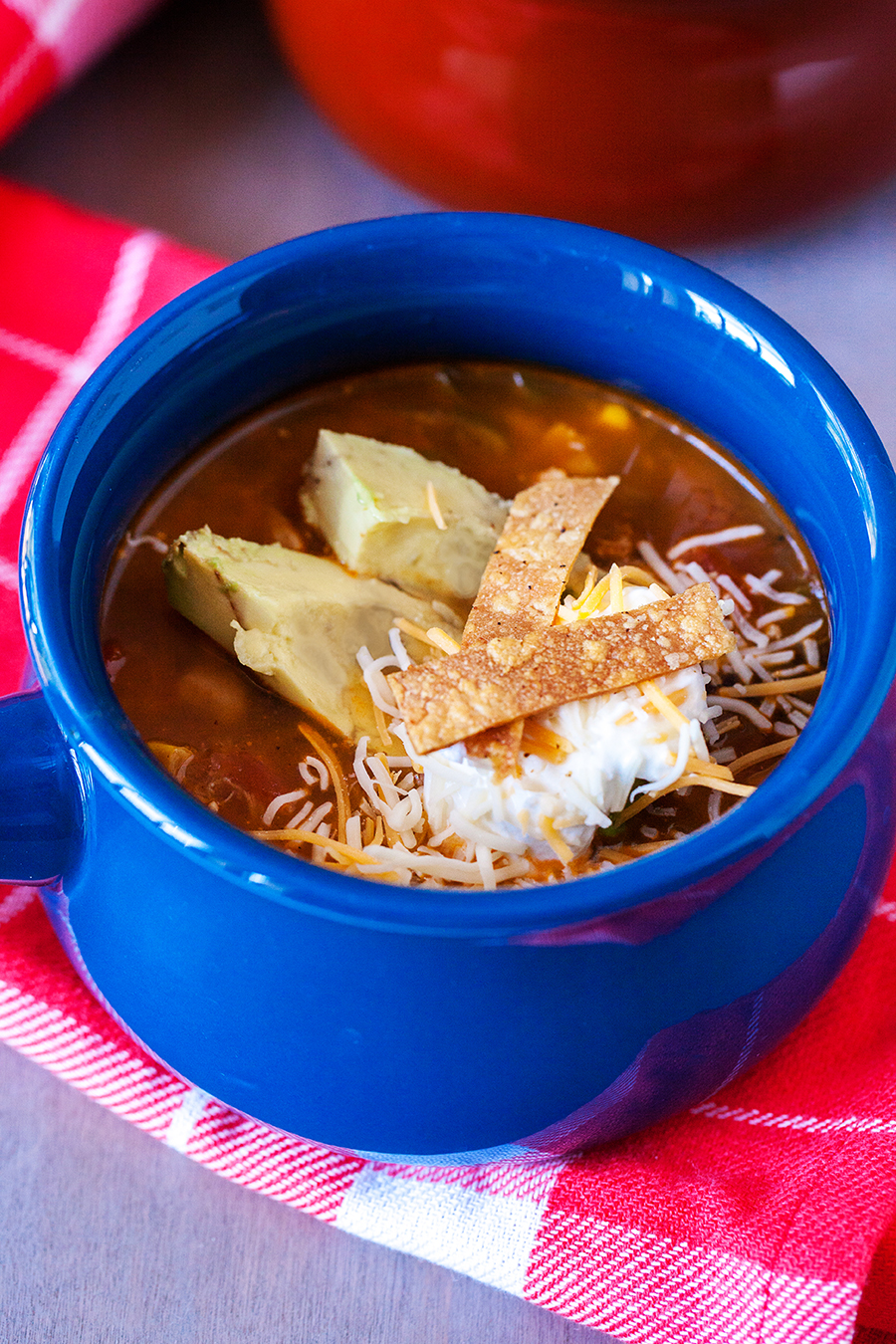 Chicken Tortilla Soup
Yields 4 Servings
Printer friendly version
Ingredients
1 medium white onion, diced*
2 cloves garlic, minced
2 jalapeños, seeded and diced
1 teaspoon ground cumin
1 teaspoon chili powder
1 teaspoon salt
¼ teaspoon black pepper
10 oz. can diced tomatoes with green chilies
14.5 oz. can diced tomatoes
14.5 oz. can yellow corn, drained
14.5 oz. can black beans, drained and rinsed
3-6 cups chicken broth
½ cup sliced Spanish green olives
1 pound frozen boneless, skinless, chicken breasts
Lime wedges
Directions
In a large stock pot over medium heat, heat the onion until wilted and slightly golden on the edges. Add the garlic and cook until fragrant.
Add the jalapeños, cumin, chili powder, salt & pepper and stir until fragrant and a darkened crust forms at the bottom of the pan.
Add both cans of tomatoes, juices and all, and scrape the bottom of the pot to release the darkened crust. Stir in the corn, beans, 3 cups of broth, and olives.
Bring to a boil, cover and simmer for 90 minutes, stirring about every 20 minutes.
While the soup is simmering, drop the chicken into boiling water and boil until the chicken is thoroughly cooked. Stir occasionally to prevent overflow. While the chicken is still hot, place them into an electric mixer fitted with the paddle attachment. Turn to high until the chicken is uniformly shredded.
After 90 minutes of simmering the soup, add the shredded chicken and 2 cups of chicken broth. Bring back to a boil and continue simmering for an additional 30 minutes. If the soup is low on liquid at the end of 30 minutes, add the remaining cup of broth. Serve individual portions hot with a squeeze of lime juice and other desired toppings **
Tortilla Strips
Ingredients
6 corn tortillas
Olive oil
Salt & pepper
Taco seasoning
Directions
Pre-heat oven to 350°F. Cut tortillas into strips and place on a lined baking sheet. Sprinkle with olive oil, salt, pepper, and taco seasoning.
Bake for 10 minutes. Toss the strips and bake for an additional 10 minutes. Turn off the oven and allow the strips to cool inside the oven until ready to serve.
Notes
*If using frozen onions, measure about 1 ¼ cup
**Topping ideas: Sour cream, Mexican blend shredded cheese, avocado slices, sliced scallions, cilantro