I teamed up with Foster Farms® to bring you Chicken Ropa Vieja!
Shredded chicken and fajita vegetables in a smoky and spicy red sauce will make Chicken Ropa Vieja your new favorite taco filling or salad protein.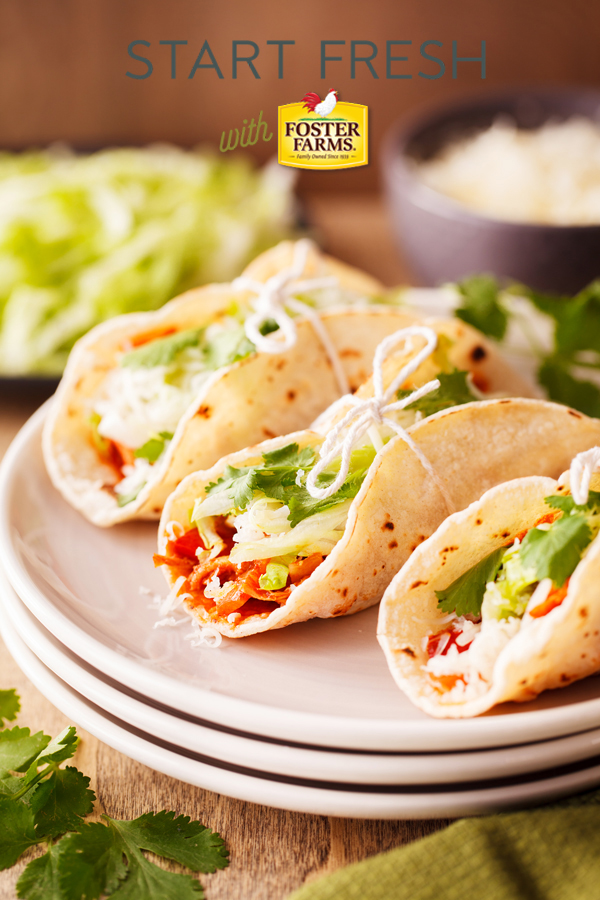 Let me tell you about the latest dinner recipe that's been added to our weekly dinner rotation. A couple months ago I came up with the recipe while scrambling to figure out what to make for dinner.
The only protein I had on hand were boneless skinless chicken breasts and a few pantry staples. I got to work and came up with this spicy and flavorful Chicken Ropa Vieja.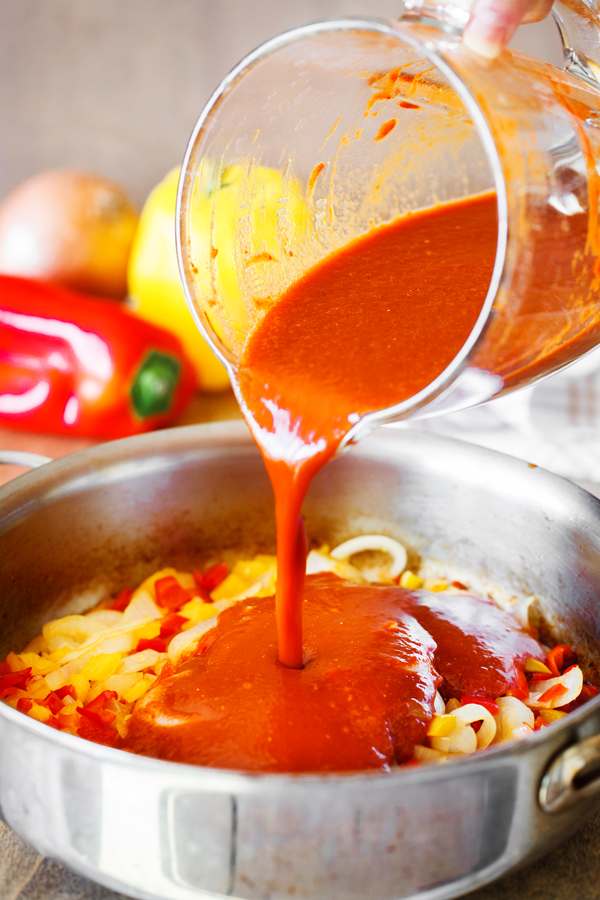 The recipe begins by making a super simple, smoky, and spicy red sauce. The sauce can be made in a blender or in a saucepan by using an immersion blender. I've done it both ways and they both work great.
Then, you add the sauce to some sautéed fajita vegetables and submerge the chicken until cooked through. Finally, simply shred the cooked chicken and mix it back into the sauce. That's it!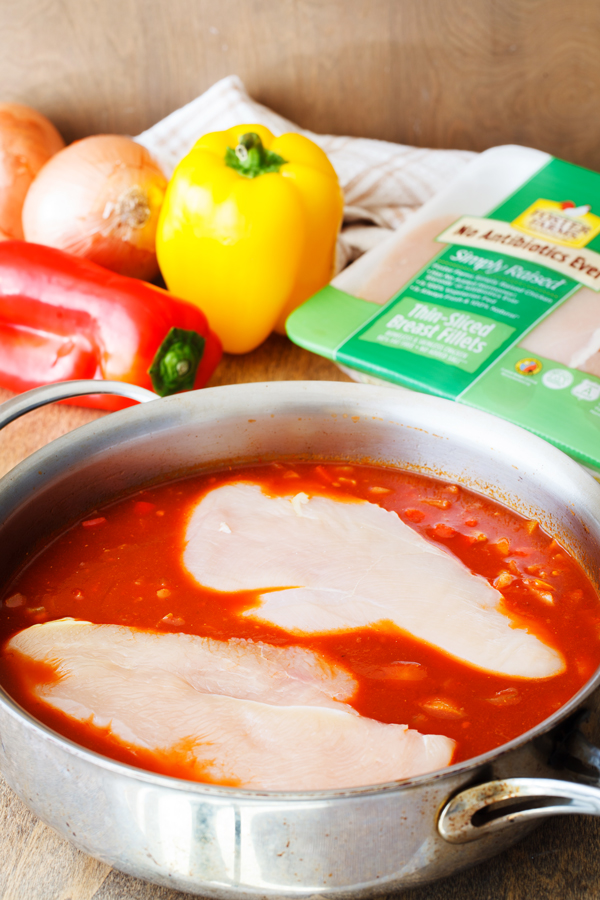 For dinner that night, I used it as a taco filling, serving it with warmed corn tortillas and toppings like shredded lettuce, cheese, cilantro, and lime.
The next day Warren took the leftovers for lunch, except in the form of a taco-like salad. He placed it over a bed of spring mix salad and topped it with some crushed tortilla chips and shredded cheese. Once he said it was delicious, I knew I was on to something and I had to share the recipe with you.
Since that evening, I've tested the Chicken Ropa Vieja recipe several times, to get everything to be as perfect for you as possible.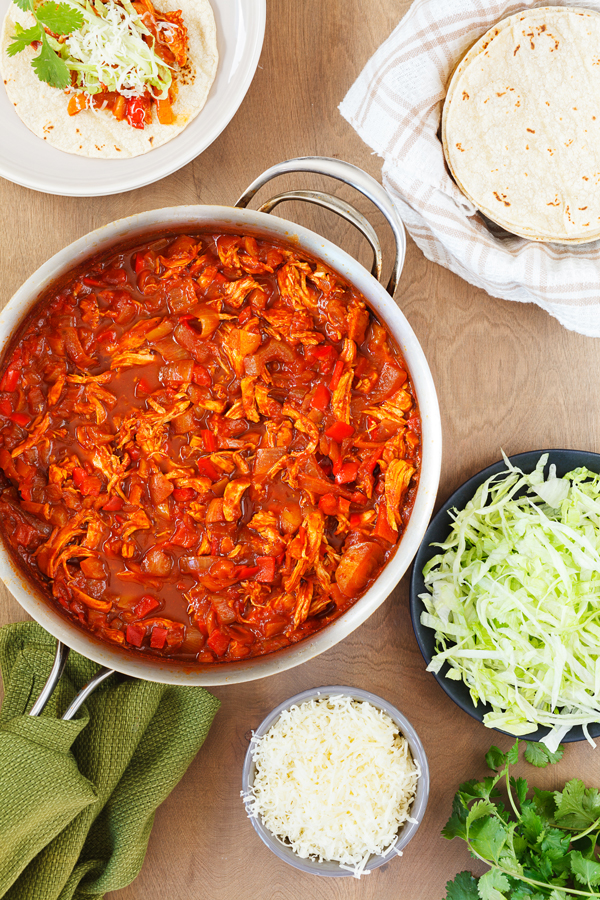 The most important ingredient in Chicken Ropa Vieja is, of course, the chicken. I turned to Foster Farms® Simply Raised Chicken with No Antibiotics Ever from my local Vons. I find that using the thin-sliced breast fillets really cuts down on the cook time for when time is scarce.
Aside from the quick cook time, I love that I don't have to worry about any hidden ingredients going into dinner. Foster Farms® Simply Raised Chicken has no added hormones or steroids, no antibiotics, are fed a 100% vegetarian diet, and are locally raised (California and the Pacific Northwest).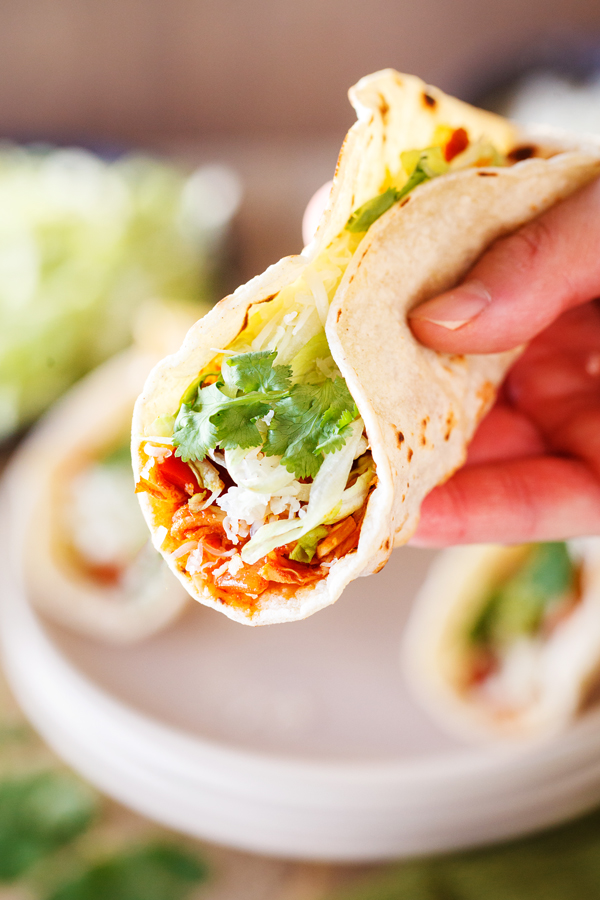 With Foster Farms® Simply Raised Chicken, I know I'm getting just that, chicken.
Whether you're looking to spice up and make lean your taco nights or are looking for a simple and guilt-free dinner solution, give my Chicken Ropa Vieja a try.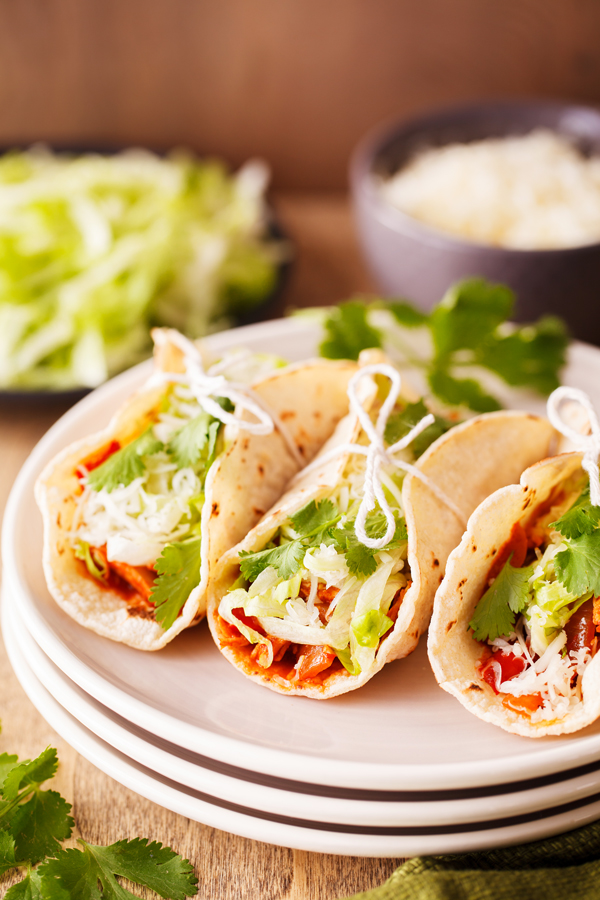 Follow Along with the Video!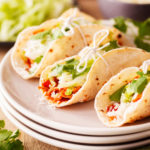 Chicken Ropa Vieja
Calorie count is for 1 batch of chicken ropa vieja. It does not include any fix-ins like tortilla, lettuce, or cheese.
Calories per Serving
:
1225
kcal
Ingredients
1/2

cup

tomato sauce

1/2

can (3.5 ounces)

canned chipotle peppers in adobo sauce*

1

tablespoon

smoked paprika

1

tablespoon

paprika

2

cups

chicken broth

2

tablespoons

olive oil

1

red bell pepper, stemmed, seeded, and diced

1

yellow bell pepper, stemmed, seeded, and diced

1

medium yellow onion, peeled, halved, and julienned

1

pound

Foster Farms® Simply Raised Chicken, Thin-Sliced Boneless Skinless Breast Fillets

Salt and pepper to taste

Corn tortillas, shredded Monterey Jack cheese, shredded lettuce, and chopped cilantro leaves for serving
Instructions
In a blender, puree the tomato sauce, chipotle peppers, paprika, smoke paprika, and chicken broth until smooth. Set aside.

In a large skillet, heat the olive oil over medium heat until shimmering. Add the peppers and onions and saute until softened. Reduce the heat to low and pour the tomato puree over the softened peppers. Bring to a simmer for 5 minutes, until slightly reduced. Nestle in the breast fillets. Cover and cook for 8 to 10 minutes, until the breasts are cooked through.

Off the heat and remove the chicken to a cutting board. Shred the chicken using two forks. Add the chicken back to the skillet and stir to evenly distribute. Heat over low heat until chicken is heated through. Season with salt and pepper to taste.

Serve with corn tortillas, shredded Monterey Jack cheese, shredded lettuce, and chopped cilantro leaves.
Recipe Notes
*Decrease to 1/4 can if you don't like it too spicy.
Inspired by Fabulous Food The Costco Way
This post was sponsored by Foster Farms®.