Buffalo Chicken Biscuit Pot Pie – All the deliciousness of chicken pot pie, buffalo wings, and a flaky crust, but with the ease of a casserole.
I've learned something about myself during this food blogging journey – I get the best ideas when I'm hungry! Though I pretty much live and breathe food – writing about it, cooking with it, photographing it, I often skip meals (yikes!). I easily lose track of time when I'm at the computer and before I know it, it's dinner time.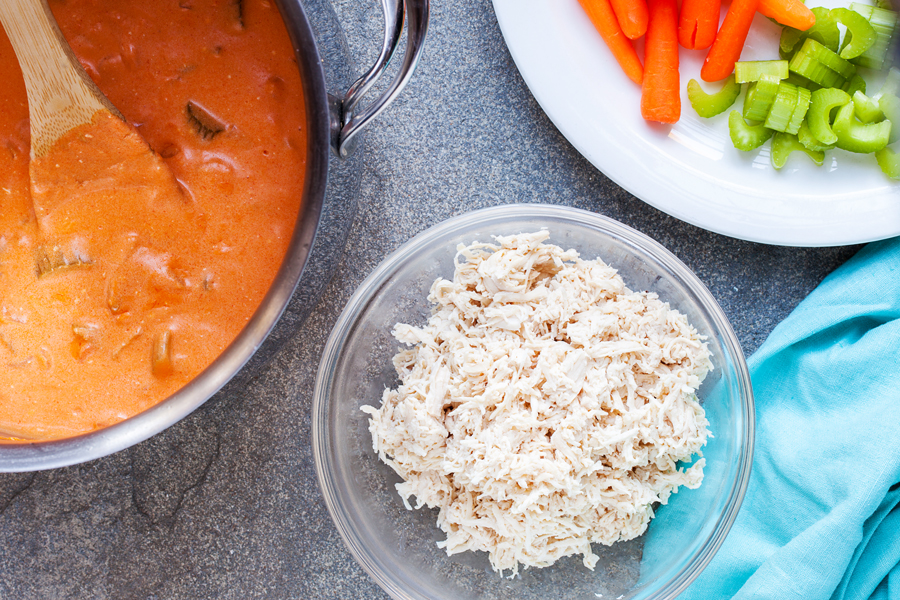 The idea for this Buffalo Chicken Biscuit Pot Pie was born when I was too stubborn to pull myself away from the computer, had probably already skipped two meals, and was writing about these Buttermilk Biscuits. My stomach sent my brain a message and told it that buffalo wings would taste good right about now, chicken pot pie too! After my brain processed the message, I knew that my buttermilk biscuits had a fate beyond jam and butter.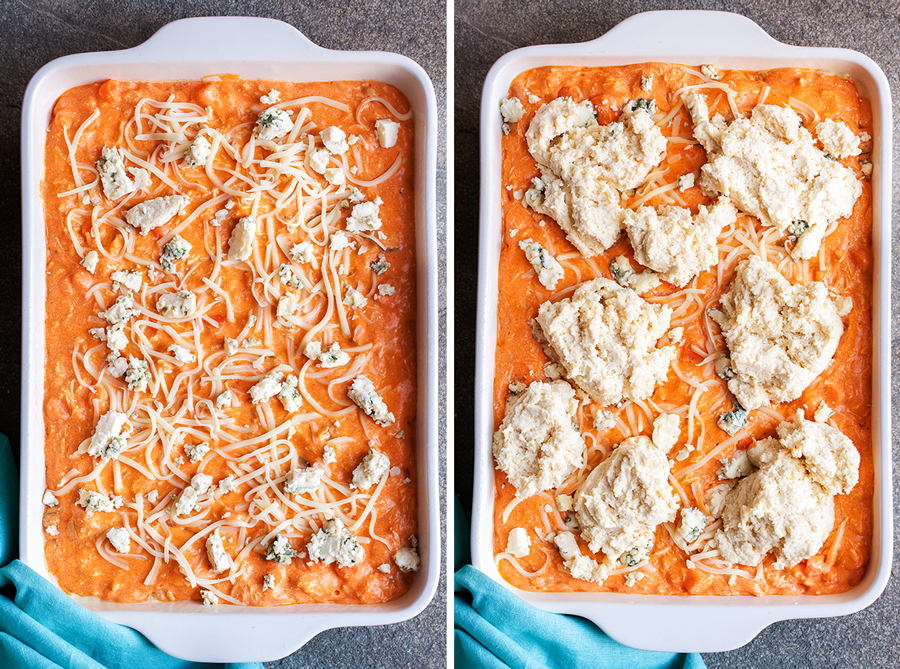 Imagine thick and creamy chicken pot pie, with a punch from buffalo wing sauce, topped with fluffy buttermilk biscuits, and served like a comforting and scrumptious casserole. Never mind, you don't have to imagine. Make my Buffalo Chicken Biscuit Pot Pie and you will know exactly what I am talking about.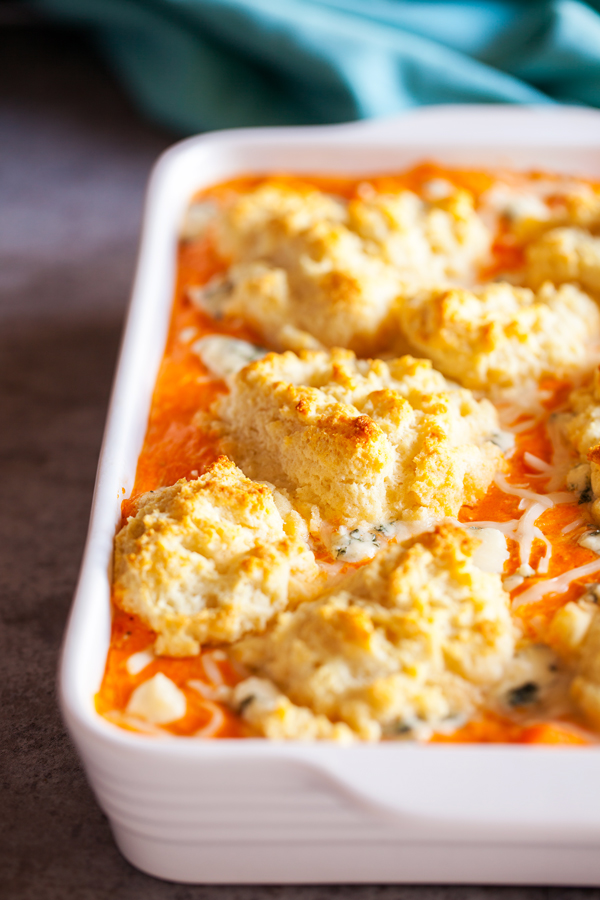 The buffalo base gets started on the stove top. Then, you add shredded chicken using this easy trick and pour it into a casserole dish. Top it with blue cheese crumbles, mozzarella cheese, and my Buttermilk Biscuits, drop-biscuit style. That's right! No fussing over rolling out a crust or punching out biscuits! I told you I get my best ideas when I'm hungry ;) (It's worth mentioning that I DO NOT recommend skipping meals!).
Buffalo Chicken Biscuit Pot Pie
Yields 8 servings
Calories per Serving
:
403
kcal
Ingredients
Buffalo Chicken Pot Pie Filling
2

pounds

boneless, skinless chicken breasts

4

teaspoons

vegetable or canola oil

1

medium onion, chopped

1

cup

choped baby carrots

2

celery stalks, chopped

¼

cup

all-purpose flour

1

cup

chicken broth, warmed

¼

cup

(2-ounces) packaged cream cheese, cut into cubes

¼

cup

cayenne pepper sauce (like Frank's RedHot Sauce)

¼

cup

crumbled blue cheese

¼

cup

mozzarella cheese, shredded
Biscuits
1 ½

cup

all-purpose flour

1 ½

tablespoon

granulated sugar

¾

teaspoon

salt

1

tablespoon

baking powder

1

teaspoon

baking soda

8

tablespoons

unsalted butter, chilled, cut into 8 pats

¾

cup

buttermilk, cold
Instructions
Begin making the filling by bringing a large pot of water to a boil. Drop the chicken into boiling water and boil until the chicken is thoroughly cooked. Stir occasionally to prevent overflow. While the chicken is still hot, place the breasts into an electric mixer fitted with the paddle attachment. Turn to high until the chicken is uniformly shredded. Set aside.

In a large skillet, heat the oil over medium heat until shimmering. Add the onion, carrots, and celery and cook until softened. While the vegetables are cooking, whisk together the flour and broth until dissolved. Once the vegetables are softened, add the broth mixture. Bring to a boil and lower the heat to low to simmer. Simmer until thickened.

Add the cream cheese and stir until melted. Add the cayenne pepper sauce and stir to combine. Add the shredded chicken and stir to coat.

Transfer the filling to a 9x13 casserole dish. Sprinkle with blue cheese and mozzarella. Set aside while making the biscuit dough.

Heat oven to 400°F.

In the bowl of a food processor, make the biscuits by adding the flour, sugar, salt, baking powder, baking soda, and butter. Pulse quickly, about 10 times, just to break up the butter into pea-sized pieces.

In the pour spout, add the buttermilk while continuing to pulse. Pulse until the dough is just combined and uniform.

With a spoon, drop about 3 tablespoons of the dough onto the casserole. Press slightly with the back of the spoon to spread the dough out slightly.

Bake for 12 - 15 minutes until the biscuits are golden brown and the filling is bubbling.