Update: I am elated to say that this recipe made it on the BuzzFeed roundup for 18 Clever Ways to Eat Pumpkin for Breakfast!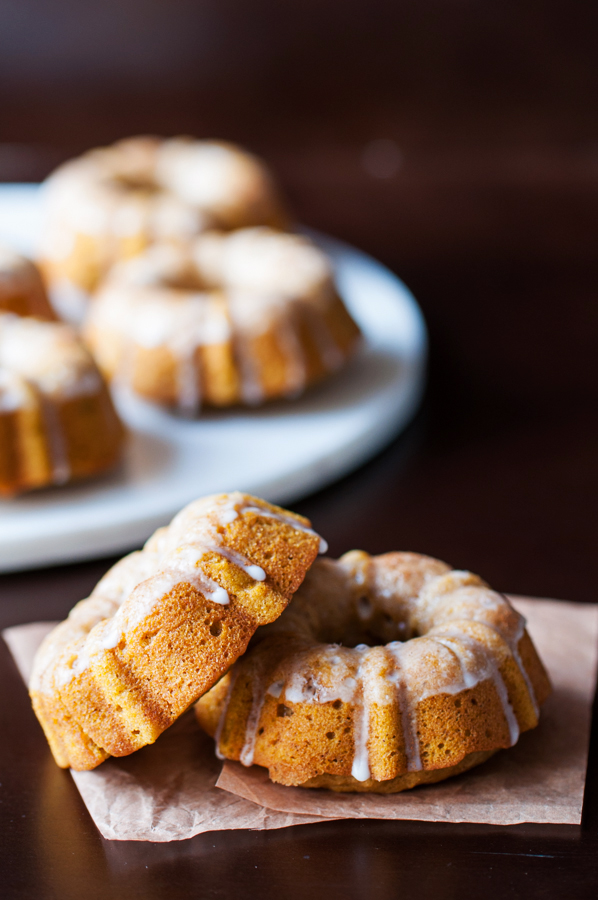 Last week I had the opportunity to tag along on Warren's business trip to Nashville (more on that next week). We usually don't allot time to eat out on the day of travel, so I have to plan something that won't result in a lot of clean-up. The day before we were going to leave, I still had no idea what our breakfast was going to be! Then, Fifteen Spatulas's recipe for brown butter pumpkin spice doughnuts popped into my inbox. Have you guys seen recipes for baked donuts? They've been all over the interwebs, but I've been limited due to lack of a donut pan :/ Fifteen Spatulas's recipe looked so darn delicious and would be perfect for a quick travel breakfast, so I decided to proceed anyway, with or without a donut pan. I thought about what I had on hand and my mini bundt pans came to mind. If I only filled the pans a little under half way, the donuts would come out resembling crullers. And that's how these puppies were born.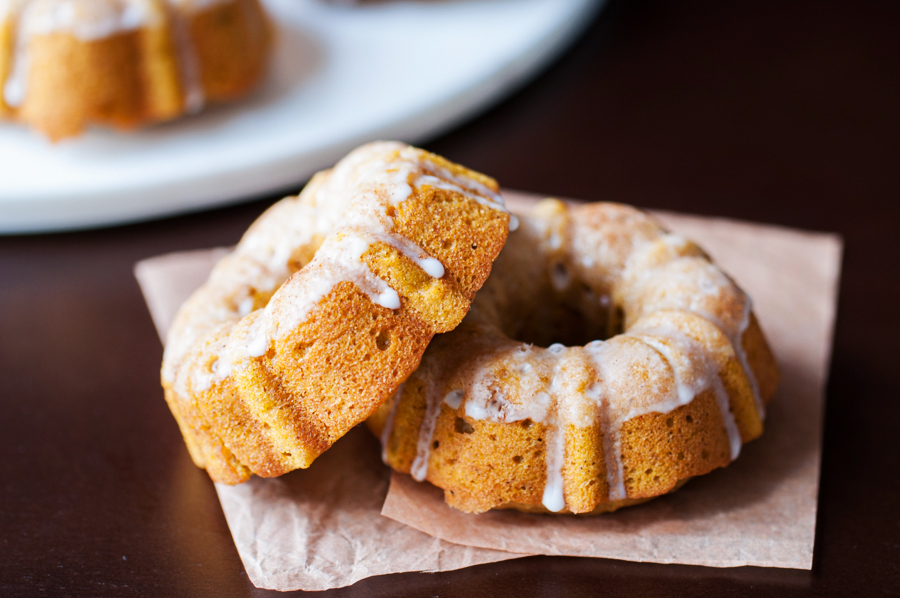 They are cakey, soft, and full of that wonderful pumpkin spice taste and aroma. The glaze sends them over the top and makes them super indulgent and satisfying. Not to mention, no mixer is required!
To make these baked donuts, begin by browning the butter. Revisit my Jumbo Cherry Brown Butter Muffins for a visual guide on browning butter.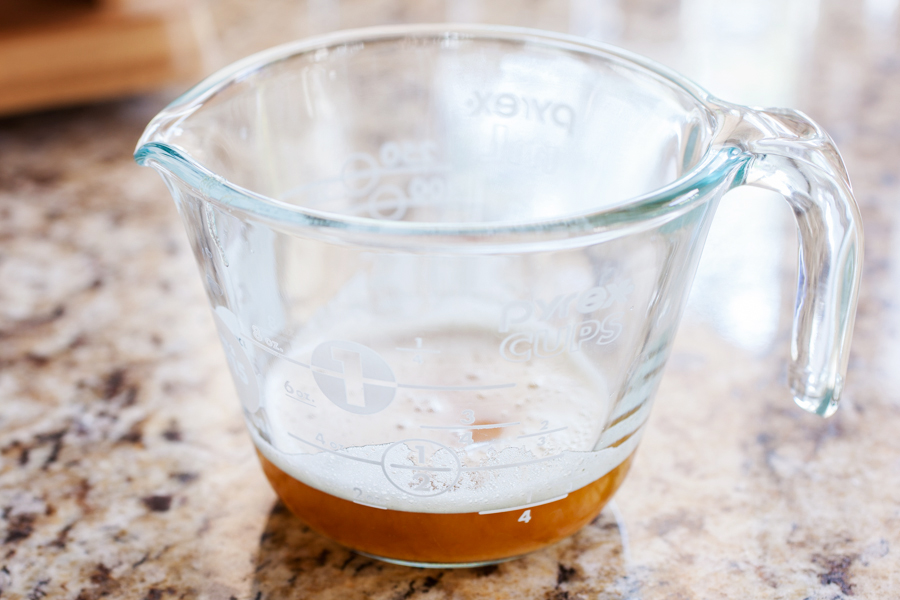 Next, combine the dry ingredients with all of that fall season goodness.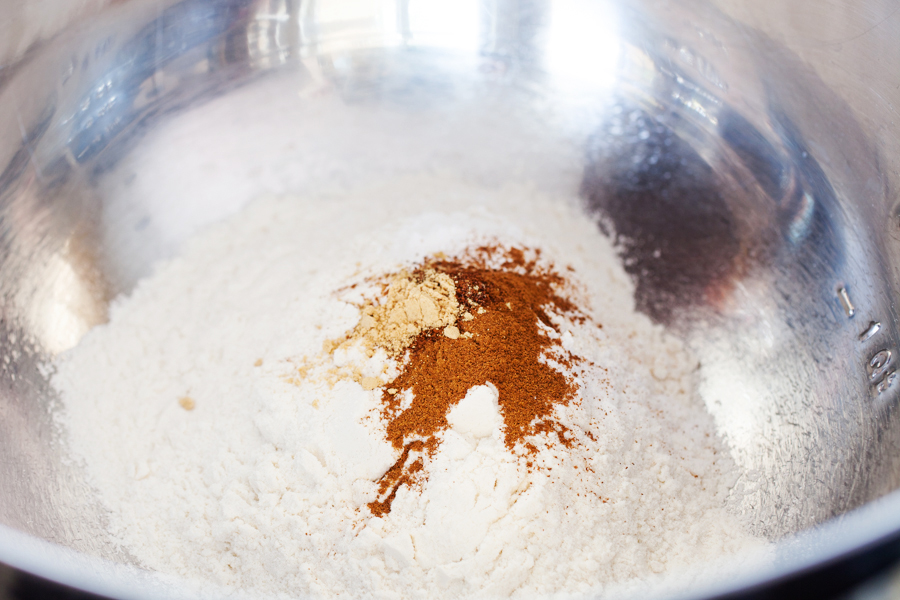 Then, combine the wet ingredients.
Pour the wet ingredients into the dry ingredients and add the pumpkin.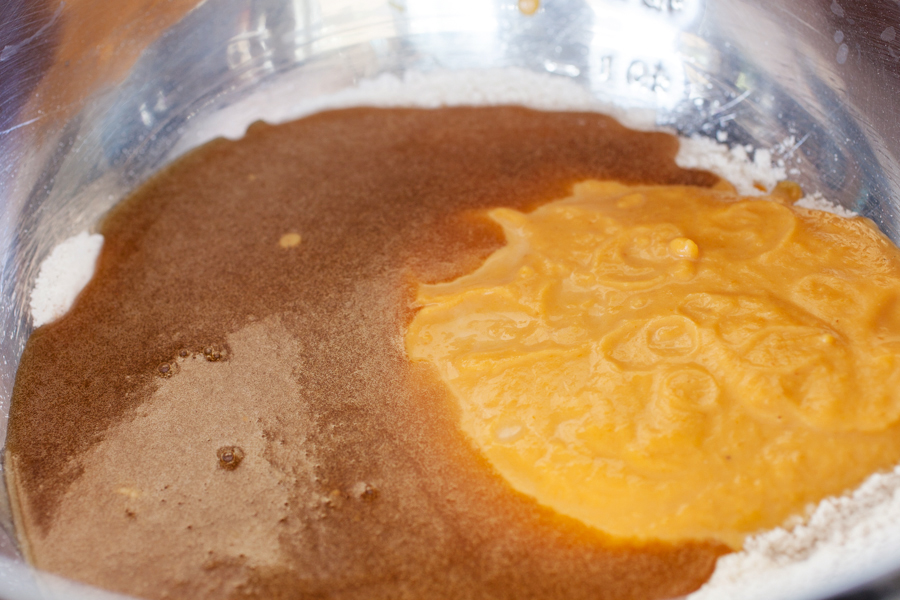 Then, give it a good stir to make a thick batter.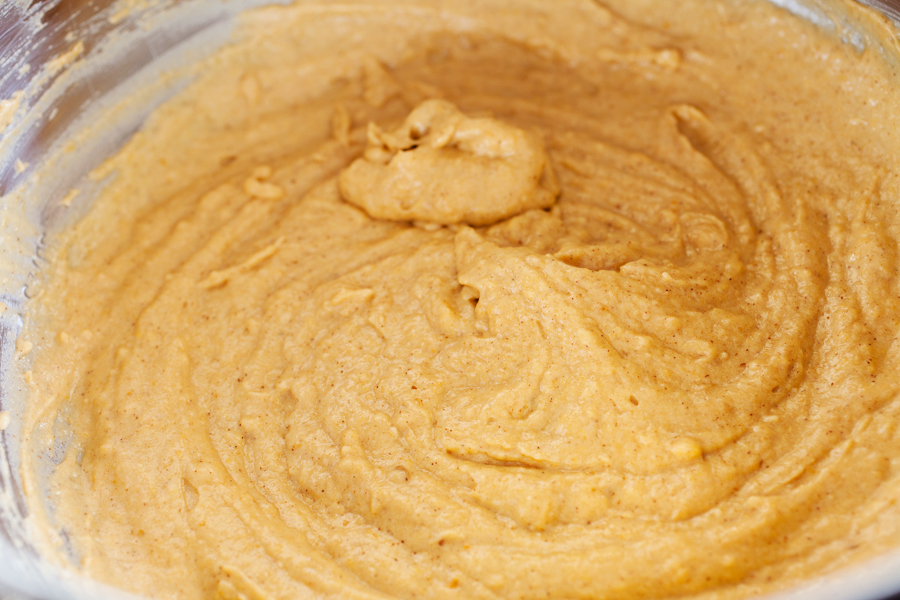 Then, fill a greased mini bundt pan or donut pan, if you have one, and smooth the top as much as you can and pop them in the oven!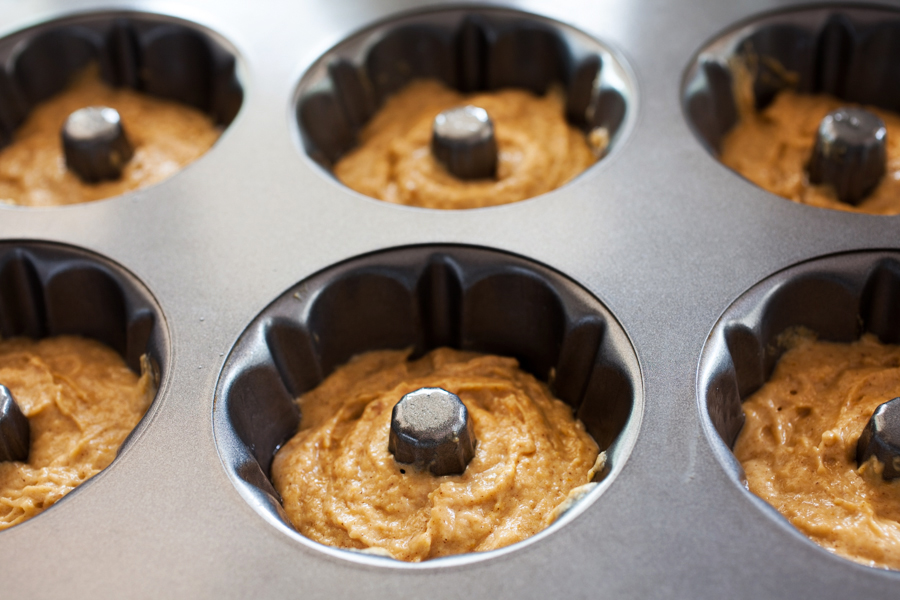 Allow them to cool completely on a cooling rack before glazing.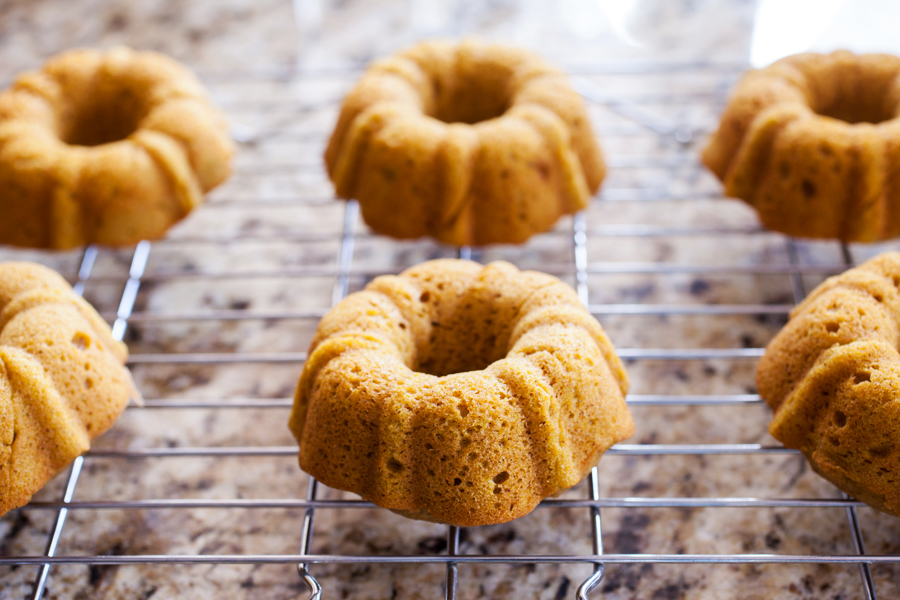 Or, you can just enjoy them as is, if you want to skip the glaze :)
But, if you go for the glaze, then you can get this!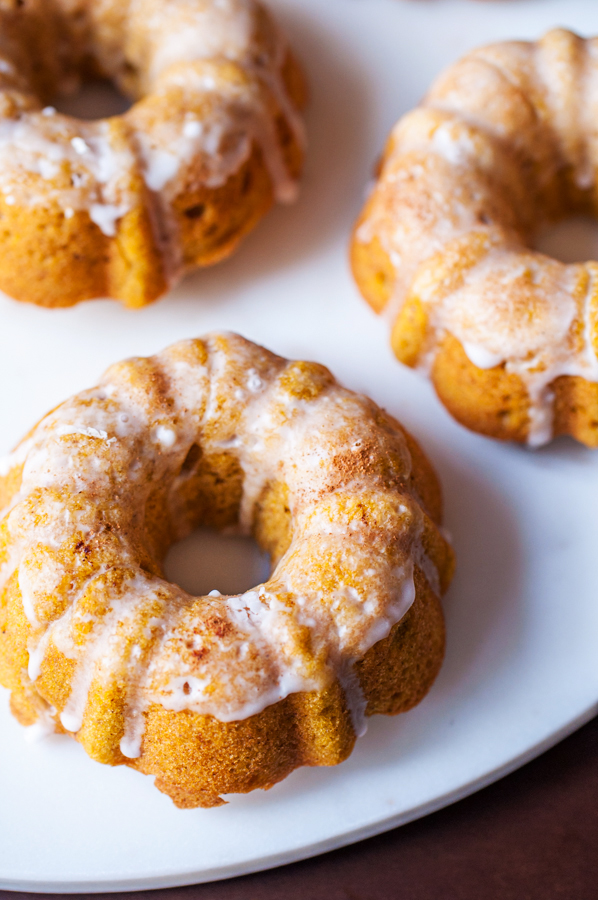 They pair perfectly with a cup of coffee.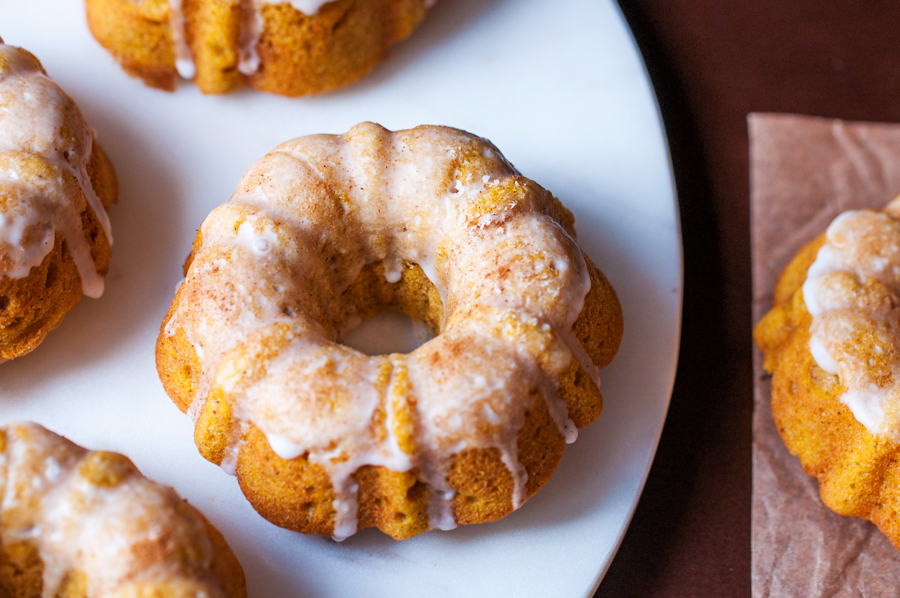 Skip the line at your local donut shop and make these instead!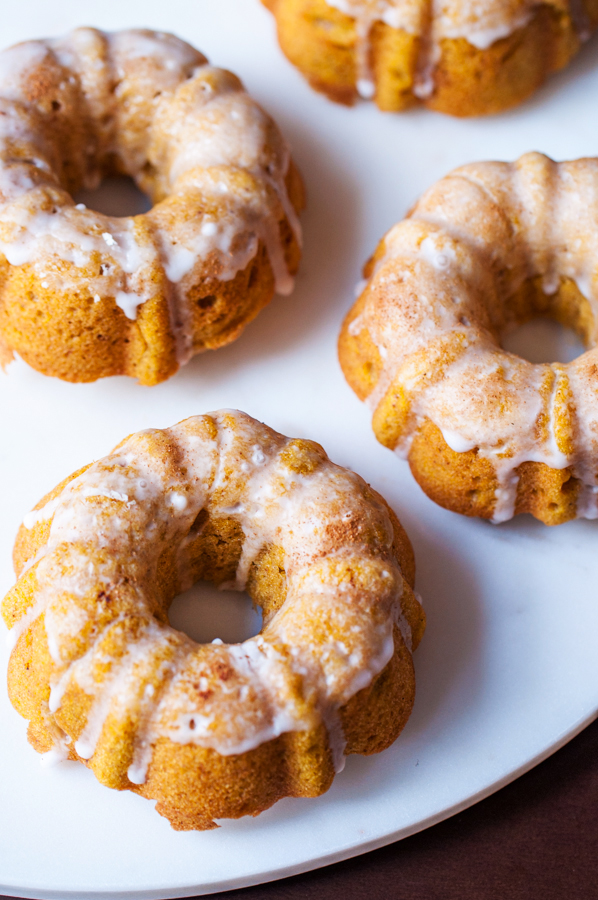 Brown Butter Baked Pumpkin Donut Cruller
Yields 6 donuts
Printer friendly version
Ingredients
Donuts
½ stick (¼ cup) salted butter
1 cup all-purpose flour, sifted
1 teaspoon baking powder
⅛ teaspoon baking soda
½ teaspoon ground cinnamon
⅛ teaspoon ground cloves
⅛ teaspoon ground ginger
¼ + ⅛ cup packed light brown sugar
1 large egg
¼ cup water
1 tablespoon heavy cream
½ cup pumpkin puree
Glaze
½ cup powdered sugar, sifted
1 tablespoon milk or Coffee Mate's Pumpkin Spice Creamer
Directions
Donuts
Melt the butter in a medium sauce pan over medium heat. Once the butter bubbles, begin whisking occasionally to prevent from bubbling over. Once the butter foams, whisk vigorously until golden brown bits form. Remove from heat immediately to prevent burning. Pour into a small bowl and set aside to cool.
Preheat oven to 350°F. Grease a mini-bundt pan or doughnut pan with non-stick spray.
In a large bowl, whisk together the flour, baking powder, baking soda, cinnamon, cloves, and ginger. Set aside.
In a small bowl, whisk together the sugar, egg, and brown butter. In another small bowl, combine the water and cream and set aside.
Pour the egg and water mixture into the flour mixture and add the pumpkin puree. Stir until a thick batter forms.
Fill the prepared bundt pans about ½ way full (about 6 tablespoons), making sure not to cover the divider*. Smooth out the surface.
Bake for 16-18 minutes, or until a toothpick inserted comes out clean. Allow to cool in the pan for 5 minutes. Then, flip onto a cooling rack to cool completely.
Glaze
Whisk together the ingredients. For a thinner consistency, add more milk or creamer.
Adapted from Fifteen Spatulas