Stuffed inside these moist, tender, and soft Banana Coffee Cake Muffins are TWO bananas for a HUGE punch of banana flavor.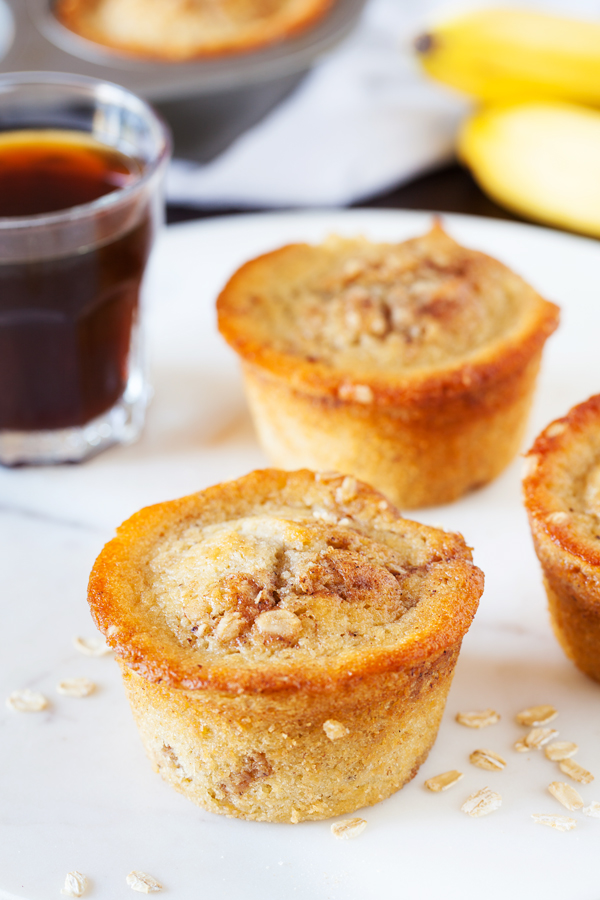 On weekday mornings, I usually try to keep breakfasts as easy as possible. I like to opt for things I can throw in a bag or just grab off the counter. These Banana Coffee Cake Muffins were just added to our list of breakfast items and pairs very well with a cup of coffee.
These Banana Coffee Cake Muffins are perfect as an on-the-go breakfast for a long commute to work. If you pack a few extra they can help you get through the 2 PM lull or keep you company on your commute home :).
Like all great banana baked goods, the recipe for these Banana Coffee Cake Muffins came about during a desperate need to use the last overly ripe bananas. The recipe calls for TWO ripe bananas (no subtlety here) and some thick yogurt. These two ingredients make the batter more on the wet side, BUT that results in moist, tender, and soft muffins.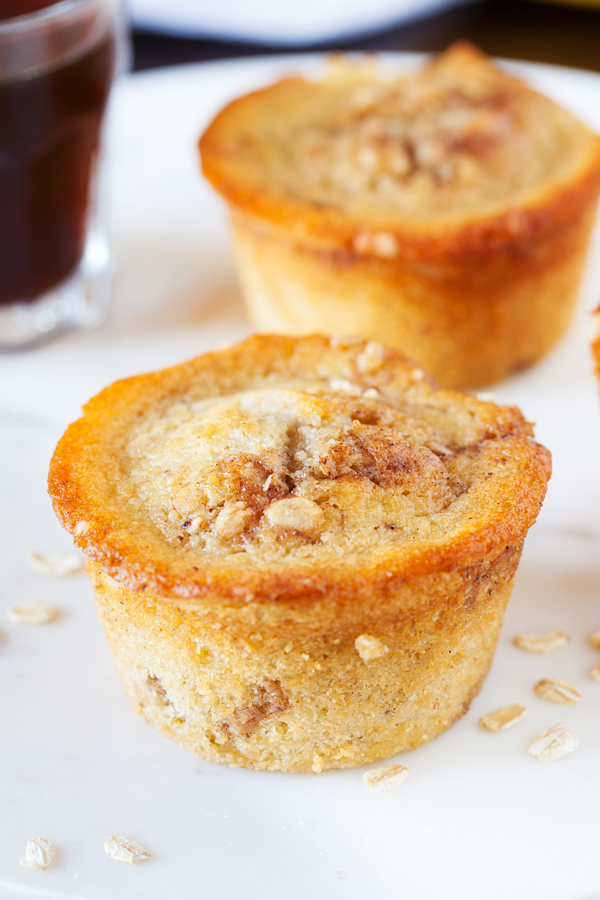 Now, what makes these Banana Coffee Cake Muffins different from any ol' banana bread recipe? They have pockets of cinnamon oat crumble that adds just a slight crunch for a little something special.
One more thing…you don't need a stand mixer! The batter is made using a food processor, essentially making it a one bowl recipe! Pretty good, right?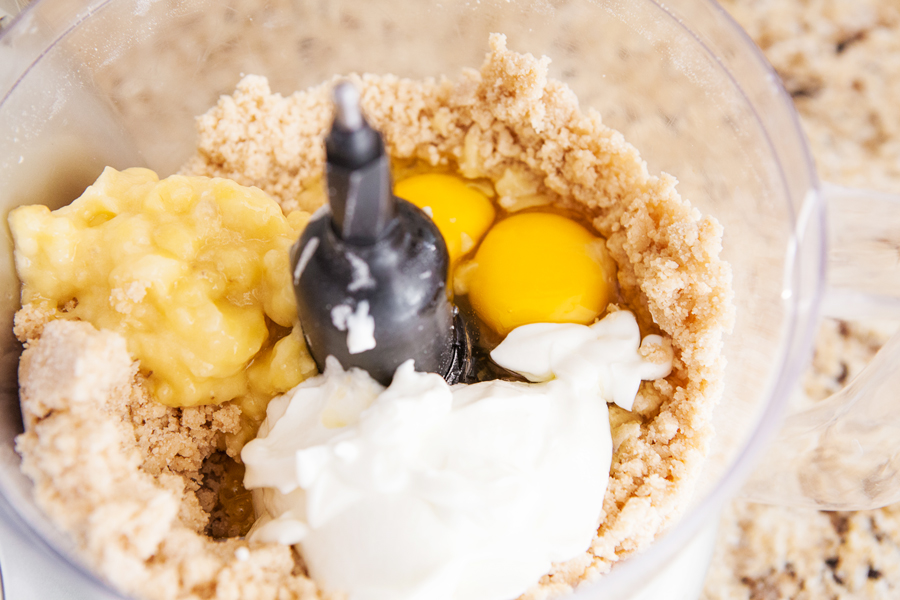 Next time you have a couple of senile bananas on your counter, give these Banana Coffee Cake Muffins a try and let me know how you like them! Want to try them now? Check out the recipe to find out how to quickly ripen bananas.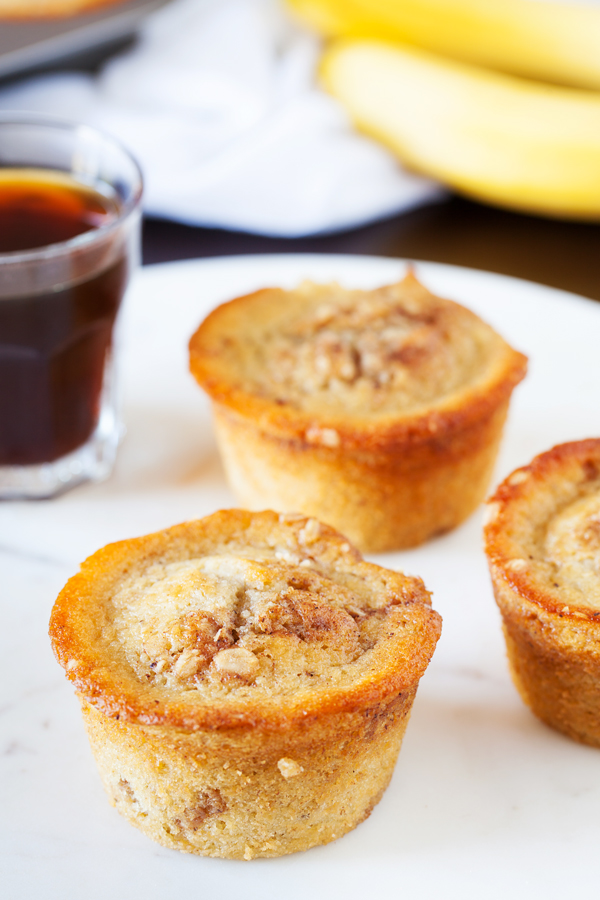 Banana Coffee Cake Muffins
Yields 12 standard muffins
Printer friendly version
Streusel Topping
Ingredients
⅙ cup brown sugar
⅛ cup granulated sugar
⅛ cup flour
¼ cup oats
½ tablespoon ground cinnamon
Banana Coffee Cake Muffins
Ingredients
½ cup granulated sugar
½ cup brown sugar, packed
12 tablespoons salted butter, chilled and cut into cubes
1 cup all-purpose flour
½ teaspoon baking powder
¼ teaspoon baking soda
3 large eggs, room temperature*
½ cup Greek yogurt, room temperature
2 ripe bananas**, mashed
Directions
Preheat the oven to 350°F and grease or line a standard sized muffin pan.
In a food processor, pulse together the Streusel Topping ingredients until combined and slightly coarse, about 10 seconds. Pour contents into a bowl and set aside.
To the now empty food processor bowl, pulse the sugars and butter until large crumbs form.
Add the flour, baking powder, baking soda, and pulse until combined.
Add the eggs, yogurt, and banana and pulse until a smooth batter forms, scraping down the sides as necessary.
Fill the prepared muffin pan half way full. Sprinkle 1-2 teaspoons of streusel over the batter and use a butter knife to swirl the streusel into the batter. Fill with batter until ⅔ full. Top with 1-2 teaspoons streusel and swirl with the butter knife.
Bake for 20-24 minutes or until a toothpick inserted comes out clean. Let cool in the muffin tins for 10 minutes. Transfer to a cooling rack to completely cool.
Notes
*Rapidly bring the eggs to room temperature by submerging the whole eggs in warm water for 10 minutes.
**How to quickly ripen bananas: "Roast" whole, unpeeled bananas on a cookie sheet in a 300°F oven for 30 – 40 minutes, until the peel is very dark and the banana is soft. Tip from: Handle the Heat's "10 Baking Secrets you NEED to Know"
Storage
Store in an air tight container at room temperature for up to 2 days.
Adapted and modified from The America's Test Kitchen Family Baking Book
This page contains affiliate links that help make The PKP Way possible.