Learn how to achieve perfect peach slices for use in these Baked Peaches Breakfast Toasts and all of your favorite peach recipes.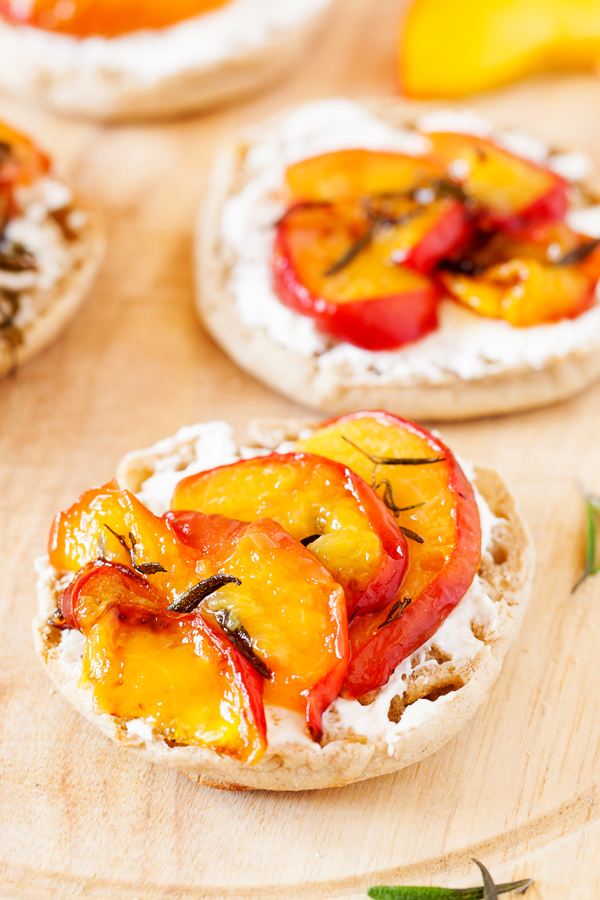 Welcome to the first Kitchen Tip Tuesday, where I share kitchen tips/tricks/hacks on a select Tuesday of every month. I currently have several tips/tricks/hacks on the blog, but now I'm just giving them a home :) My goal for Kitchen Tip Tuesday is to make your kitchen life easier by turning you into a more efficient home-cook so that trying new recipes is less daunting, intimidating, and exhausting.
With summer almost here, peaches are beginning to take over the produce section. Officially, peach season can begin as early as May, but they seem to be more prominent right about now. While grocery shopping last week, I was walking through the produce section and stopped in my tracks when I got a whiff of the sweet peaches! I had to stop and pick up at least a few to bring home with me.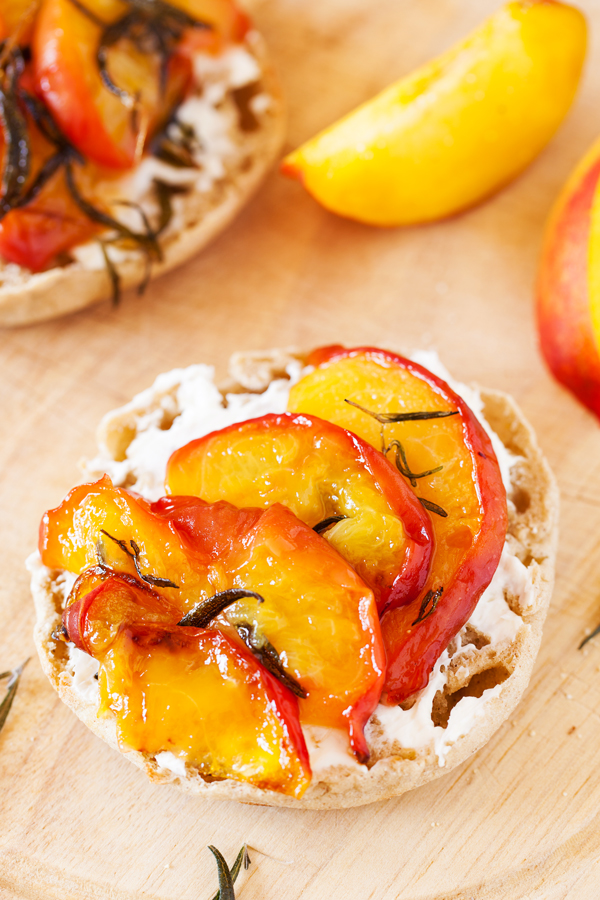 Peaches are great to eat whole, as-is, but what happens when you want to use them in a recipe? Today, as part of Kitchen Tip Tuesday, I will show you how to achieve perfect peach slices. Once you have the technique in your arsenal of kitchen skills, whipping up a peach cobbler, peach crisp or my Baked Peaches Breakfast Toasts will be a breeze!
Begin by washing your peach under cold running water and dry it with a paper towel. Next, run a paring knife around the cross-section of the peach, from top (where the stem is) to bottom.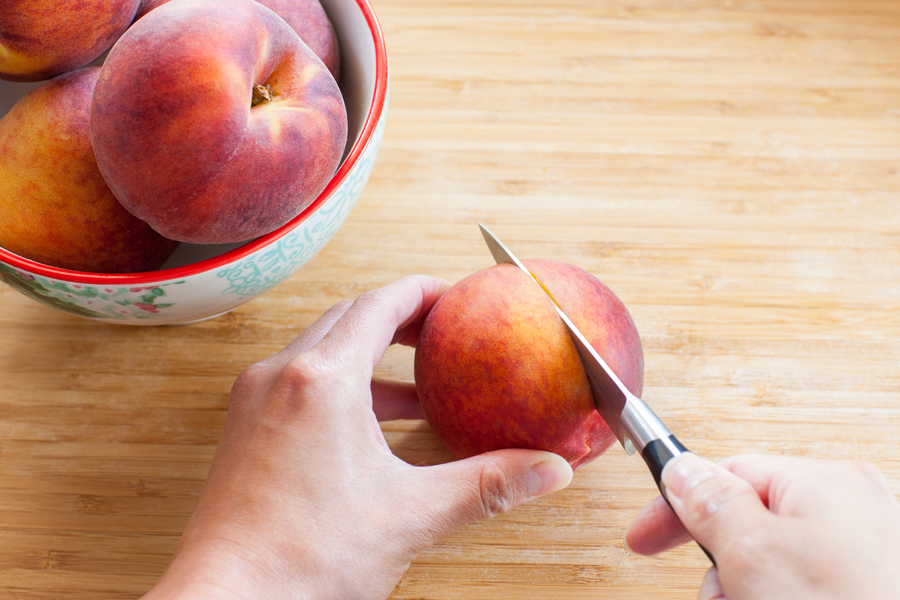 Rotate the peach 90° and repeat. If you were to separate the peach from the pit right now, you should have 4 wedges. Because recipes tend to use slices, continue running the knife around the peach to divide each wedge in half.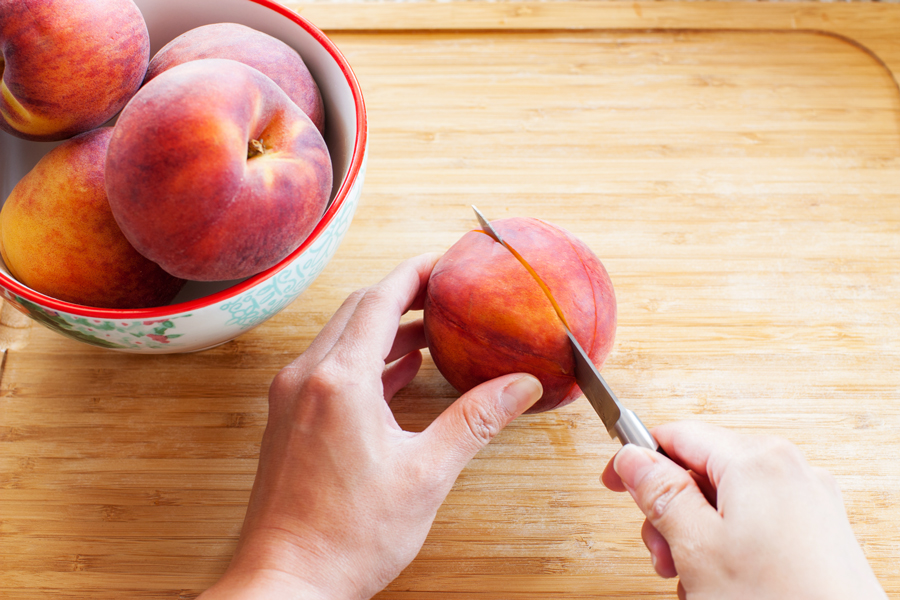 The hardest piece to pull out is the first one, just like a pie. Rock the paring knife (left-right motion) along each side of the peach slice to help loosen it. Finally, pull out the first slice.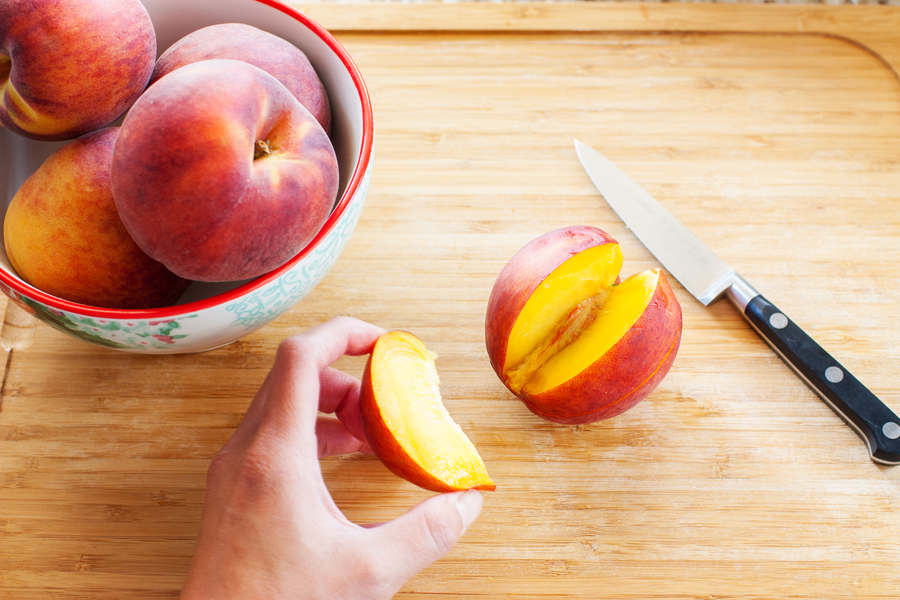 Once the first slice is out, wiggle subsequent slices (like a loose tooth) until they separate from the pit.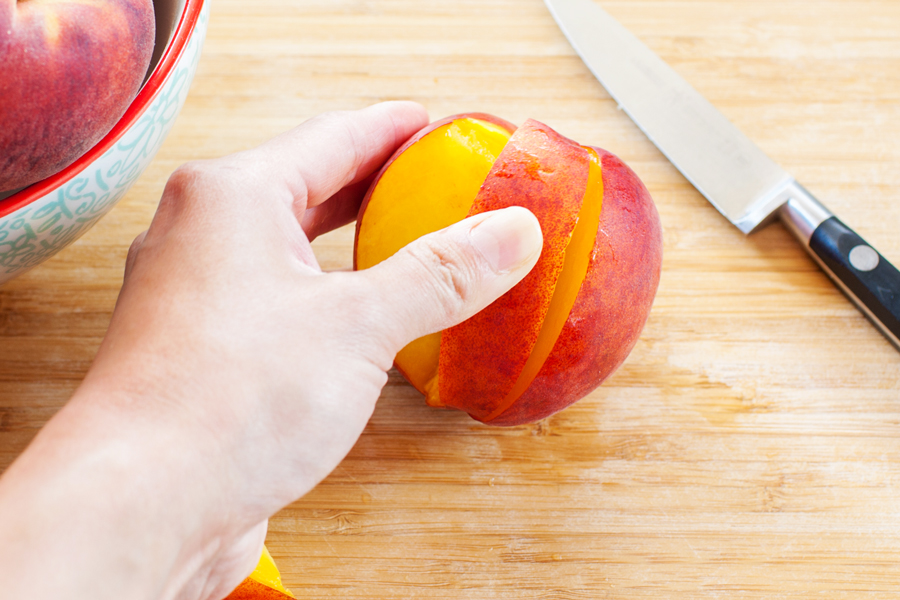 Continue until all slices have been removed.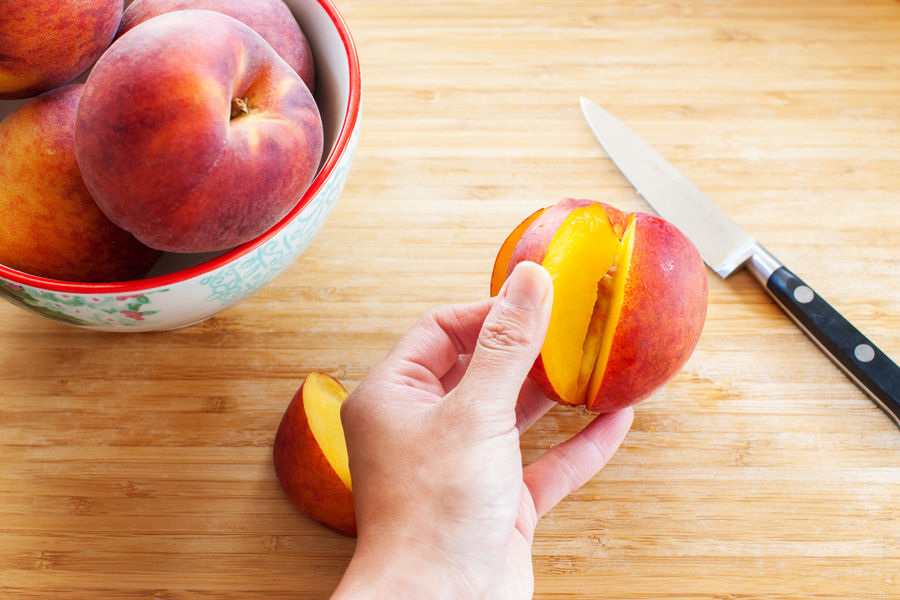 Pretty soon you will have perfect peach slices.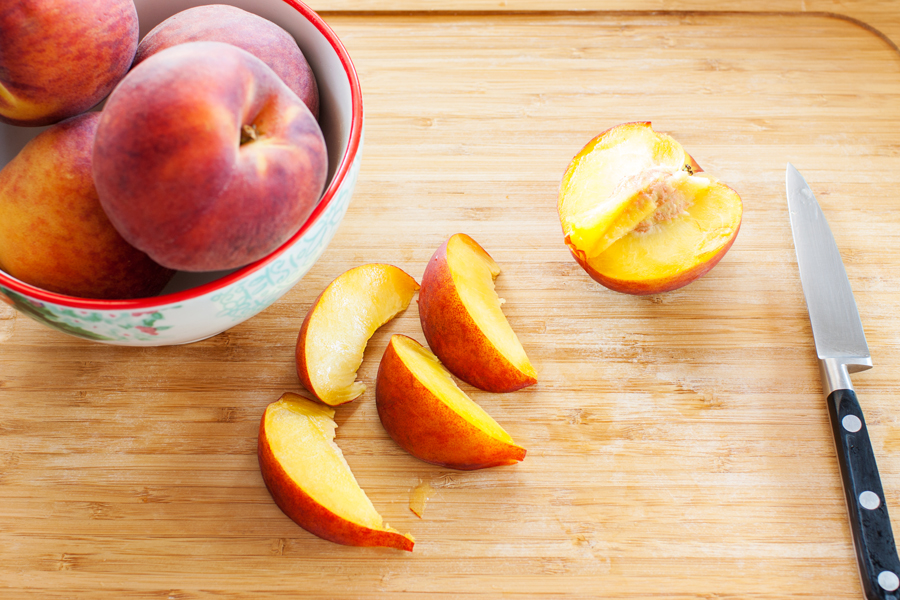 At this point, if you'd like for your peach slices to be thinner, go ahead and cut each slice in half.
To make my Baked Peaches Breakfast Toasts, drizzle the slices in a little bit of olive oil and a few sprigs of rosemary. Give it a toss to coat and bake.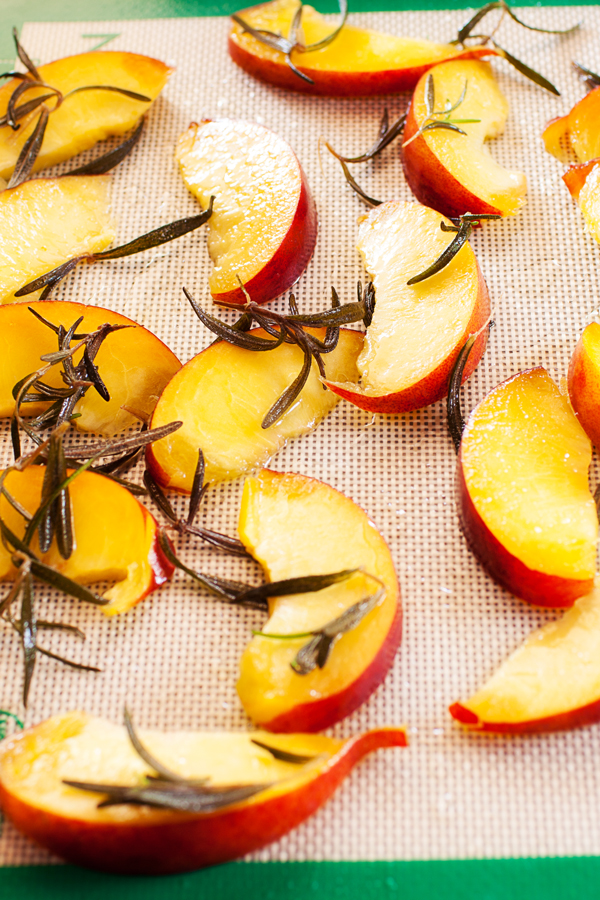 The peaches are done when the juices have concentrated, caramelized, and each slice has shrunk and wrinkled a bit.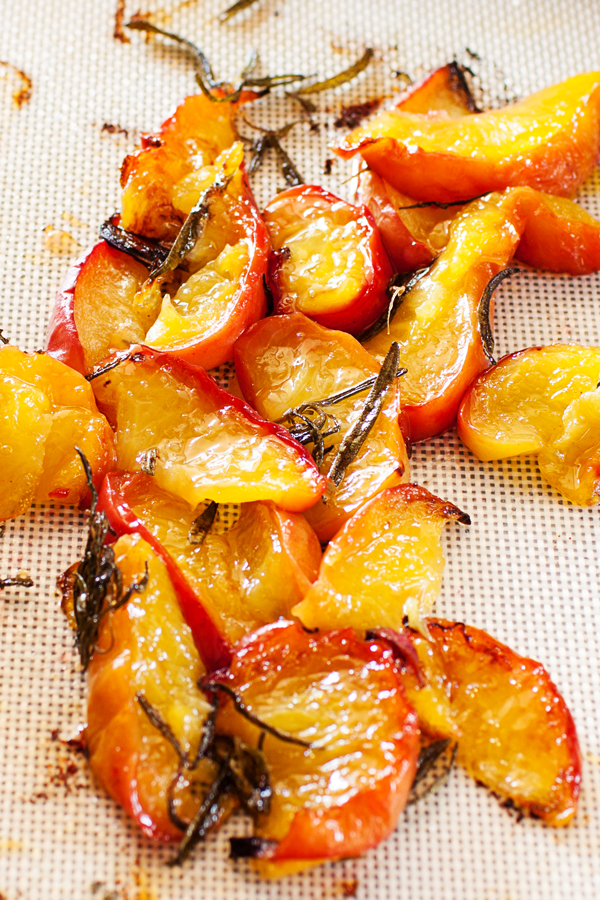 Next, spread cream cheese onto a freshly toasted English muffin. Alternatively, you can use slices of crusty bread or even pound cake!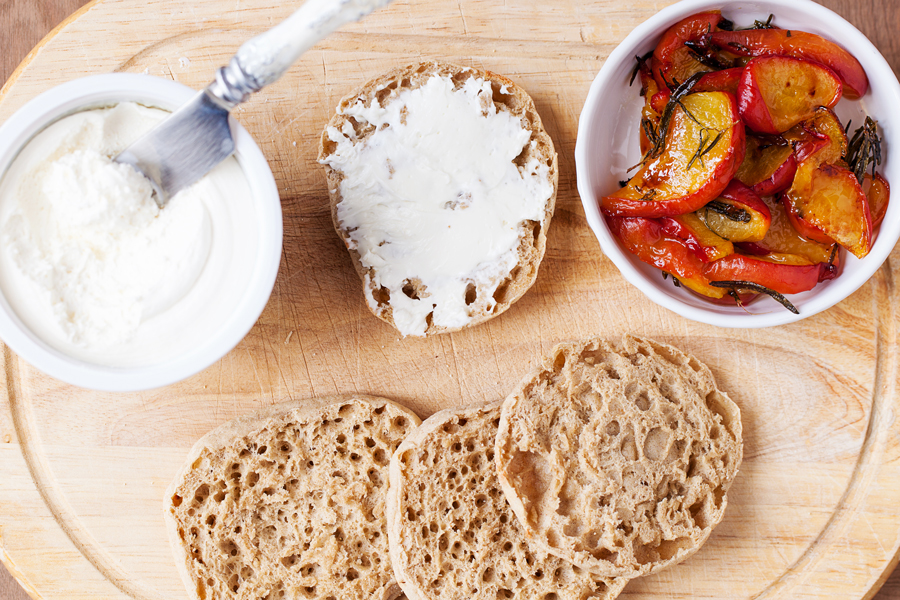 Finally, top with your baked peaches.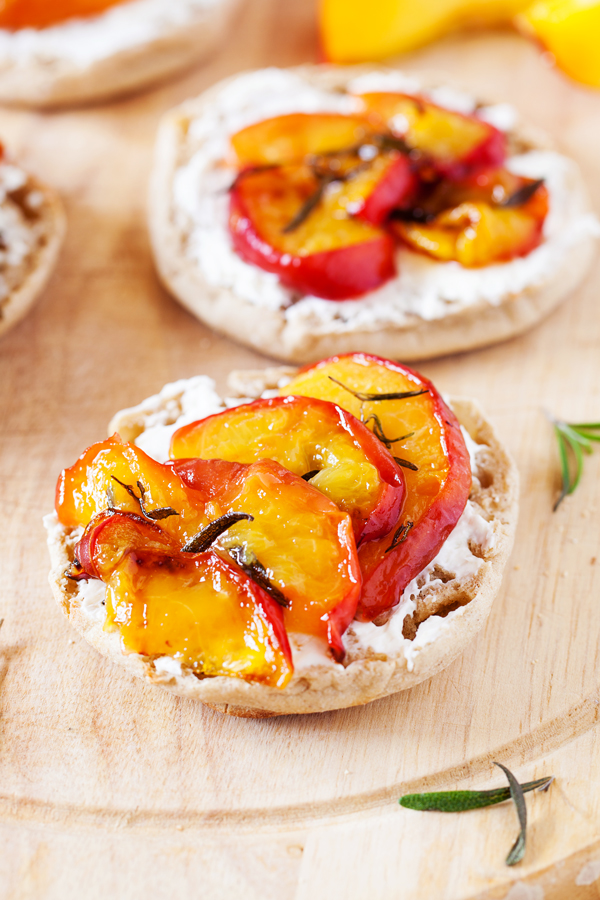 Originally, I was only going to add these Baked Peaches Breakfast Toasts to my "Weekend Breakfasts" List, but they're easy and quick enough to make on weekday mornings too! Especially, once you've mastered slicing peaches!
These Baked Peaches Breakfast Toasts have a gamut of flavors. The concentrated juices from the peaches are sweet and sour, the rosemary adds an earthy tone, and the cream cheese adds a savory component. The toasted English muffin is an excellent vehicle for delivery, adding some crunch and keeping things interesting. Definitely a yummy treat to wake up to!
I hope you enjoyed this installment of Kitchen Tip Tuesday. See you next time!
Click for more tips, tricks, and hacks
Baked Peaches Breakfast Toasts
Yields 4 breakfast toasts
Printer friendly version
Ingredients
1 ripe peach, washed, dried, and thinly sliced
1 tablespoon olive oil
Leaves from 1 fresh rosemary sprig
4 tablespoons cream cheese, separated
2 English muffins, split
Directions
Preheat the oven to 425°F and line a baking sheet with parchment paper or silpat.
Evenly spread the peaches on the baking sheet. Drizzle on the olive oil and sprinkle with the rosemary leaves. Toss to coat.
Bake for 17-20 minutes, until the juices have concentrated, caramelized, and the peaches have shrunk and wrinkled a bit.
While the peaches are baking, toast the English muffins. While still warm, spread 1 tablespoon of cream cheese onto each of the English muffins.
Top each muffin with 3-4 slices of baked peaches. Serve immediately.
Inspired by Martha Stewart Living