This shop has been compensated by Collective Bias, Inc. and its advertiser. All opinions are mine alone. #Swapyourburger #CollectiveBias
These Alaskan Pollock Burgers with Pineapple and Jalapeño Slaw are a healthy alternative to a regular burger yet just as delicious as an item on the menu of a gourmet burger restaurant.
In my quest to make healthier and sustainable lifestyle choices, I am constantly on the hunt for alternatives to high fat proteins. So far, I've made the Green-chile chicken baguette and a variety of salmon dishes. Today, I'm trying something new, yet again.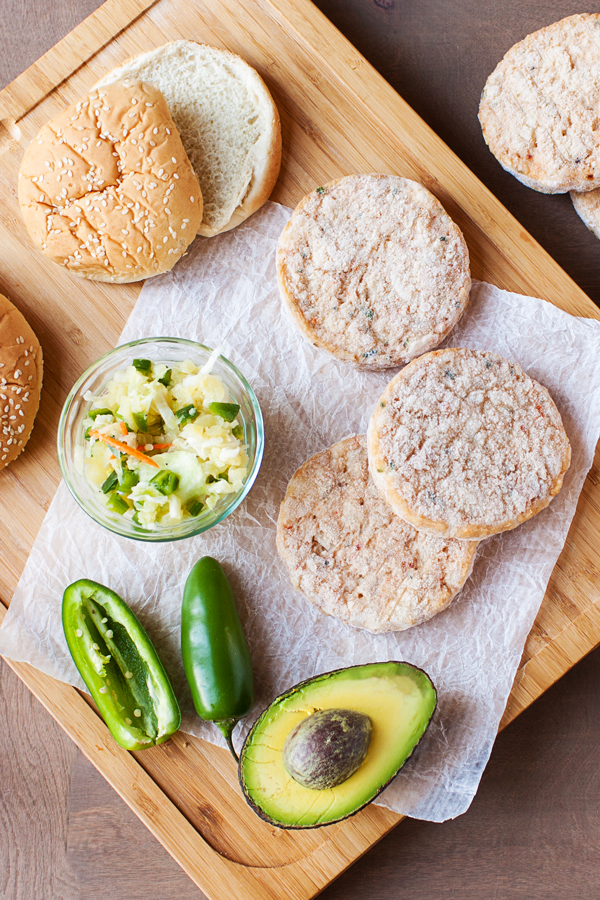 Have you heard of the Alaskan Pollock? It's also known as the Walleye Pollock and is one of the top five seafood species consumed in the United States! How come I'm only hearing about them now? Anyway, I stumbled upon these Trident Seafoods® Wild Alaskan Pollock Burgers while roaming the aisles at Costco. I was intrigued so into the cart they went!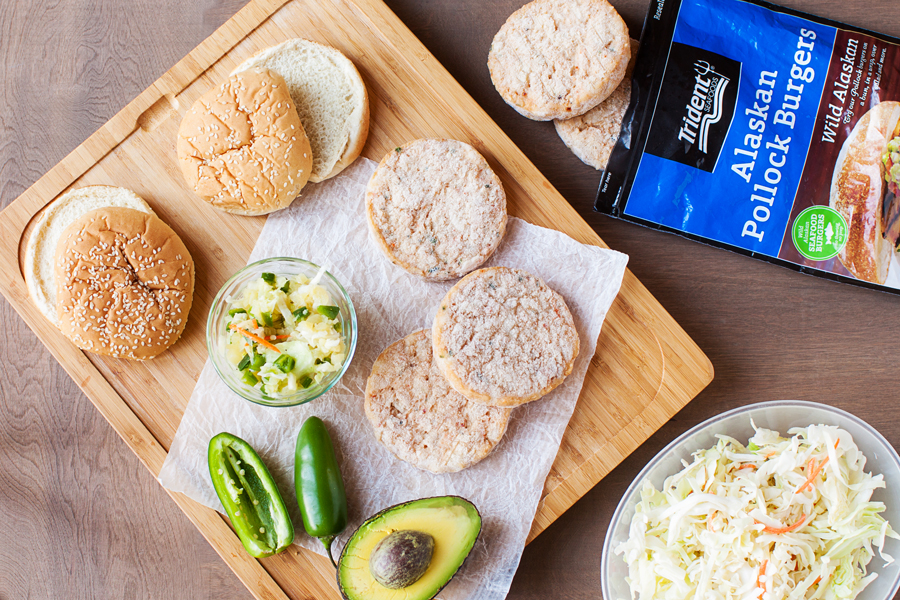 Because summer is so close, making a burger seemed appropriate. They were so easy to prepare and can be pan-fried from frozen. In fact, they don't even recommend thawing it first. Simply heat up a pan with a light coating of oil and cook over medium heat for 3 minutes on each side. I never knew frozen patties could be ready that quickly! The house smelled so good from the preparation of the patties alone. It even lured Warren into the kitchen.

I toasted up some burger buns, melted some cheese on the patties, and assembled the burgers with avocado slices and a pineapple and jalapeño slaw.
Let's just talk about the pineapple and jalapeño slaw for a little bit. It's a little sweet, a little spicy, and a little sour. Best of all, with just that slaw, these Alaskan Pollock Burgers with Pineapple and Jalapeño Slaw become reminiscent of a burger you'd find in one of those gourmet burger restaurants that's very popular nowadays.
They were so delicious, Warren had two! Me? Well, let's just say there's only one burger pictured below for a reason :/
Verdict? Totally LOVE these Trident Seafoods® Wild Alaskan Pollock Burgers. The patties were mild in flavor (similar to cod) and had a delicate and flaky texture. So delicious! In fact, we enjoyed it so much we had three more for dinner the next day :D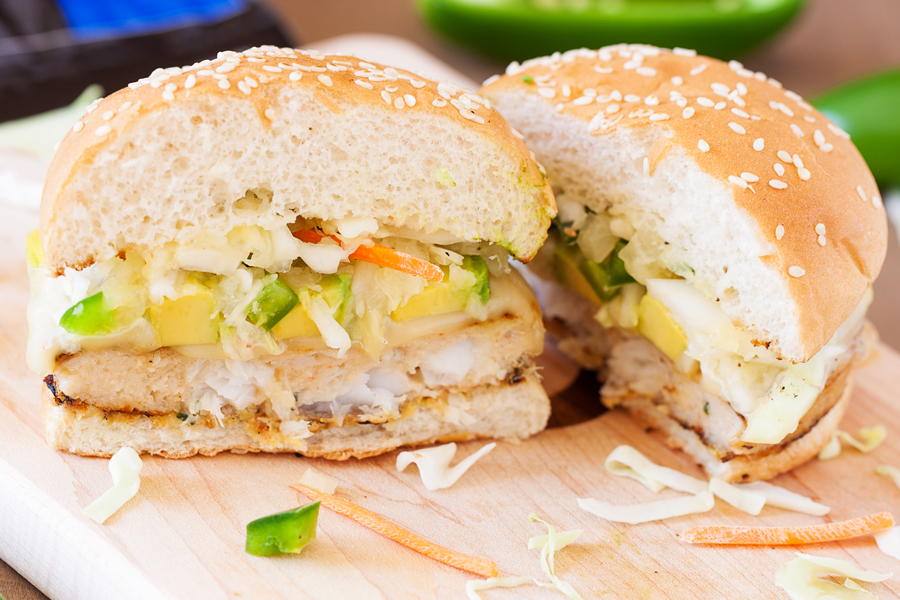 Alaskan Pollock Burgers with Pineapple & Jalapeño Slaw
Yields 4 burgers
Printer friendly version
Ingredients
1 ½ cups coleslaw blend*
1 cup canned crushed pineapple, drained
1 jalapeño, seeded and diced
2 teaspoons fresh lemon juice
Salt and pepper to taste
4 Trident Seafoods® Wild Alaskan Pollock Burgers patties
4 sesame buns, split
4 slices of cheese of choice**
Condiment(s) of choice
1 avocado, pitted and thinly sliced
Directions
In a medium bowl, combine the coleslaw, pineapple, jalapeño and lemon juice. Stir to combine and add salt and pepper to taste. Cover and refrigerate while cooking the burgers.
Lightly oil a skillet or saute pan. Cook the Trident Seafoods® Wild Alaskan Pollock patties over medium heat, about 3 minutes on each side. Transfer the patties to a clean plate.
Toast the buns, cut sides down in the empty skillet for about 30 seconds. Transfer the buns to a clean plate and return the patties to the pan. Top each patty with a slice of cheese, cover with a lid and allow the cheese to melt for about 20 seconds.
Assemble the burger: Spread the condiment of choice on the bottom bun, add the patty, top with 3-4 slices of avocado, top with the pineapple and jalapeño slaw, and close with the top bun. Serve immediately.
Notes
*I used a pre-shredded, pre-packaged blend of cabbage and carrots that can be found in the pre-packaged salads section.
**I've used Monterey jack, pepper jack, and cheddar. Use your favorite!