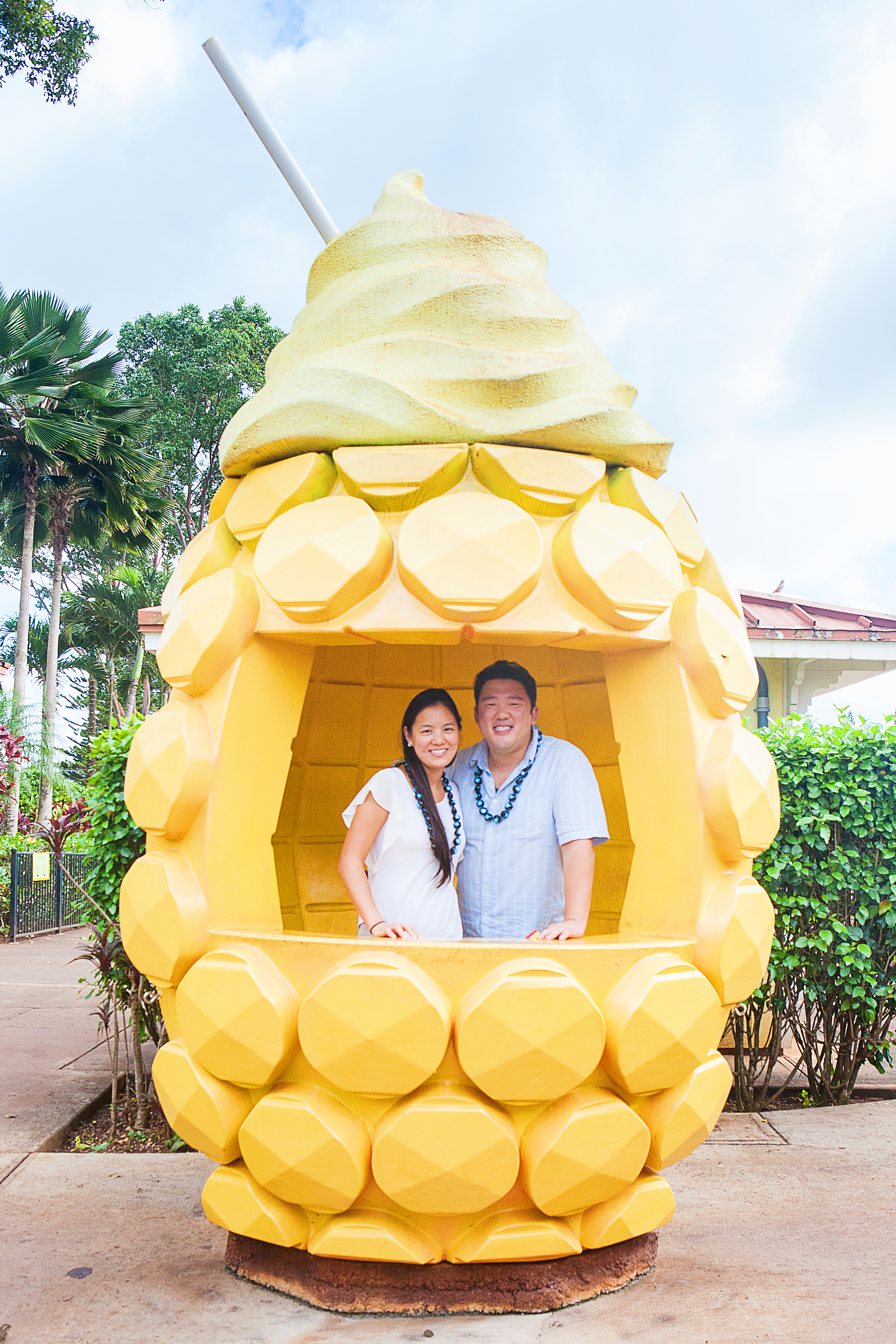 Aloha! The weekend before last, Warren, my mother, and I took a quick trip to Oahu, Hawaii for my cousin's wedding. We arrived Thursday evening and departed Sunday morning. With the wedding being held on Friday morning/early afternoon, we really only had whatever was left of Friday and all day Saturday. Since we knew it was going to be a very short trip, we tried to be very purposeful and strategic with our plans in order to see as much as possible. It was also Warren's first time to Hawaii. My mother had visited once decades before and I went when I was much younger, so it was almost like our first time too!
Below you will find photo grids of the sites we visited if you ever find yourself only having a day and a half in Oahu. We were very happy with our itinerary, so I hope you will find it helpful. Most of the sites were visited on Saturday and we were able to beat the tour bus crowds by beginning the day early, around 6:30 AM. So, if you don't want strangers in the background of your photographs, start early! You can sleep on the plane :)
Dole Plantation
The wedding reception ended around 2:30 PM on Friday and we headed out right away to visit the Dole Plantation. The Dole Plantation closed at 5 PM and there was no admission fee, so we were OK with seeing as much as we could before closing time. The plantation offers a large parking lot at no additional charge and people were coming and going consistently so we didn't have any trouble finding parking. We roamed the grounds, taking in the beautiful gardens and learning about the history of the pineapple.
The Dole Plantation has 3 additional activities that have a small fee – Pineapple Express (a train ride along the perimeter of the plantation garden), the Plantation Garden Tour (an audio-set-guided walking tour of the garden) and the Pineapple Garden Maze. With the little time we had, we chose the Pineapple Express because it also takes you around the garden. There is a discount if you choose to purchase tickets for more than one activity. After the train, we headed into the gift shop and spotted the Dole Whip counter! We're huge fans of the Dole Whip at Disneyland so trying it at the plantation was a MUST. It was amazing and yes, it was better than Disneyland's. Although Disneyland's is a close second :)

Haleiwa Beach Park
After the plantation, we drove to Haleiwa, a local surfer town. We stopped at Haleiwa Beach Park and were pleasantly surprised at how empty it was, maybe a dozen people at the most! The beach was clean, and the water was clear. Pretty much the serene environment you'd expect from a Hawaiian beach :)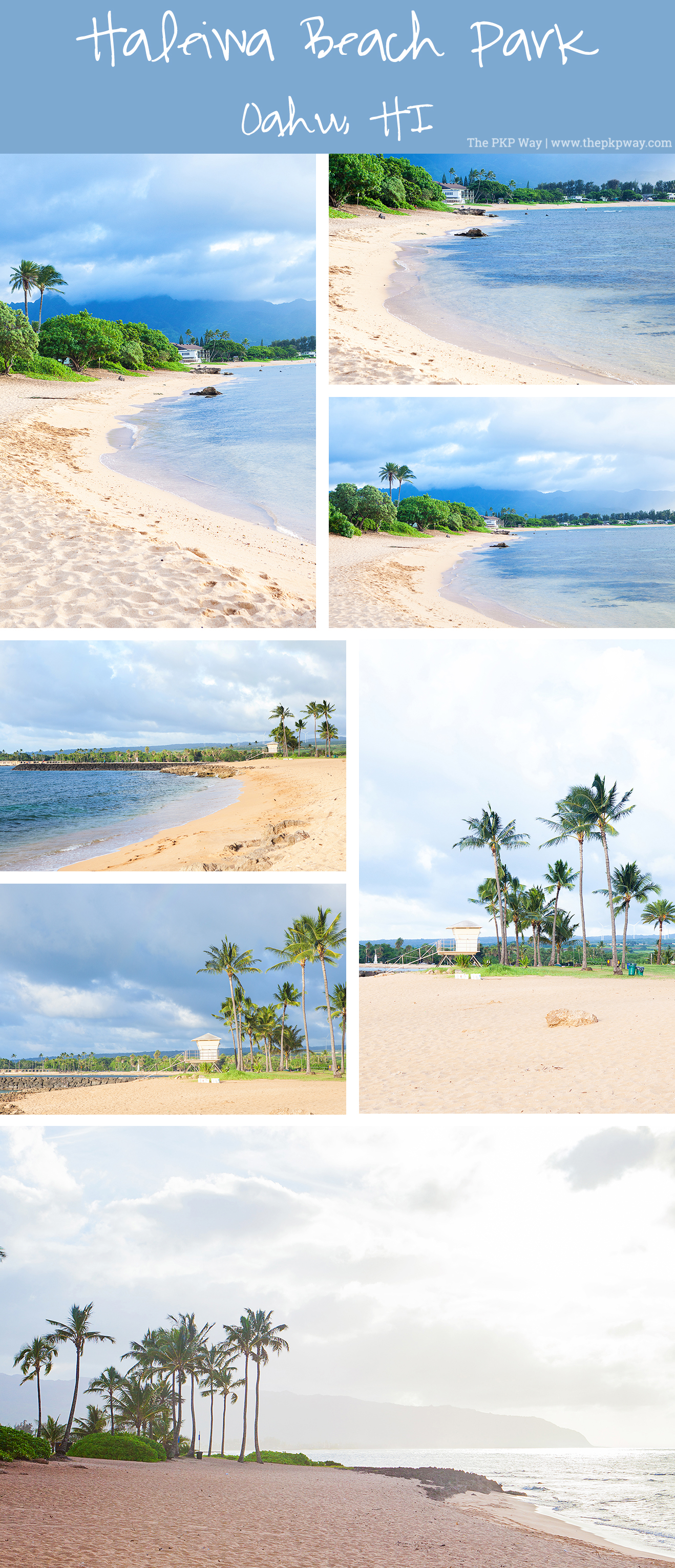 Waimea Bay
We then drove up the coast to Waimea Bay Beach Park to watch the sunset. There were more people at this beach and the locals were fishing off the shoreline. Although the sunset was stunning, it was short lived because so many clouds were in the sky. After a few seconds of seeing the radiant sun, it went into hiding behind the clouds. When we come back to Oahu (hopefully sooner rather than later), we'd like to visit Waimea Valley, a botanical garden that offers a hike up to a waterfall.

Makapuu Beach Park
On Saturday morning, we began our day at 6:30 AM because we had a full schedule ahead. Our first stop was Makapuu Beach Park. I just couldn't get over how clear the water was!

Makapuu Point
The next stop was Makapuu Point and Lighthouse. We didn't hike to see the lighthouse, but from the high point, the views were spectacular and unreal.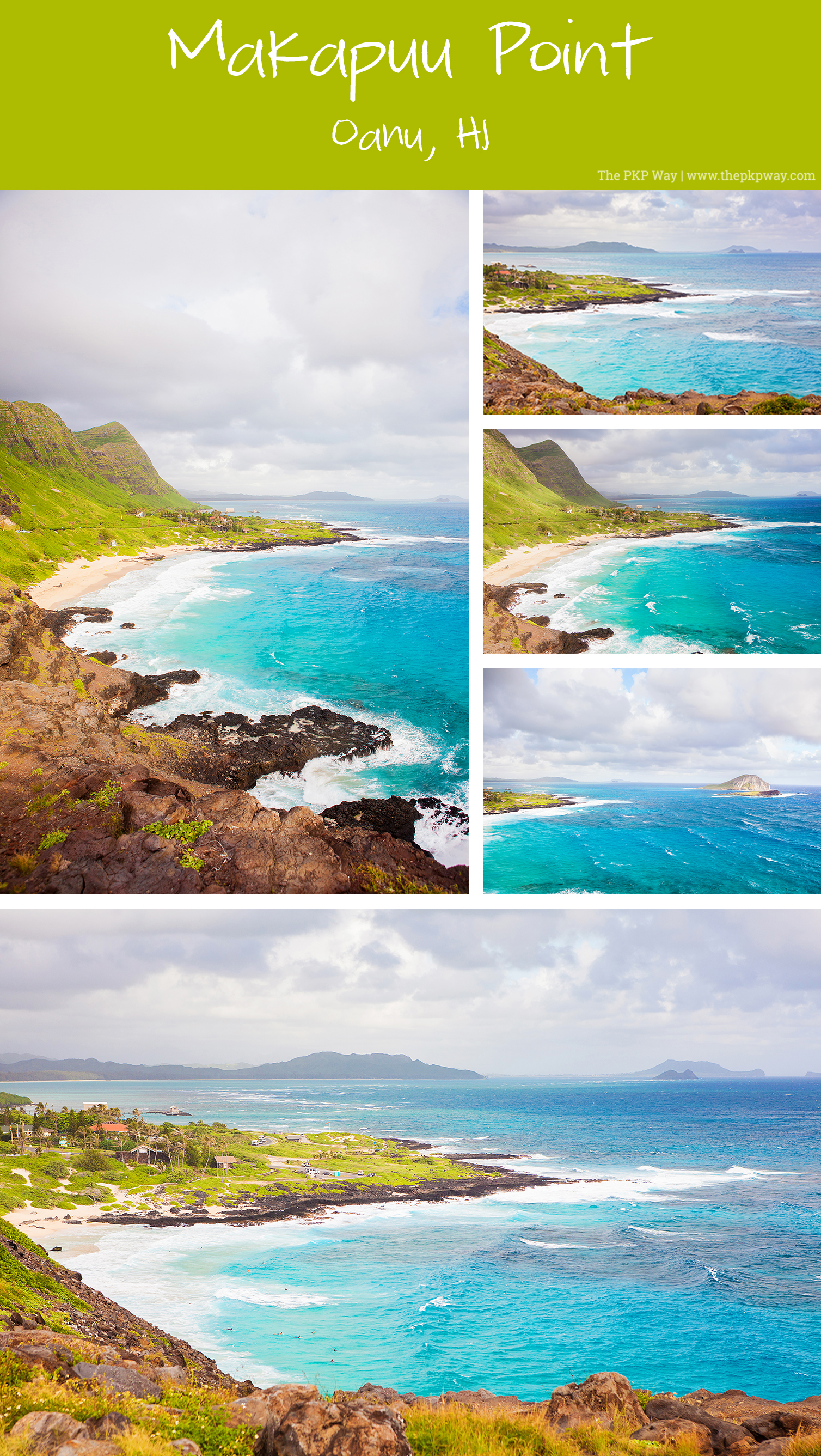 Sandy Beach Park
Down the coast from Makapuu was Sandy Beach Park. The water was populated by bobbing surfers waiting for the perfect wave. It was so cool to see surfers in action and to have snapped this surfer doing his thang on his board. I haven't really spotted anything like that in LA before. Not with that backdrop anyway. I totally wanted to learn how to surf after that!

Halona Blow Hole
Our next stop was the Halona Blow Hole, a huge tourist attraction! Luckily, we were just about leaving when all the tour buses pulled up, BUT not before this happened…some anxious tourists who were the first to get off the buses, started to take pictures as I was taking my last snaps. I was approached by TWO tourists to get out of their shot in the background! I mean, who does that? Just wait until I leave, duh. OK, back to serene Hawaii. Make sure to practice your patience to catch sight of that perfect spray! You won't regret it.

Hanauma Bay Nature Preserve
Next up was Hanauma Bay Nature Preserve. You can pay a small admission fee to take the shuttle down to the circular-shaped shore that was once a volcanic crater, but we didn't have time to lounge around, so we opted out. Alternatively, you can do what we did and walk up for a view of the shore. In Oahu, rain showers appear randomly and happen in patches. I mean, you could be standing on one block being poured on while the next block is completely dry! While we were at the high point at the preserve, a heavy shower came in combination with high winds. By the time we made it back to the car, we were drenched. What an experience!
Nuuanu Pali Lookout
The next stop was Nu'uanu Pali Lookout, which is known for panoramic views and wind tunnels formed from the high mountains on either side of the valley. This was the ideal stop after being soaked because the high winds expedited the dry off time! I would say we were there for no more than 20 minutes and were nearly dry at the end. That's how strong the winds were!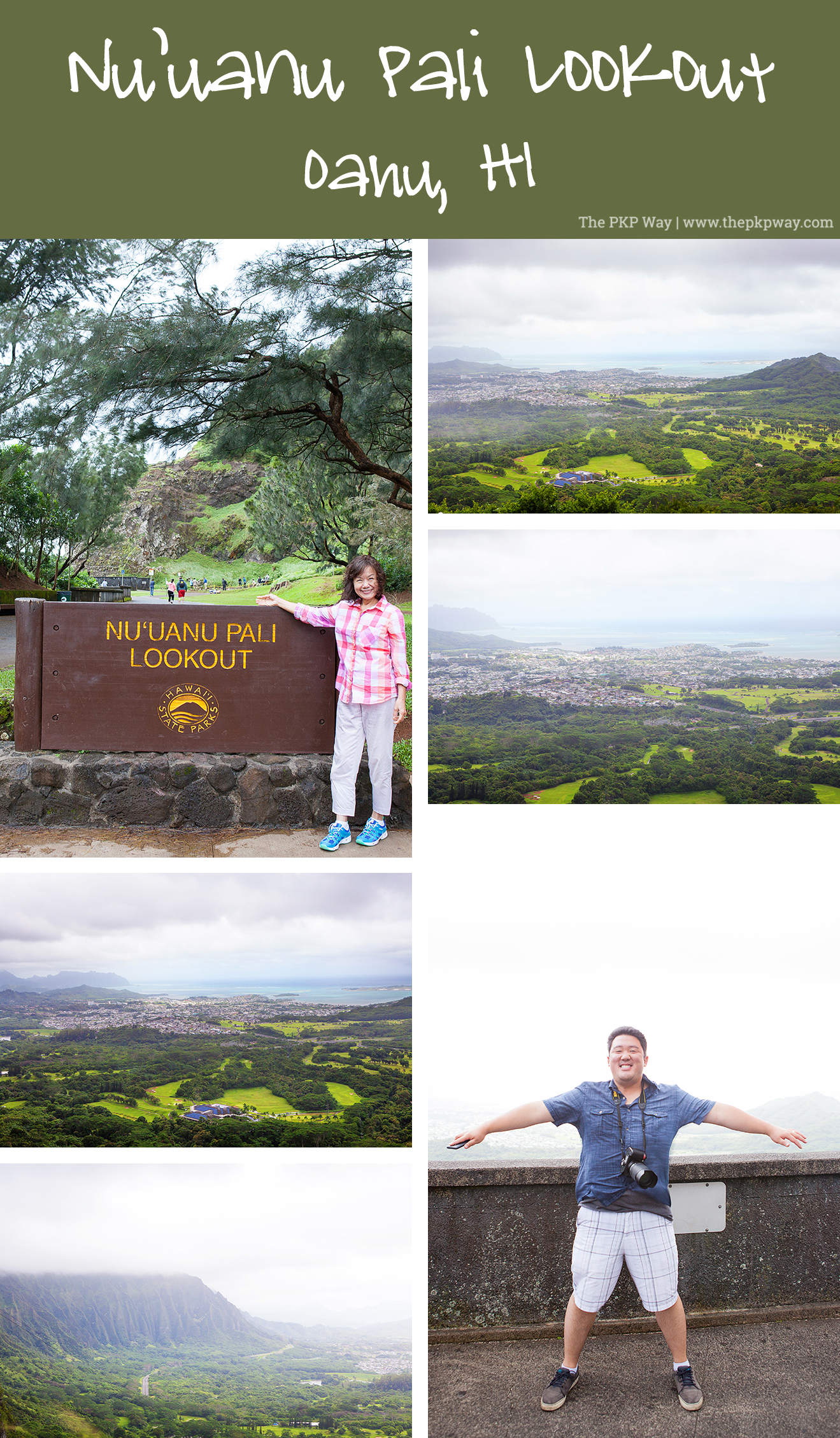 Byodo-In Temple
The last stop before lunch was Byodo-In Temple. The temple is a smaller-scale replica of the one in Japan that's over 950 years old. This replica was built to commemorate the 100 year anniversary of the first Japanese immigrants to Hawaii. The grounds on which the temple sits features koi ponds, meditation sites, small waterfalls, and landscaped with bamboo. Just lovely.

North Shore Food Trucks
For lunch we went to North Shore to check out Giovanni's Shrimp Truck. We were so busy planning the must-see sights that we didn't have time to plan out places to eat. Luckily, one of Warren's co-workers recently came back from her trip to Oahu and made some awesome recommendations. Everywhere we ate basically came from her. Thanks, Kathy!
Back to the shrimp truck. The truck is parked in an area with a few other food trucks and stands and vendor booths. Giovanni's attracts both locals and tourists and there are many picnic tables so you won't be forced to eat in your car, on the ground, or while standing. The shrimp scampi plate is the most popular. Warren was daring and ordered the "No Refunds" hot and spicy shrimp plate. I chose the shrimp scampi plate because you can ask for the hot sauce from the "No Refunds" plate on the side. Everyone cleaned their plates, but Warren thought my decision to use the hot sauce for dipping was the way to go. The garlicky sauce on the shrimp scampy was delicious and not overrated, contrary to some reviewers. The hot sauce was slightly acidic and very mildly sweet. I generally do not like any sweet hot sauces, but this paired very well with the garlicky shrimp. The hot sauce hits you quickly! My ears got hot almost the instant it hit my palate. Rest assured it is short-lived and you'll be back to normal in a minute.
When we arrived, the line to order was nonexistent, but the line to pick-up your order was extensive. I think Warren waited for over 30 minutes for our order. By the time we left though, the ordering line had grown. While one of your party members is waiting for the order, you can roam around and check out the other vendors and food stands for an appetizer. We tried the BBQ corn, rambutan, and banana leaf-roasted sticky rice.

Germaine's Luau
Our last attraction of the day was a beach side buffet and luau at Germaine's Luau. We got to the luau site with lots of time to spare, so we explored the closest surrounding areas and found that Aulani, the newest Disney Resort was close by, so off we went. Of course, we weren't staying there (it's on our bucket list!) so we couldn't go in, but I managed to snap a picture of the sign, which is good enough for now :)
The luau is located in a very industrial area, not where you'd expect a luau to be held at all. However, once you enter the luau site, it is completely transformed and everything you'd expect from a luau. It was a full house, but the staff did an excellent job keeping order for the buffet lines. It is first-come, first served seating and I believe reserved tables can be arranged for large parties. When the luau begins, you're free to roam around to get a better view of the stage if need be, so don't be too disappointed if you don't arrive early enough to get front row seats.

Leonard's Bakery
After the luau we headed to Leonard's Bakery for dessert. They are known for their Portuguese donuts or Malasadas, which are fried yeast donuts coated with sugar. We tried one of every coating flavor – original (plain sugar), cinnamon sugar, and Li Hing (sweet and sour). We also tried a couple of the Malasada puffs, the filled versions, and ordered the coconut filling and the passion fruit filling.
Leonard's makes the Malasadas to order. Similar to Giovanni's Shrimp Truck, the line to order is very short or nonexistent, but the line to pick-up is out the door! Since it is made to order, the Malasadas are warm and should be eaten right away, on site, NOW! It doesn't matter if you have to stand or sit in your car, take a bite now!
Malasadas are unlike anything I've ever had before, certainly unlike any donut I've ever had. The initial bite is very similar to a regular donut from any ol' donut shop, but once you hit the inside, it's like biting into a cloud. So completely airy, lite, and soft. One is not enough. Order at least half a dozen!

Café Kaila
On Sunday morning before we caught our plane, we had breakfast at Café Kaila. It opened at 7 AM and by the time we arrived at 7:07, the restaurant was already full and we were third on the wait list. While waiting, a server came out and gave us samples of their Belgian Malted Waffles. So fragrant, crispy, and soft! The food was delicious, the restaurant was tidy, and the service was perfect. Our coffee mugs and water cups were never empty, our empty plates were cleared almost immediately, and we were continuously asked if we needed anything else. The three of us shared a Belgian Malted Waffle, a Lemon Meringue Waffle, and the Kalua Pork Eggs Benedict. The latter two were the specials of the day. Their waffles were crispy on the outside and soft on the inside and the pork was cooked to perfection, adding the just-right savory component to pair with the sweet waffles.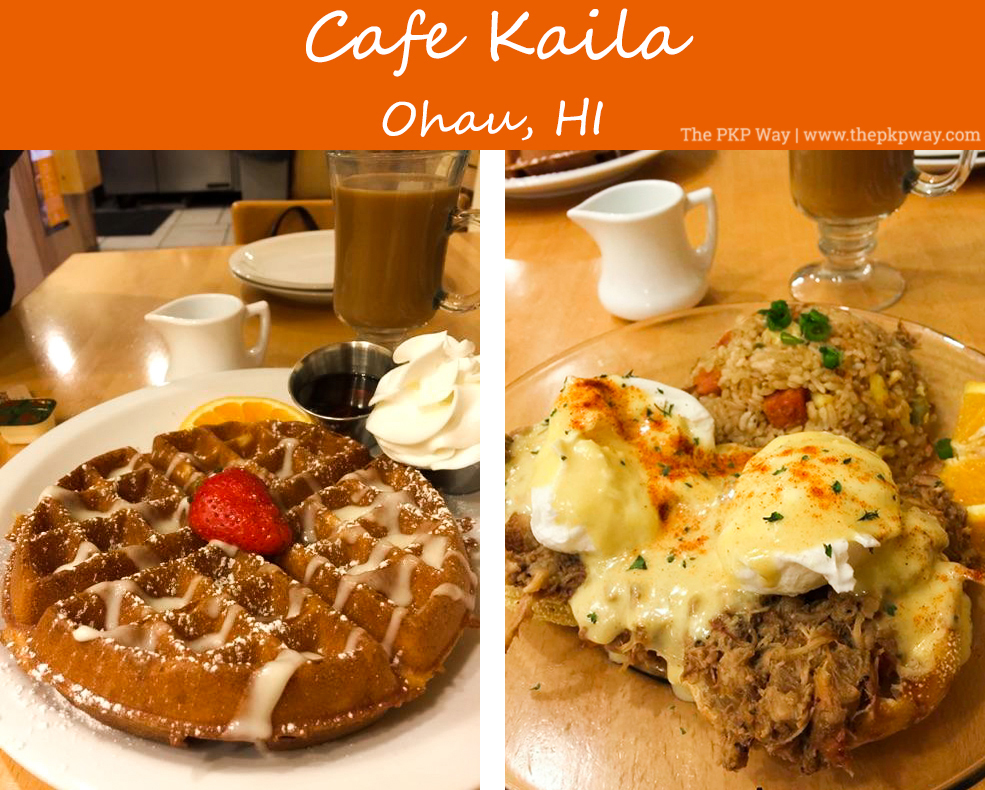 Aliiolani Hale & Iolani Palace State Monument
We finished breakfast earlier than expected and had some time to kill before heading to the airport. Warren quickly searched sites nearby to squeeze just a little more into our short trip before heading back. He found Aliiolani Hale & Iolani Palace. Aliiolani Hale is the Hawaii State Supreme Court and is the home of the statue of King Kamehameha the Great who is generally recognized as the most important figure in Hawaiian history. King Kamehameha unified the Hawaiian Islands into one kingdom in 1810 and worked to enact laws that protected the defenseless and create order. The Law of the Splintered Paddle was established by King Kamehameha I and assured that every man, woman, and child would be able to travel freely and in peace, with the right "to lie down to sleep by the roadside without fear or harm."
Across the street from Aliiolani Hale is Iolani Palace State Monument, the royal home of the rulers of the Kingdom of Hawaii, from 1845 to 1893. We only got to see it from the outside, but we will need to take a tour inside for sure when we return!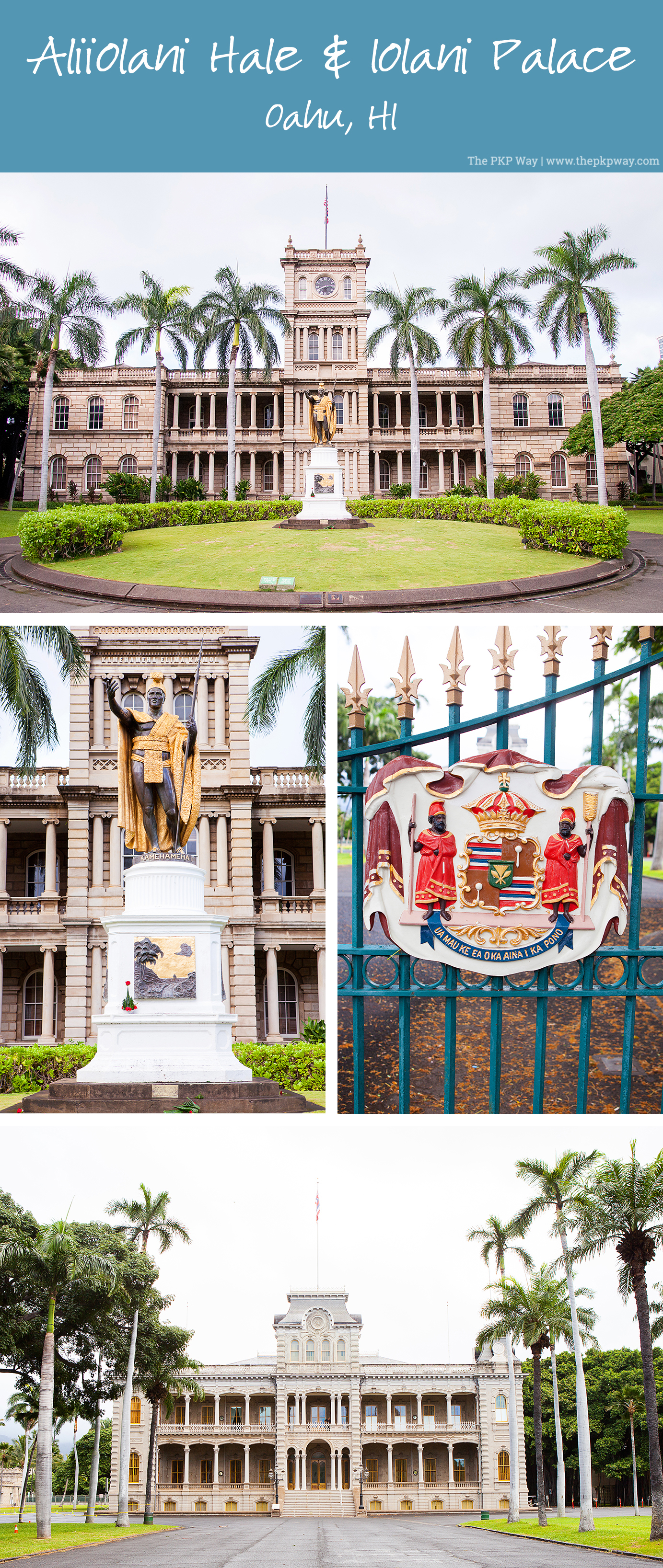 Mahalo, Oahu. We had a wonderful time!